Choosing the Best Trail Running Shoes in a field of hundreds can be overwhelming! I'll explain the general criteria used, and then tell you what my battered feet prefer after 15,000 miles of hiking and backpacking!
I will also list the ten trail running shoes I chose, based on the following information.
Reviewed and researched 62 trail runners
…which included 21 brands
Read approximately 200 reviews
Checked 16 long-distance and hiker forums
Read and engaged in 8 Facebook Communities
Personal experience – over 15,000 miles of long-distance hiking
10 Best Trail Running Shoes – Comparison Table
| Hiking Shoe | Drop | Lug | Stack Height | Weight | Strengths |
| --- | --- | --- | --- | --- | --- |
| Salomon Speedcross 5 | 10mm | 6mm | 20mm/30mm | 10.7 oz | Traction, Stability |
| HOKA One One Speedgoat 4 | 4mm | 5mm | 28mm/32mm | 9.2 oz | Transition, Comfort |
| Altra Lone Peak 4.5 | 0mm | 4mm | 25mm | 10.2 oz | Zero Drop, Roomy |
| HOKA One One Challenger ATR 5 | 5mm | 4mm | 24mm/29mm | 9.1 oz | Versatile, Cushion |
| Nike Air Zoom Terra Kiger 6 | 4mm | 4mm | 10.5mm/14.5mm | 8.7 oz | Fast, Sensitive |
| Saucony Peregrine 10 | 4mm | 5mm | 18mm/22mm | 9.8 oz | Traction, Sensitive |
| Brooks Cascadia 15 | 8mm | 4mm | 16mm/24mm | 10.3 oz | Protection, Transition |
| Salomon Sense Ride 3 | 8mm | 4mm | 17mm/25mm | 10.2 oz | Fit, Cushion |
| Altra Timp 2 | 6mm | 4mm | 25mm/31mm | 8.7 oz | Zero Drop, Responsive |
| Arcteryx Norvan VT 2 | 8mm | 4mm | 17mm/25mm | 10.1 oz | Durable, Traction |
| HOKA One One EVO Speedgoat | 4mm | 5mm | 28mm/32mm | 8.4 oz | Stability, Traction |
10 Best Trail Running Shoes – Criteria Descriptions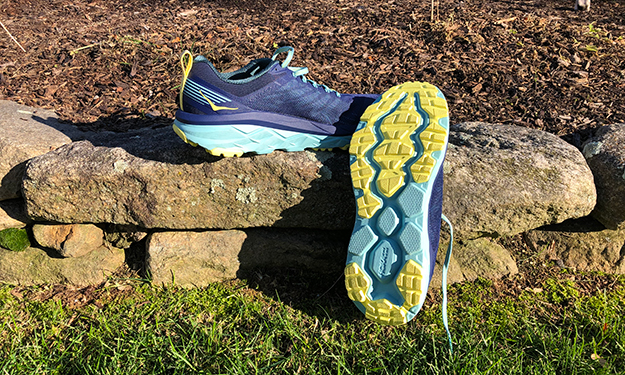 Choosing a trail runner is a personal choice, and every person has a unique foot. We all think we have the best shoe produced, and use these six general criteria when making our choices.
Foot care is critical, and if you want to see what happens when you don't carefully choose your shoes and take care of your feet, you can take a look at my Footcare Post.
1) Shoe Type
Shoe Type is Light, Rugged, and Off-trail shoes. Conditions in which they are used range from hard paved or dirt surfaces to extreme conditions like off-trail, snow, wet and technical terrain.
Light – dirt, gravel trails, rolling hills – moderate cushion, and modest protection, natural feel of the trail
Rugged – broad selection of terrains, strong protection (rock plates, toe guards, stiff uppers), diverse, widely spaced lugs, and sticky rubber, resilient midsole cushion
Off-trail – rigid structure, weatherproof, polyurethane instead of foam in the midsole, maximum protection
Average Hiker: My shoes have more rugged characteristics. Past hikes on trails like the Continental Divide Trail and Arizona Trail required extensive paved and dirt road walking. Cross-country hiking and technical, rocky climbing is also common.
2) Drop
Heel to Toe Drop is often referred to as "Drop," and is the difference in height between the heel and the forefoot.
Example – A HOKA might be 32mm at the heel and 28mm at the forefoot, with a drop of 4mm.
Anything over 4mm is considered moderate.
Average Hiker: A moderate drop of 4mm – 8mm is most comfortable for me. I tend to land more towards the center of my foot.
3) Waterproof
When reviewing shoes, you will often see GTX in the name of waterproof versions of a shoe.
Waterproof trail runners are generally not as breathable, so they are overkill in many situations. I have used them in icy, snowy, or wet conditions.
I typically do not hike in waterproof shoes and usually use a shoe with a durable, double mesh upper that dries quickly, with gaiters around the collar to block out water and debris.
Average Hiker: I use non-waterproof, breathable shoes that often have double mesh uppers. I currently have a less breathable Kevlar infused upper on my EVO Speedgoat's that provide better support. These uppers have remained surprisingly comfortable in warmer climates.
4) Fit
We all have different feet, so find a shoe that works for you and make sure you go to a running store, or an outdoors store like REI, where there are experts to fit your feet.
Our feet change as we grow older, so get them checked frequently. Get a shoe that holds your heel and mid-sole snug while providing your forefoot with room for toe splay.
On the Pacific Crest Trail (PCT), I went from a 9.5 to a 10.5, so consider swelling when running or hiking long distances.
Comfort is critical. If you have doubts in the store and feel even a slight rub, it will be magnified ten-fold on a trail after a few miles.
Average Hiker: My shoes are typically snug in the heel and midsole, and offer plenty of room in the forefoot for toe splay. I always get a half size larger for long hikes.
5) Comfort
Comfort is closely related to fit, but a shoe can fit well and still not be comfortable if it is not the right shoe for the terrain where you are using it.
In addition to the fit, evaluate the stack height and cushion. A well-fitted shoe is not going to be comfortable on rocky terrain if you don't like to "feel the trail" beneath your feet.
A well-cushioned shoe with an aggressive stack height will absorb shock and help prevent fatigue and soreness when there is a lot of hard-packed road walking.
Drop vs. No-Drop is also a consideration. Many people have very strong opinions on the effect Zero-Drop shoes have on a person's biomechanics.
Altra trail runners are a popular Zero-Drop shoe with a large following in the long-distance and ultra-running communities. Altra has an entire sub-section called Fit4Her Technology specifically on women's trail running shoes.
Whatever you decide, consult with a professional before switching to Zero-Drop shoes. Zero-Drop shoes often require a long transition period and it takes time to adjust to the change.
Average Hiker: Stack height is vital in my shoes. I have been prone to Plantar Fasciitis over the years, so plenty of cushion in the midsole is essential. This is important for me over long distances and helps to reduce fatigue and soreness.
6) Tread
Understanding tread is important depending on the terrain where you hike or run.
Lugs between 5-7mm deep may be uncomfortable on hard-packed dirt or roads. The deeper the lug, the better the traction in mud, especially if lugs are spaced wide.
Lugs that are less widely spaced, between 2-4mm, are better for hard-packed trail or road to trail terrain.
If you plan to do a lot of hiking or running on very technical terrain with rock or slippery conditions, check for a "sticky" outsole. "Sticky" rubber is a specific type of rubber that will give you better traction in rocky conditions.
Average Hiker: Good traction is important so I prefer a 5mm lug. I also look for multi-directional lugs with good bite and "sticky" rubber on the outsoles for more technical terrain. If hiking through Wyoming, consider wide lug placement. Mud is brutal!
10 Best Trail Running Shoes – The Finalists!
The ten Trail Running Shoes below may not be the best for everyone's foot, but research and experience indicate they are the best for a significant number of hikers and runners.
---
1) Salomon Speedcross 5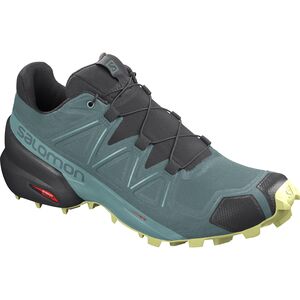 Specifications: Weight 10.7 oz, Lug 6MM, Drop 10mm, Stack Height 20mm/30mm.
The Salomon Speedcross 5 is a hiking shoe and trail runner built for technical, sloppy trails! The Salomon Speedcross 5 was already a great trail running shoe, but enhancements in stability, traction, and comfort make it one of the most discussed performance shoes on the trails. This hiking shoe is not a shoe for pavement or hard-packed surfaces due to the deep lugs, but if it is performance and comfort you want, this is a shoe to consider.
---
2) HOKA One One Speedgoat 4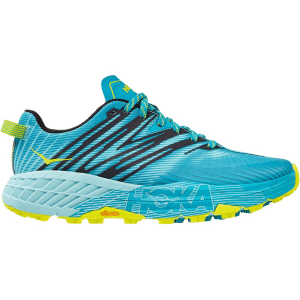 Specifications: Weight 9.2 oz, Lug 5mm, Drop 4mm, Stack 28mm/32mm.
The Hoka One One Speedgoat 4 was made for long-distance hiking! With the maximum cushion, comfort, and good traction, this is a great road/trail transition shoe. If you want to "feel the trail," then the HOKA is probably not your shoe, and it is not as wide as some of its competitors, so you may want to consider the wide version. Like most hiking shoes with this stack height, it is not the most stable trail runner, but it is one of the most stable HOKAs.
---
3) Altra Lone Peak 4.5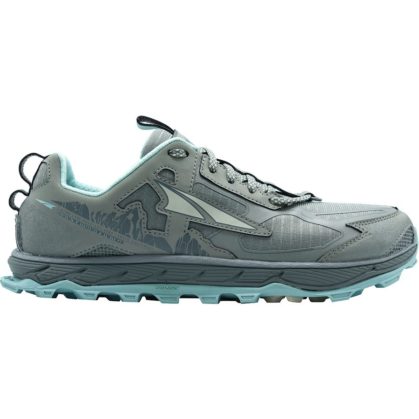 Specifications: Weight 10.2 oz, Lug 4mm, Drop Zero, Stack 25mm.
The Altra Lone Peak 4.5's are famous among the long-distance hiking community for their roomy toe boxes and comfort. If comfort, a roomy toe box, and zero-drop are essential to you, then check out the shoes that put Altra on the map. These are some of the most common shoes I see when long-distance hiking. Durability is probably their biggest weakness, but Altra fans consider this an acceptable trade-off for excellent comfort.
---
4) HOKA One One Challenger ATR 5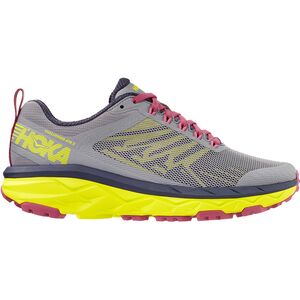 Specifications: Weight 9.1 oz, Lug 4mm, Drop 5mm, Stack 24mm/29mm.
The HOKA One One Challenger ATR 5 is a "Jack of All Trades" shoe, and what I used on the Arizona and Colorado Trails. I've included my review of the HOKA Challenger vs. EVO Speedgoat and why I made a change. This hiking shoe excels in transitions from road to moderately technical trail, providing midsole cushion, comfort, and breathability. While not the most stable or technical shoe in this line-up, it is one of the best transition shoes.
---
5) Nike Air Zoom Terra Kiger 6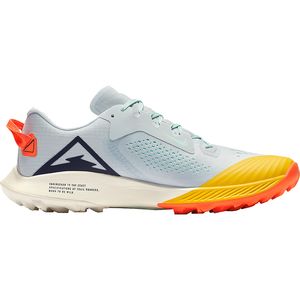 Specifications: Weight 8.7 oz, Lug 4mm, Drop 4mm, Stack 10.5mm/14.5mm.
The Nike Air Zoom Terra Kiger 6 is a hiking shoe created for fast trail running. The Kiger 6 is often described as having the best combination of sensitivity and protection for a quick, nimble, agile trail running shoe. Nike React foam and a Nike Air Unit in the heel make this a very comfortable shoe in the midsole. Combine the flexible rock plate, comfort, speed, and traction, and this is a shoe made for tackling technical trail runs.
---
6) Saucony Peregrine 10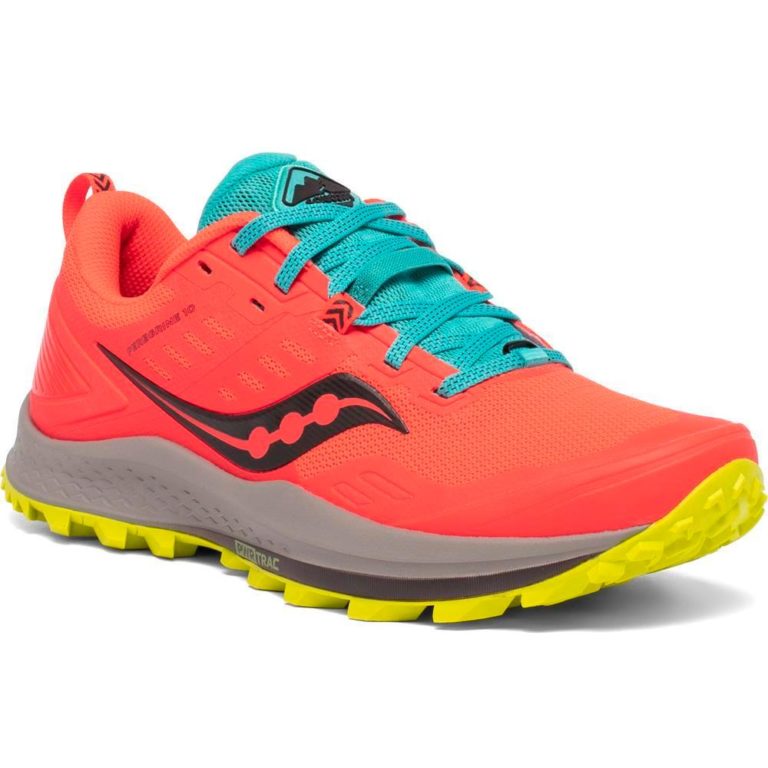 Specifications: Weight 9.8 oz, Lug 5mm, Drop 4mm, Stack 18mm/22mm.
The new Saucony Peregrine 10 trail running shoes are true to their original predecessors with some good improvements. This Saucony runs like a lighter shoe with excellent traction and stability, providing powerful speed when you need it most. Deep, sharp lugs grip well on slick surfaces and rock. These shoes are not intended for hard-packed surfaces, roads, or long races, so consider other options in these categories.
---
7) Brooks Cascadia 15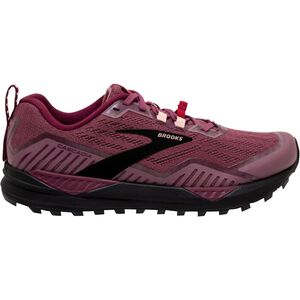 Specifications: Weight 10.3 oz, Lug 4mm, Drop 8mm, Stack 16mm/24mm.
The Brooks Cascadia 15 is an excellent all-around shoe that will appeal to various trail runners and hikers. This shoe does well on flat terrains such as hard-packed trails and roads while transitioning well to moderately technical trails. Like prior Cascadias, there is also excellent protection. Make sure you have The Brooks Cascadia 14 professionally sized since it runs regular to narrow.
---
8) Salomon Sense Ride 3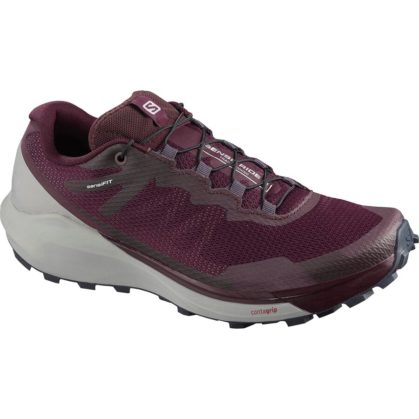 Specifications: Weight 10.2 oz, Lug 4mm, Drop 8mm, Stack 17mm/25mm.
The Salomon Sense Ride 3 is another trail running shoe noted as an exceptional all-terrain shoe. The Sense Ride 3 has a comfortable fit and midsole due to high-quality uppers and thick EVA foam in the midsole. Good traction is enhanced by Contragrip rubber and deep angled lugs. The Sense Ride is a light, breathable shoe, which means there are some minor protection and stability sacrifices.
---
9) Altra Timp 2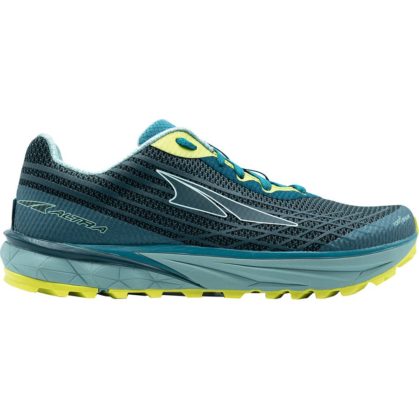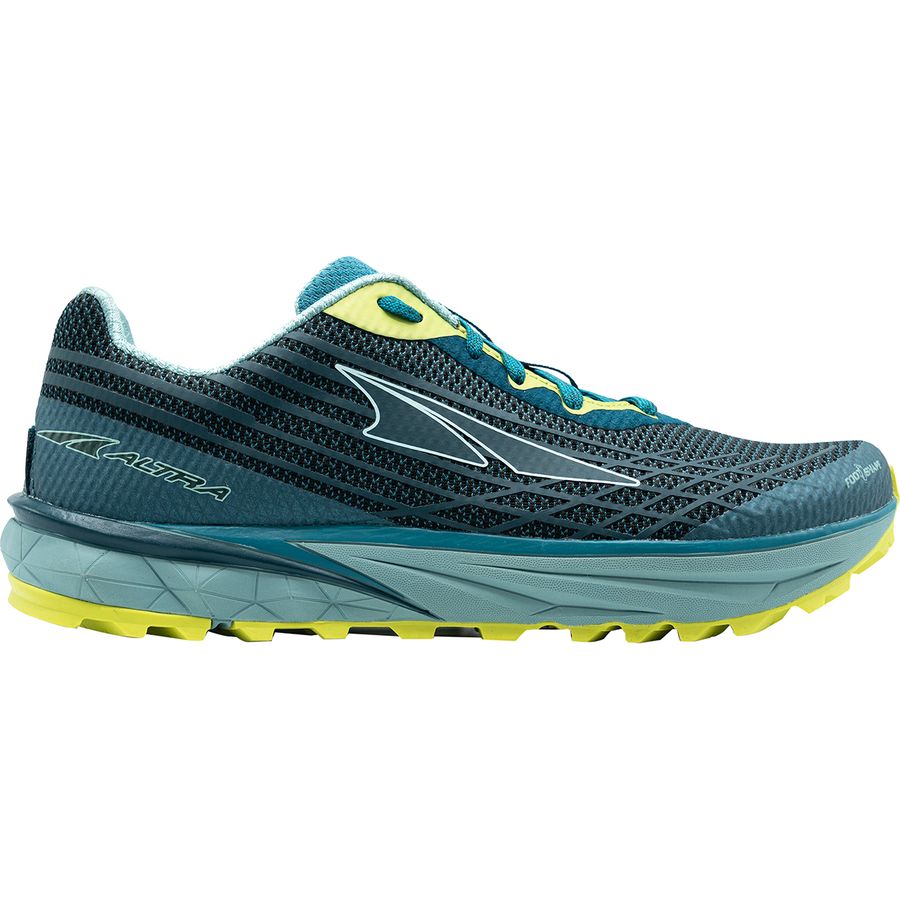 Specifications: Weight 8.7 oz, Lug 4mm, Drop 6mm, Stack 25mm/31mm.
The Altra Timp 2 offers a lot of useful features in the newly designed shoe. The stable, zero-drop shoe has a new Quantic midsole that provides comfort and responsiveness. Combined with a snug, comfortable upper, this is a perfect shoe for long distances. There is still room for toe splay in the forefoot, and regular Timp users may want to try on the new, sleeker Timp with it's more controlled fit.
---
10) Arcteryx Norvan VT 2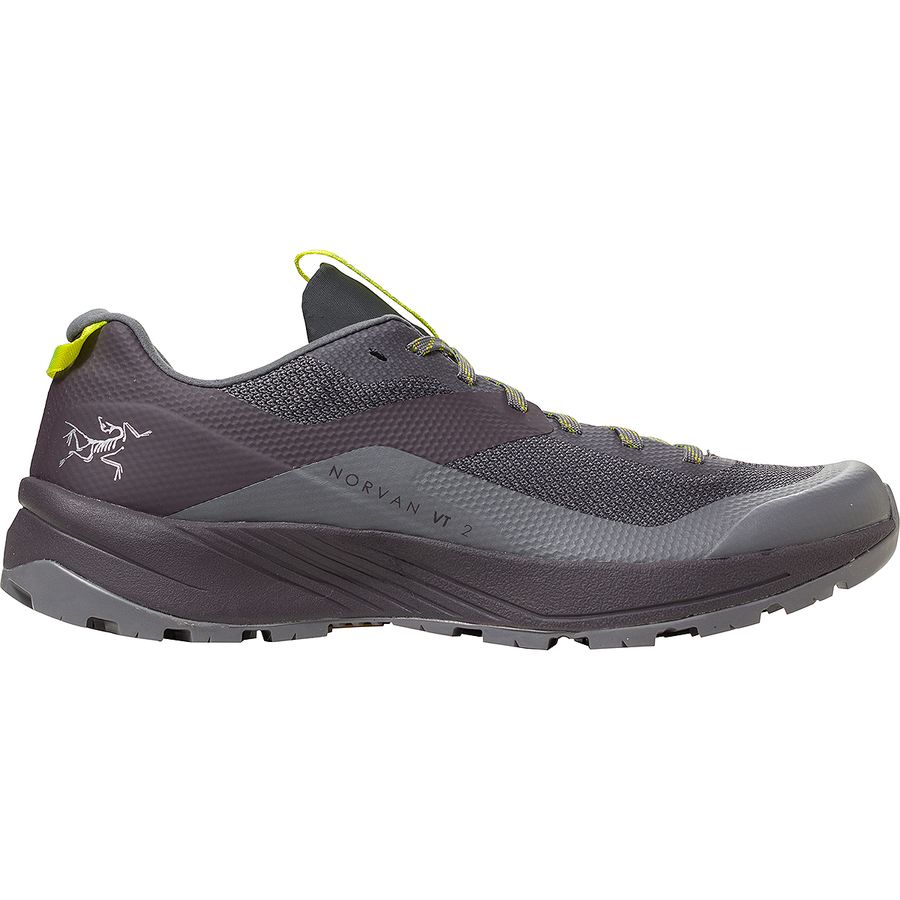 Specifications: Weight 10.1 oz, Lug 8mm, Drop 4mm, Stack 16mm/24mm.
The Arc'teryx Norvan VT 2 is a durable trail running shoe that will grip even the rockiest of tracks while keeping your foot well-protected. This running/hiking shoe is meant to handle technical trails, and out of the box, it is stiffer, with a less flexible upper than many of its competitors. This shoe may require a more extended break-in period than some others, but it will fit like a glove in a short amount of time.
---
Editor's Choice: HOKA One One EVO Speedgoat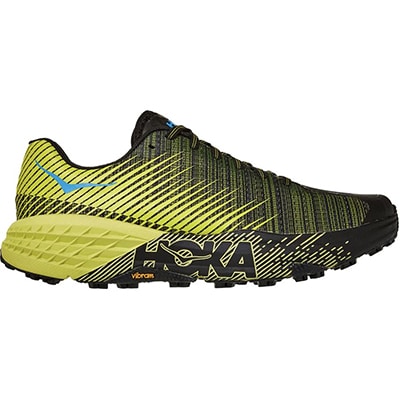 Specifications: Weight 10.8 oz, Lug 5mm, Drop 4mm, Stack 28mm/32mm.
The Hoka One One EVO Speedgoat is not in the Top 10, but I will argue that it should be a contender. I switched from the Hoka One One Challenger ATR 5 to the EVO on my Colorado Trail Hike, and the difference in stability and traction was noticeable. With a tighter upper, deeper lug, and slightly lower drop than the Challenger, this a more stable shoe for long-distance hiking on technical trails while still maintaining the needed comfort.
---
Average Hiker uses affiliate links on this website. This means I get a small commission, at no additional cost to you, if you choose to make a purchase via these links. Thank you
Related Links
Hi. Average Hiker purchased this product and does not write sponsored posts or receive compensation for reviews. Some of the links in this post are affiliate links which means that when you click on one of these links, I earn a small commission at no extra cost to you. Also, as an Amazon Affiliate, I earn from qualifying purchases. If this review has been helpful, I appreciate you considering your purchase through one of the product links. Thank you.