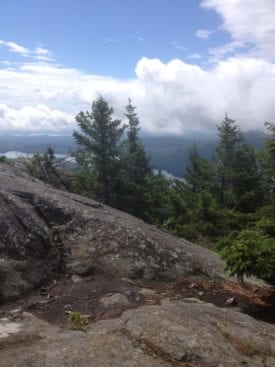 Appalachian Trail – August 3, 2013
Climbing straight up a mountain first thing in the morning is so unfair! I started my climb up Barren Mountain immediately after hooking a right out of my side trail from the hunting camp. Both fourth Barren, and whatever number Barren that followed, were knee crunchers. I picked my way straight up through slick, wet roots and over sharp, pointy, wet rocks, to reach the top and then picked my way straight back down. The trick is to avoid the rocks and roots, but that would require flying, and I only do that when hiking near ledges. It only takes one misstep on these types of climbs to end your hike, so I was careful. I'm in my forties. I have less bone calcium I'm told. I did fall twice, but both times were near the bottom, when I got a little over confident and tried to skip over rocks a little too quickly.
There was some great river hiking, and I spread out at some falls to dry out gear and eat lunch for an hour. Falls are one of my favorite water features on the trail. The peacefulness of the roaring water and constant movement calms all of the "chatter" in my head. I have always enjoyed most any type of water, especially sleeping near it, although waking up with wet gear is not ideal.