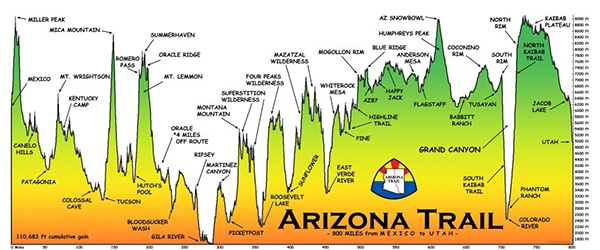 Arizona Trail Hiking is dominated by the 800 mile long Arizona National Scenic Trail that begins at the Coronado National Monument near the Mexican border and ends at the Arizona-Utah border.
The Arizona Trail has a wealth of diversity, and as the trail travels from Sky Island to Sky Island across the state of Arizona, it traverses breathtaking scenery and wilderness.
In 2020 I planned for and started the Arizona Trail. This was the year the World was struck by the Corona Virus, and I left the trail at Reddington Pass near Tucson.
Resources for this trail include a Planning Page and a Gear Page. I have also included my posts from the first two weeks of hiking, along with additional posts on gear and planning.
I am again planning to hike the entire Arizona Trail NOBO in 2021.
Trail Facts
The Arizona Trail (AZT) has 29 "Gateway communities."
The AZT has a very active community of volunteers and "trail angels," that can be found @ HERE.
The AZT is open to hikers, mountain bikers, and pack animals.
Areas requiring permits include Colossal Cave Mountain Park (Section 8), Saguaro National Park (Section 9), Grand Canyon National Park (Section 38), Arizona State Trust Lands. Additional Permit information can be found HERE.
Depending on daily mileage, the AZT will take approximately 6-8 weeks to complete.
The AZT consists of 43 passages. Additional passage details on tracks, maps, GPS data, etc., can be found HERE.