Close to Chama, NM
Today consisted of 27 miles of cross-country hiking, and forest service roads, that would bring me close to Chama, NM, my next resupply stop. Chama was also the last New Mexico town, and my gateway to the now infamous San Juan Mountains.
Rumors were swirling about the record snow pack in this high, remote range of mountains, and many hikers were choosing to bypass the San Juans – allowing them to thaw. These hikers would try and return at a later date when the already tough hiking was less challenging.
I wanted to see the San Juans for myself, and as I gazed at the snow covered peaks in the distance, I could feel a hint of anxiety. Hiking those mountains alone, in winter conditions, would be a new experience for me. Excitement and anxiety combined to form a smile. I guess I would find out if the rumors were true.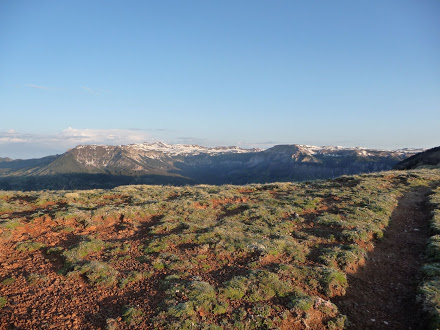 Trail Runners
The morning was frigid when I woke up, and my shoes were stiff. The nice thing about my Solomon trail runners, was that unlike my boots, they were much easier to thaw if they froze. I usually kept them inside with me at night, and if it was really cold, I would tie them in a multi-purpose plastic grocery bag and put them in the bottom of my sleeping bag.
The disadvantage of the trail runners was that they were a little uncomfortable if there was a lot of snow. I remedied that with my two plastic grocery bags and a good pair of gaiters. The bags made good liners, and kept my feet fairly warm and dry if I had an all day slog through slush. They also weighed next to nothing, so I kept a pair in the bottom of my pack, outside my compactor bag.
Cross Country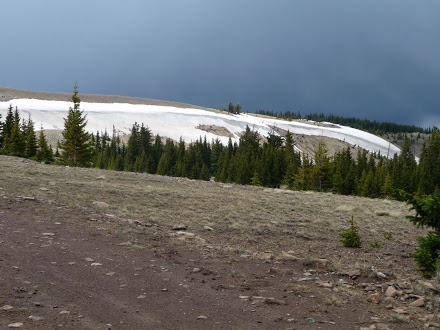 The morning was Frosty, and I was close to town, so I was up early and moving fast, with Mike not far behind me. Elk were scattered through the meadows, and one dashed back and forth in confusion as I approached – like a road squirrel. It finally raced up a hill and peeked out from behind some spruce as I passed. Poor guy made me laugh.
It wasn't long until the nice new trail abruptly ended in the middle of a meadow. Mike reviewed his maps and headed up hill. I on the other hand had fallen into the habit of laying out a route in the morning, and following landmarks – or lazy hiking. I headed across a ridge, and towards a valley where I hoped to find a creek.
Wrong Turn
Needless to say, the game trail I was following ran out, and I ended up bush whacking along the ridge, looking for an easy path down to the creek at the bottom of the valley. As I paused to survey the land around me, I saw Mike following the creek below, so I stopped to have a snack and let him move ahead.
I continued hiking about 20 minutes later, and brush became thicker. It was time I began heading for the creek, so I started zig zagging my way down the hill, avoiding blow downs and looking for more solid footing.
The decline was steep, so I more or less slid down, using my butt to slow my descent a couple of times. At one point, as I was attempting to scramble over a large blow down, I had to take off my pack, and lost my grip on it. The Osprey went careening down the slope, crashing it's way to the bottom. I was not too worried since it had already been run over by a truck, and taken a few good tumbles on the PCT the year before. I'll say this – Osprey makes one tough pack!
My pack and I were a dirty mess by the time we reached the water.
More Climbs
The hiking was easier along the grassy banks of the creek, and the small tributary split after a mile or so. Unfortunately, I took the left fork when I should have taken the right. Fortunately, my spidey senses kick in, and it only took me about a mile to realize I had gone in the wrong direction. As I'm ought to do, I refused to back track to the split. No negative miles!
Looking around, I picked what appeared to be the easiest route up to the mesa. The climbing started out easy enough (it's all relative), until I finally had to lash my poles to my pack and begin using all fours to climb. At one point I was climbing almost straight up, and just kept whispering "Don't look down, don't look down." I'm not crazy about heights, and just talk my way through them.
I dragged myself up and over the edge of the mesa, terrified more poor elk grazing at the top, and then slid/fell back down into the next ravine/valley, before repeating the climbing process all over again. Out here, you pay attention to your maps, or you pay a toll for your lack of attentiveness.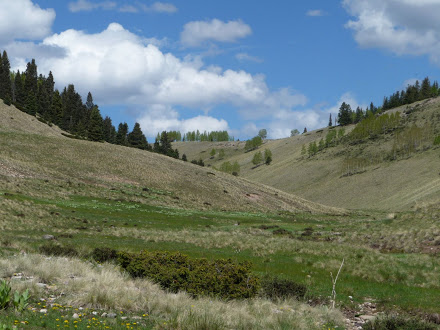 Back On Track
Reaching the top of the next mesa, I could see what appeared to be a dirt road far off in the distance. I headed cross-country, scattering unsuspecting elk, and even a large white legged hare. Maybe he was growing in his brown spring hair?
About a hundred yards from the road I heard the rattle and strain of a vehicle, and sat down on an old log to watch a pick-up truck moving slowly down the road. As a solo female, I avoid slow moving vehicles in remote locations.
If I'm caught with nowhere to go, I maintain a confident, friendly persona, but when possible I avoid chance vehicle encounters. Fear does not drive my reaction, just instinct and caution. Intuition has carried me this far. They passed slowly along the road, and I continued cross-country, paralleling the road for a while.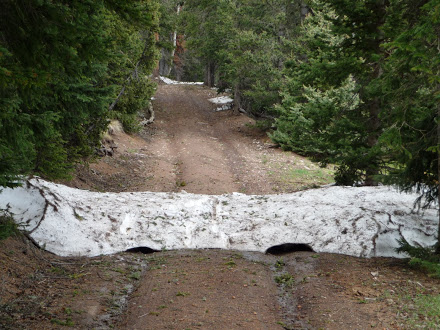 More Fellow Wilderness People
My next meeting was sudden, as two ATV's came barreling around the corner of the Forest road I was walking and skidded to a stop in front of me. I had heard them, but not until they were too close to avoid. The two fishermen were out for the day, and chatted for about 10 minutes before graciously handing me 2 power bars, and moving on to their fishing hole.
I pocketed the bars, to hopefully leave in a hiker box in town. I HATE Power Bars, but keep one for apocalyptic emergencies. As a matter of fact, I think I still have the 2009 CDT bar, and it is in exactly the same shape as it was 11 years ago – a small, barely digestible, shelf life 1,000 years, rock.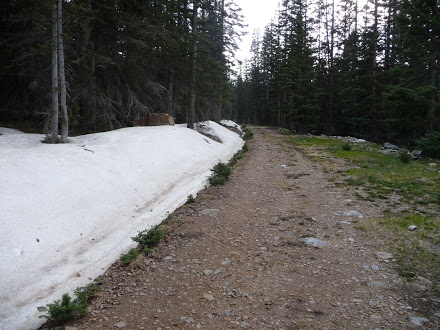 Camped Outside Chama, NM
For the rest of the afternoon, and into dusk, I followed a maze of forest service roads. In this case, I used my maps and GPS. It was easy to take the wrong road and have to back track for miles. As the sun dropped, I reached the railroad tracks leading into Chama, and walked along the wooden cross beams for a couple more miles.
I spotted a small clump of Spruce trees down beside the tracks, just before Cumbres Pass. This would be home for the night. I quickly set up my tarptent as it began to rain, and temperatures took a sharp dive. It would rain for the rest of the night, but I slept warm and dry in my zero degree Montbell stretchy sleeping bag.