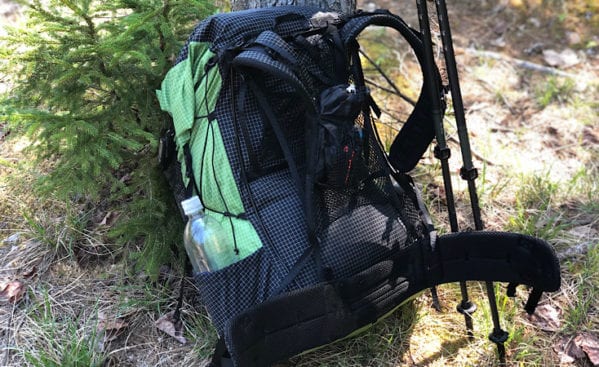 Backpacking & Hiking!
I LOVE Backpacking and Hiking, and if you have found your way to this website then you probably do also. When I'm not working, you will probably find me in the woods or up in the mountains.
If you landed on my HOME page then you got a quick snapshot of some of the content – Blog, Review, Trails, Gear, Food, Store.
Note that many of my posts have tips or tricks that work for me. I call them out throughout the posts.
Blog
The BLOG page has my latest articles on backpacking and hiking-related topics…
Trip Reports – These contain pictures and are a great resource for planning your hike!
Gear Reviews – Reviews of gear that I use and like in that category.
Trail Journals – Journals are from the long trails, like the Pacific Crest Trail, Appalachian Trail, Continental Divide Trail, Arizona Trail, etc.
Book Reviews – I don't have many of these because I don't really sit still long enough to read, so I'll also begin including my audible books.
Trail Stories – I did not keep journals on earlier hikes, so I also share stories from past trails.
When I'm out hiking, the website stays static – meaning the store products, articles and other content don't change while I'm gone.
The Blog page is ALWAYS updating though, and I add a message on the Home page letting everyone know that "Average Hiker" is backpacking or hiking. I post often from the trails, so my family and friends can follow along.
Reviews
My backpacking and hiking Reviews page provides reviews on gear I have used, or has been used by guest posters. Anything I review I pay for at retail prices to ensure an unbiased review.
A few of my recent favorite reviews include my "Women's Voormi River Run Hoodi," and my "Kula Cloth." These are in the clothing category and I continue to like them more and more.
Tip: Keep and eye on the store! I often sell quality gear that has low miles!
Affiliate Links
Some of my reviews have affiliate links. If you purchase items, or items from any of those vendors, by clicking on one of those links, I make a small commission at no additional cost to you.
I always want to provide information and reviews on the best gear, so many items have no affiliate programs. Many small cottage providers are not part of these programs. There are still links to the best prices I can find.
Proceeds from this site are used to purchase more gear for reviews. I work hard to provide unbiased reviews which is why I purchase my items at retail prices. I don't do sponsored posts or accept free items.
Trails
The Trails page is my personal favorite! It is also a work in progress. I'm working to update information as I hike different trails. Updating information is also constant since our trail systems are constantly changing.
If you check out the main pages for each trail, you will see three links. These include Overview, Gear and Planning. The Arizona Trail is a good example.
In the Trail pages I'm working to provide my journal and trip reports. I'm also providing tools you can use to better plan your hikes. A couple of examples are the Arizona Trail Planning Page and the New England Trail Planning Page.
There are a few other trails like the AT, CDT and PCT, which I'm working to update now. My journals were a little scattered then, so they are a work in progress. I'll post what I have over time, and also update the Overview, Gear and Planning pages for each of these trails.
Gear
Backpacking and hiking Gear is another personal favorite!
The Gear page has a broad range of topics, like how I chose my Backpack and what I keep in my Day Pack. I'm always looking to lighten up, within my comfort range.
There are also topics as diverse as what is in my cooking kit, and if I prefer a sleeping bag or a quilt.
Buried in all of my posts are "Tips" or tricks that work for me.
If you would like to check out some cottage equipment companies like Z-packs, Mountain Laurel Designs, Hyperlite Mountain Gear, ULA Adventures, etc., I have a post on my favorites.
Did I mention I love checking out new gear and "hiking stuff?!"
Food
My Food Page is practicing ultralight principles right now, but it is definitely growing.
Right now I have articles on my favorite backpacking foods and there are many. I think I could survive forever on Velveeta Cheese and Shells if it was not so HEAVY!
Coming Soon – an article on "No Stove Backpacking," or cold soaking your food. Many long distance hikers swear buy it. I cold soak when I want to move fast, but I enjoy a hot meal at the end of the day.
I've also begun including food resupply strategies by trail, with the most recent AZT Resupply plan. The AZT Resupply plan also has my Backpacking Food Ranking Spreadsheet with my FAVORITES!
Store
The Store is a "Labor of Love." Many of the items have never been used! They are a product of my gear addiction.
Here is a tip for everyone that is still reading…
Make me a reasonable offer and we may be able to work out a deal on the gear that is on sale. Send me an email @ averagehiker@gmail.com.
I take care of my gear, so you are getting good deals
In the future I hope to offer some of my own products – digital downloads, books, clothing, etc. I have big aspirations that may cut into my hiking, so more on that at a later date.
Subscribe
We all get WAY TOO MUCH email, but please consider subscribing. I'll try very much to make it worth your while! There are two ways to subscribe.
Average Hiker Monthly Newsletter
Discounts on items I will sell
First dibs on new items! I'll send updates with new items before I put them in the store, so you can have first whack at them!
Quality content
Trail updates, and editorial articles that are only for subscribers
Scroll to the bottom of this page to sign up.
Subscribe for New Posts
Updates each time a new post is added to the site
Just add your email to the Subscribe box on the far right side of this page, at the top of the page.
Social Media
My social media platforms are another way to follow my hikes and keep up with content. My pictures are often different across all platforms, and when I hike I update social media instead of Blogging sometimes.
Don't worry, I rarely post more than once a day – often less than that, so you won't get bombed with social media posts.