The Guys are Back in Town……
Some of the guys that started this hike with me showed up in town last night. They had lost some serious weight. They were beginning to look a little gaunt, while I of course just looked more lean and muscular. The trail is kind to females, but not always as easy on the men. We get lean. They get skinny…and gaunt. I made sure I pointed this out to them.
Anyway, we all went to Bruno's for dinner and had a lot of fun catching up. It was the second day of rain, and they had also arrived resembling soaked rats. They had taken one of 4 documented routes into town, none of which were my route out to the highway. The gaunt men voted my route the "Boneheaded" route.
Leaving Town
I was up early this morning, and surprised when Ms. Yang called. She wanted to wish me a good hike, and thank me for my business. I had only had this happen at the Del Prado Motel and The Four Seasons. Customer Service at it's finest.
The local diner was not open, so I met "Connect the Dots" at McDonald's for breakfast. We caught up on trail tales, consumed the normal 3,000 Mikey D calories, and then I headed for the trail, which also happened to be the road out of town.
Headed for the San Pedro Peaks
The hike started with a five mile road walk (favorite), that eventually turned into a dirt Forest Service road. I finally reached the trailhead around lunch time, and stepped onto some glorious trail. At this point, any trail was glorious nice trail. I've probably mentioned I hate road walking.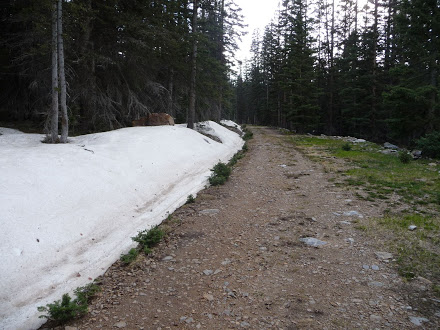 San Pedro Peaks Wilderness was beautiful. The waist high snow was mostly melted, or just in large mounds in the forests. The deepest snow I encountered was about mid-calf, and much of it had turned to slush. I hardly noticed it as I slogged through beautiful alpine meadows, and startled a few grazing elk. I was excited to be up in the mountains that I dreamed about!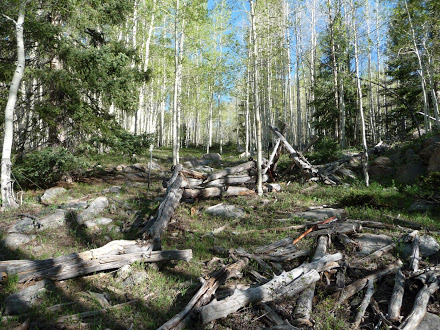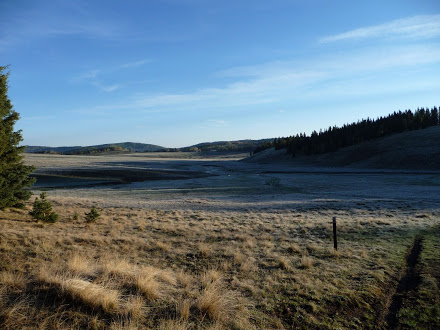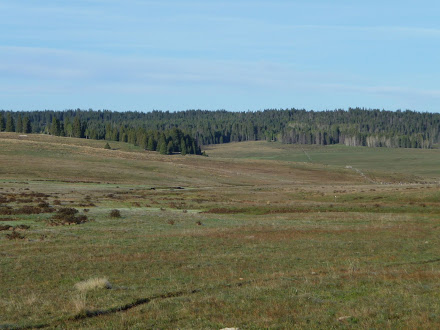 Crazy Storm
Storms had been brewing all afternoon, and were finally starting to assemble in the late afternoon. About an hour before sunrise, I was up around 10,000 feet, wearily watching the skies. As the rumbles deepened, and a couple of big drops splattered across my face, I made for a big group of small firs.
Supper was going to be something from McDonald's. I had packed out a bag of "stuff," and fortunately Mc D's shelf life exceeded other "fresh" foods. Those shelf life chemicals are probably why it tasted so good. I used to work at Mickey D's in high school. I know things. Cooking dinner was not an issue, so I quickly set up my tarp tent.
San Pedro Bowling Alley
I've been in a lot of storms, but that night was about to get crazier than any other I remembered. As the rain picked up, I grabbed my gear and leaped into my shelter. The rumbles had transitioned to ear shattering pops, and lightning was beginning to hit almost in tandem with the thunder. The storm had to have been right on top of me!
There was not much to do but wait it out. The shelter initially provided a false sense of security, but as lightening struck all around me, and picked up in frequency, fear increased also. Initially, I crouched on my toes with my head down, but the desire to be closer to the ground was strong. I crawled under my sleeping bag and curled into a ball.
I did unroll my body briefly to hurl my hiking poles away from the tent. I was taking NO chances!
The deluge of rain, lightening and thunder went on for about 20 minutes. My body was a ball of cramps as I curled up hard. When it passed I relaxed, only to hear the next storm coming. This felt like it went on all night, but probably stopped at about 2AM in the morning. I was exhausted, and literally lay panting after the last storm, but ended up passing out quickly.