I found the Arizona Trail (AZT) relatively easy compared to other trails where planning was involved. The AZT has great resources in its community and local trail organization.
Check out this post for a more detailed 2022 Resupply Plan. I'm going NOBO this year.
Arizona Trail Organization
I joined the "Arizona Trail Association," which gave me access to several invaluable tools for planning purposes. For a reasonable annual subscription, I was able to access great planning tools. These resources included the Databook, Digital Topo Maps, and Avenza Map App. Bundle, Gateway Communities, and Trail Angles, to name a few.
Planning Tools/Resources
Travel To and From the Trail
There are several ways to get to the trailheads. A few of the most common include planes, buses, shuttles, trail angels, hitchhiking, and Uber/Lyft.
I used Ken's Shuttle Service when I started my NOBO hike in 2020. The shuttle was easy to set up with Ken via e-mail, and I set it up in advance so I could post on Facebook, allowing me to find two other hikers to split the shuttle cost with me.
Hiking From the Northern Terminus
Due to fires, construction, and reroutes, the Arizona Trail had numerous trail closures and updates in 2020. You can view these below.
Referencing the "Southern Terminus Closure" link above, you will see how the closure has impacted starting at the southern terminus. You might also consider reaching out to Ken's Shuttles to find out how other hikers are coordinating a border started.
Before the southern terminus closure, you could not reach the southern terminus directly, but you could drive as far as Montezuma Pass @ mile 1.8 on the AZT. You could hike south to the terminus on the border and then back up to Montezuma Pass from the border monument. Specific directions can be found under "Access" on the AZT Website.
Ken's Shuttles took me up to Montezuma Pass. Make sure you ask since some services may only go as far as the Coronado Monument.
Plane – I flew into the Tucson, AZ airport. This was the closest airport to the southern terminus. Many hikers stay in Tucson or Sierra Vista, AZ. Hikers then shuttle out to either the Visitor Center or Montezuma Pass the next day. There are also nearby options, such as Phoenix and Flagstaff, AZ.
Shuttle Services – two shuttle services are commonly used, and both pick-up in Tucson and the surrounding area. One is Ken's Shuttle Services, and the other is Arizona Sunshine Tours.
Hitch Hiking – this is straightforward, but it is probably easier to ask for a ride since, as mentioned, there are often trail angels willing to assist. Either reference the AZTtrail.org site (link in the item below), or ask on the Group Page on Facebook. Some of the trail angels are also part of this group.
Trail Angels – The AZT has a very active group of trail angels along the trail, so hikers can reach out for a ride or other assistance if needed. A Trail Angel List can be found on the Arizona Trail website.
Bus – Some hikers choose to take Greyhound from Tucson to Sierra Vista and then hitch or shuttle to the terminus. The cost in 2020 was approximately $20 for the bus.
Uber/Lyft – these are also options from Tucson and Sierra Vista. They will probably take you to the Visitor's Center and not Montezuma Pass, but this will depend on the driver. Check before using these services. Small towns don't always have consistent car services.
Hiking From the Southern Terminus
The southern terminus of the Arizona Trail will require some planning. Traveling about 38 miles from Page, AZ, and 36 miles from Kanab, AZ, on US 89, you will intersect a dirt road leading to the terminus. You will then travel 10 miles on a dirt road before turning onto another dirt road for the final .2 miles to the trailhead.
Plane – Fly into Las Vegas and target Page, AZ, or Kanab, AZ, as your destination. There is an Avis rental car location in Page, but call to confirm cars are available. There is also a small regional carrier (Contour Airlins) with inexpensive flights into Page but call to confirm. Page, AZ, also has a daily flight to Flagstaff, AZ, so you have additional options for flights.
Shuttle Services – there are several shuttle services. Grand Circle Tours and

Kanab Tour Company

are mentioned, and additional shuttle information found on the AZ Trails website shuttle page.
Hitch Hiking – Getting a ride on US 89 is probably not difficult, but the last 10.2 miles along dirt roads may not be as easy.
Trail Angels – The AZT has a very active group of trail angels, so hikers may find it useful to reach out for a ride or other assistance if needed. A list of these trail angels can be found on the Arizona Trail website trail angles page.
Bus – Greyhound does not list direct stops in Kanab or Page at this time.
Getting Gear to and from the Trail
Sometimes the little things are the toughest, and there are several different ways to send and receive gear. Depending on how you travel, there is really no "right way."
If I'm flying, and since the TSA frowns on hiking poles and sharp knives, I check a duffel bag that holds these items. I'll usually keep some gear in the pack and put other things in the duffel bag. I usually keep the tent and sleeping bag with me in my pack.
You can mail gear to a trail angel or hostel near a trailhead.
Sometimes outdoor retailers or shuttle operators will hold a box for you if you are using their services or a small fee.
Arizona Trail Planning – Resupply Plan
Laying out my resupply plan is the first thing I complete when preparing for a hike. Going through the exercise and using the tools needed to complete the plan provide insights into the trail's logistics.
The resupply spreadsheet below is what I use when planning backpacking trips. I don't necessarily follow the spreadsheet verbatim but use it as a general guideline; therefore, it also serves as a general itinerary for those back at home.
Notes on the Spreadsheet
I give myself 5-10 miles a day out of town or when I'm going into town. On days when I pass through town, there may be two line items with the same date.
Meals are impacted by town days. I don't need breakfast when leaving and often carry a sandwich (BLT is a favorite). Cold pizza used to be a favorite, but I try to keep down the carbs now.
Depending on when I arrive in town, I will usually only carry a few snacks.
Here is my Updated Resupply Plan and Spreadsheet in pdf. If you want a copy of the excel spreadsheet send me an email.
Resupply Boxes
Post Offices will generally hold a resupply box for up to 30 days. There are exceptions, and you must contact the post offices you will be using. Ask the Post Offices how long they will hold the box, and if there are any special requirements. Also, make sure you have picture identification when picking up your box.
Flagstaff, Arizona, is a good example of an exception. The Post Office requires the hiker to complete a special form for General Delivery. The form has to be faxed from the shipping Post Office. For this reason, hikers often resupply in town or ship boxes to motels and trail angels.
Package Labeling
The USPS requires the following information to be included for GENERAL DELIVERY.
NAME
GENERAL DELIVERY
CITY, STATE, ZIP CODE
Below is an example of how I add my ETA and "Arizona Trail Hiker" information, so there is no doubt. I use this not only for my USPS box, but any box I send on the trails.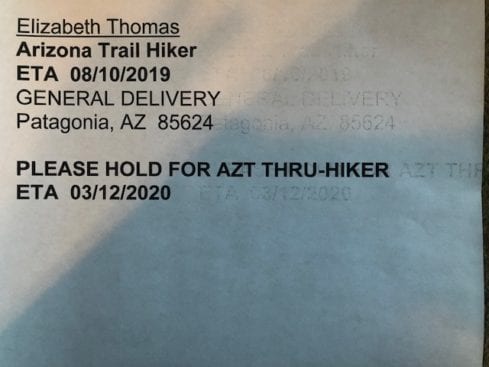 Shipping Fuel
Fuel canisters have to be shipped via ground. You can ship via USPS, but you need to clearly state "Surface Only" on your box and package it as stated here. You must also follow the shipping guidelines stated here @ 342. A few key requirements are below, but review all the guidelines.
State "Surface Only" on the box
State "Consumer Commodity ORM-D" on the box
Ship no more than 33.8 ounces. If non-metal, then no more than 4 ounces
One note on shipping fuel. It is not common, but I've had packages with fuel not show up, and twice I could not locate them. I've also had post office personnel not want to ship fuel but begrudgingly ship it. I'm not saying the two are related, but it is just something to keep in mind.
USPS – Priority Mail
If shipping boxes to Post Offices, consider using Priority Mail Boxes. You can pick the boxes up at most post offices. Most post offices also generally stock them in a kiosk out front, which is free. General advantages are listed below:
Three general box sizes
Ships in 1-3 days
Has a USPS tracking number
Limit of 70 lbs
Insured up to $50
Box Packing Tips
Leave the Box Open
If you have someone at home sending you boxes, leave them open. They can tape them up right before the box is mailed. I can't tell you how many times I've added something to my box. Taking out certain foods I was tired of was also not that uncommon when I first started hiking long distances. I'm not sure why I would love to eat the same trail every day for five months!
Label the bags
Trust me; you won't remember what some of those soup mixes are when they are all yellowish-green. Pasta also tends to look very similar. Make sure you use a permanent marker to label the plastic baggies or put a small piece of paper with the description and directions for cooking in the bag. There are some chefs out there that actually do more than add water. I am not one of them but I do appreciate directions.
Repackage – even the things easily crushed
Some people will tell you to repackage chips and crackers, or they easily break. You can leave those things in their original packaging, but the packaging takes up a lot of room in the box. I ship cookies and crackers in zip locks if I run out of room and don't have too many issues. Sometimes I carry a Pringles can. If something is really fragile, I'll put it in the can.
Make Your Box Unique!
On the PCT, I used yellow duct tape. NOTE: DON'T TAPE THE BOXES WITH DUCT TAPE. THE POST OFFICES ARE NO LONGER LIKE THIS. JUST USE IT TO MARK THE BOXES!! The CDT boxes had pink tape on them. I always told the post office personnel, and many of them were quite grateful. I rarely had a box lost, and I got them quickly. Make your box unique so it is easy to find. Some of the busy trail towns can literally have hundreds of boxes waiting!
Final Thoughts
I really appreciate the feedback. If there is additional information you feel is missing, or if you have some general feedback, please don't hesitate to leave a comment below. Thank you!