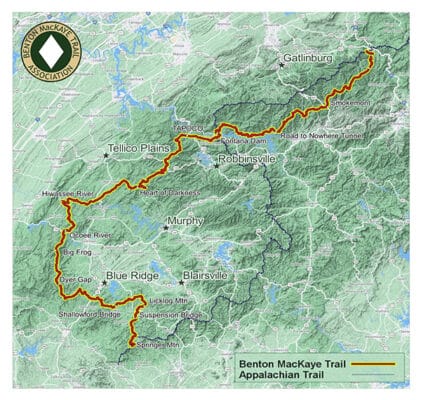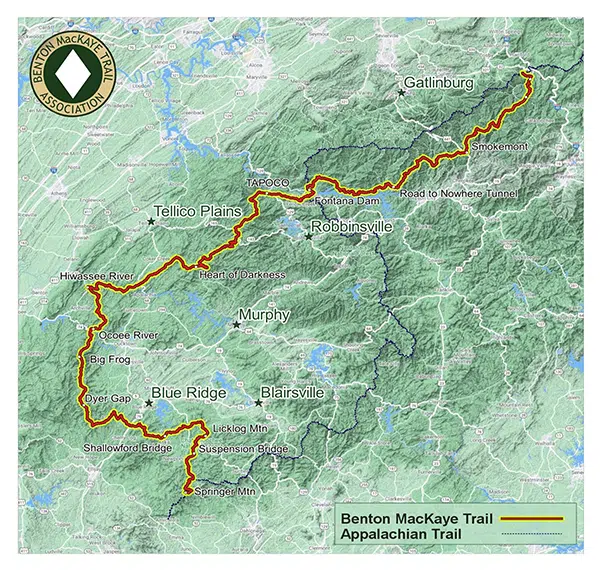 Transportation
Travel to and from the trail is not difficult, and there are multiple options for transportation. I flew into Atlanta, and family dropped me off at Springer Mountain, where the BMT and AT start together.
I flipped up to the northern terminus from Fontana Dam. Transportation options from Fontana Dam and the northern terminus are the same. I stayed at the Hike Inn, and they shuttled me to the Knoxville Airport. The Hike Inn is only a few miles from Fontana Dam resort, where they will pick you up and drop you off.
The southern terminus is easier to get to and from than the northern terminus. The northern terminus at Big Creek does have a large parking area, and on the weekends and holidays, you should not have a problem getting a ride.
Shuttle Services
Many of the shuttle services in this area carry hikers to and from the AT and BMT. The BMTA keeps a good updated page of the services. You can also use Uber or Lyft near more prominent cities and towns.
Trains, Planes & Automobiles
Atlanta Airport – Fly in and get a shuttle, cab or Uber/Lyft to the southern terminus. My choice would be a shuttle.
Asheville or Knoxville Airport – Either of these are a good choice if you are finishing at the northern terminus. The Hike Inn will currently pick up and drop off at the northern terminus and shuttle to either airport.
Greyhound – Greyhound stops in Gainesville, the closest town to the southern terminus. Once in Gainesville you can get a shuttle, taxi or Uber to the Springer Mountain.
Maps & Guides
You can find all the maps and guides you need on the bmta.org site. I used GAIA, Guthook/Farhout, Smokey Mountain TI maps, BMT Data Book, and Sgt. Rock's Benton MacKaye Thru Hiker's Guide.
I don't find maps necessary on the BMT or AT, but I carry maps on remote trails, where there are long moves between resupplies and when I'm in a National Park.
bmta.org maps and guides – all the resources you need.
GAIA – I use GAIA for all of my hiking. I download my routes and the app provides GPS insight to side trails and topographical information.
Guthook/Farout – Guthook was not necessary for this hike, but I did use it to contact a shuttle provider at my first town stop.
Smokey Mountain Trails Illustrated Maps – National Parks never have good signage as far as the trail your are hiking through the park. They like to use their own names and numbers so I always take a map of the park.
BMT Databook – I did not use this much but it came in handy for planning.
Sgt. Rock's Thru-hikers Guide – This was also good for planning purposes.
Resupply
Resupply on the BMT was every 3-5 days until the Smokeys. Because of permitting and not being sure of the terrain, I ended up carrying seven days of food but only needed five.
I did not always stay at my permitted campsite. The only camp where I saw other people was on Sterling Mountain the first night. In some instances, the campsite I signed up for was either trashed (near the lake) or next to one closed for "Aggressive Bear Activity." So I moved on to the next one available, and they were all always empty.
My Resupply Plan
Below is the resupply plan that I set up for this hike. It worked out fine until the Smokeys.
One note on Reliance Fly and Tackle. You will have to walk about a mile off-trail. They have a minimal selection for hiking food, and the food they serve is just microwave food.
They are super friendly people, but I would mail a box.
Call each location you plan on mailing a package. Rural businesses can shut down and open up sporadically. What is open now may not be six months from now.
Shipping Packages
Many hikers resupply as they hike. I send packages since I want to walk for a few more decades; I try to make sure I pack more nutritious foods, including foods high in protein and inflammation-reducing spices.
If shipping to a business, I use the family address format and always CALL first. Some companies accept via different methods, and they change – PO, FedEx, UPS, etc.
Lucy Lulu
C/O Business Name
Street Address
Town, State, Zipcode
Please hold for Lucy Lulu
ETA (date)
If shipping to a Post Office, I use the shipping address format below.
Lucy Lulu
C/O General Delivery
Street Address
Town,Stat, Zipcode
Please hold for Lucy Lulu
ETA (date)
If mailing FUEL CANISTERS (a common question), I put the following language on two sides of the box.
SURFACE MAIL ONY
Consumer Commodity ORM-D
Permits
The only permits required are in the Great Smoky Mountains. You can access their website to make reservations or call the office.
Permits for the Benton MacKaye Trail are not like the Appalachian Trail, where you apply for one ticket to hike through the park. Instead, on the Benton MacKaye Trail, you have to make a reservation for each campsite up to 30 days before your hike.
I did not find making the reservations difficult. The only surprise was the number of bear sites closed for "Aggressive Bear Activity." There were 4-6 sites completed and only one listed on their website and the time I began hiking.
Dogs
The Smoky's do not allow dogs, and since this is a large portion of this hike, you may want to leave them home.
On this trail, dogs on leashes are appreciated. I did have a black bear visit one of my camps, so bears are definitely on or around the course. I would suggest keeping your dog on a leash even when in camp.