I've always been a Feathered Friends EOS jacket user, but a couple of months ago, I purchased a Katabatic Women's Tin Cup jacket, and I was impressed! The Tin Cup is a high-quality jacket that keeps me as warm, if not warmer, than the new EOS I have been wearing.
Katabatic introduced its new line of Down jackets at the end of 2022 and has come to the market with a solid product. I use their quilts and expected no less from their jackets which is why I wanted to try one.
I'm thru-hiking the Appalachian Trail this year, and now I have a tough decision. Since I'm starting in February, I need a warm jacket, and I'm having a tough time deciding between my EOS and my Katabatic Tin Cup.
I'll take you through the new Katabatic Women's Tin Cup features and performance in this article. If you are trying to decide on a lightweight Down jacket, this jacket should be on your shortlist.
My Jacket Requirements
Light Weight – I prefer a jacket that is around 12 ounces or less. I'm always cold, so I carry a heavier Down jacket and sometimes sleep in it as an extra layer.
Compression – A jacket that compresses well in my pack is essential, which is usually the case with a higher Fill weight Down jacket.
Fill – I would like a minimum of 850 to 900 Fill Down.
Shell – The shell should have a DWR coating.
Hood – I prefer a hood with a drawstring that I can pull over my head when I sleep.
Baffles – I find baffled jackets warmer than quilted jackets. I also like large baffles. Sewn-through quilted jackets have too much dead space with no Down.
Katabatic Tin Cup – Pros & Cons
Pros
Quality – This is a well-made jacket like Katabatic's gear.
Warmth – My X-Large jacket has 6.1 ounces of Down. It is one of the warmest jackets in its category. It is the warmest I have.
Price – On a Down Fill-to-price ratio, no jacket has a better price. It is over $100 less than my EOS.
Durability – Katabatic uses ultra-light features, but this jacket has held up well to brushy trails.
Cons
Fit – The fit is slimmer than my other comparable jackets, especially over thick layers, but I usually don't need many layers with this jacket.
Cuffs – The elastic is on the underside of the cuff, which I don't like. I'll explain this more below.
Chest Pocket – There is no chest pocket. These are super convenient, especially for phones.
Jacket Review – Quick Specifications
Price: $299.00
Total Weight: 12.3 ounces (XL)
Fill Weight: 6.1 ounces (XL)
Down: Fabric and Down suppliers are "

bluedesign

."
Fill Power: 850 Goose Down, HYPERDRY
Exterior Shell:

PERTEX QUANTUM

ECO RIPSTOP (10 DENIER, .85 OZ/YD)
Katabatic Tin Cup Women's Jacket Review – First Glance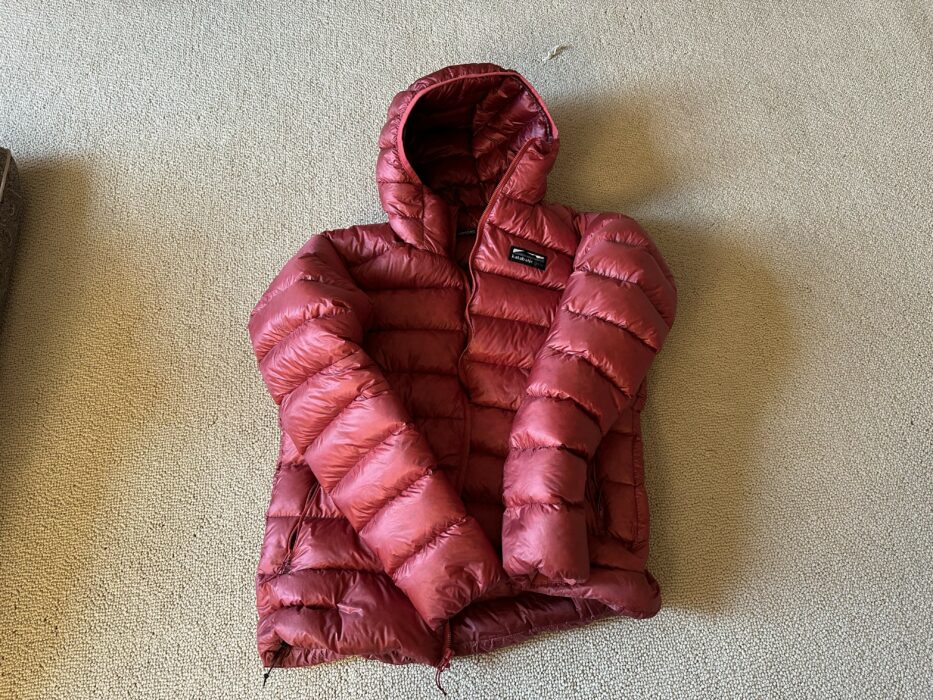 The Tin Cup did not come with a stuff sack like other jackets I've owned, but that is no big deal since I don't use stuff sacks for my jackets. I usually stuff the jacket in my compactor bag with my quilt while backpacking and hang it when I'm at home.
I paused when I saw the exterior shell and could see the Down through the red fabric. Did this mean the fabric was thinner than it should be or not durable?
The jacket was well-made and designed thoughtfully. I was impressed with the amount of Down in the jacket and with how fast the jacket lofted after being unpacked. I also immediately liked the lycra around the hood and the drawstring at the back of the hood.
Katabatic Tin Cup Women's Jacket Review – Components
The jacket has features that indicate this is a quality-made jacket. From the lycra around the hood to the pull-strings on the zippers, it is obvious that thought went into the jacket's design. There are some features I would like to see, like a chest pocket, but this is Katabatic's first round of jackets, and I'm sure future iterations will be designed based on user feedback.
Overall, this jacket has most of the components I want in cold weather lightweight Down jackets. Everything works together to keep me warm and comfortable when I'm backpacking.
Baffles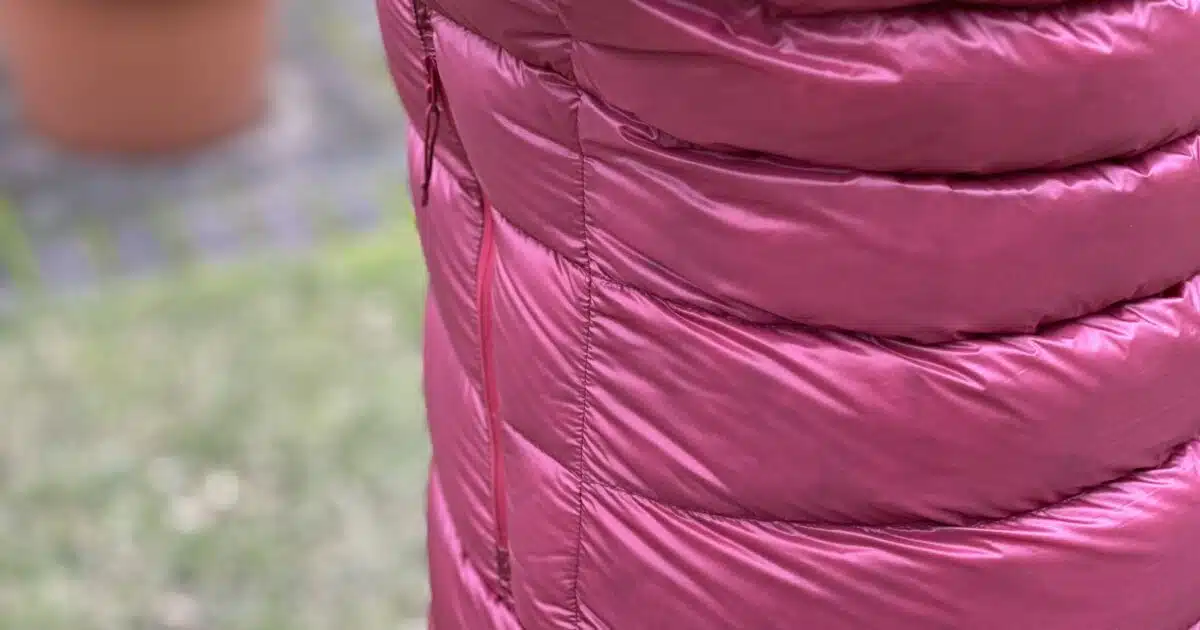 The Tin Cup has large, sewn-through baffles that keep me warm. Unfortunately, there are no baffles on the sides like other jackets, but if they address the snugger fit, you may see some small horizontal baffles in the future.
I like the box construction on the top of the hood and shoulders. As Katabatic states, it is intended to keep you warmer with minimized stitching, and I find this is the case. This is a very warm jacket.
Exterior Fabric
The exterior fabric of the Tin Cup is made from Pertex Quantum Eco Ripstop (10 Denier, .85 oz/yd). It is a more transparent fabric than others I have used, and as I stated above, I can see the Down in some spots, but I have found it surprisingly durable.
The exterior also has a DWR finish, and it has been weather resistant in snow squalls and surprise rain showers when I'm hiking. In addition, it is as resistant to moisture as any other Down jacket I have used with a DWR finish.
One of the extras I like is the elastic around the hood. I've found that it is often either/or. If there is a drawstring, then there is no elastic, and vice versa. In the case of the Tin Cup, I have both, so I don't always have to use the drawstring, which is a nice touch.
The elastic I don't like is around the underside of the cuffs. Besides not looking all that good (personal preference), it also allows the end of the sleeves to brush my skin where the natural oils on my skin discolor the fabric. I much prefer elastic around the ends of the sleeves.
Finally, the shell allows the jacket to compress well in my backpack. The Tin Cup has 1.3 more ounces of Fill than my EOS and compresses to the same size even though the Fill power is 850 vs. the EOS 900. Again, this is due to the shell fabric.
Hood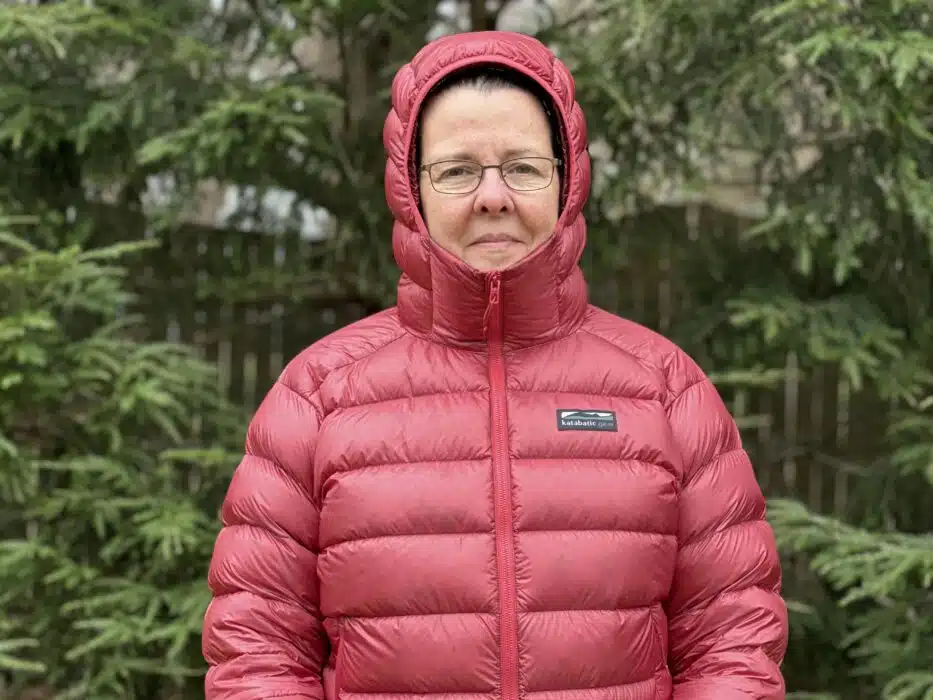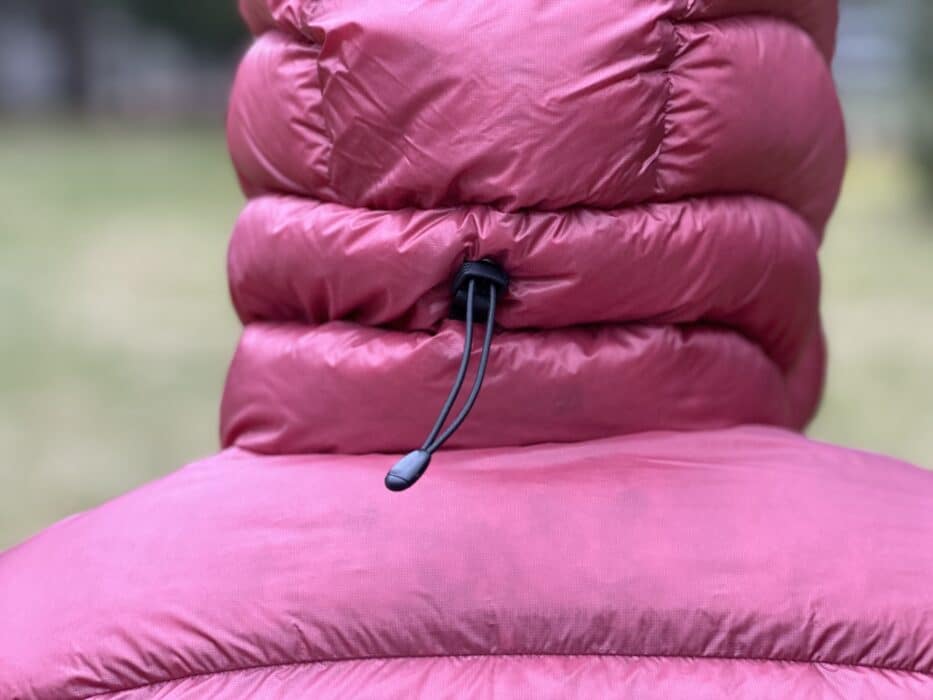 I have only good things to say about the well-designed hood. It has precisely the right amount of Down, so it is not boxy looking; an excellent full face guard, and a drawstring AND elastic.
Most of my Down jackets either have too much or not enough Down. I either look like the Tin Man, or my head freezes. The Katabatic has nailed the perfect amount of Down, so the hood is functional and neat in appearance.
The drawstring for the hood is in the back and can easily be pulled tight for a snug fit. This includes pulling the oversize face guard in for a good fit if it is especially chilly. It is nice not to have strings sticking out the sides of my hood.
Did I mention the elastic around the edge of the hood? The Tin Cup has a drawstring AND elastic, so the hood looks streamlined and is fitted. This is probably my favorite thing about the hood and one of my favorite things about the jacket.
Pockets, Zippers & Drawstring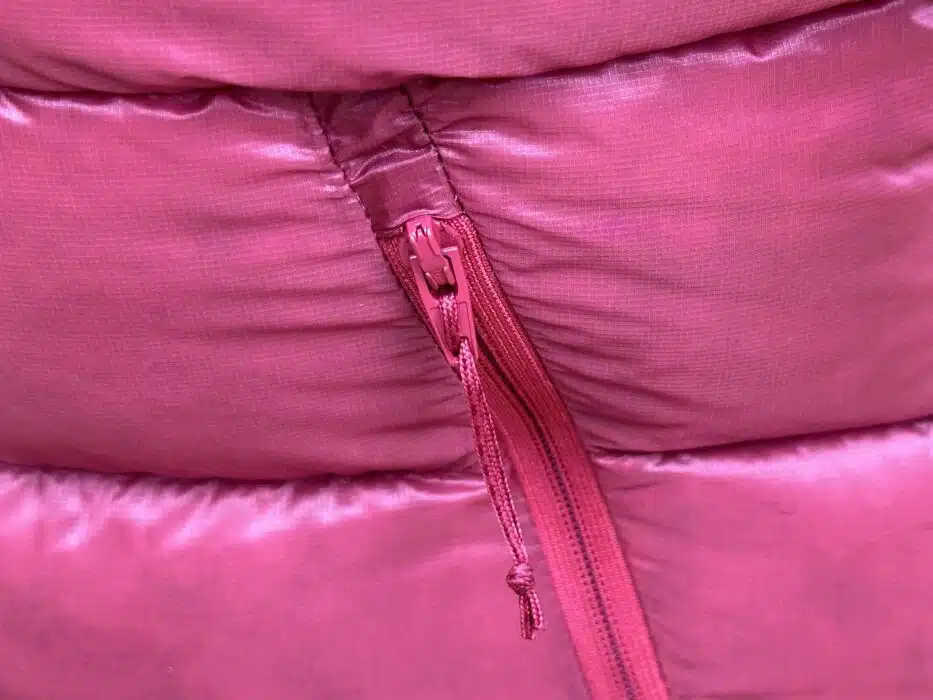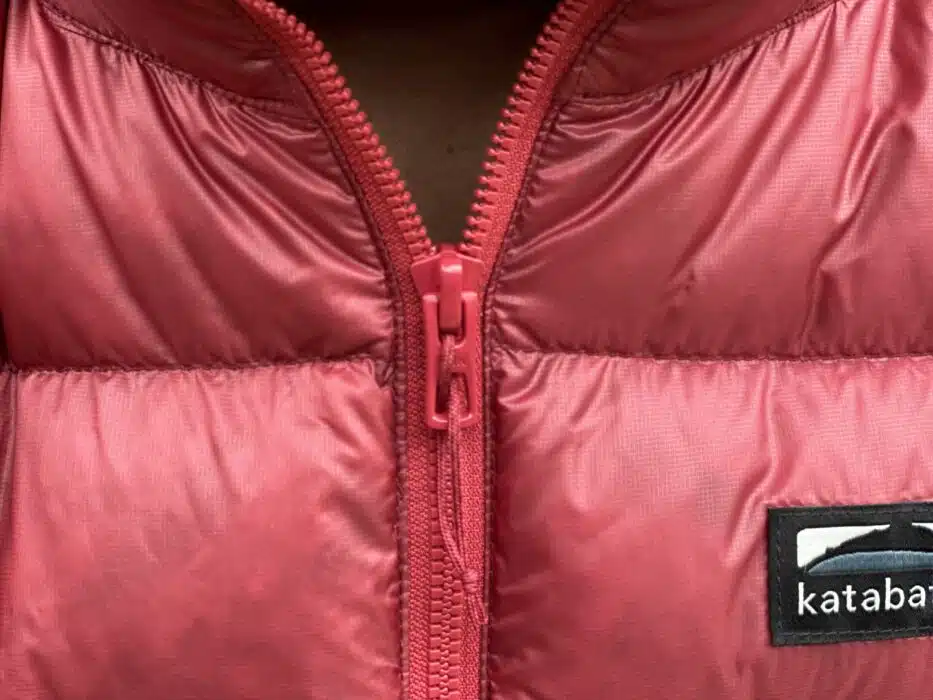 The Tin Cup has two zippered hand warmer pockets on the side. The pockets are surrounded by plenty of Down and deep enough for gloves, snacks, and a phone. The one pocket missing from this jacket is a chest pocket. This is a feature I hope they add to future jackets.
All of the zippers on the jacket are metal and have small nylon pull tabs that are easy to use with gloved hands. The main body zipper is a 5VS YKK zipper which is durable and does not easily snag like smaller zippers. The hand warmer pockets have smaller metal zippers.
Another feature of the jacket that I appreciate is the drawstring at the hem. The drawstring allows you to easily adjust the hem of the jacket to retain your core heat by pulling it snugly against your body.
Katabatic Tin Cup Jacket – Performance
This has been an impressive Down Jacket. The DWR finish, Quantum Pertex Shell, and 6.1 ounces of Down have kept me warm in cold, windy temperatures down into the teens. The exterior fabric is also more durable than my first impressions. It has held up to brushy off-trail hiking and resisted some pretty harsh branch snags.
Due to the thinner but durable shell, the jacket compresses to the size of some of my lighter Down jackets. I can pack it with my quilt for cold-weather hiking without taking up much additional room.
Features like the drawstring hood and waist make this a quick, easy jacket to adjust in cold or windy weather, and the face guard on the hood is warmer than any other used in this category.
Katabatic Women's Tin Cup – Fit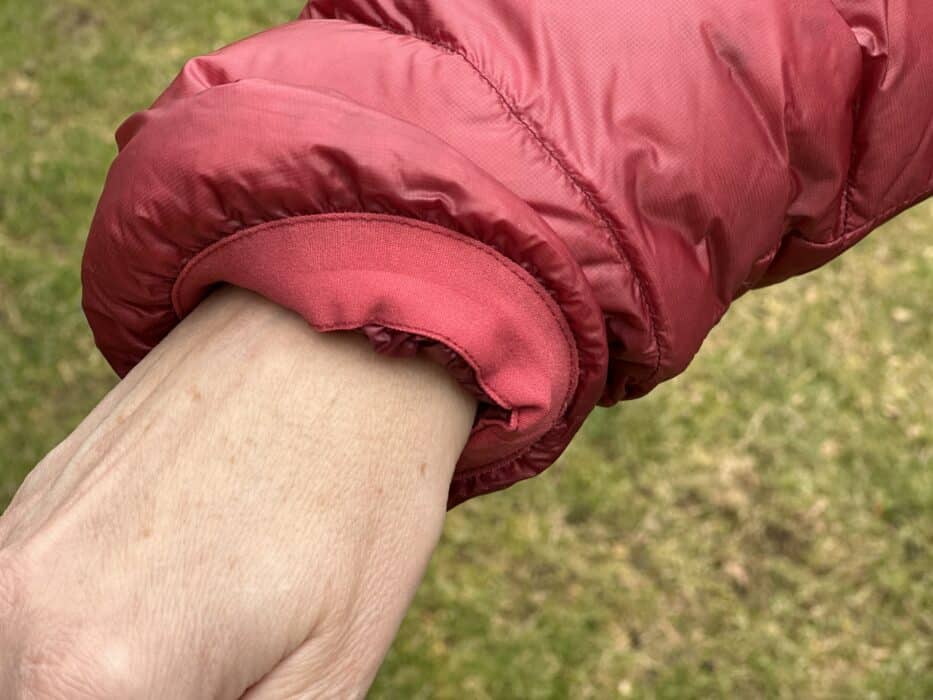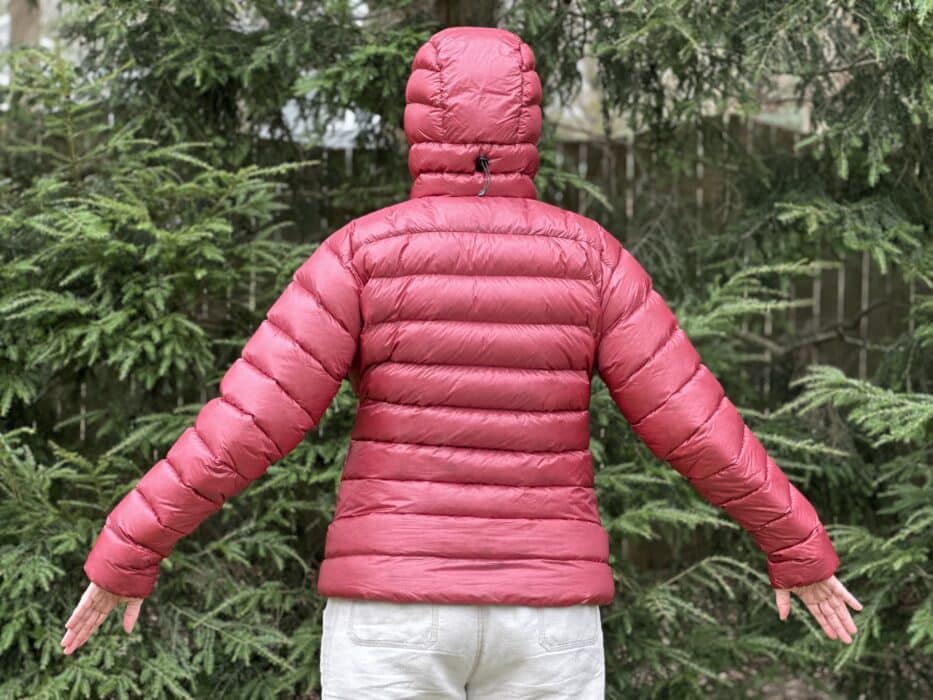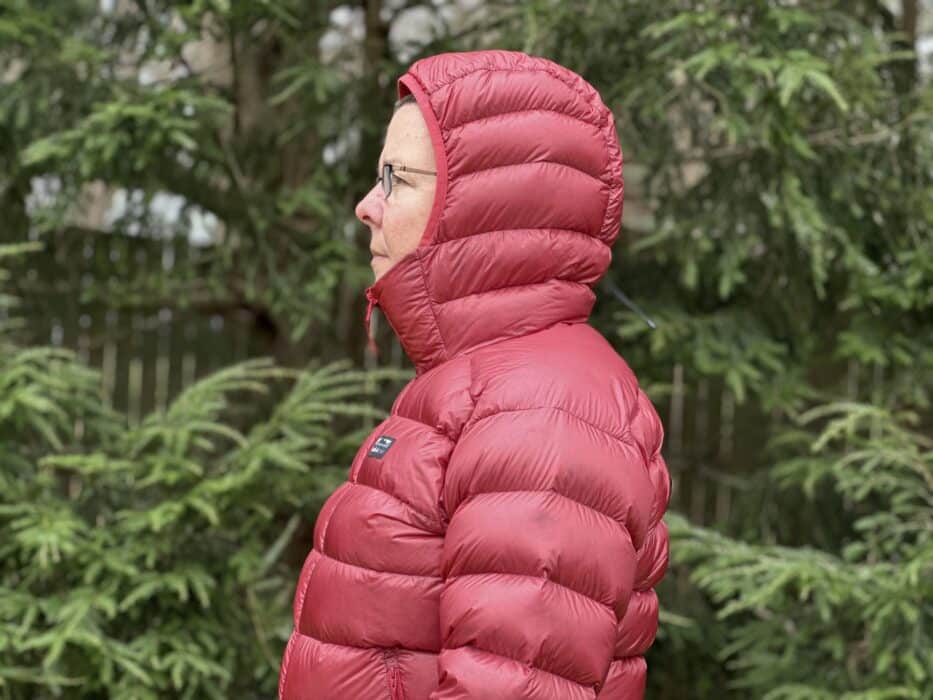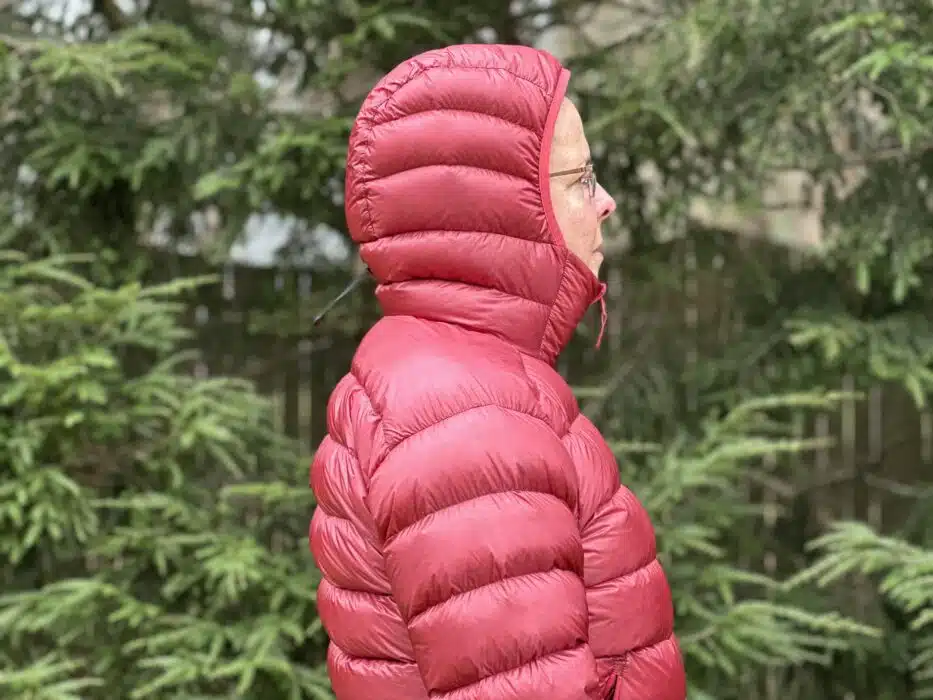 The only things that have made me pause are the cuffs with the elastic on the underside and the jacket's fit. I mentioned the cuffs above, and the fit is slightly snugger than I like.
Katabatic advises users to "size up," but I have never found this works. When I size up, I may get a roomier jacket, but other features don't usually fit well, like arms that are too long or shoulders that are too wide.
That said, the Tin Cup is snug but not too tight. This does not cause me a problem since it is much warmer than other comparable jackets. I can stay warm in the low 20s and upper teens with a single base layer or 100-weight fleece.
I prefer a slightly looser fit, but I like the snugger fit when I sleep in the jacket and use it as an extra layer. In addition, it is more comfortable than my other Down jackets because it does not bunch around me as I move in my sleep, and my head and face stay warmer.
Katabatic Women's Tin Cup – Competitors
I don't usually purchase jackets without Fill weights listed. Knowing a jacket's Fill weight means there are quality checks in place, and I almost always find Fill weights on higher-quality jacket specifications.
The jackets below don't all list Fill weights, but they have good reputations in the hiking community, and I have used several of them.
I have used the medium as a base since this is often the weight used by manufacturers in their specifications.
| Vendor | Jacket Weight | Fill Weight | Fill Power | DWR | Price |
| --- | --- | --- | --- | --- | --- |
| Montbell Plasma 1000 | 7.9 oz | 3.0 oz | 1000 | Yes | $479 |
| Mountain Hardware Ghost Whisperer 2 | 7.8 oz | Not Provided | 800 | Yes | $299 |
| Arcteryx Cerium Light | 10.2 oz | Not Provided | 850 | Yes | $379 |
| Patagonia Down Sweater Hoodie | 12.1 oz | Not Provided | 800 | Yes | $329 |
| Feathered Friends EOS | 10 oz | 3.7 oz | 900+ | Yes | $409 |
Montbell Plasma 1,000 – I've used Montbell gear and clothing for a long time. It is well-made and some of the lightest on the market. Since I purchase my gear, I have not bought this $479 jacket yet, but it is definitely on my list. It is hard to beat at 7.9 ounces and 1,000 Fill power. I will take the Montbell Chameece jacket on my Appalachian Trail thru-hike. It is a great three-season layer.
Mountain Hardware Ghost Whisperer 2 – I think half the long-distance hikers I know have owned this lightweight jacket at one time or another. I have the jacket myself and use it in warmer three-season weather. The jacket is super light but does not keep me warm in colder temperatures, and since I add layers, I never seem to save any weight. If you run warm, this might be the jacket for you.
Arcteryx Cerium Light – This is another thru-hiker favorite, but at $379, at least tell me how much Down I'm getting in the jacket. This is a well-made jacket and is popular on most trails.
Patagonia Down Sweater – This is what I call my "Town Jacket." It is well-made but heavy and compresses less than my other jackets. Other than as a pillow, it does not make a good trail jacket for me.
Feathered Friends Women's EOS – I've used this jacket for years and love almost anything made by Feathered Friends. I

recently wrote a review on this jacket

, and I'm still deciding whether I want to take my new updated EOS or my new Tin Cup on my Appalachian Thru-hike in a few days.
Katabatic Women's Tin Cup Jacket Review – Final Thoughts
The Katabatic Women's Tin Cup Jacket is well-made, warm, and listed at a price point, making it one of my top two choices in Down Jackets. This is a very warm jacket, and in this category, you will be hard-pressed to find another lightweight jacket with this much Down Fill. Finding a jacket of this quality for $299 is also not easy.
If you are considering a lightweight Down jacket for backpacking, the Tin Cup should be a contender. It is durable, compresses to a smaller size than similar, lighter jackets, and keeps you warmer than competitors.
FQA
Is the Katabatic Tin Cup Weather Resistant?
The Tin Cup is water-resistant and durable with a DWR finish. I've stayed dry in snow squalls and light rain.
How does the Katabatic Tin Cup fit?
The Tin Cup has a slimmer fit than some of its competitors, but this is not a problem for me since it is also much warmer, and I only use one base layer.
Is the Women's Tin Cup warm?
The Tin Cup has more Down Fill than any other jacket in this article and is the warmest Down jacket I have used. It is exceptionally warm for its price.
Does Katabatic make quality gear and clothing?
I use quilts, bivys and now clothing from Katabatic. They are a small company that makes some of the best high-quality Down products and hiking gear available right now.
This page has affiliate links for products and gear I purchase and use. If you click on one of these links, I receive a small commission at no extra cost to you. There may also be Amazon links and as an Amazon Associate I earn from qualifying purchases. You can read more about my thoughts on affiliate marketing.