Dirty Girl Gaiters Review
This Dirty Girl Gaiters review describes gaiters that have replaced my past Black Diamond gaiters. Over the last couple of years, I had stopped using gaiters, but last summer, I hiked on the Colorado Trail for two weeks and found myself constantly stopping to remove dirt and debris from my shoes. I'm unsure if it was because I had changed shoes or my gait had changed, but it was irritating.
I had seen the colorful Dirty Girl Gaiters on many trails and decided to give them a shot. I needed something light to keep out small stones and debris, and these seemed ideal at less than 2 ounces.
Specifications
| | |
| --- | --- |
| Weight: 1.8oz | Material: Spandex (stretchy) |
| Attachments: Velcro & Hook | Colors: Many |
Dirty Girl Gaiter Materials
The Dirty Girl Gaiters come in many colors and are made with a lightweight Spandex material. I probably could have repurposed one of my bathing suits. They are very lightweight and dry quickly. I chose the "Trail Party" coloring because it was subtle and matched my Hokas.
Gaiter Attachments
The small Velcro strips that attach the gaiters to the shoes do not stay attached for more than a few days. I always have to superglue them onto my shoes after following the instructions and allowing them to "set" for the directed length of time. Velcro is provided with the shoes – a very long strip. I have many uses for velcro, so this is a plus.
A small clip on the gaiter attaches to the lace on the front of the shoe. The tab holding the clip appears to be hand sewn. I had anticipated the hand-sewn tab being a point of failure on a long hike, but the pair of gaiters I'm using now has about 800 miles on them, and the stitching still looks brand new.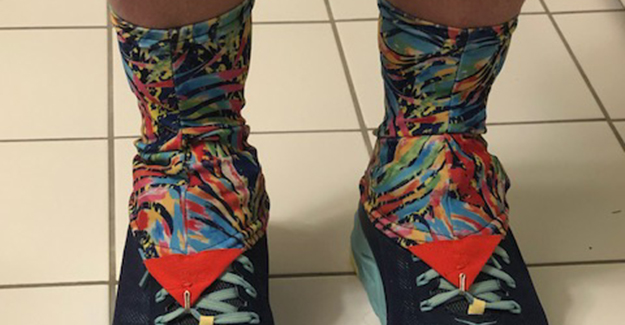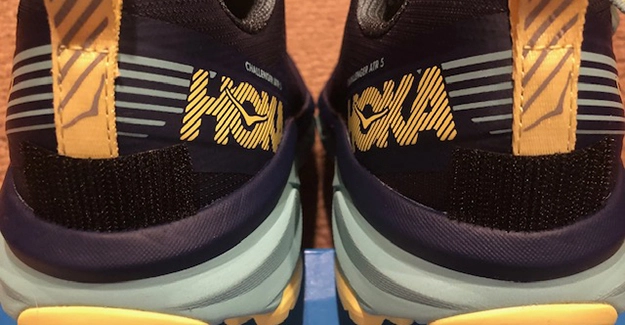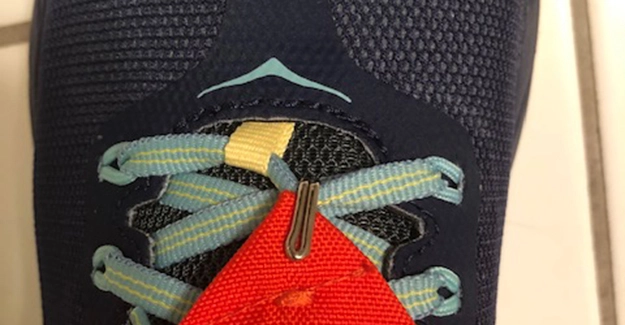 Dirty Girl Gaiters – Final Thoughts
The Arizona Trail was the first trail where I used my Dirty Girl Gaiters. The desert hiking was a good test, and the gaiters worked exactly as anticipated, keeping out dirt, debris, and stones.
When wearing some of my more narrow trail runners with a tighter color, I did not need the gaiters as much, so I don't usually wear them on shorter hikes. This was the case with my Salomon Trail Runners.
I use the Dirty Girl Gaiters for all of my long hikes now. They are bright enough to be spotted at a distance, complimenting my In-Reach. These gaiters are also comfortable since the material is so light. Imagine the material on your bathing suit, except loose, with no rubbing or clinging.
These gaiters are much more durable than I had anticipated, and after 800 miles, they still look good with very few rips or tears. These are not going to be my off-trail gaiters, and the CDT in New Mexico would have shredded the thin Spandex Material, but they are more than adequate for established trails like the AT or PCT.