Osprey Tempest 20 Review
The Osprey Tempest 20 Backpack is versatile and will accommodate your gear on almost any day hike. With its numerous features and comfort, this durable backpack will become your grab-and-go day pack, whether hiking, biking, skiing, or just heading into town.
The innovative Tempest 20 has features – bike helmet attachment, exterior hydration sleeve, etc., found on more expensive backpacks. Combined with lightweight and comfort, this is a pack to consider for your daily trips, on or off the beaten path.
Osprey Tempest 20 Specifications
| | |
| --- | --- |
| Size: WS/M | Weight: 1.65 lbs. |
| Volume: 20L | Max Carry: 20 lbs. |
| Main Fabric: 70D/100D Nylon | Fabric Bottom: Nylon Packcloth |
| Load Type: Top Load | Frame: No |
| Torso Adjust: Yes | Waterproof: No |
| Pros: Comfortable, Versatile, Durable | Cons: Small, No pack cover |
Backpack Requirements
Below are my requirements when purchasing a backpack.
Light Weight – I like to keep my daypacks at around 20 ounces or less.
Durability – A durable pack is critical since I often go off-trail on day hikes.
Size – A pack of around 20L is usually sufficient for my needs, but not any smaller. Since I go off-trail or for long hikes, I often carry contingency gear.
Water-Resistant – This is not critical since I don't usually want a day hike unless the weather is good.
Mesh Pouch – A large mesh pocket on the rear of my backpack is a "must-have." I often lunch in this pocket.
Frame – No frame is necessary since I keep the weight low.
Water Bottle Pockets – I need water bottle pockets since I don't use a hydration system.
Tempest 20 Competitors
| Brand | Weight | Size | Price | Hipbelt |
| --- | --- | --- | --- | --- |
| Camelback RR 22 | 26 oz | 22L | $100 | Padded |
| Hyperlite Daybreak | 19 oz | 17L | $195 | Padded |
| Gregory Miwok 24 | 30 oz | 24L | $120 | Padded |
| Arc'teryx Brize 25 | 32 oz | 25L | $159 | Webbing |
| Patagonia BH 25 | 23 oz | 25L | $129 | No |
| Salomon XA 25 | 15 oz | 29L | $189 | Strap |
| BD Bolt 24 | 33 oz | 26L | $139 | Padded |
| REI Co-op Flash 22 | 13 oz | 22L | $55 | Strap |
| Deuter Speedlite 20 | 18 oz | 20L | $75 | Strap |
Tempest 20 – First Glance
The Tempest 20 looked small out of the box, but once I adjusted the torso pad and packed what I needed for the day, the backpack fit well, and I had the room I needed.
The only thing missing from the backpack was the sternum strap whistle. One did not come with my pack, but I'm OK without it.
The backpack was light and appeared well-made. Although not a priority, it is a good-looking backpack with plenty of pockets and straps to add gear or compress the load.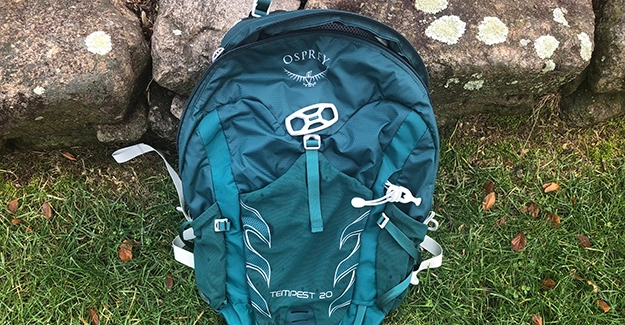 Osprey Tempest 20 – Fit
Frame
The Osprey 20 does not have a frame, but the back panel is part of its Airscape System, giving the daypack enough rigidity to hold up to 20 pounds comfortably. I filled a 2L hydration sack and carried a 1L water bottle in each side pocket with no problem.
The Airscape System includes the backpack panel with foam ridges covered by mesh fabric. This system provides good airflow and keeps you much more relaxed in warmer temperatures or working hard.
One nice thing about this backpack is that it has an adjustable torso pad with two velcro sections. I extended the torso pad to its maximum length and loaded up the pack, and the torso pad never slipped. In addition, the adjustable place allowed me to fit the backpack to precisely the size I wanted.
The backpack's width was slightly narrow for my back, but I stopped noticing after hiking for a couple of hours. This pack does seem to run a little bit on the smaller side. Overall, the fit was good, and I found the backpack comfortable.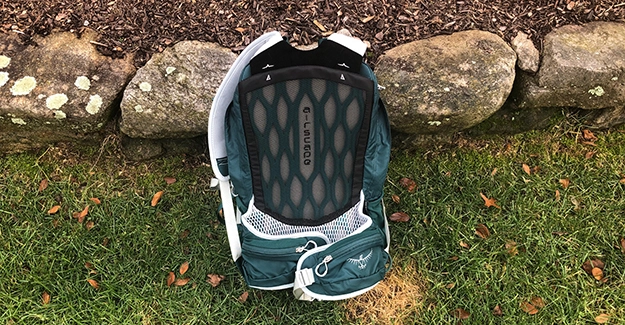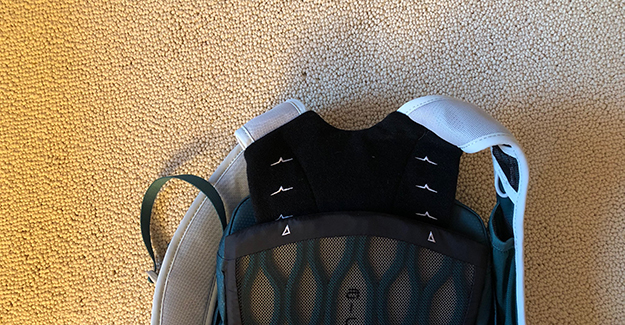 Shoulder Straps & Hipbelt
The shoulder straps on the Tempest 20 are very comfortable. They are designed for a woman's chest and turn out instead of cutting into your chest. The straps are lightly padded and covered with mesh to keep you cool and not absorb much moisture when sweating.
The shoulder straps are attached to the back pad and have a top strap attached to the backpack, so you can further adjust the fit. The strap on the bottom of the shoulder straps attached to the pack is also adjustable.
I found the hip belt comfortable. The belt is wide, lightly padded, and covered with a single piece of mesh. Attached to the backpack and mesh on the back of your pack, the belt wraps around your hips and holds the pack firmly in place with the oversized buckle on the front of the hip belt.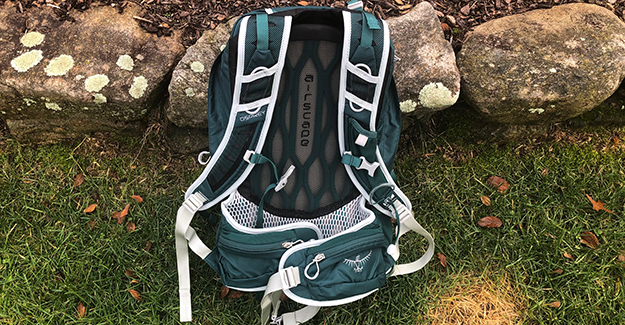 Additional Pack Straps
The Tempest 20 has numerous straps to add gear and compress the pack or potentially certain items in the side pockets. There is also an ice ax loop to secure an ax if needed.
The sternum strap that goes across your chest is fixed. It would have been nice to adjust this strap or slide it up and down the shoulder strap, but the location of this strap works well for me.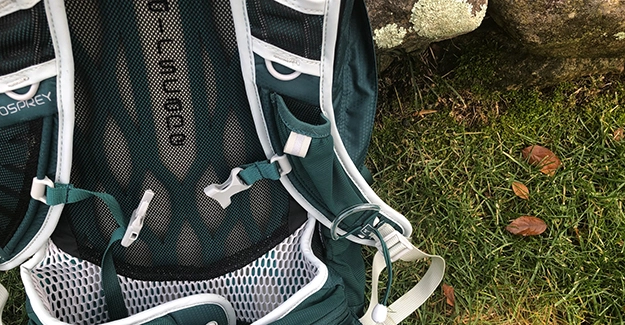 Osprey Tempest 20 Review – Storage
This backpack has many convenient pockets and locations for small items. As a result, I could pack everything I needed for a day trip, even my winter items.
How I Packed My Tempest 20
Main Compartment: Down Jacket, 100 Weight Fleece Top, Toiletries, Sawyer Water Filter
Top Pocket: First Aid Kit, Headlamp, Toilet Paper
Side Pockets: One 1L water bottle in each
Zipper Pocket on OTT: Car Keys and Maps
Back Mesh Pocket: Lunch and rain gear
Hipbelt Pockets: Snacks, InReach Mini, Chapstick
The main pocket has plenty of room for my extra layers, with a stash pocket at the top. The stash pocket has a clip for my car keys and is a very roomy pocket. The back of the main pocket is lined with water-resistant material if the hydration system leaks.
Above and behind the main pocket is a smaller zippered pocket with plenty of room for more gear when you want to grab something fast without unpacking, like first aid supplies, water filter, etc.
The large mesh pocket on the back of the pack is excellent for holding wet items or anything you don't want to put inside the backpack. For example, I sometimes keep my rain gear in my pocket.
Additional storage pockets include the hip belt pockets and the small mesh stash pocket on your shoulder strap. The small stash pocket was too small for anything I wanted to put in it, and I put my InReach and snacks in my hip belt pockets.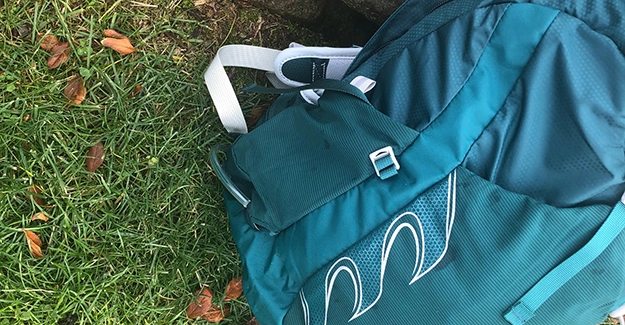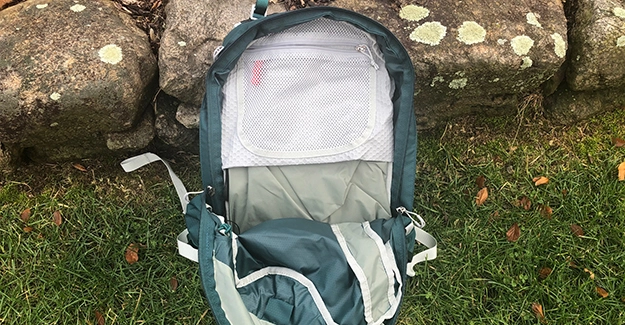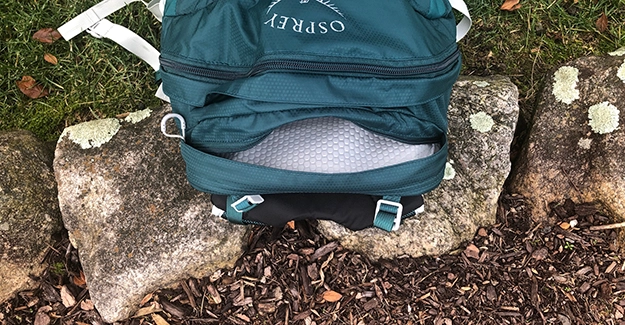 Tempest 20 Review – Materials
The Tempest 20 is made with 70D and 100D nylon fabric. The bottom of the backpack and accents use a 420HD Nylon Packcloth. The base material is rigid, which is good since I tend to be tougher on my daypacks than on my multi-day backpacks.
Seams are not sealed or taped on the Tempest 20, but the inside of the front pocket and the hydration sleeve are water-resistant.
Tempest 20 – Additional Features
The Tempest 20 has an external hydration sleeve between the back of the pack and the back pad. An outer sleeve prevents you from unpacking your backpack to fill your water, which is a good feature of this pack.
Another cool extra feature is the bike helmet attachment clip on the back of the backpack to attach your bike helmet. Using a stretch cord to pull out and clip the helmet is effortless.
Attachment cords are on the backpack's side for your hiking poles. These are OK for short scrambles, but I found them awkward for carrying my poles any distance.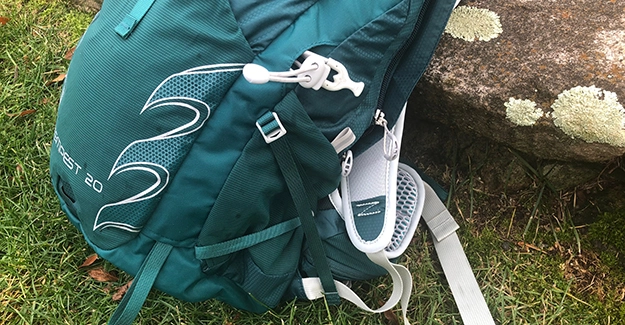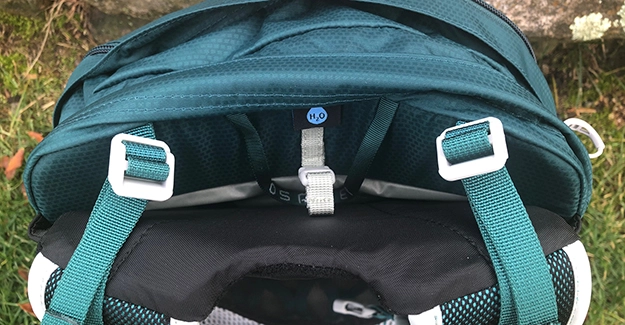 Osprey Tempest 20 – Final Thoughts
The Osprey Tempest 20 backpack is a durable, comfortable daypack. The pack has many features that make it versatile, and it is roomy enough to carry a full day's gear, thanks to its many pockets.
This pack runs towards the small side, and I found it slightly narrow for my back. This did not make it an uncomfortable backpack, though, and much like Osprey's other backpacks, I find it comfortable over long distances.
Pros:
Volume: The pack seems small initially, but with all of the pockets, I had plenty of room for my gear
Features: Good extra features like the bike helmet clip, external hydration sleeve, etc.
Comfortable: Comfortable hip belt, shoulder straps, and mesh-covered Airscape back to stay cooler.
Durability: The 70D Nylon was not the toughest I have used, but the 100D packcloth on the backpack's bottom is more than adequate.
Cons:
Size: It runs a little narrow for me.
Waterproof: Osprey should offer a small pack cover if not using a more water-resistant fabric. You can always use a small trash bag as a liner.
Sternum Strap: I would like to see this adjustable on the vertical movement.
FAQ – Osprey Tempest 20
Is this backpack Waterproof?
The backpack is not waterproof, but the external hydration sleeve is waterproof to prevent leaking into the backpack.
Does this backpack run true to size?
This backpack runs slightly small and is definitely for women.
What are suitable activities for Tempest 20?
Hiking, Biking, Skiing, Commuting, General Outdoor
How do I adjust the torso length?
The back pad has Velcro attachments at the top and bottom. You can slide the pad up or down and reattach these.