ULA Ohm 2.0 – Review
The ULA Ohm 2.0 is a high-quality, ultralight backpack, sold at one of the better price points in its category. This ultralight backpack is one of the most durable I use, and it provided me with years of comfortable, lightweight backpacking.
Recently, I purchased the new ULA Ohm 2.0 and used it on my New England Trail (NET) hike. As expected, the Ohm 2.0 was as comfortable and rugged as other ULA packs I've used in the past (Ohm, CDT, Catalyst, Circuit).
If you are making the transition to ultralight backpacking, you should seriously consider the ULA Ohm 2.0 as your next backpack.
Pros:
Comfort: Comfortable with a frame that flexes with movement.
Durability: Quality construction and durable materials make this one of the toughest ultralight backpacks available.
Components: Details – hydration sleeve, storage pouch, adjustable pockets, compression straps, etc., make this a versatile pack.
Value: Extra components, high-quality construction, and competitive pricing make this backpack a good value.
Versatility – The Ohm 2.0 is a versatile pack that allows you to adjust for load size and frame vs. frameless.
Cons:
Top Strap: Longer top strap for my bear canister.
Exterior Mesh Pocket: Less dense mesh and a slightly larger pocket for wet gear.
Seam Taping – The Robic material is water-resistant, but it would be nice to have the backpack's interior seams taped.
Frame: There has been feedback on the carbon frame's durability, but this has not been an issue on my two Ohm packs.
Velcro Tab – A small piece of velcro on the roll-top will keep the roll tighter when rolling the fabric.
ULA Ohm 2.0 Review – Quick Specifications
Weight: 36 ounces (Medium)
Pack with add-ons: 38 ounces
Volume: 63L
Fit: Medium Backpack and Medium Belt
Add-Ons: Roll-top Closure, Shoulder Pouch
Material: 400 Robic Nylon,
Backpack Requirements
Below are my requirements when purchasing a backpack.
Light Weight – To combat fatigue and injury on long hikes, I try to keep my backpack's weight around 2 pounds or less.
Comfort – Over long distances I like a comfortable backpack that rides easily and holds heavy water weight if needed.
Durability – A durable backpack is important. My pack has been run over, fallen down mountains, stepped on by horses, and is often used as a seat. I also like to hike off trail.
Size – The backpacks I use are 55L-65L. I sleep cold, so I carry a warmer sleeping bag or quilt. I also cook, so I carry fuel and a stove.
Water Resistant – I use a compactor bag and not a pack cover. I like water-resistant fabrics.
Mesh Pouch – A large mesh pocket on the rear of my backpack is a "must-have." I use it for my tarp/tent and put wet items in it to dry.
Frame – I don't need a frame pack in the summer, but I do use one for three-season hiking, where my pack weight is 20-25 pounds.
Water Bottle Pockets – I need water bottle pockets since I don't use a hydration sleeve, and I want to be able to grab the bottles easily, and not worry about them falling out.
ULA Ohm 2.0 Competitors
| Brand | Wt | Sz | Fabric | Frame |
| --- | --- | --- | --- | --- |
| Gossamer Gear Mariposa | 31 oz | 60L | 200 Robic Nylon | Alum. |
| Hyperlite Junction 3400 | 32 oz | 55L | Dyneema (DCF) | None |
| Zpack Arc Haul | 23 oz | 62L | 4.85 Gridstop | Carb |
| Osprey Lumina 60 | 31 oz | 60L | 30 Cordura Nylon | Alum |
| Granite Gear Crown2 60 | 34 oz | 60 L | 210 Nylon | Poly |
| Mountain Laurel Designs Exodus | 18 oz | 58L | DX 210 Ripstop | No |
Ohm 2.0 Review – First Glance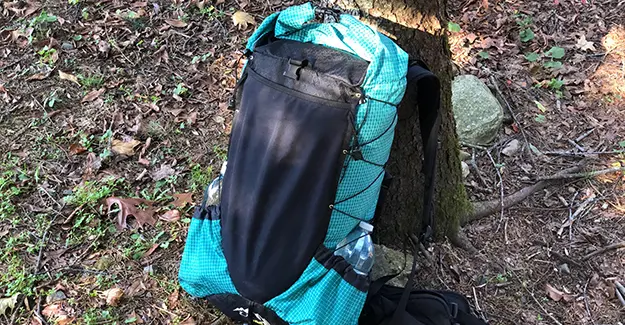 The ULA Ohm 2.0 is ready to pack and go out of the box. The backpack is well-made with quality construction which is evident as you handle the backpack.
I didn't need some of the standard components: hand loops, hydration sleeve, internal stash pocket, and water bottle holsters, and they were all easy to remove.
Ohm 2.0 Review – Fit
Frame
The ULA Ohm 2.0 frame consists of a "U" shaped carbon hoop. The hoop is inside the backpack and runs under a nylon sheath at the top of the pack, with the ends resting in two small nylon pouches at the backpack's bottom. I like this frame system because it flexes as I hike and climb, making the backpack a comfortable fit. In addition, the hoop is relatively easy to remove if I want a frameless pack.
There have been some complaints about the carbon hoop's durability, but I have not had any problems. The Ohm I'm testing has about 200 miles of use. My Ohm before this had thousands of miles – AT, CDT, AZT, etc.
The Ohm 2.0 has a 1/4 inch thick piece of open-cell foam in the back, in addition to the carbon hoop. The foam is secured by two elastic loops and is easy to remove. This small foam pad is comfortable as long as I keep the pack weight at around 25 lbs.
If you want more insulation or cushion, you can use a foam sleeping pad folded up or roll the pad up in the pack and place your gear inside the rolled pad. You can also deflate your inflatable pad and fold it up for additional back cushioning.
Shoulder Straps & Hipbelt
You can get either J or S-shaped straps with the backpack. I use the S-shaped straps and find they fit my body shape, mainly if, like me, your shoulders are squared and a little more narrow.
I have used many backpacks over the years, and as a female, I have often found the straighter J-shaped straps uncomfortable. ULA backpacks are the most comfortable I have used. They fit across my chest well and have the right amount of padding.
The Ohm's shoulder straps' load lifters are robust and allow you to adjust the pack easily. Unlike some competitors' load lifter straps, these are full-size straps and buckles and easily handle heavier weights.
The Ohm has a well-padded hip belt with two straps on each side. Having two straps allows you to adjust your hip-belt for a more precise fit, but I find them unnecessary with the padding in the Ohm hip-belt. Still, if you want to dial in your hip belt, you have this capability with the Ohm. The hip belt attaches via straps and velcro and is easy to adjust.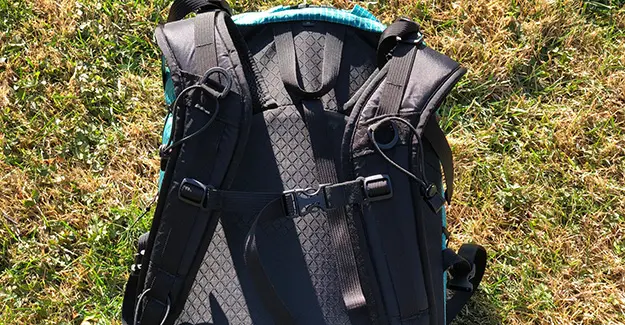 Additional Pack Straps
The sternum strap is a full-size strap that you can slide up and down the shoulder straps as needed. Above and below the sternum strap, there are water bottle holders, both of which I have removed. There is also a fixed plastic attachment clip at the top of each strap and two fixed points on the shoulder straps to attach additional gear or storage components.
The Ohm uses compression lines that zig-zag up the sides of the backpack and are adjustable. I use these to reduce the pack's size and make it more secure if I have less gear. I like these compression straps better than mesh because I can use a single strap at different heights to hold things like hiking poles, umbrellas, tall water bottles, tent poles, etc.
Additional straps on the pack include hand loops, which I removed since I use trekking poles. There are also tension straps on the back of the pack (top and bottom) for your trekking poles and ice-ax.
Finally, a top strap goes up and over the top of the pack, allowing you to compress the backpack further. It would be nice if the top strap were longer to attach my bear canister, but it is still long enough to secure a large load that extends into the pack sleeve.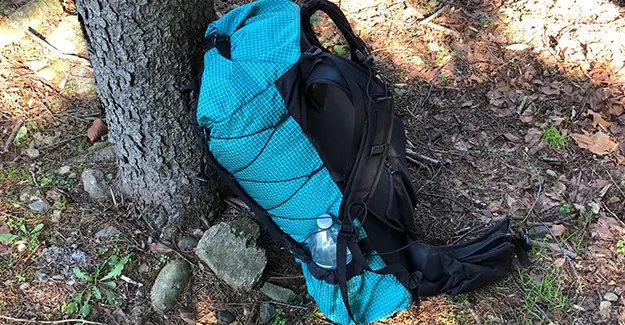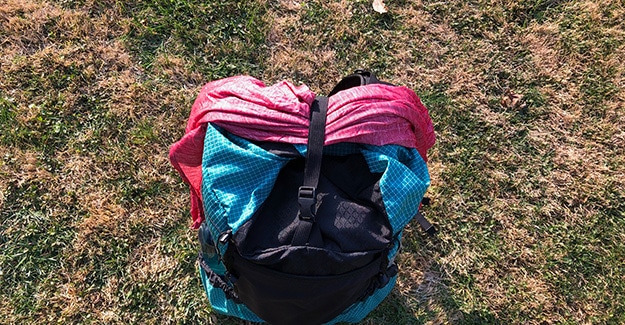 ULA Ohm 2.0 Review – Storage
The storage for the ULA Ohm is 3,960 CU IN/63L and breaks down as follows in cubic inches.
Main Body: 2,100
Front Mesh Pocket: 500
Left Side Pocket: 400
Right Side Pocket: 400
Extension Collar: 500
Left Hipbelt Pocket: 100
Right Hipbelt Pocket: 100
The main storage compartment of the ULA Ohm 2.0 has plenty of room, and the large extension collar allows me to add a generous amount of gear. There are two hydration ports on each side of the pack, and the hydration sleeve hangs from two clips inside the backpack. There is also a small zippered storage pouch that clips inside the main compartment on the front.
The large exterior mesh pocket on the Ohm 2.0 is made from a dense mesh material and is tighter than other similar mesh pockets I have on other backpacks. This is good if you are hiking off-trail, and there is the risk of snagging the mesh, but it provides less capacity and airflow if you want to dry your gear.
The water bottle pockets are large and adjustable, which is nice to have if you want to lock down anything in these pockets when going off-trail or scrambling.
Hip-belt pockets are also large and can carry multiple snacks, a camera, a GPS unit, etc. However, keep in mind that they are not waterproof, so you will still need to be careful if carrying electronics when it is raining.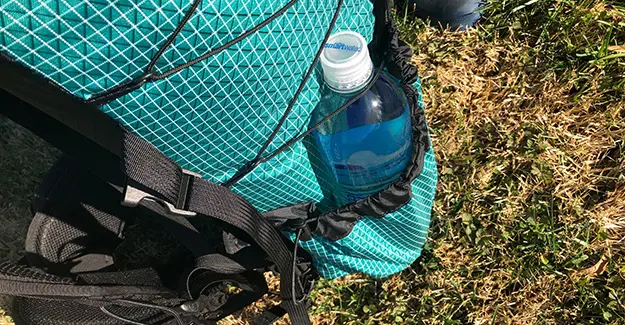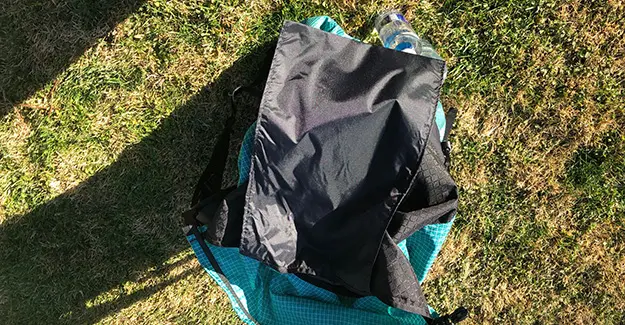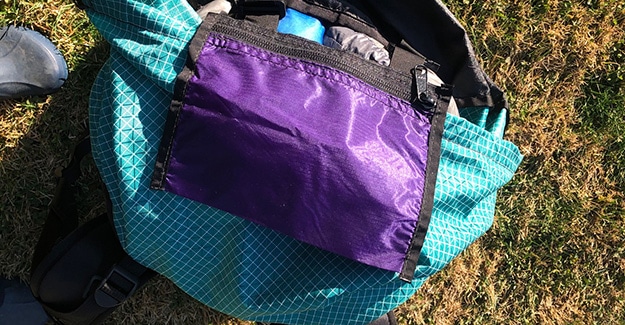 Ohm 2.0 Review – Materials
The ULA Ohm 2.0 is made with 400 Robic fabric, the toughest fabric I have used to date. The material is abrasion and water-resistant and is arguably more robust than most Dyneema fabrics. I have not used any other non-DCF backpacks that use fabric this strong.
Seems are not sealed on the Ohm as they are in some other ultralight backpacks, but this is not an issue for me since I use compactor bags in all of my packs, even my Dyneema backpacks.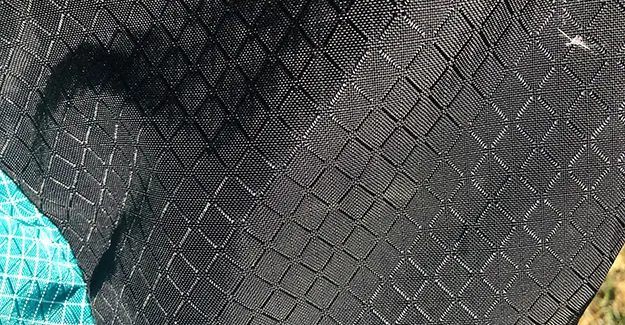 ULA Ohm 2.0 – Add-Ons
There are two components I added to my Ohm 2.0. First, I added roll-top straps and a shoulder pouch.
As I mentioned earlier, the roll-top allows me to compress the load, offering more flexibility for different load sizes. On the Ohm, the roll-top straps clip together or attach to the pack's side, which I prefer. Using the Ohm as a frameless backpack also works better for compression.
The second component is the shoulder pouch, which attaches to the Ohm's shoulder straps. The pouches come in Robic and X-Pac fabrics, and they are padded, which is nice if carrying sunglasses. The X-Pac fabric is waterproof, and this is one of the better shoulder pouches I've used. I can keep my camera and GPS unit in the pouch if it starts raining. The pouch would be perfect if there were a mesh sleeve on its front for my GPS unit.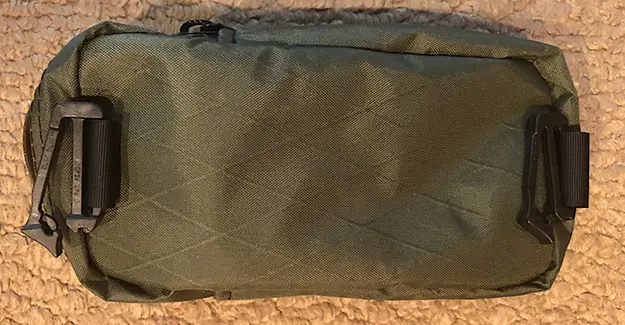 ULA Ohm 2.0 – Final Thoughts
The ULA Ohm 2.0 is a quality-made backpack built to last and handle harsher conditions than many of its ultralight competitors. I have used all of the backpacks listed in the Competitor Section of this article, and the Ohm is the pack I find the most comfortable.
FAQ
Is the ULA Ohm 2.0 Waterproof?
The Ohm 2.0 is not waterproof, but it is more water-resistant than some competitors. I use a compactor bag in all my backpacks, even if the manufacturer states they are water-resistant or waterproof.
Does the ULA Ohm 2.0 Have a Frame?
Yes, the pack has a curved carbon hoop. This hoop flexes with your movement and is one of the features that make this pack so comfortable.
Other ULA Backpacks I have Used
I have used both the Catalyst and the Circuit. I use the Catalyst for winter backpacking on long hikes. It is a workhorse with a good capacity for heavy gear.
The Circuit is an excellent long-distance backpack if I carry heavy water loads or need to carry enough food to comfortably get me through that rare 7 – 10 day stretch.
You get a lot of capacity and durability at a very lightweight with both backpacks.
Related Links
Average Hiker purchased this backpack and does not write sponsored posts or receive compensation for reviews. When you buy through links on this website, I receive a small commission at no additional cost to you. Please consider purchasing through the links above if you find this review helpful.
Hi. Average Hiker purchased this product and does not write sponsored posts or receive compensation for reviews. Some of the links in this post are affiliate links which means that when you click on one of these links, I earn a small commission at no extra cost to you. Also, as an Amazon Affiliate, I earn from qualifying purchases. If this review has been helpful, I appreciate you considering your purchase through one of the product links. Thank you.