MLD Prophet Backpack – Review
The MLD Prophet Backpack by Mountain Laurel Designs is a solid ultralight, frameless backpack. This well-made backpack offers many valuable features and pays attention to details.
I have purchased a lot of gear from MLD over the years – Grace Tarp, Bivy, Rain Mitts, etc., but this is my first backpack. Like my other gear from MLD, this is a well-made, thoughtful piece of ultralight gear.
My Thoughts on Frameless Backpacks
I'm not an ultralight backpacker on long-distance hikes, mostly because I have contingency items, but I do go pretty light on shorter backpacking trips and during the summer.
Some manufacturers will tell you their frameless backpacks will comfortably carry weights of up to 30lbs. However, I have never comfortably carried a frameless pack over 20 lbs, and the MLD Prophet is no exception.
Making Your Frameless Pack More Comfortable
You can do things to extend a frameless backpack's ability to carry heavier weights.
Use a foam pad or folded inflatable pad to offer back support
Pack it well with the heavier items balanced near the top
Use packing compartments pods from Hyperlite. These make a big difference. I'll note that MLD also carries PODS now. I just have not used them.
Several factors drop my weight into the ultralight range.
Knowing the weather over a few days
Summer temperatures require fewer layers
Smaller food and water carries
Lower elevations
The summer season is my ultralight season, and I love to skip down the trail with what equates to a Daypack, but on the long trails, I err on the side of caution and safety, carrying more backup items so my base weight is usually in the 11-13 pound range.
MLD Prophet – Spec Summary
Size: Medium
Total Weight: 17 ounces
Internal Volume: 2000 cu. in. (32L)
External Volume (Mesh & Side Pockets): 600 cu. in. (10L)
Extension Collar: 400 cu. in. (6L)
Material: DDX 210d RipStop Fabric: 210D Coated Nylon Ripstop with a 210D Pure UHMWPE Reinforcement Grid, Plus a Second Diagonal Reinforcement Grid of Nylon for added Abrasion Resistance
EXTERNAL DIMENSIONS: 12″ Wide x 7″ Thick x 30″ High|| 30 cm Wide x 18 cm Thick x 75 cm High
Max Carry Capacity: 25 Pounds
Add-Ons: 1x Shoulder Pocket, 2x Hipbelt Pockets
Backpack Requirements
Below are my requirements when purchasing a backpack.
Light Weight – I keep my backpack's weight around 2 pounds or less to combat fatigue and injury on long hikes.
Durability – A tough pack is essential. My pack has been run over, fallen down mountains, stepped on by horses, and is often used as a seat.
Size – The backpacks I use are 35L-58L, depending on the season. I sleep cold, so I carry a warmer sleeping bag or quilt. I also cook and have fuel and a stove.
Water Resistant – I use a compactor bag (although recently, I have begun using Dry Bags) and not a pack cover. I like water-resistant fabrics and taped seams in my backpacks.
Mesh Pouch – A large mesh pocket on the rear of my backpack is a "must-have." I use it for my tarp/tent and put wet items in it to dry.
Frame – I don't need a frame pack in the summer, but I use one for three Season hiking where my pack weight is 20-25 pounds.
Water Bottle Pockets – I need water bottle pockets since I don't use hydration sleeves.
MLD Competitors
Many competitors are now in the frameless backpack category, and I have used two packs below. The MLD Prophets and ULA CDT are my favorites because of their comfort and durability. However, they are all excellent backpacks, and different packs work for others.
| Brand | Wt | Sz | Fabric | Frame | Max Wt. |
| --- | --- | --- | --- | --- | --- |
| Zpack Nero | 12.6 oz | 38L | Dyneema | None | 20 lbs. |
| ULA CDT | 25 oz | 54L | 400 Robic | None | 18 lbs. |
| GG G4-20 | 21.7 oz | 42L | 70D Robic | None | 30 lbs. |
| Waymark | 25 oz | 40L | XPac | None | 30 lbs. |
MLD Prophet – First Glance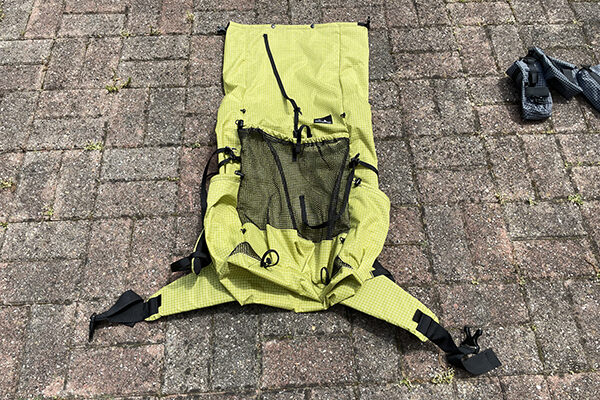 The MLD Prophet was shipped in a tiny little box, and I marveled at the backpack's lightweight as I pulled it from the box.
This backpack was light!
I had also ordered two hipbelt pockets and a chest pocket. Examining these and the backpack, I admired the quality and durability. All items were the well-made pieces of gear I had come to expect from MLD.
Prophet – Fit
Frameless
The Prophet is a classic frameless backpack. The pack has plenty of room in the main compartment if you want to insert a foam pad or fold up an inflatable pad for support.
I've rolled up foam pads to give frameless backpacks structure in the past, but now I use Hyperlite PODS to provide more rigidity if I use a frameless pack.
The MLD Prophet backpack fits me well, well-positioned in the center of my back and fitting snugly against my shoulders with its slightly curved side panels. This was a comfortable backpack.
Shoulder Straps & Hipbelt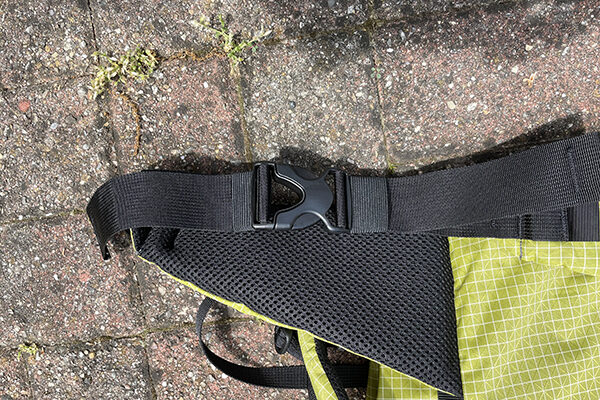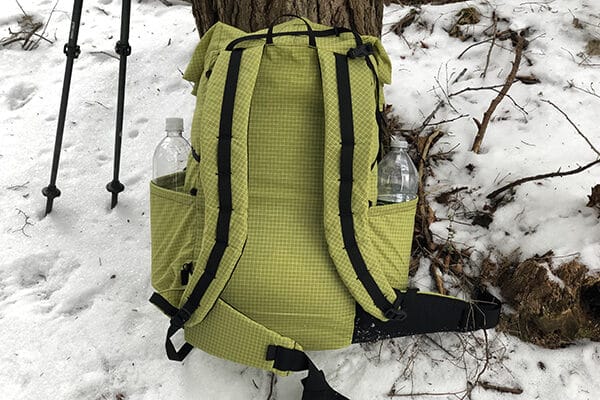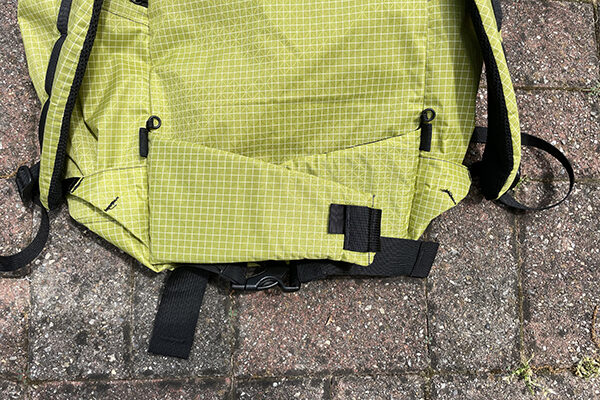 For a 17-ounce frameless backpack, the MLD has a well-padded hip belt and shoulder straps. The shoulder straps are 3″ wide and 1/2″ thick and use EVA50 foam. They are as comfortable as some of my full-size packs.
The hipbelt is also well-padded with a durable and easy-to-snap buckle. I like the slide style of the buckle, and the large wings on the hip belt keep it from pinching on my hips like other frameless packs I have used.
On my second trip out with the backpack, I carried about 18 pounds. This included food and water. By about mile six, my chest and shoulders were singing!
The pack fit me well and was comfortable, but the shoulder straps were a little wider than I preferred, and with no sternum strap, the backpack's weight pulled out and back on my chest.
I had to stop more often than usual on a 15-mile day to drop the pack and let my chest muscles rest.
I knew I should have attached the sternum strap, which solved the issue.
Additional Pack Straps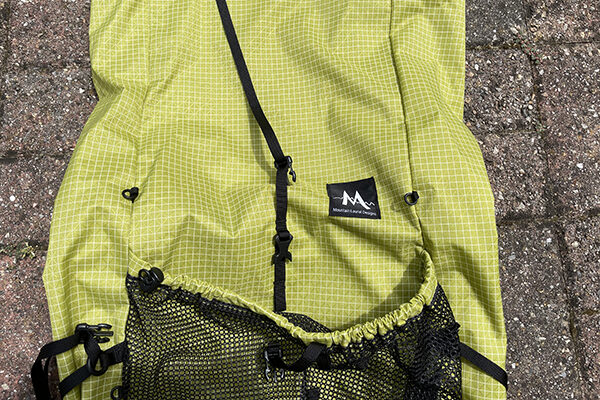 There are plenty of additional straps on the MLD Prophet backpack to provide options and flexibility.
Daisy Chains – There are chains down both shoulder straps to adjust your sternum strap and for other attachments.
Ice Ax loops – The loops are small but sturdy.
Side compression straps – These are integrated with the roll-top straps and compress across the middle of the sides when you roll down the top sleeve of the backpack.
V-Top Compression Strap – Used to compress the top of the pack.
Attachment Loops – These tiny loops are placed down both sides of the backpack, providing plenty of places to strap down gear.
Prophet Review – Storage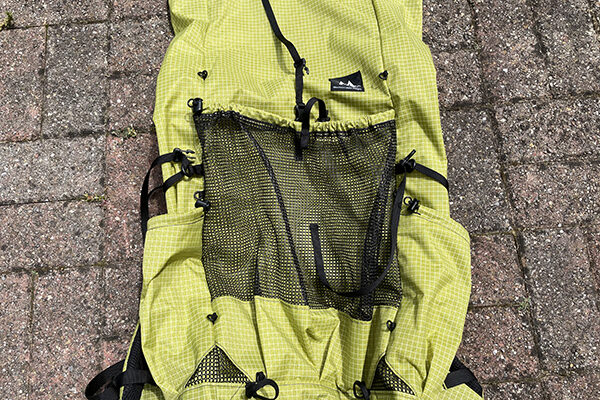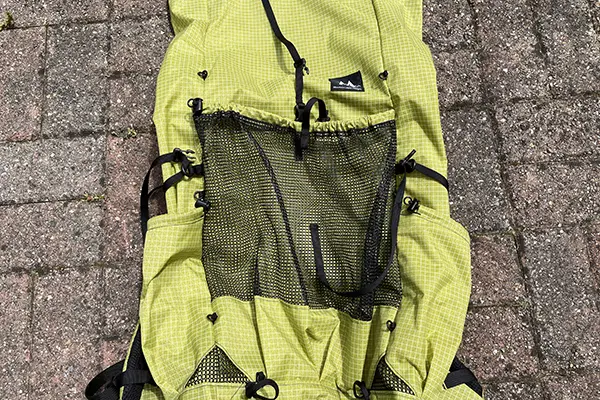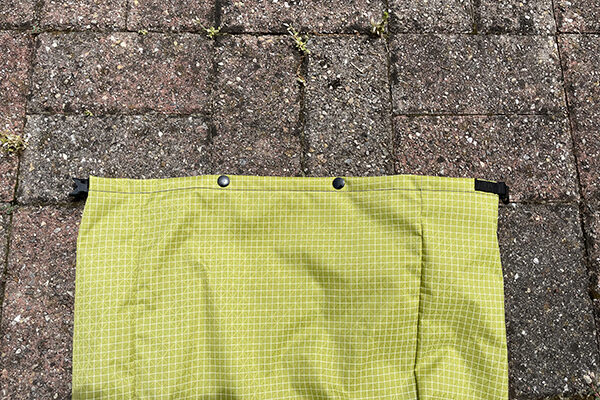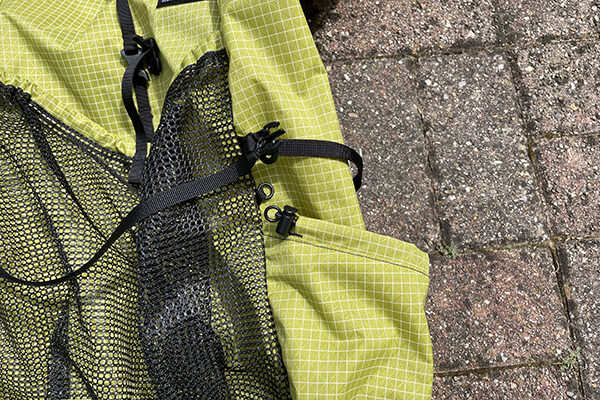 The MLD Propet is a roomy backpack, and the extended sleeve allows you to add more gear for extended hikes.
How I Packed My MLD Prophet Backpack
Main Compartment (Lined with Compactor Bag): Stuff sack with 10 Degree Feathered Friends Lark, Two Small Pods with clothes, toiletries, first aid, electronics, and food. Cooking kit, sleeping pad, and rain gear
Two Side Pockets: Two Smart Water Bottles
Back Mesh Pocket: Hexamid Tarp-tent
Hipbelt Pockets: Snacks, Chapstick
Shoulder Pocket: Phone, InReach Mini
Prophet Backpack Storage
The main storage compartment is large and has two nylon loops on the back at the top. These are good for hanging a hydration sleeve if you use one.
The oversized sleeve provides a lot of extra capacity for storage if you overpack the backpack. There are snaps along the top, making the sleeve easier to roll (although I prefer Velcro), and clips at the corners of the sleeve attach to side compression straps if you roll it down.
The side pockets are tall and deep. I carried two large Smartwater bottles that fit in them with no problem. Although I did not have to worry about the bottles falling out, I secured them with the bungee cord across the top of the pockets to be safe.
The side pockets are tall and deep, so I cannot reach behind me to grab my water bottles, but this does not matter since the pack is light. I swing it off one shoulder and grab a bottle.
Shoulder Pocket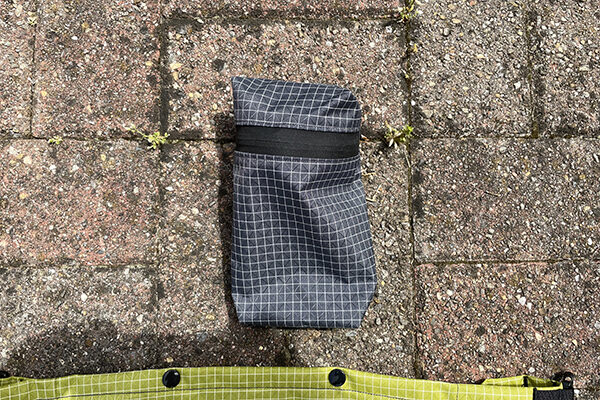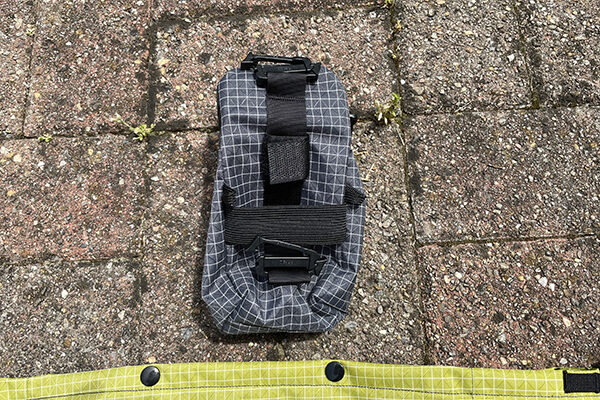 I purchased two hip belt pockets and one shoulder strap pocket with this backpack.
The shoulder pocket is made of DX 210D Ripstop. This is water-resistant and not waterproof, so I did not use the pocket on a hike. However, I keep my phone in this pocket and need it to be as watertight as possible.
Besides the water concern, the shoulder strap pocket was a good size, and my iPhone fits in with no problem. I don't believe they offer a DCF option, but you can always contact MLD.
I currently use a Hyperlite Shoulder pocket (see below). I've yet to have them leak in some pretty severe rain. They also have a mesh sleeve outside where I put my InReach Mini. I do still put my phone in a Ziploc in extreme precipitation.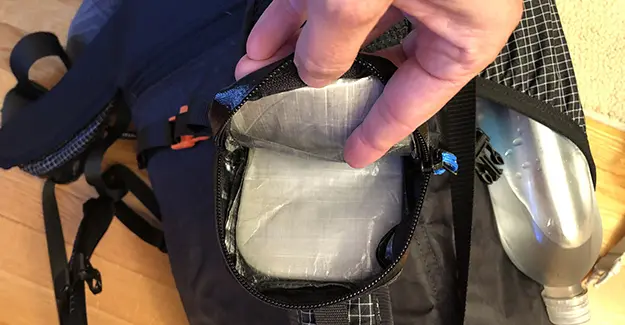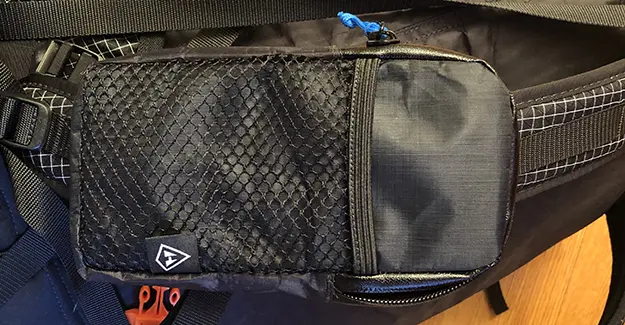 Hip Belt Pockets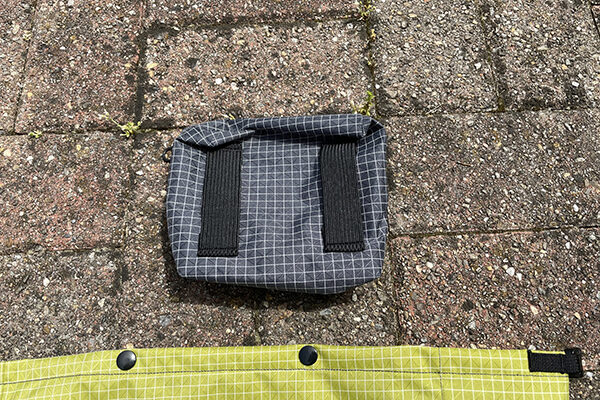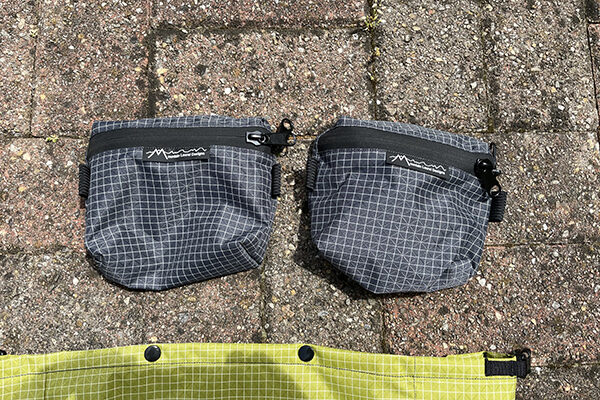 The hip belt pockets are reasonable and made from the same material as the shoulder strap pocket. I don't keep electronics in them, so this is not a problem.
The pockets are very well made and use two sturdy elastic straps to slide over the hip belt. This also makes them compatible with other backpack hip belts.
MLD Prophet Review – Materials
The material used for the Prophet is DDX 210d Ripstop Fabric: 210D Coated Nylon Ripstop. The material is durable, and the coated nylon makes it water-resistant.
Seams are not sealed on the backpack's interior like those on the DCF version, but they are still tight, and I got caught in one storm with no leaks around the seams. So I use a compactor bag with my backpack on a long hikes.
On a recent hike on the BMT, my backpack got submerged in the creek. Everything was in a rolled-up compactor bag and Hyperlite PODS, except for my food in an Outdoor Research Dry Bag.
I am now a convert and carry Outdoor Research Dry Bags instead of PODS or a compactor bag for what I want to keep dry.
Nothing stayed dry except for the Outdoor Research Dry Bag. This was in the winter, late in the day, so it was not a good situation. You can read more about it in my Benton Mackaye post.
A Few More Prophet Features
The fabric on the shoulder straps is interesting. I noticed the small squares were diagonal and discovered that this was intentional. They provide some flex and comfort in the straps.
Using a hydration pack, you can hang it inside the pack's body on the provided loops. The slot to run the hydration tube at the back of the pack below the sleeve.
The points of weakness of the backpack all use industrial bar tacks to reinforce the pack's already durable fabric. You will find these liberally placed throughout the backpack.
All three main pockets (side and large mesh pocket) have mesh corners at the bottom for drainage.
Details like these are what make this an impressive ultralight backpack.
Pros:
Comfort: The backpack is comfortable but uses the sternum strap if carrying heavier weights.
Durability – This pack uses quality materials and is very well-made.
Weather Resistance – Weather resistant with a treated interior, but not as waterproof as the DCF option.
Capacity – A roomy frameless backpack
Features – Small features like all of the attachment points, drainage mesh, bar tacking, etc., make this a well-made, quality backpack.
Cons:
Side Compression Straps: I would rather have separate side compression straps in case I don't want to cinch down the backpack
Sleeve Snaps: I prefer Velcro along the top of the sleeve. This provides a tighter role.
Q&A
Is the MLD Prophet Backpack Waterproof?
This pack is water-resistant but not waterproof. MLD offers a DCF version of this backpack that is also taped, and although not waterproof like a dry bag, it is very close to impervious.
Does Mountain Laurel Designs Ever Have Sales?
MLD gear is custom-made, so equipment is made to order.
How Long to Receive my Gear from MLD?
Gear is made to order by MLD and can take up to 12 weeks or longer to ship. MLD typically provides an estimate at the time of order or on the website.