Hyperlite Ultralite Junction – Review
The Hyperlite Junction is a backpack I've wanted to try for a long time, but I had to get past its high price point. Hyperlite is arguably the King of the Ultralite long-distance backpacking category right now, and the junction has been at the top of my gear list to purchase for 2020.
With its Hardline Dyneema material, sealed seams, and three outside pockets, this is one of the most durable, well-made, Ultralite backpacks I have used. If you want a pack that will handle the rigors of long-distance hiking, is lightweight and will last you for years, this backpack should be near the top of the list.
Hyperlite Junction – Spec Summary
Size: Medium
Total Weight: 32 ounces
Internal Volume: 3400 cu. in. (55L)
External Volume: 600 cu. in. (9.8L)
Center Pocket Volume: 300 cu. in.
Side Pockets Volume: Center Pocket: 300 cu. in.
Material: Body – DCH150, Bottom – DCH150, External Center Pocket – Mesh, External Side Pockets – Hardline with Dyneema
Top Circumference: 40″ | 101.6cm
Bottom Circumference: 33.5″ | 85.1cm
Height (fully unrolled): 34" | 86.4cm
Back Width: 10.5" | 26.7cm
Max Carry Capacity: 40 Pounds
Add-Ons: Shoulder Pocket, Pods – 2 large, three small
Backpack Requirements
Below are my requirements when purchasing a backpack.
Light Weight – I keep my backpack's weight around 2 pounds or less to combat fatigue and injury on long hikes.
Durability – A tough pack is important, especially if I go off-trail. My pack has been run over, fallen down mountains, stepped on by horses, and generally goes through some "stuff" on long hikes.
Size – I like backpacks around 55L. I sleep cold, so I carry a warmer sleeping bag or quilt. I also cook sometimes, so I have fuel and a stove.
Water Resistant – I use a compactor bag and not a pack cover. I like water-resistant fabrics and taped seams in my backpacks, but they are not a have-to-have.
Mesh Pouch – A large mesh pocket on the rear of my backpack is a "must-have." I use it for my tarp/tent and put wet items in it to dry.
Frame – I use a backpack with some type of support system if the pack weight is over 20 pounds.
Water Bottle Pockets – I need water bottle pockets since I don't use hydration sleeves.
Where I Have Used the Junction
I have used the Junction on the Northville-Placid Trail and on several short overnight hikes. It has about 200 miles of hiking and backpacking.
Hiking in wet environments is why I purchased the Junction, which has held up well on those hikes. The Junction is not completely waterproof, but it is more water-resistant than any other backpack I own, and it still looks brand new.
Hyperlite Competitors
| Brand | Wt | Sz | $ | Fabric | Frame | Load | Closure |
| --- | --- | --- | --- | --- | --- | --- | --- |
| ULA Ohm 2.0 | 36 oz | 63L | 225 | 400 Robic Nylon | Carb | 30 lbs. | Cinch |
| Gossamer Gear Mariposa | 31 oz | 60L | 270 | 200 Robic Nylon | Alum. | 35 lbs | Over Top |
| Hyperlite Junction 3400 | 32 oz | 55L | 345 | Dyneema (DCF) | None | 40 lbs | Roll Top |
| Zpack Arc Haul | 23 oz | 62L | 299 | 4.85 Gridstop | Carb | 40 lbs | Roll Top |
| Osprey Lumina 60 | 31 oz | 60L | 270 | 30 Cordura Nylon | Alum | 25 lbs | Fix Top |
| Granite Gear Crown2 60 | 34 oz | 60 L | 200 | 210 Nylon | Poly | 35 lbs | Roll Top |
| Mountain Laurel Designs Exodus | 18 oz | 58L | 235 | DX 210 Ripstop | No | 25 lbs | Roll Top |
Junction – First Glance
When I pulled the Junction out of the box, I was struck by the material's thickness. It was highly water-resistant Dyneema and had a very durable fabric.
I may have just found a competitor for my ULA Ohm 2.0
The pack is well-made with sealed seams and tacked reinforcement points. I also like its minimal appearance. There are only three pockets and not many extra straps hanging all over the place. At first glance, this is an impressive backpack.
The hydration port has a reinforced Velcro closure with a tiny hanging loop.
Hyperlite Junction – Fit
Frame
Some think the Hyperlite backpacks are frameless, but the Hyperlite Junction is not a frameless backpack. Instead, the Junction provides a 1/4″ back foam panel pad with two curved aluminum stays that slide easily into small sleeves in the back of the pack. If you don't like the shape, you can bend the stays to your preference.
The Hyperlite is often worn as a frameless pack, and I prefer it with no stays for loads under 20 pounds. I ordered Hyperlite Pods with my pack; if these are full, they offer all the rigidity I need for the backpack.
I'll discuss the Pods later, but I packed my pack with one large and two small Pods. Because the Pods served as my frame, I ensured they were full, keeping them firm against my back.
I used the pack with and without the Aluminum Stays and find the backpack with only the pods began to compress and pull back on my shoulders at about 25 pounds. When I add the aluminum stays, the backpack is comfortable up to about 35 pounds.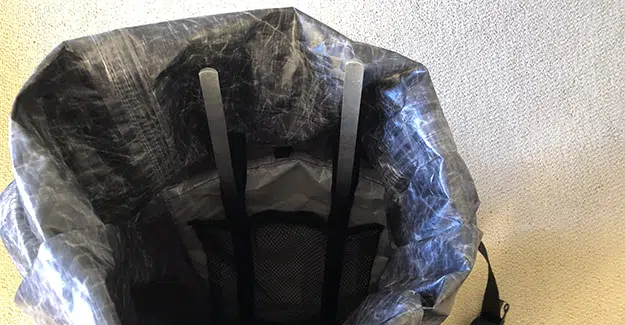 Shoulder Straps & Hipbelt
The Junction has wide Dyneema shoulder straps with 3/8 foam padding and mesh covering. The straps are comfortable from a padding perspective, but I prefer an "S" shaped shoulder strap. The straps on this backpack have a classic "J" shape, so over long hikes, they are a little less comfortable than my packs with "S" shaped straps. There are ample daisy chains on the straps for attaching gear.
The hipbelt is Hardline with Dyneema® 1/8″ closed cell rigid foam, 1/4″ closed cell foam, and spacer mesh. It does not have as much padding as other belts I have worn, but I find it comfortable.
Many other Ultralite backpacks have an adjustable hipbelt, but the Junction hipbelt is fixed to the pack. The hipbelt fits me better than any backpack hip belt I wear due to having just the right amount of padding, and I was glad to see the single large, durable buckle. I find double buckles unnecessary. The hipbelts never fit any better.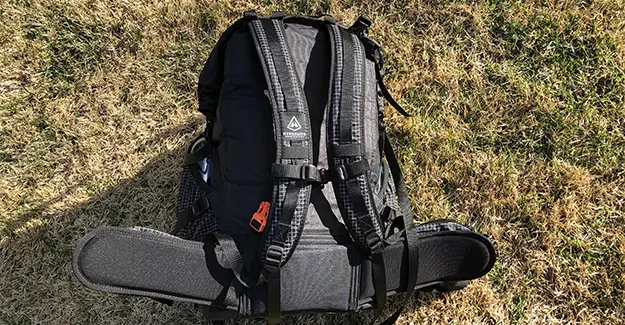 Additional Pack Straps
Like all of the Hyperlite Junction Backpack straps, the sternum strap is a full-size strap with elastic and a bright orange buckle. On the side of the buckle is a small whistle. I did not find the whistle very loud, but I have seen other reviews commenting on the whistle's loudness.
The Hyperlite Junction does not have load lifters. I think load lifters are more suitable for larger, heavier backpacks where I like to shift the weight off my shoulders towards my center of gravity if I am climbing. In the case of the Junction, I don't need them. The pack is small and fits close to my body. I don't typically carry over 3-5 days of food and gear.
There are four full-size compression straps on the side of the Junction backpack. Two of them go over the side pockets and strap in anything you need to stay in those pockets, which I like to have when traveling off-trail or climbing.
Interestingly, the iceax loop on the bottom of the pack is in the middle, so if you have anything bulky like your tent in the large exterior mesh pocket, you can't use the loop easily. Hyperlite should reconsider the placement.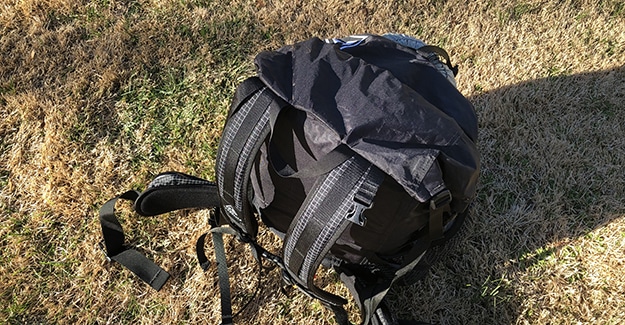 Hyperlite Junction Review – Storage
The interior is roomy, and the extended sleeve allows you to add significant capacity for long hikes, winter hikes, large food bags, etc.
How I Packed My Hyperlite Junction Backpack
Main Compartment (Lined with Compactor Bag): Large Pod holding 10 Degree Feathered Friends Lark, Two Small Pods with clothes, toiletries, first aid, a cooking kit, hydration, food bag, sleeping pad, rain gear
Two Side Pockets: Two Smart Water Bottles, Umbrella, Hiking Poles
Hydration Sleeve: Map, Keys
Back Mesh Pocket: Altaplex Tarp-tent
Hipbelt Pockets: Snacks, Chapstick
Shoulder Pocket Add-on: Phone, InReach Mini
The main storage compartment is large and has a large mesh hydration sleeve. I don't use a hydration sleeve, so I put my map and keys in it. It would be nice to remove the sleeve, but it is sewn to the pack. I'll probably cut it out if I keep the pack.
The large exterior mesh pocket on the outside is made of thick, durable mesh with large openings that promote better airflow than many exterior mesh pockets I have used. The pocket has plenty of capacity and easily holds my Altaplex Shelter.
The substantial Hardline Dyneema side pockets are one of the reasons I purchased the Junction. When I go off-trail, I often snag the pockets, and the mesh is not durable. I don't want to discover I have lost my water bottles three miles down the trail. The beefy solid side pockets have elastic and plenty of capacity across the top. The only frustration is that retrieving my water bottles without taking off the backpack is not easy.
The Hip-belt pockets on the Junction have plenty of room and water-resistant zippers, which is a nice touch. I mostly use them for snacks and other small miscellaneous items like chapstick, sunblock, etc.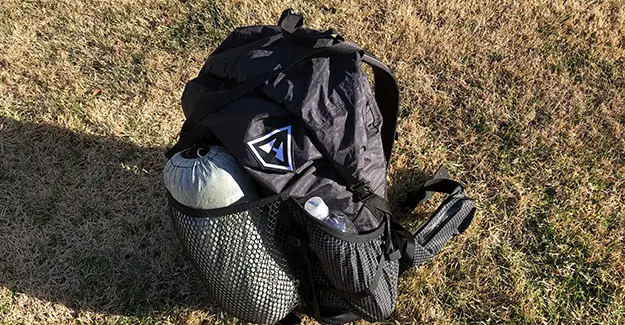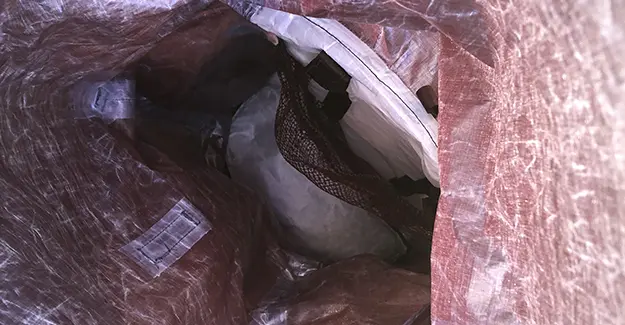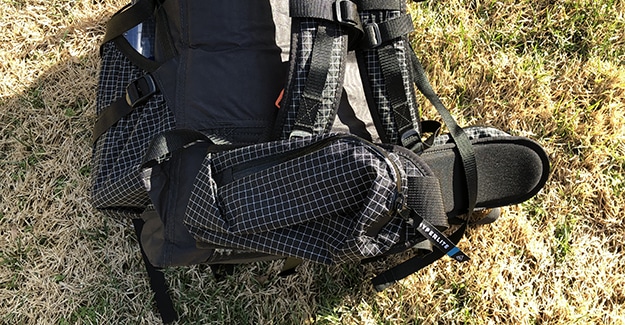 Hyperlite Junction Review – Materials
Materials and construction are what set the Hyperlite Junction apart from its competitors. The main body of the backpack I ordered is constructed of DCH150 since I have the black model. The White model is made of DCH50. The fabric is highly water-resistant, and the seals are seamed with reinforced tacking found throughout the pack.
The side pockets are made of Hardline with Dyneema, and the bottom of the backpack also has DCH150 fabric. This is the most durable Ultralite backpack I have used. You can check Hyperlite's materials page for more information on their fabrics.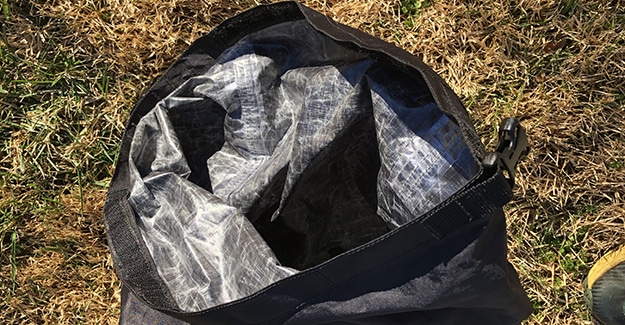 Hyperlite Junction – Add-Ons
Shoulder Strap Pockets
I purchased a large Shoulder Strap Pocket for this pack. It is similar to Gossamer Gear's pocket in that it has a central zipper pocket and an outer mesh pocket. The difference is that the Hyperlite Pocket is more water-resistant, using Dyneema Composite Fabric in its construction.
The pocket has a small inside pocket for credit cards, which is a nice feature, and the clips on the back of the pocket are easy to attach to Hyperlite's shoulder straps.
The two attachment clips will limit where you can place the pocket on your shoulder straps if you don't have numerous attachment points. This is not an issue on the Junction, but it might be if you use another backpack brand. The one good thing about the GG attachment structure is that it is made of velcro straps that can wrap around various shoulder strap sections. I find the clips more secure than Velcro.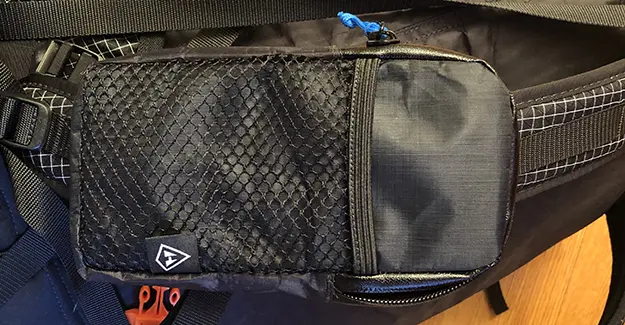 Packing PODS
I purchased large and small PODS for the backpack. The PODS are made of Dyneema fabric and have waterproof zippers. My large POD weighs 1.41 oz., and my small POD weighs 1.35 oz.
I have always put my sleeping bag in a compactor bag at the bottom of my pack, and for 20 years have NEVER had it get wet. This time I packed it in a POD. I was surprised my 10 Degree Lark fit in the POD, and it was a little tight, but it was a good fit in the Junction.
Everything else, except my food, sleeping pad, and rain gear, went in two small PODS. I may put my food in one or two small PODS on my next trip. The small PODS are not that much smaller than the large POD, and I like that I can zip open the whole POD instead of digging around for food in my food bag. The PODS also have sturdy loops on each end, so I can hang them if necessary.
The best thing about the PODS is they keep everything compressed and compact, making the backpack smaller.
Update on the PODS
I quit using them after one season for several reasons.
Durability – The tape did not hold, and two ripped open. They were not full or handled roughly, so this was frustrating, considering how much they cost.
Void Space – Even though the pods nested well, there was still more void space than if I stuffed everything in a compactor into the backpack.
Waterproof – The pods were not waterproof. My compactor bag was waterproof, and I didn't want to take a chance with my Down sleeping bag.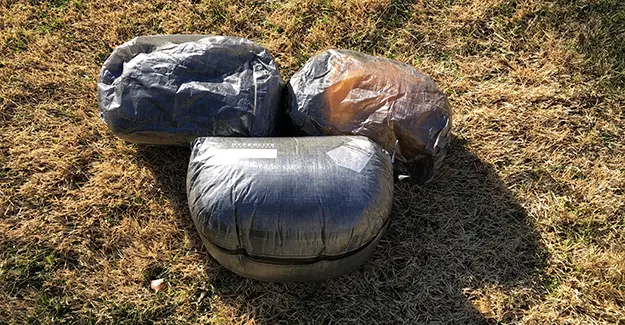 Hyperlite Junction Backpack – Final Thoughts
The Hyperlite Junction is the most durable backpack I have used. The DCH150 used in the pack's construction makes it impressively resistant to abrasions and ensures it is highly water-resistant. In addition, the backpack provides plenty of capacity and stability without unnecessary pockets and straps.
Pros:
Comfort: A good fit rests easily against my back and offers the proper padding.
Durability – No backpack in the Ultraliteweight category is as durable as the Hyperlite Junction with its DCH150 material.
Weather Resistance – Other than a dry bag, this is the most weather-resistant backpack I have used. It is as waterproof as you can without lining your pack or using a Dry Bag Backpack.
Capacity – Provides plenty of capacity, especially with its extended neck sleeve.
Shoulder Pocket – Highly weather-resistant with an inside pocket and easy-to-attach clips. The best shoulder pocket I have yet to use.
Cons:
Ice-ax Loop: Located at the backpack's bottom center, making it difficult to attach if using the exterior mesh pocket.
Breathability: This is a warm backpack. It does not use breathable material or mesh on the back and rests snugly against your body.
Shoulder Straps: I prefer a more "S" shaped shoulder strap.
Side Pockets: Difficult to remove water bottles when wearing the backpack.
Hydration Sleeve – The hydration sleeve cannot be removed.
Q&A
Are Hyperlite Backpacks Waterproof?
Besides an actual Dry Bag (used mainly by boaters), Hyperlite makes the most highly water-resistant backpack I have used. They use proprietary seam sealing, and the fabric itself is waterproof. Like any sewn garment, there can occasionally be seeping around the stitched points, so combing a Hyperlite Backpack with their PODS makes them pretty much waterproof.
Does Hyperlite Ever Have Sales?
Yes, Hyperlite does have sales around the holidays.
What is the best Ultralight Backpack?
There are MANY ultralight backpacks on the market, and Hyperlite is one of the lightest, most durable, and weather-resistant.
This page has affiliate links for products and gear I purchase and use. If you click on one of these links, I receive a small commission at no extra cost to you. There may also be Amazon links and as an Amazon Associate I earn from qualifying purchases.If this review has been helpful, please consider purchasing through the links above. Proceeds are used to purchase additional gear for review. Thank you. You can read more about my thoughts on affiliate marketing.