The Alpine Carbon Cork Trekking Poles may not be the lightest carbon fiber hiking poles on the market, but these poles make up for this in quality, durability, comfort, and performance.
Although they may not be the lightest, they are still much more lightweight than many of their competitors.
My prior hiking poles were aluminum LEKI poles, but after trying a friend's carbon trekking poles, I found the difference in comfort was noticeable.  Since I had some upcoming long-distance hikes and an unknown critter chewed off my grips in Colorado, I decided it was time to retire my current poles. 
Table of Contents
Alpine Carbon Cork Review – Summary
| | |
| --- | --- |
| Weight: 17.1 oz | Extended Length: 39-51 inches |
| Collapsed Length: 24 inches | Handles: Cork |
| Grip Extensions: Foam | Hand Straps: Fusion Material |
| Shafts: 100% Carbon Fiber | Locks: Flicklock Aluminum |
| Tips: Carbide | |
| Pros: Quality, Durability, Versatility | Cons: Tight Locks, Price |
My Hiking Pole Requirements
Deciding on hiking poles is like all my other gear choices. I decide what I am looking for in gear and then evaluate all the brands that meet my requirements. Trekking poles are no exception.
Durability – I use hiking poles for many functions, as mentioned above, and I use them A LOT. I also like to go off-trail if the opportunity presents itself, so they need to be durable.
Weight – As I get older, weight becomes more important. My days can often extend over 20-30 miles. The hiking poles must have the right balance between weight and durability. This is one of the reasons I am making the switch to carbon hiking poles.
Comfort – I have used poles with foam and plastic. I much prefer cork for my handles. Cork is more comfortable, molds slightly over time, and absorbs moisture on sweaty hands. The lack of vibration in the cork is also preferred.
Price is not always at the top of my priority list, but it is still considered. I use my gear regularly and need it to hold up in harsh conditions. Paying for a pair that lasts multiple years costs me less than purchasing a pair every year.
Collapse – I travel a lot to hike, so collapsible hiking poles are essential. It would be good if they collapse to 24″ or less.
Why I use Hiking Poles
Hiking poles are important to me for multiple reasons. They are definitely multi-use gear items.
The primary reason I use them is physical. The poles reduce wear and tear on my knees and ultimately lessen fatigue. They are invaluable when I have many steep downhill hikes or climb steep rocky terrain.
My poles have saved me from numerous faceplants! I hate to admit that several of these have been on the perfectly flat tread. My balance is good, but some views are distracting.
I'm easily distracted by bright objects and awesome scenery. My hiking poles allow me to look around more and enjoy the beauty around me.
They are my tent poles, water crossing poles, black bear fighting poles, Snicker stealing raccoon whacking sticks, etc. They are critical items.
Alpine Carbon Cork Review – Final Choice
After much research and reading numerous reviews, I settled on the Black Diamond Alpine Carbon Cork Hiking Poles. I chose them for a few reasons.
I wanted carbon shafts and cork grips. Not many choices had both of these materials, so the list was relatively short. There were also a few inexpensive brands I had never heard of, but I could find no good reviews.
They needed to have clip or flick locks. I put a lot of weight on these poles and flipped off the AT once my LEKI clip failed. It was a close call that resulted in some bad bruising.
Although the folding poles collapse to a smaller size, there are too many moving parts and points of weakness for me. The poles will hold much of my weight on some downhill sections and serve as my tent poles.
The Montem Ultra poles were my second choice, but I could not imagine adjusting bolt locks with frozen hands. Handling small parts in freezing weather is challenging.
The BD Alpine Carbon Cork hiking poles received excellent reviews from long-distance hikers I trusted, and some had owned theirs for over five years and put thousands of miles on them.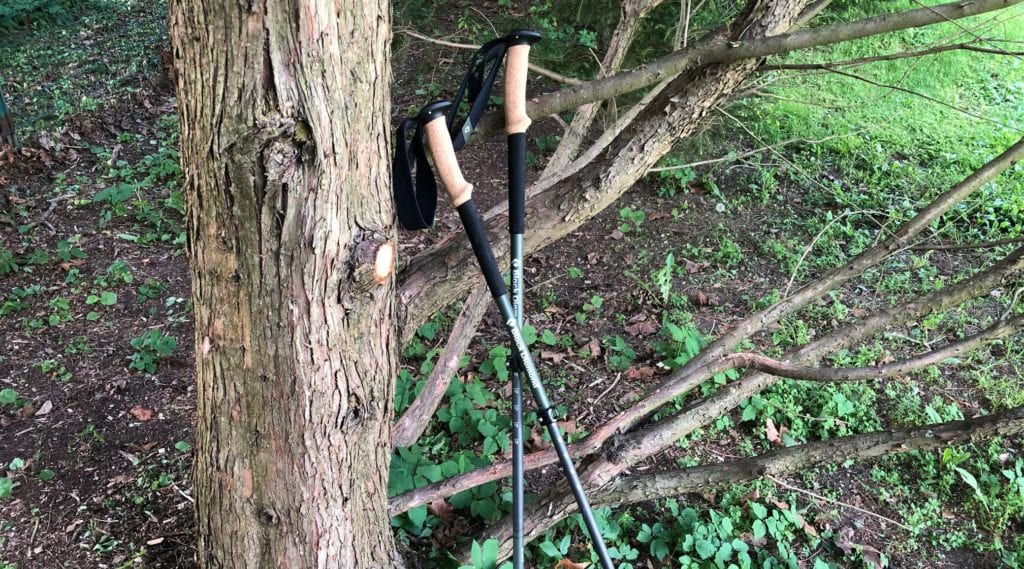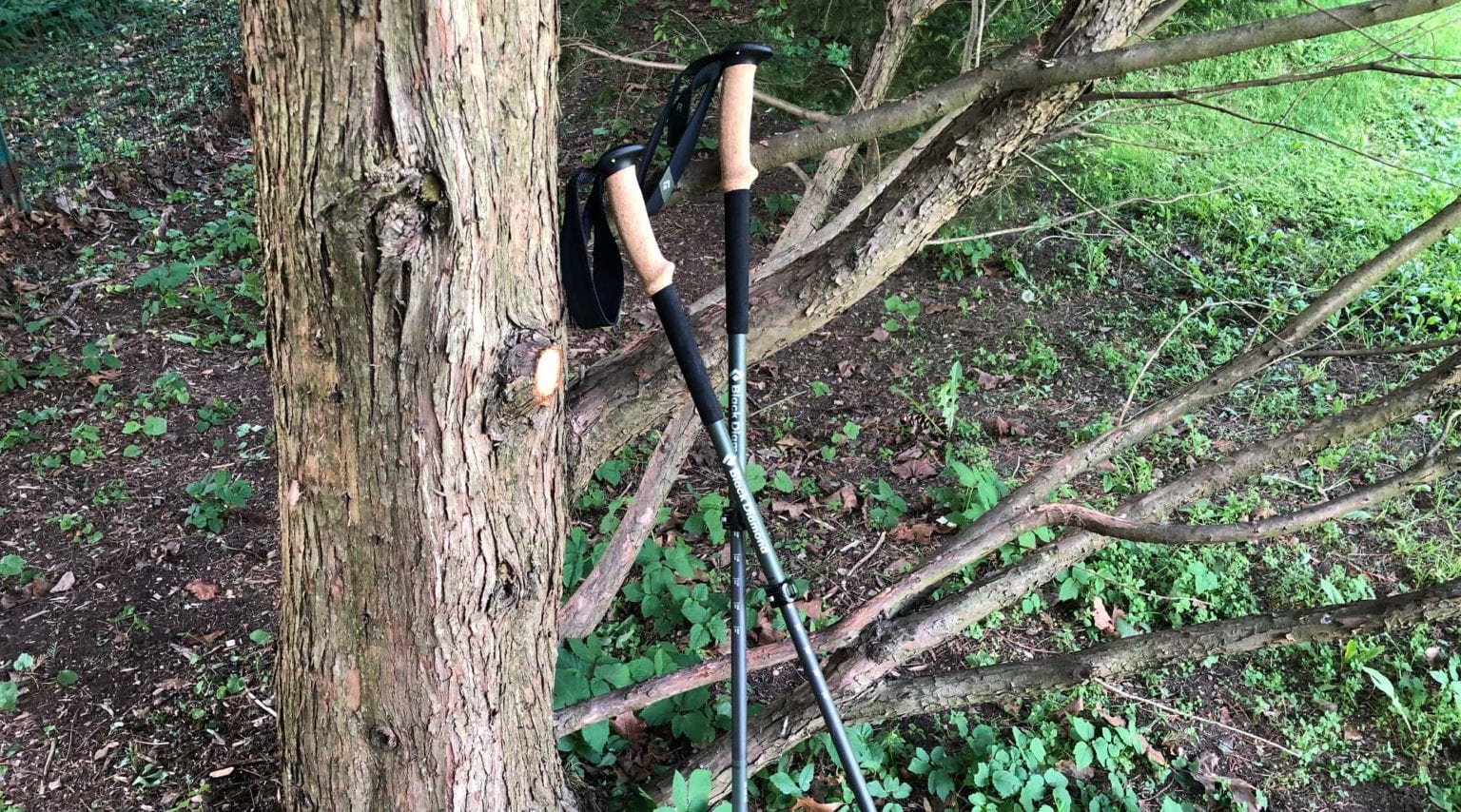 Alpine Carbon Cork Review – First Glance
Straight out of the box, I was impressed with the Black Diamond Hiking Poles. I liked the Black and Army Green coloring and immediately saw that the hiking poles were made of high-quality components.
The cork handles were comfortable, and the wrist straps were made of high-quality absorbent material. Black Diamond states it is the same proprietary material they use in climbing harnesses.
Tip: I remove my wrist straps since I do not use them. They are easy to remove on these poles. At the top of the grip, there is a pin. You can see the end of the pin on either side of the grip. Remove the pin and slide out the straps.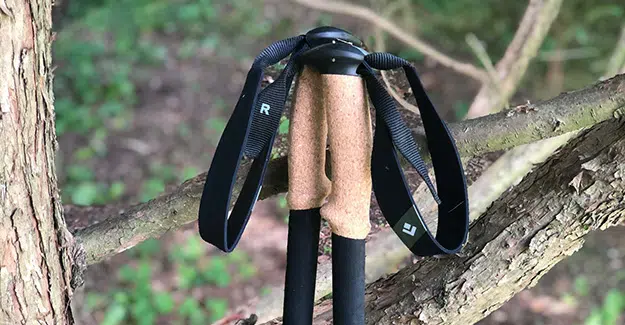 Alpine Carbon Cork Review – Components/Materials
As mentioned, the pole components' quality set the Alpine Cork Poles apart from other hiking poles I have used. These hiking poles are well-made and built to last for years.
Straps
Black Diamond states the straps are made from the same material as their climbing harnesses. They use a proprietary material that is comfortable and does not readily absorb moisture.
I removed the hiking pole straps after a 22-mile hike, only because I do not like hiking straps, but while I wore them, they were comfortable, and the quality of the material was evident.
Handles
The grips are made from 100% hard cork. I have used some poles with a slightly softer cork but prefer the more rigid cork. The handles have a slight forward curve and are flat on both sides. This style is comfortable in my hands, and I prefer straighter grips.
One of the features I appreciate is the foam extensions under the cork grips. When hiking fast uphill or climbing steep grades, I often slide my hands down the poles instead of stopping to adjust them. The extensions allow me to maintain my grip on the hiking pole shafts.
Shafts
The black and army green shafts are a natural color that I prefer. The shafts themselves are rigid with a stiff, durable carbon composite. Durability is at the top of my priority list, and these pole shafts exceed my expectations.
I use my hiking poles as the single tent pole for my Zpack Altaplex, and in high winds, this rigidity is needed in the tarp-tent pole.
Crossing creeks and rivers with fast currents are also best with a rigid pole. I often have to search for branches, but I hope these poles will eliminate using branches.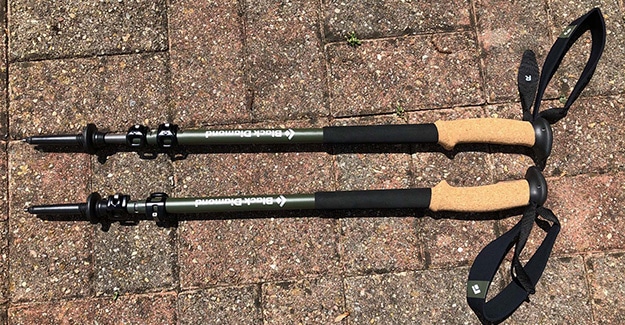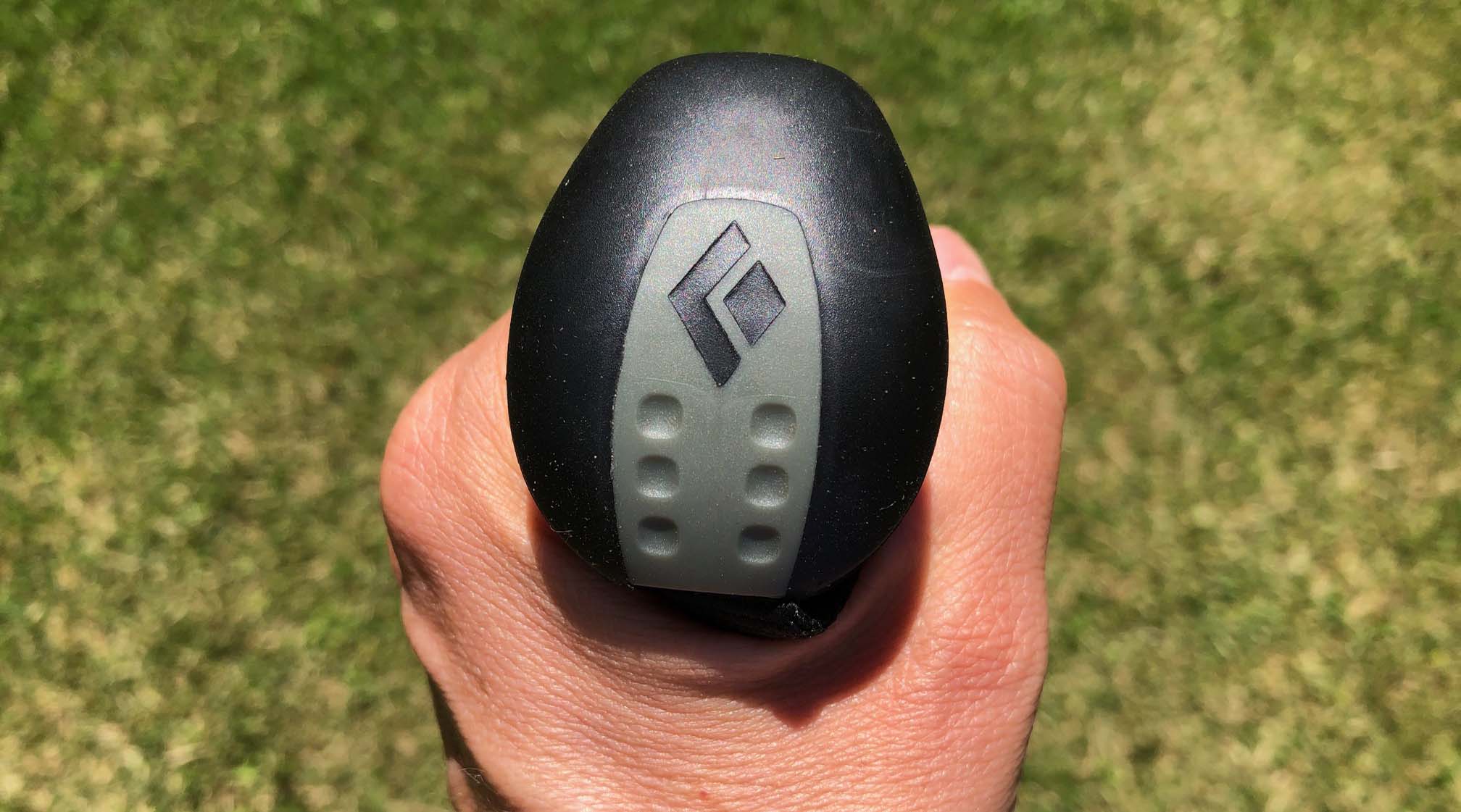 Locks
I like the Flicklocks. They were a little tight out of the box, so I adjusted them and found this easy with the small Allen wrench. The locks have a firm, solid click that is reassuring. These shafts are not going to slide easily unless I move them.
While I understand one reviewer's desire for a small screw instead (It would be easy to lose the Allen wrench in the field), I also like the poles' minimalist design with fewer "parts" to snag or replace. Still, small screws would be better for long-distance hiking.
Tip: When adjusting the tightness of the locks, extend your hiking poles to your preferred length first. Once the hiking poles are at the length you want, adjust them to the tension you need. Make sure you carry your Allen wrench with you when you on hikes.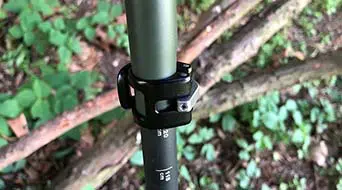 Tips
The tips are rugged carbide tips that can be replaced easily, but the poles have no rubber tips. At this price point, it would have been nice not to purchase rubber tips separately. Rubber tips are helpful for road walking and walking consistently on the rock.
Baskets
The small rubber baskets are a thick rubber/plastic material. Some hikers take these small baskets off, but I like that they stop the poles from sliding into crevasses and cracks, so I leave them on the poles.
Snow baskets need to be ordered separately, and again it would have been nice to have these included at this price point. I've purchased LEKI poles for less money, including the larger snow baskets.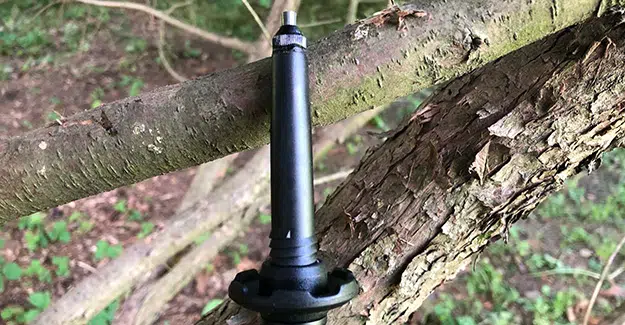 Alpine Carbon Cork Review – Performance
This year, I used the Black Diamond Alpine hiking poles on the New England Trail, Arizona Trail, and Colorado Trail. The terrain included forest, rock, wet roads, a little scrambling, and a lot of up-and-down climbing where they held weight.
My longest day was 26 miles, and the lightweight and reduced hiking pole vibration resulted in less upper-body fatigue. The poles are easy to strap onto my Day Pack when I am not using them on long road walks, and they do not pull the pack back against my shoulders.
Because the poles are so light, they are quick and easy to place as I climb through rocky areas, and where I really appreciate this is when I am picking my way down steep rocky slopes.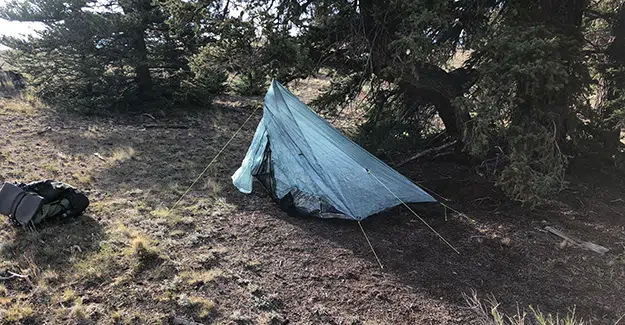 This hiking pole is also perfect for my Zpack Altaplex. It is rigid and stands up well in windy conditions. I purchased a small jack from Mountain Laurel Designs to extend the length of the hiking pole.
Black Diamond Carbon Cork Review – Final Thoughts
Pros
The quality of these hiking poles and the components' durability is unmatched by any other hiking poles I have used over the years. They are light but not too light, minimal, and provide a high confidence level in sketchy terrain.
I appreciate the attention to detail, like the small textured thumb grips, strap material, foam grips, etc.
These poles are hiking tanks. They are not flashy and do not have many moving parts, meaning there is less to go wrong. They may be slightly heavier, but they are still ultralight, and for me, slightly more weight contributes to their durability and performance.
Cons
These hiking poles have a high price point and offer no extras, as do other hiking pole offerings at lower price points. At a minimum, it would have been nice to have the rubber tips provided with the poles.
My Zpack Altaplex tarp-tent requires a longer pole (56"). These hiking poles are 53", so I required an extension. This was not necessarily a negative.
Summary
I would purchase the Black Diamond Alpine Carbon Cork hiking poles again. They are high quality and will last for many years. They now have close to 1,000 miles on them and only have a few paint nicks from being banged against rocks.
This page has affiliate links for products and gear I purchase and use. If you click on one of these links, I receive a small commission at no extra cost to you. There may also be Amazon links and as an Amazon Associate I earn from qualifying purchases.If this review has been helpful, please consider purchasing through the links above. Proceeds are used to purchase additional gear for review. Thank you. You can read more about my thoughts on affiliate marketing.