Ives Trail Summary
The Ives Trail is a 20-mile long trail shaped like a V. If you want to start at either terminus and hike the entire route, you can begin at the trailhead at Bennett's Pond or the trailhead at Sidecut Road. Bennett's Pond has plenty of parking, but it fills up on nice days, so start early. Sidecut Road has no adequate parking, but the road is not too busy, so it is an easy drop-off point.
This trail traverses several mountains, winding around numerous lakes and ponds as it travels rocky and leaf-covered paths through classic New England hardwood forests. It passes the homes of Charles Ives, Hearthstone Castle, and other interesting old ruins throughout its trip.
Trail Snapshot
| | |
| --- | --- |
| Trail: Ives Trail | Length: 20 Miles |
| Bennett Pond Terminus: 41.328858,-73.480879 | Sidecut Road Terminus: 41.325668,-73.427512 |
| Difficulty: Easy to Moderate | Terrain: Trail, Hardwood, Rock |
| Location: Danbury/Ridgefield, CT | Trail Traverses: Tarryville Park, Bennett's Pond State Park, Hemlock Hills, Wooster Mountain State Park, Bogus Brook Preserve |
| Highlights: Ives Home, Hearthstone Castle, Old Kiln, Pine Mountain, Bennetts Pond | |
Trail Resources
There are several maps you can use for navigation. I used my GAIA GPS App and plotted the trail using the Ives Trail Map provided by WestCog. This was very easy since GAIA had unnamed trails on its area map.
See additional maps below.
Ives Trail Route
Due to time constraints, I hiked the trail over two days, hiking approximately 10 miles daily. This also allowed me to take my time and enjoy points along this interesting route. Instead of starting at either terminus, I parked my car at Tarryville Park and hiked to the end of that section, where someone picked me up and brought me back to my car.
Tarryville Park has a large, active parking lot and is safe. I've never had any problems leaving my car there, but it is still busy, so don't leave anything valuable in your vehicle. The Tarryville Park Parking Area coordinates are 41.380700,-73.453673, off Southern Blvd in Danbury, CT.
Plenty of placards exist for the Ives Trail, and yellow and red painted markings on the trees. You won't lose the trail, but pay attention because numerous side trails may cause a little confusion. You are never far from a house, so don't worry if you get turned around.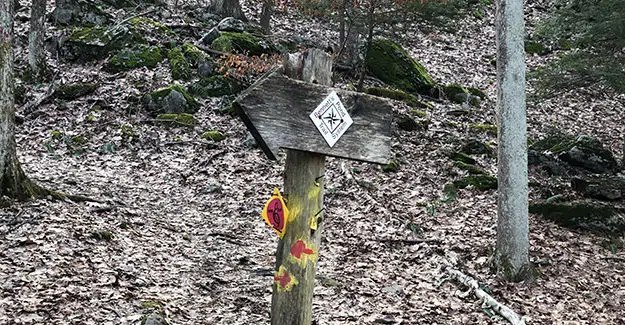 Tarryville Park to Bennett's Pond
I started this section around 10 AM and finished around 3 PM, stopping for several breaks to write, take pictures, and snack. The terrain was reasonably moderate, and there were a few icy patches. Trail runners are acceptable for this well-marked trail.
I paused for a break on a graffiti-covered bench at the top of Thomas Mountain, with great views of Danbury, CT. Leaving Thomas Mtn., I headed around Moses Mountain before dropping down to Sugar Hollow Pond beside Route 7. I would have brought the bench with me, but there was a GIANT TRACTOR CHAIN locking it down. Maybe next time.
Just before Route 7, I saw what looked like some type of old kiln. I posted it on Twitter, where it became quite popular as people tried to figure out what it was. We narrowed it down to the following:
Orc Portal
Troll Portal
Lime Kiln
Whiskey Still (very popular)
Charcoal Oven
Crematorium (very popular)
Bread Oven
Ore Smelter
One "Twitteree," a professed nudist, asked if they could metal detect around the structure in the nude, but unfortunately, I had to let him know the trail might be a little too busy.
Crossing a busy intersection on Route 7, I climbed a steep set of wooden stairs, providing a brief moment of entertainment for drivers sitting at the stoplight as I lumbered up the steps with my backpack. I have been testing new gear, and this terrain was a perfect test. I could feel about 20 sets of eyes boring into me!
Wooster Mountain was next, hiking over some rocky trail before I eagerly picked up my pace and hiked towards Pine Mountain and the summer home of Charles Ives. Wooster Mountain provided the sentinels of CT trails, and old junk car skeletons. These seem to be fixtures along this state's trails, and I often find them in odd locations.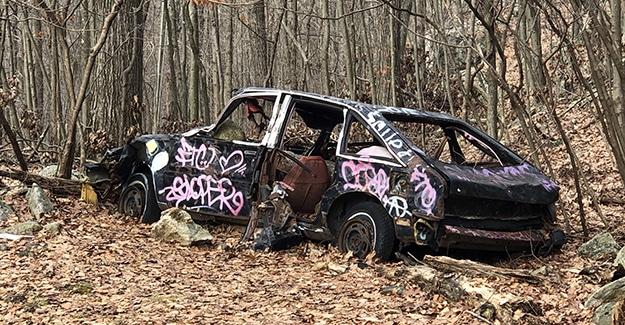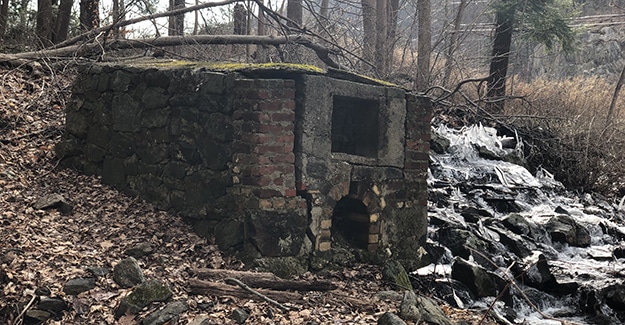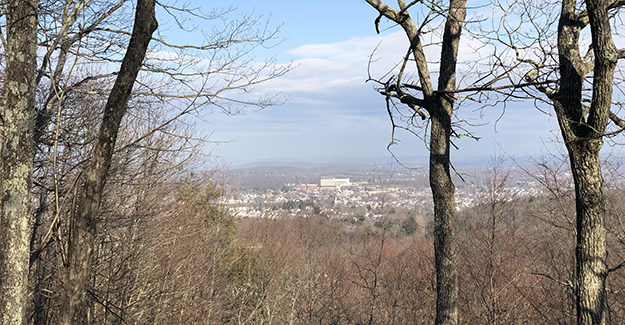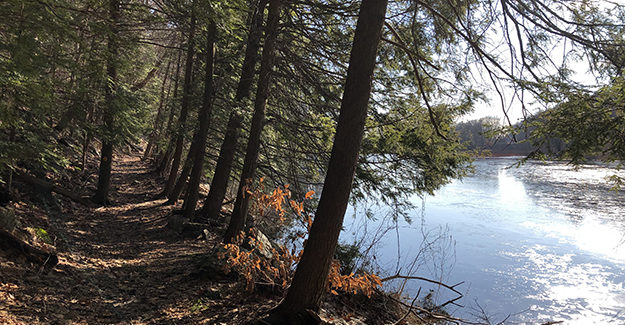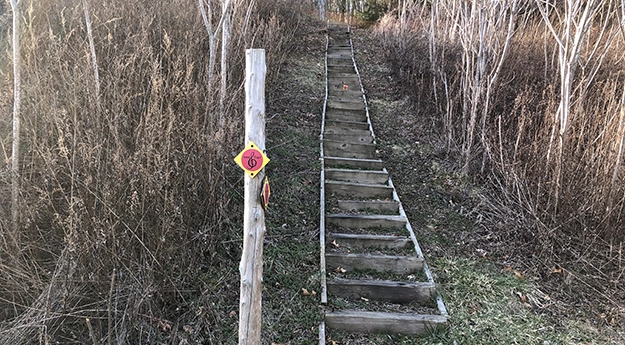 Charles Ives Home
Pine Mountain is reported to be the place of Charles Ives's summer cottage. The ledge's view matches old pictures of Charles Ives looking out over the same hills, which I thought was neat. There was also an old stone fireplace just past the lookout, and I rested on the same hearth as Charles – maybe.
From Pine Mountain, I dropped down to beautiful Bennett's Pond, where I watched two lone Swans (beautiful but vicious if you mess with their babies – note) out on the water before heading around the pond and out to where my car was parked in a large crowded parking area. Bennett's Pond is popular; the parking lot was crowded, and I saw many other hikers.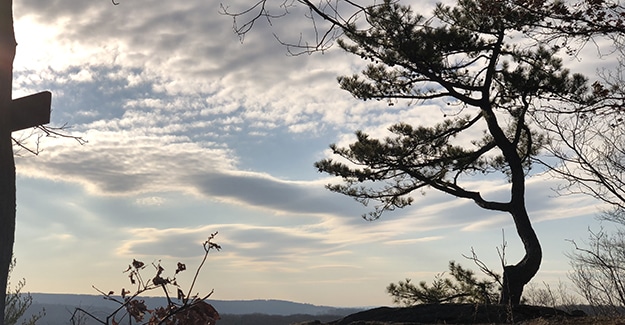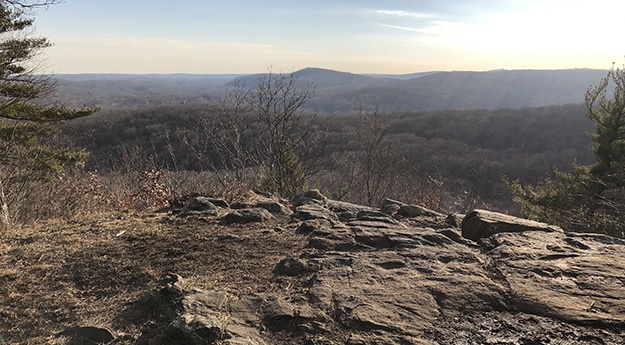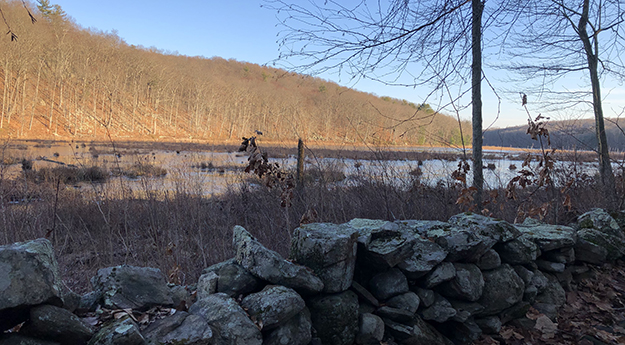 Tarryville Park to Sidecut Road
I parked at Tarryville Park and headed south towards the Sidecut Road Terminus on this hike. My first stop was Hearthstone Castle. Heading down into the park, I turned right and cut over across Brushy Hill Road. If you use a map or GPS, it is straightforward to find the castle for a quick in and out.
The driveway up to Hearthstone had signs, and it looked like a renovation was about to begin. Potential trespassing made the visit even more exciting, although brief. I paused at the old water tower above the castle. These ancient structures are fascinating to me, and the wall on the front had been removed so I could see all of the piping inside. I picked up the Ives Trail south of Hearthstone and circled back down around Parks Pond.
This day's hike had more of a "remote" feel as I hiked south through public land, skirting the edge of a few residential areas before briefly joining Long Ridge Road. Leaving Long Ridge Road, I reached another kiosk with a bench (I test each bench for structural integrity while I snack), admiring lovely high pasture views before moving on.
Heading down towards low-lying areas, where several land trusts and preserves provide access to the Ives Trail, the path became less used and faded away in several spots. The small placards and markings every ten feet ensured I stayed on track.
The last bit of the hike led down to Bogus Brook Preserve before crossing railroad tracks and ending at Sidecut Road. There is no good parking at this terminus, but if you are getting picked up like I was, it is easy for cars to turn around across from the trailhead on this lightly traveled road.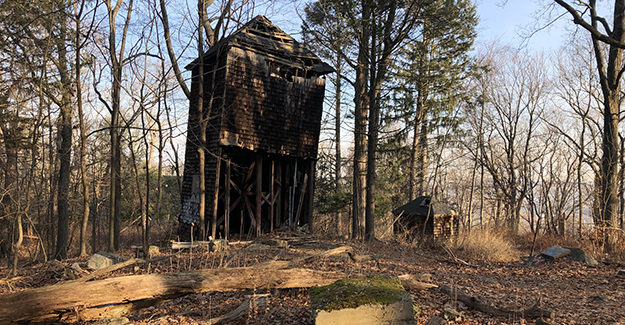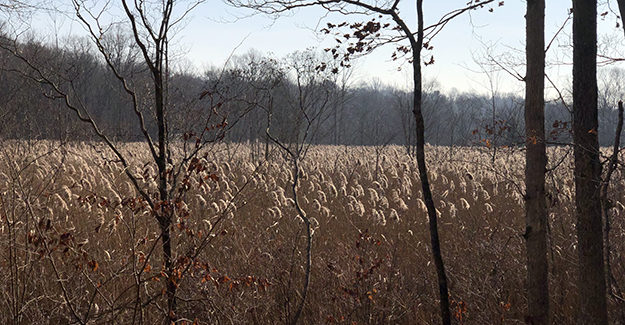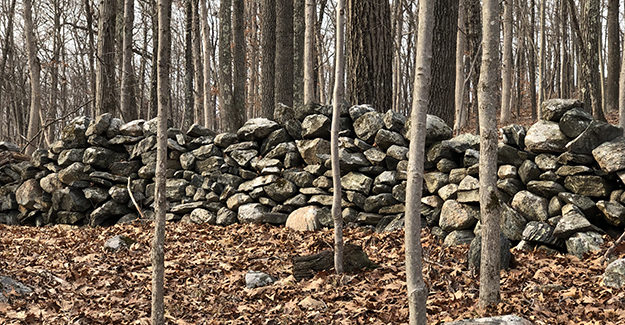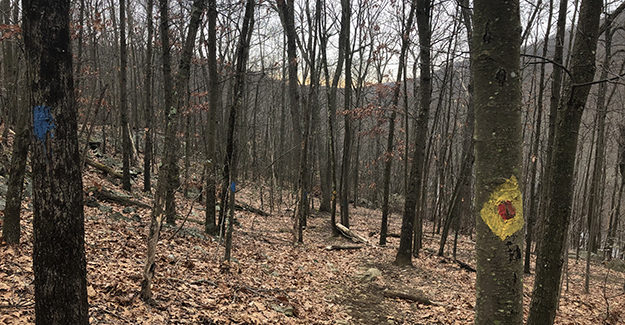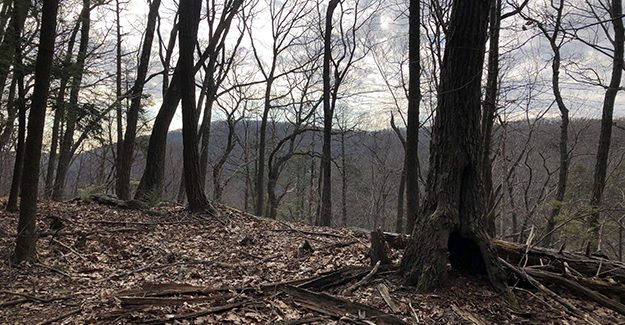 Post Hike Thoughts on Ives Trail
The Ives Trail is one of my favorite Connecticut Trails. I enjoy the history, and the terrain is varied enough to make it challenging, especially if you hike 20 miles in one day. I enjoy the old ruins and scattered views as I travel in and out of the rolling hardwood hills, and there are numerous side trails to explore around Bennetts Pond, Thomas Mountain, Beacon, etc.
As mentioned, the trail is marked, and if you like running or biking, there are sections of this trail that are ideal since some sections are multi-use. There are steep, rocky climbs, numerous stream crossings, and many tranquil, picturesque ponds and lakes. This is a fun trail that has something for everyone. There are many points to enter and exit the trail, so you can easily pick and choose your section of interest.
This page has affiliate links for products and gear I purchase and use. If you click on one of these links, I receive a small commission at no extra cost to you. There may also be Amazon links and as an Amazon Associate I earn from qualifying purchases. You can read more about my thoughts on affiliate marketing.