The Lillinonah Trail is located in Paugussett State Forest near Newtown, CT. The trail has several access points or trailheads and is easy to access. Several other trails can shorten the hike and even cut it in half if you don't want to hike the entire six-mile loop.
The trail offers varied terrain with Old New England forests, views of Lillinonah Lake and the Housatonic River, and even active Maple Sap harvesting near one of the trailheads. Hiking is moderate, with climbs up and down near the rivers. It is not a rocky trail, but leaves can be slippery in the winter and cover hidden patches of ice, so be careful.
Table of contents
Summary
Location – Paugussett State Forest and Lillinonah Trail
Trail – 6-mile loop
Parking – 41.44976, -73.30694 – I parked off Hanover Road in a smaller parking area, but a larger and more secure parking area is at the end of Echo Valley Road, which are the coordinates I have listed here.
Getting to the Trail – The trail leads from Echo Valley in three directions.
Highlights include Trap rock ridges, Lake Lillinonah, Housatonic River, Hardwood, Spruce, Pine forest, and Maple Tree Sap harvesting.
Dog Allowed – Yes – on leash.
Resources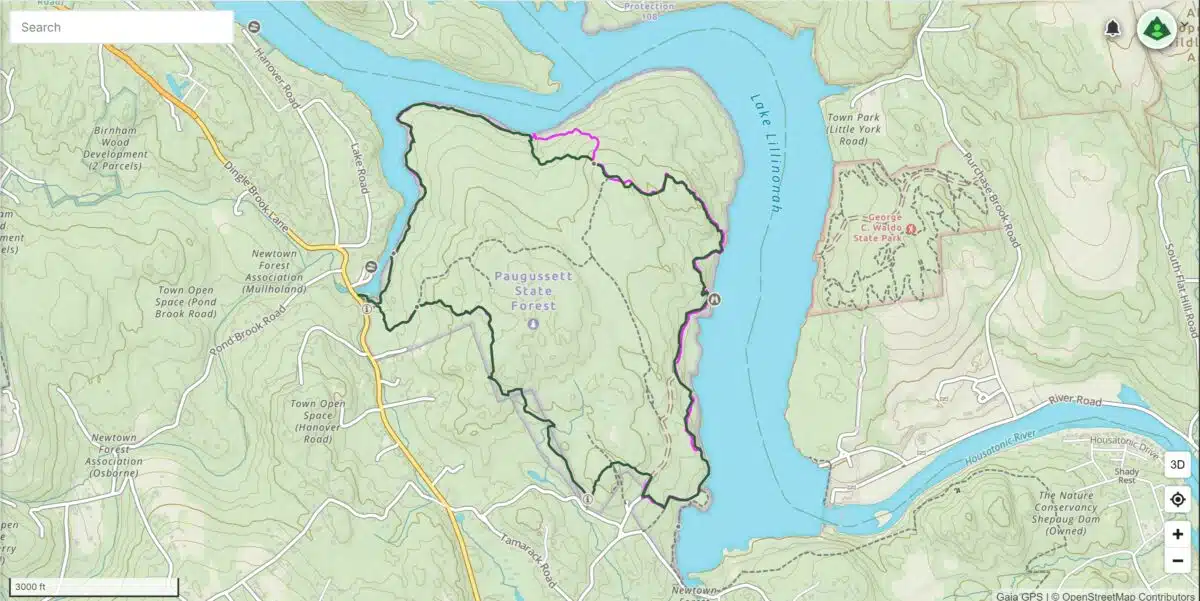 Difficulty
Moderate to Easy– The trail travels alongside Lillinonah Lake and the Housatonic River, so you climb up and down tributaries feeding into the river and lake. There is also climbing up and over hills as you loop around away from the water. Climbs are not too steep or technical but require effort and can be frequent.
Terrain – The trail is well-marked and maintained. It is well-used, but after the leaves fall, it can get slippery, especially on the steeper sections. The trail is also wet, so there may be ice under the leaves. Be careful if hiking during the winter. There are some roots and rocks, but they are not a nuisance; for the most part, this trail is not difficult to hike.
Clothing Layers
Temperatures ranged from 28 – 48 degrees. Today was mostly overcast. Below is what I wore for the conditions, and you can also check out what I carry in my Daypack.
Socks – Darn Tough mid-weight socks.
Base Layers – Mid-weight Icebreaker tights and a mid-weight Icebreaker shirt.
Pants – I wore REI hiking shorts over my icebreaker lightweight tights.
Top – Montbell Chameece ultralight full-zip jacket and a new Down jacket by Katabatic called the Tin Cup.
Hat & Gloves – OR Beanie and my mid-weight Gore Manzella Gloves.
Northface Daypack
Shoes – I wore HOKA Speedgoats.
Other Footwear – None
Hiking Poles – Black Diamond Alpine Carbon Cork Poles – These

carbon hiking poles

have about 2,000 miles, and I've found nothing more durable yet.
Overview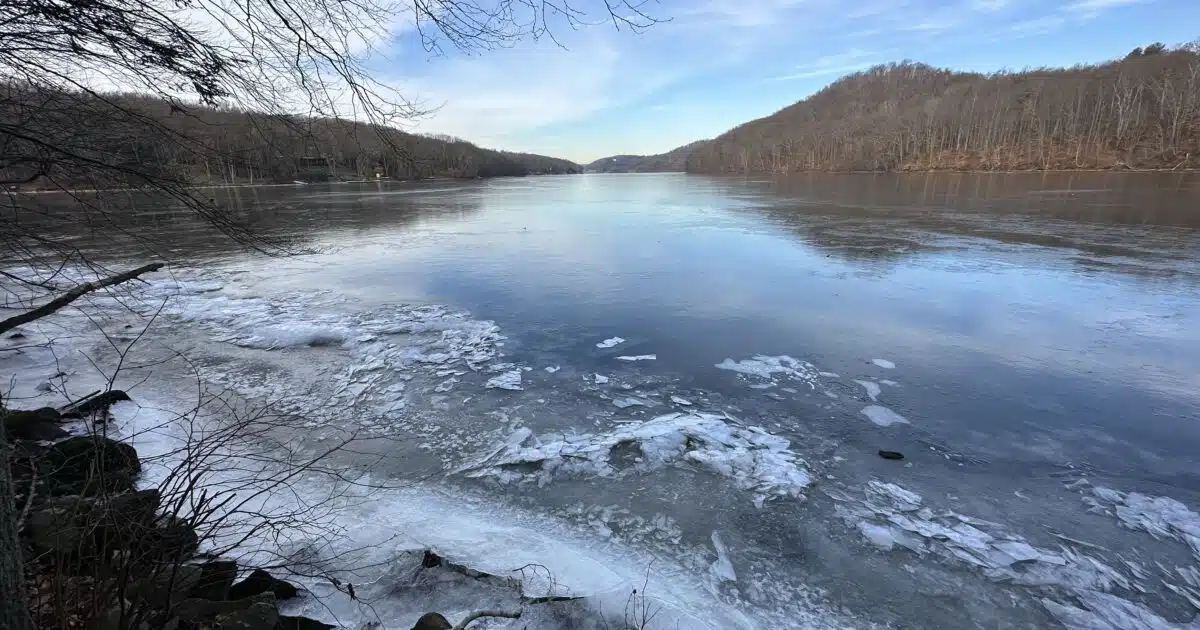 There are several trailheads for the Lillinonah Trail, and I parked at the small parking area on Hanover Road. There is room for about 5-6 cars. About 50 yards past this parking area is a very large parking area for boat access, so you could always park there if the small area is full.
If I visit this trail again, I'll park at the trailhead off Echo Valley Road. There is plenty of parking and a more secure parking area for your vehicle. A kiosk is also located at this parking area with information for the trail. The parking coordinates listed above are for the Echo Valley Road trailhead.
I chose to hike the six-mile loop, and Gaiagps had the route available, so I compared it to the park map for accuracy and followed this route.
I hiked clockwise, leaving the parking lot, and followed the blue blaze trail along Lake Lillinonah for about a mile and a half. The hiking was relatively easy until I crossed a footbridge and switchbacked back up to begin a moderate climb through the forests to the junction with a white-blaze trail.
Once you reach the white-blaze junction, you can continue following the blue-blaze trail or cut across the white-blaze trail to an old forest road (Brody Road). The old forest road cuts across the forest and is very nice, lined by old stone walls.
I continued along the blue-blaze trail above the Housatonic (Lake Lillinonah) before picking up an unmarked trail that led me down the old forest service road (Brody Road). This paralleled the blue-blaze trail that dropped down by the water's edge. I often try the more uncommon trails, where I discover a little history not found on the park maps. In this case, I ended up at a group of active Maple trees and the Echo Valley Road parking area, where I realized this was the better parking area.
Leaving the Echo Valley Road parking area and heading northwest, I hiked about a mile and a half back to where I had parked my car. This last section of trail was easy to moderate and included a mix of single-track trail and old forest service roads.
Lillinonah Trail – Views & Landmarks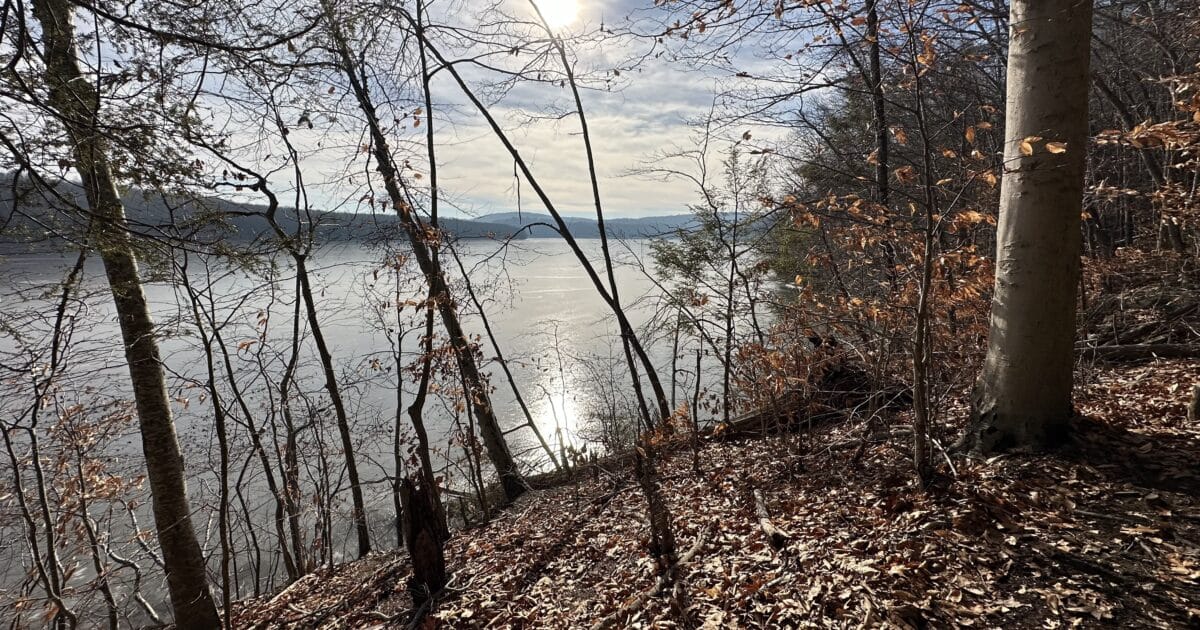 The Lillinonah trail is not overwhelming, and there are not a lot of wow moments, but it is a peaceful trail with very little "civilization noise" like traffic. This is an excellent trail if you want to get away and relax.
The water views are the highlight of the trail. There are several locations where the blue blaze trail winds down along the water's edge, and you can sit and relax while you look out over the water. I hiked in the winter when everything was frozen, but there is boat access immediately next to the trailhead, so that the water may be much busier in the summer.
I enjoyed the maple trees and syrup harvesting. There was even signage at the Echo Valley trailhead that described the process. I'm always excited when I can learn a little about the area where I'm hiking.
The quiet old forest roads with their old classic, New England stone walls were also nice, and the hiking along these roads was easy and serene.
Lillinonah Trail – Summary
As I mentioned, this is a great trail if you want to get away and relax. It is also nice that it offers a moderate to easy loop. I personally prefer loop trails over out-and-back trails since they provide ever-changing terrain.
There are supposed to be nesting eagles along the water's edge, but I did not see them while I was there. At certain times of the year, they have even closed down sections of the trail in the past. This is important for the birds, so please adhere to any signage you see when hiking.