The McLean Game Refuge near Granby, CT, is a preservation area I've wanted to visit for a while now. The refuge includes 4,415 acres of land and over 20 miles of trails and forest roads. It was founded by former Governor and Senator George P. McLean in 1932 when he donated 3,000 acres of his hunting lands.
We got our first 3-4 inches of snow on Monday, and I decided it would be a good day for my first hike in the Reserve. The terrain was reported as easy to moderate, and I wanted to hike without boots. The snow was shallow, and the temperatures were warm enough that my feet would be wet but warm in my trail runners.
Summary
Location – McLean Game Refuge
Trail – 5.4-mile loop trail
Parking – 41.94067, -72.79314 – There is plenty of parking and several ways to park and enter the park. I chose the main parking lot on Route 10. The address is Fairmount Lane, Granby, CT 06035.
Getting to the Trail – The parking lot is immediately adjacent to the trailhead and kiosk.
Highlights – Trap rock ridges, a large variety of forests, some old growth, and several water features, including kettle ponds, streams, bogs, and marshes.
Dog Allowed – Yes, if on a leash.
Resources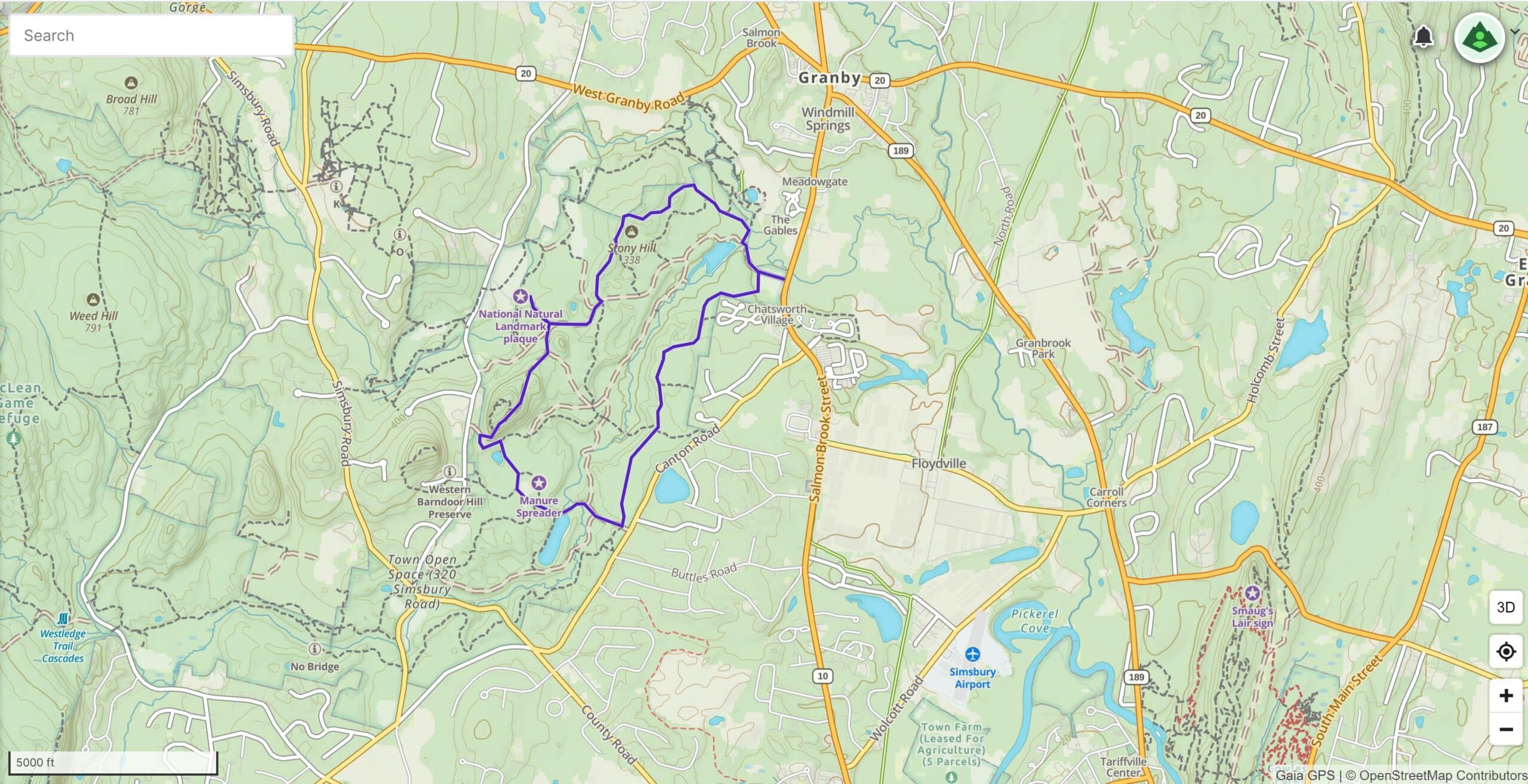 McLean Game Refuge – This website provides all the information you need to plan your hike.
Gaiagps – This is the App I use to plan my hike – driving directions, tracks, and waypoints.
Difficulty
Easy to Moderate – The loop I chose was easy, traveling through the forest and past several features, including Trout Pond, Kettle Pond, Manure Spreader (meadow), Stony Hill, and the Summit off Ridge Road with several views. The only moderate part was the tight switchbacks coming down from the summit on Ridge Road in the snow.
Terrain – The terrain consists of forested hills. There is some climbing, but it is not overly strenuous. There are several nice water features, including large streams and kettle ponds. Nice views are found on Stony Hill and at the Summit off Ridge Road.
Clothing Layers
Temperatures ranged from 28 – 42 degrees. The day started out overcast, but the skies were blue and beautiful by mid-morning.
Socks – Darn Tough mid-weight socks.
Base Layers – Mid-weight Icebreaker tights and a mid-weight Icebreaker shirt.
Pants – I wore REI hiking pants over my icebreaker lightweight tights.
Top – Montbell Chameece ultralight full-zip jacket and a new Down jacket by Katabatic called the Tin Cup.
Hat & Gloves – OR Beanie and my mid-weight Gore Manzella Gloves.
Northface Daypack
Shoes – I wore an old pair of Salomon's with Goretex.
Other Footwear – Kahtoola Micro-spikes
Hiking Poles – Black Diamond Alpine Carbon Cork Poles – These

carbon hiking poles

have about 2,000 miles, and I've found nothing more durable yet.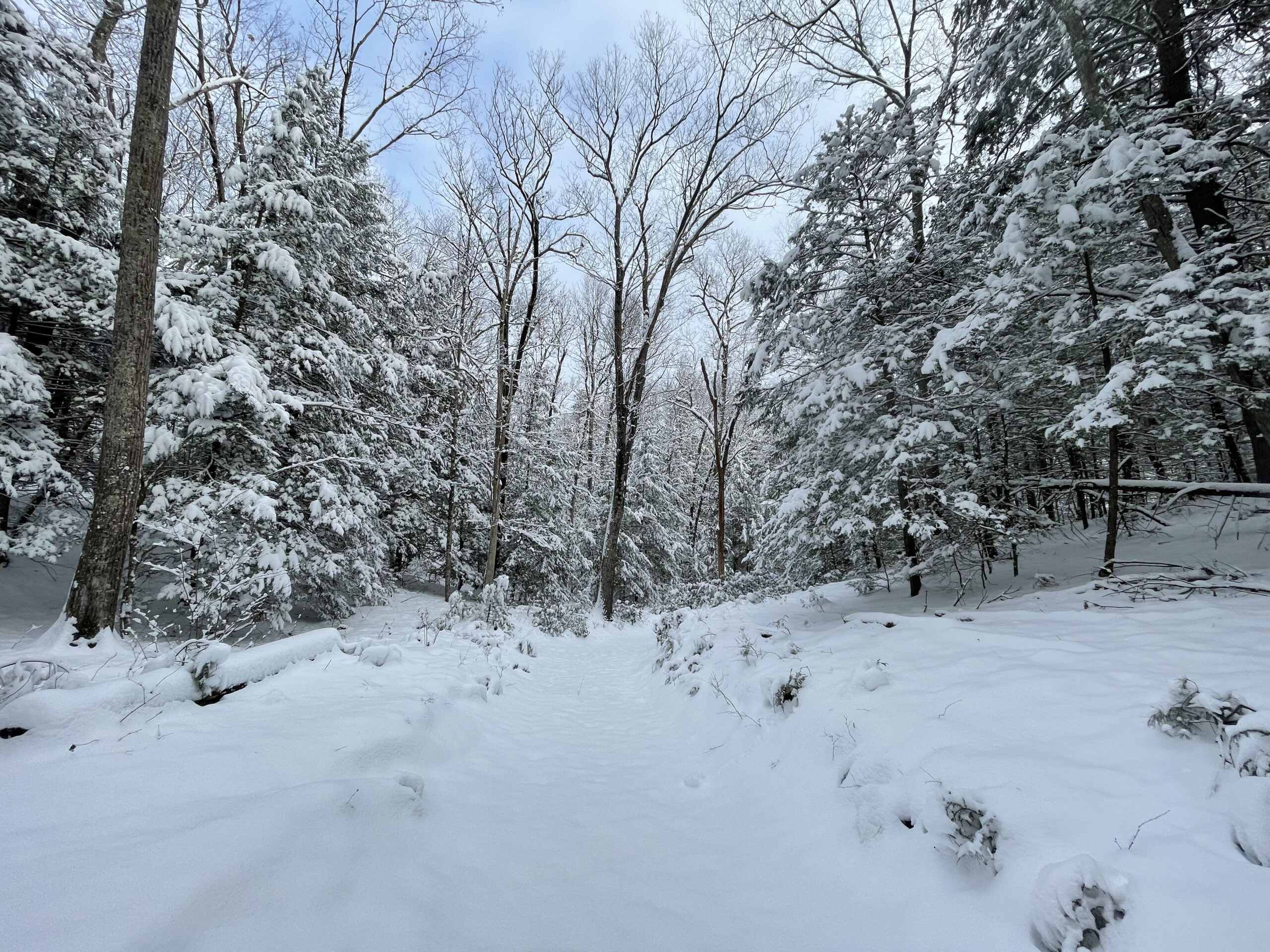 I parked at the main parking lot on Route 10. There is plenty of parking for at least 40 cars, and the trailhead kiosk is immediately adjacent to the parking lot. I was the first person at around 8 AM, but a trail runner arrived just as I began hiking the trail across a large field.
The maps provided by the Game Refuge made it easy to lay out a track in GaiaGPS. Since it had just snowed, and I was not wearing boots, I wanted to keep the hiking moderate. I did bring my Kahtoola micro-spikes that I always keep in my pack during the winter.
The soft 3-4 inches of snow saturated my trail runners within the first hour, but I was not worried since temperatures rose just above freezing, and I always moved along at a good pace to stay warm. Wet, warm feet did not worry me on a day hike.
I had several destinations for the day, and the first one was Trout Pond to see an old cabin that appeared it might still get some use during warmer months. I took a little side route down Chestnut Road to take a look. It really was beautiful with the pond and newly fallen snow, and made even better by being the only person out there.
McLean Game Refuge – Views & Landmark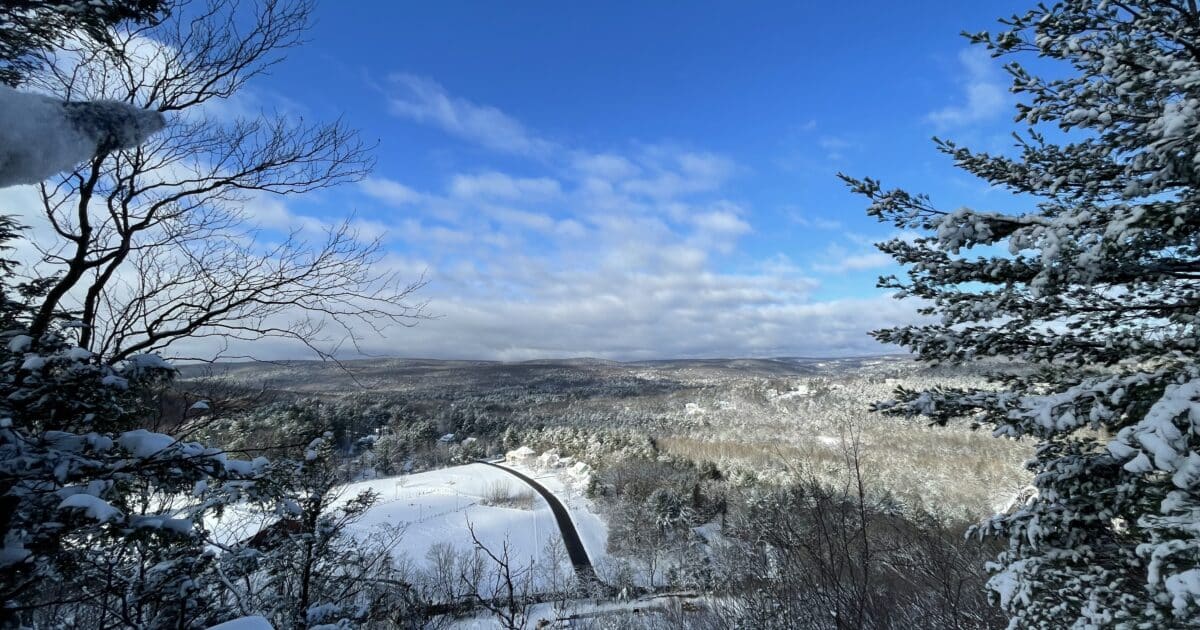 The refuge has a lot of variety in its terrain, and I mixed things up with a few good views. Stony Hill provided views through the bare trees out over the surrounding hills. The hiking up to and along the ridge was easy, and there were only a few sections where I had to slow down to keep from sliding in the snow.
Continuing down Chestnut Road, I turned onto Grove Road, which took me past another old cabin and into a picnic area near parking on Barndoor Hills Road. This is another popular entrance for the Refuge. There are picnic tables and rustic bathroom facilities located here.
I could not find the National Natural Landmark Plaque listed on my maps and headed back up Grove road before turning onto Ridge Road to climb up to the summit with no name listed on my maps. The climb was harder than any climbing yet, but still moderate and fairly easy.
There were two good viewpoints at the hill's summit, and the views were beautiful with the blue skies and freshly fallen snow. The hardest part of the hike was a series of tight, steep switchbacks that brought me back down to Ridge Road. These were only difficult because of the fresh, slippery snow.
Water Features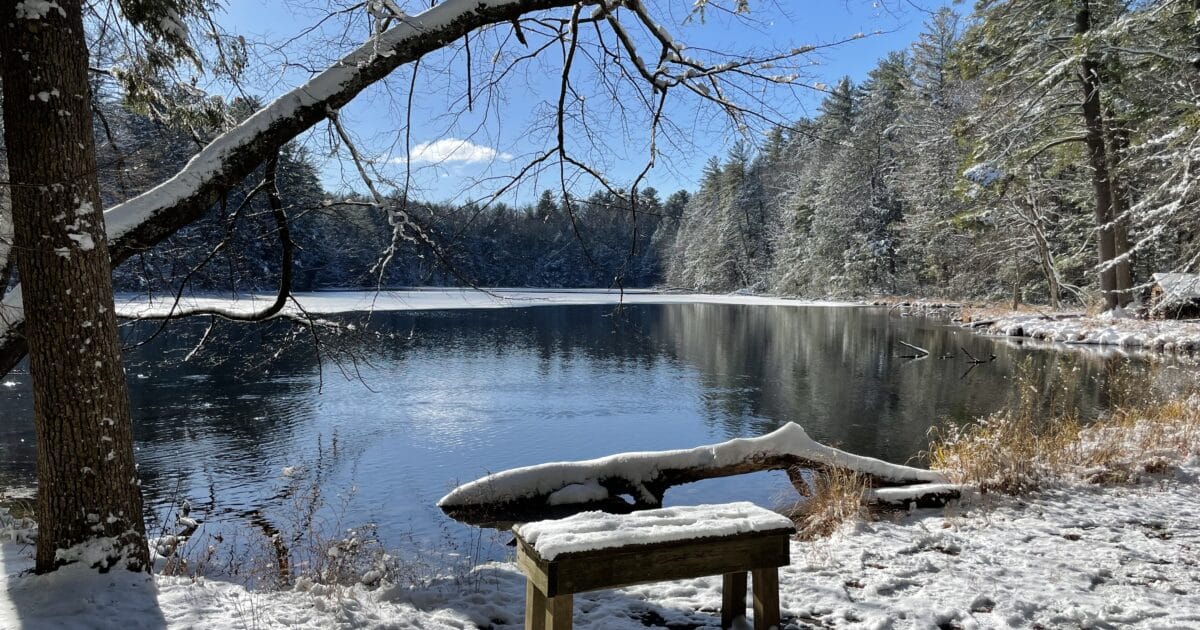 Ridge Road was only a short distance before I turned back onto single track and hiked past a small kettle pond. The pond already had a thin coat of ice, and I could imagine skating on it in a few weeks.
Continuing on, I passed a large field listed as "Manure Spreader" on my map. Based on the number of farms in the area, I assumed the field was used to spread manure at some point. I really can't imagine why else it would have this name.
The final pond was Spring Pond. The sun was out in all its brilliance now, and snow was gently melting from the trees above me, making the glittering views out over the large pond almost magical. A small lean-to/cabin sat on the shoreline, and I paused to take a few pictures as the first hikers I had seen passed me going in the opposite direction.
Wrapping Up the Hike
After leaving the pond, I continued about a quarter of a mile before taking a left onto what I believe was called Sandy trail. This very level trail brought me back to where I had started my hike near Route 10. This easy mile or so of the trail wound through the forest and made for a very peaceful stroll.
Sleeping Giant State Park – Summary
I was impressed with McLean Game Refuge. The Refuge offers enough variety to keep the hiking interesting, with its views, mature forest, and water features. The few dwellings I passed also tugged at my imagination as I wondered about those that had spent time on this land over the years.
The McLean Game Refuge has beautiful trails and terrain. If you are looking for a relaxing, easy-to-moderate hike, or you want to introduce someone to hiking, this is a great place to start. I was definitely impressed with this Refuge and plan to visit again during the warmer seasons.