The Hancock Loop Trail lies near Waterbury, CT, primarily in the Mattatuck State Forest. I hiked a 3-mile loop, although the trailhead sign says 2.8. This was a small, diverse hike with very nice views from the ridge above the creek and a beautiful, tranquil walk back along Hancock Brook.
Summary
Location – Mattatuck State Forest
Trail – 3-mile loop trail – Blue Blaze
Parking – 41.59730, -72.04742 – There is space for about 1.5 cars in front of the abandoned bridge across from the active stone quarry. There is space along the road, but parking signs indicate parking is prohibited.
Getting to the Trail – The trail is immediately next to the 1.5-car parking area and is well-marked with blue blazes and a trailhead sign.
Highlights – A ridge walk with several excellent views to the east, hardwood and Spruce forests, and a lovely walk along Hancock Brook.
Resources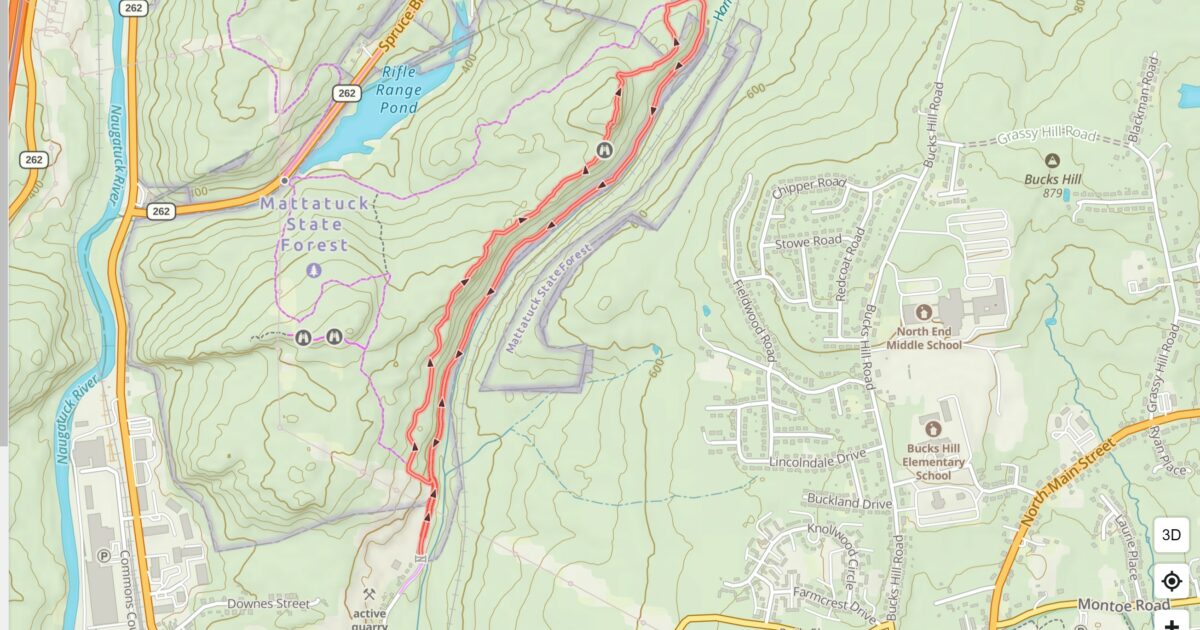 Connecticut Walk Book – 20th Edition by the Connecticut Forest & Park Association – American Legion and Peoples State Forest Trail – Pages 92-93.

Gaiagps

– GPA App used to create a trail, determine driving directions and parking, and send the track to iPhone.
Difficulty
Easy to Moderate – I hiked the loop clockwise, climbing up to the ridge over the brook and then dropping back down for an easy hike along Hancock Brook. The climb to the ridge was short, and the walk along the ridge had some short moderate climbs over outcroppings.
Terrain – The terrain mainly consisted of Oak and Spruce forests. These were interspersed with rocky outcroppings of granite sparkling with quartz. Some very nice views were out over Waterbury and into the valley below.
Clothing Layers
Temperatures ranged from 28 – 42 degrees. It was cold but beautiful.
Socks – Darn Tough Light-weight socks.
Base Layers – Mid-weight Icebreaker tights and a mid-weight Icebreaker shirt.
Pants – I wore my cargo shorts over my tights and was comfortable.
Top – Montbell Chameece ultralight full-zip jacket and Feathered friends EOS Down jacket.
Hat & Gloves – No hat and Melody Sensor gloves from OR.
Northface Daypack
Shoes – I use these HOKA Speedgoat 5's for all my hiking right now.
Hiking Poles – Black Diamond Alpine Carbon Cork Poles – These

carbon hiking poles

have about 2,000 miles on them, and I've found nothing better as far as durability.
Hancock Brook Loop – Ridge Traverse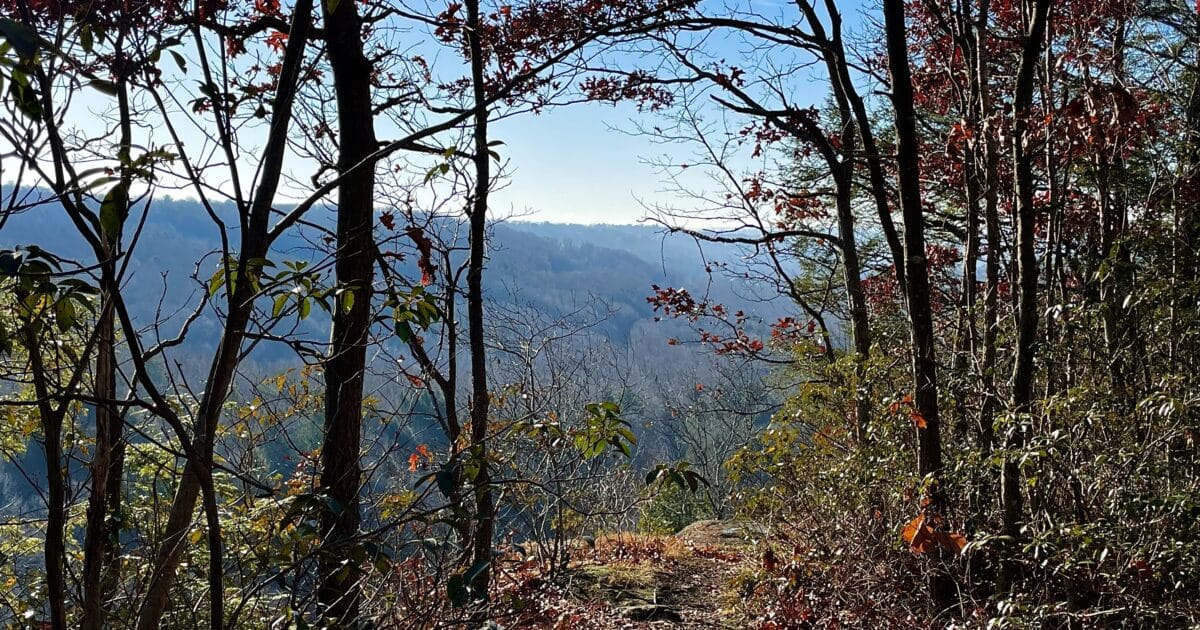 The hike up to the ridge is short. The hardest part of the entire hike is the leaves. I fell at least twice, so be careful if it rains or there is early morning frost.
Motorcycles have been using the trail, so there is erosion, but this is pretty easy to avoid. Climbing down is steep, so make sure you hike slowly. All of the steep sections are short.
If you feel you have lost the trail up on the ridge, you probably have because it is clearly marked. About 600 feet past the most significant overlook, the side angles right to the edge of the ridge. However, I noticed many people are going straight down and losing the trail, so be careful in this section.
There are numerous nice views and flat rock slabs for breaks along this portion of the hike. This would probably be an excellent location for morning sunsets since the sun rises across the valley over the hills.
Hiking Alongside Hancock Brook Loop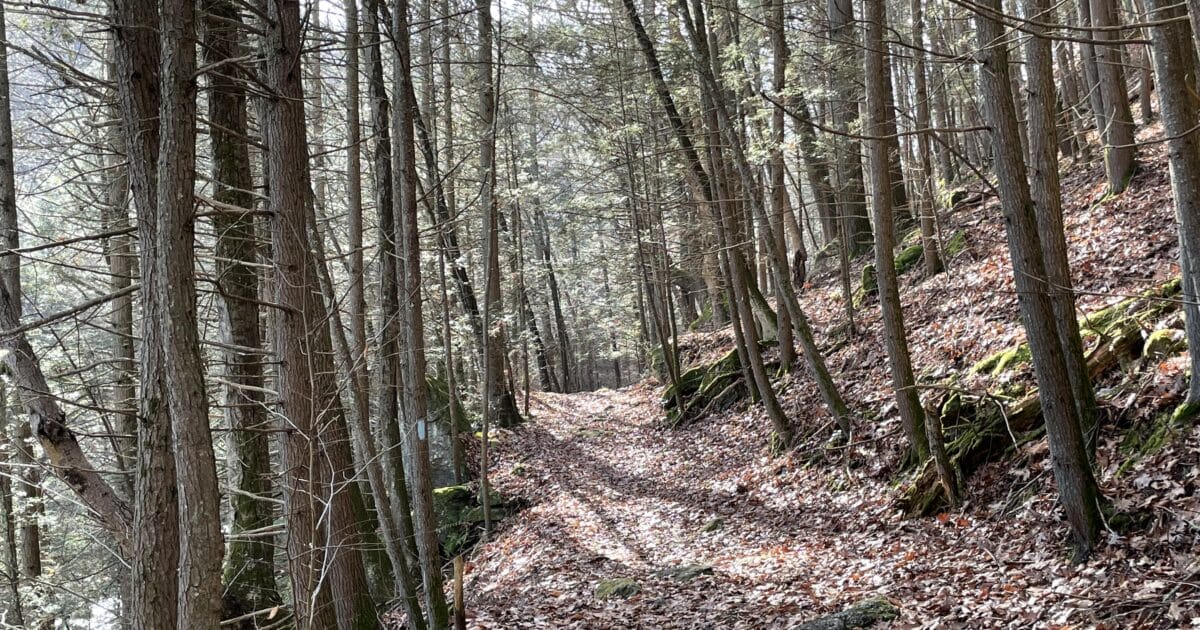 You will drop steeply down off the ridge and come out at a small pond that is used often. Turn right and hike down to a wooden fence that is marked with a trail sign and blue blazes. This walk back to the trailhead is peaceful as you hike beside Hancock Brook.
Across the brook is old stonework built to shore up the foundation of the railroad running down the valley. At the trailhead where you park, there is also an abandoned bridge and even an old streetlight hanging out over a road that no longer exists.
This area seems to have gotten got more traffic in the past than it does now.
One thing to note on the brook. Down near the trailhead, there appears to be an abandoned tent. It looks like it may have once belonged to a homeless person. There seems to be nobody there now, but I would avoid it.
Hancock Brook Loop – Summary
The Hancock Brook Loop Trail is a short three-mile hike that offers a lot of variety in a short loop. From nice views to a peaceful brook, you provided a nice slice of the mid-Connecticut region.