I have used my Big Agnes Tiger Wall UL1 tent on about 500 miles of backpacking, so it is time for a review. This year I used the tent on the Mohawk Trail in CT, a Foothills Trail thru-hike, and my Fall thru-hike of the Superior Trail in Minnesota.
I chose the Tiger Wall UL tent primarily because I was tired of condensation. When I use my Dyneema shelters, the condensation is always irritating, no matter where I choose to set up. On more humid trails, the buildup of moisture inside the tent is always a PIA.
I also wanted a tent with a smaller footprint that was at least semi-freestanding. Many hiking pole tents have large footprints, making them challenging to set up in tight areas or dense forests.
In this review, I'll review the tent's specifications and performance on the trails.
Big Agnes Tiger Wall UL1 – Rating
Dimensions (Footprint & Packed Size)
Pros
Footprint – I like the small footprint.
Ease of Use – Easy to set up and take down.
Comfort – Plenty of room for me and lots of pockets to store gear and clothes out of the way. I also like the loops for a small clothing line.
Cons
Tent Fly – This tent held up well in hard rain and wind, but there were two instances where there was a little splash under the edges of the tent fly. These were severe storms.
Semi-free standing – I do wish it was free-standing.
Specifications – Big Agnes Tiger Wall UL1 Tent
| | Big Agnes Tiger Wall UL1 |
| --- | --- |
| Length | 84 in |
| Weight | 34 oz |
| Floor Dimensions - L x W head/foot | 84 x 38 x 28 in. |
| Height | 39 in |
| Packed Size | 17 x 5.5 in. |
| Included | Pump sack, stuff sack and repair kit |
| Materials | Nylon, polyurethane, 30D Upper, 70D Bottom |
| Price | $229.95 |
My Tent Requirements
I used my Hexamid shelter from Zpacks when I hiked the Arizona Trail in March and April this year. Zpacks has discontinued the Hexamid, but it was perfect for my hike on the AZT.
It rained maybe once on the AZT, and condensation was never a big issue if I paid attention to where I set up the shelter. I tried to stay out of valleys and depressions and away from water sources and thick grassy vegetation.
Below are the features I like in my double-walled tents.
Weight – I try to keep the weight around two pounds, which means I usually use a one-person tent.
Livability – Minimal condensation and good ventilation are ideal, especially in wet climates.
Durability – My long hikes are usually hundreds, if not thousands, of miles, so I don't want a fragile shelter. Tents are also expensive, so I want one that will last.
Size – I prefer a tent that packs up small and does not have a lot of extra parts like struts.
Storage – I don't use my vestibules to store gear because I've had too much clothing and gear eaten by animals. This can be a problem when I'm in the middle of nowhere. Because of this, I like pockets inside the tent on the sides and overhead. This helps me stay organized, and it is easier to access the gear I need quickly, like my headlamp, phone, etc.
Loops – I like inside loops that allow me to hang a small line to hang clothing at night.
Big Agnes Tiger Wall UL1 – First Glance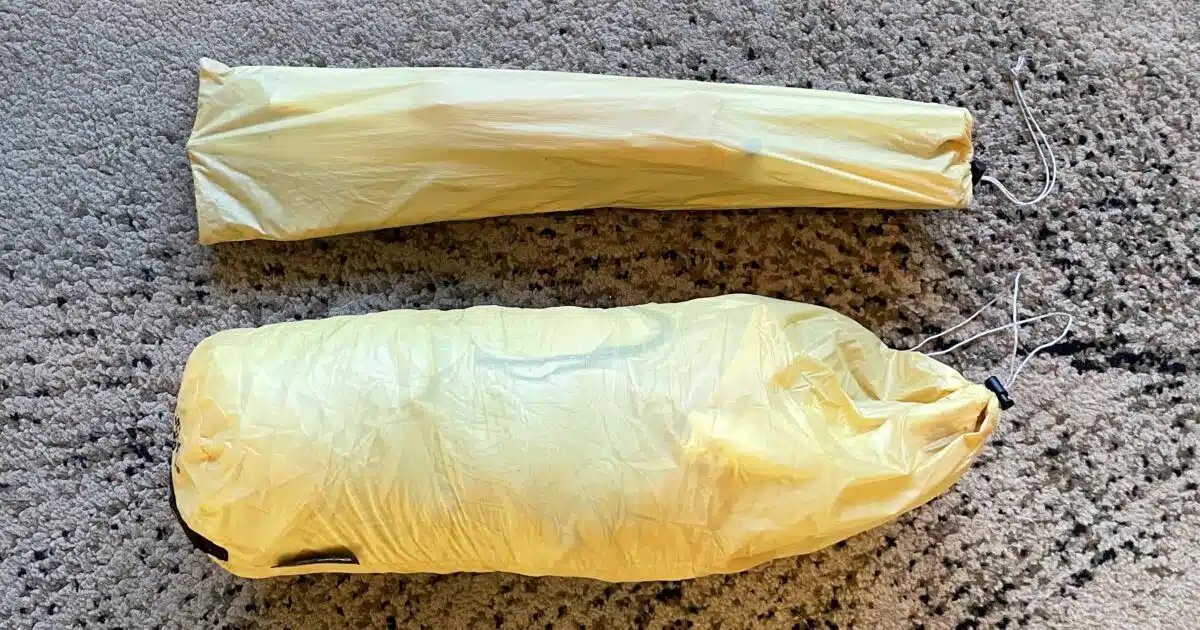 The BA Tiger Wall UL1 includes a tent, tent poles, and six aluminum "Dirt Digger" stakes. The stakes, tent/fly, and tent poles each have silicone stuff sacks.
I did not get a ground sheet, nor did I use one with the tent over 500 miles this year. I am taking the tent on the Appalachian Trail in 2023 and will take a small piece of Tyvek to protect the floor due to the length of time I'll be using the tent.
The tent and the fly pack down small, and I find them easy to roll up and stuff into the sack. I usually put my inner tent in my stuff sack to keep it dry and stuff my tent fly next to it. This ensures I have a dry tent at night, especially if there are consecutive days of rain. The tent, fly, and poles easily fit in my pocket outside on my ULA Ohm backpack.
Big Agnes Tiger Wall UL1 – Materials & Construction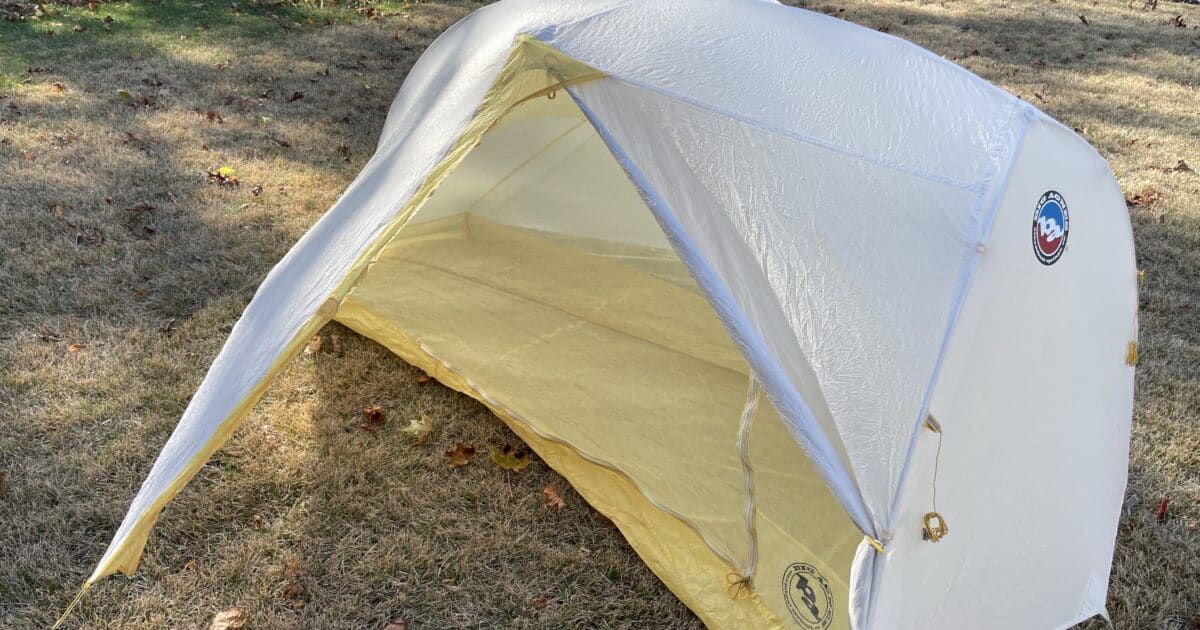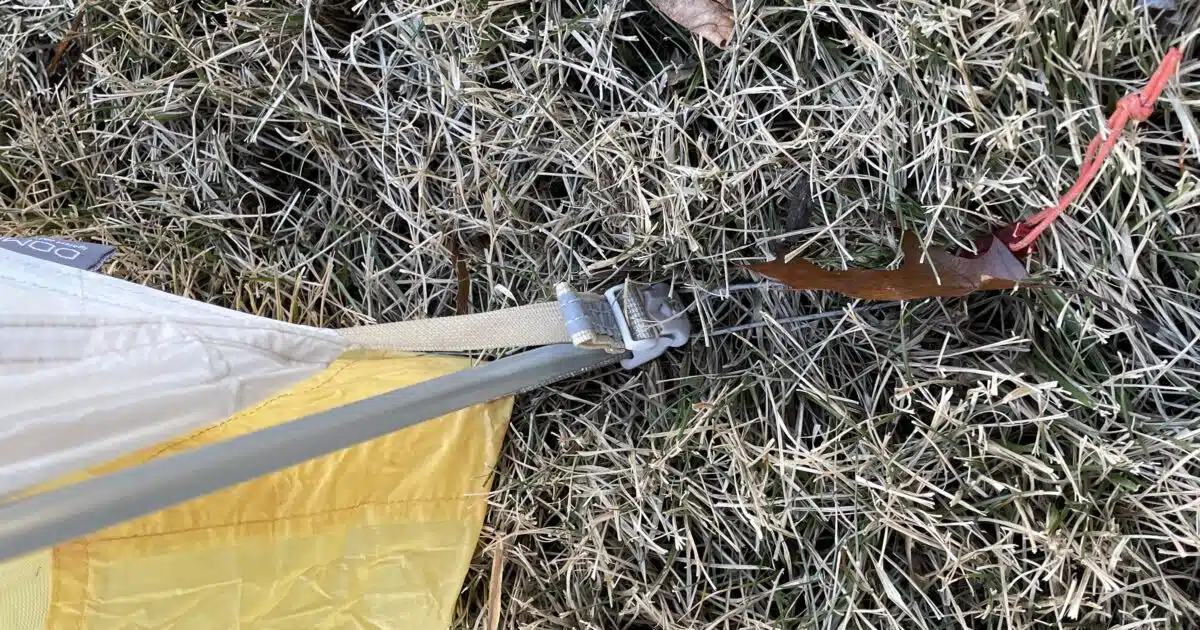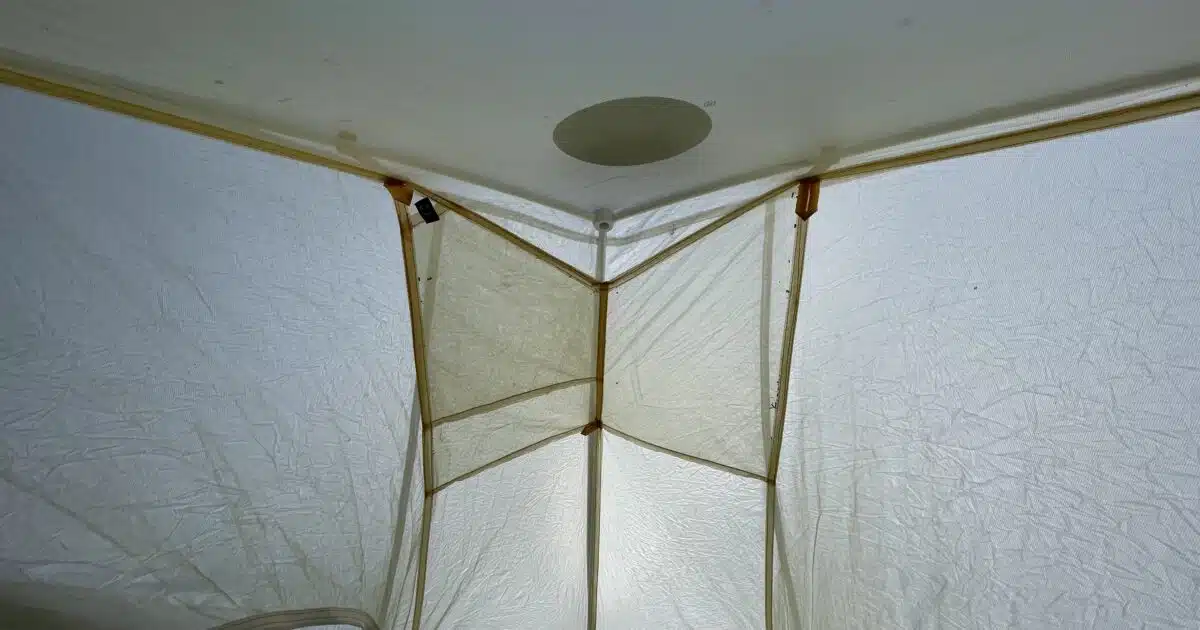 Fabric Material
The tent is yellow and white and uses solution-dyed fabric that Big Agnes claims reduces fading and requires fewer resources to manufacture. I wish BA offered more natural colors or even camo, but they seem to like bright colors like orange and yellow.
The tent fly and floor are made from silicone-treated nylon with a 1200mm waterproof polyurethane coating. I used the tent in heavy rain storms and directly on snow with no leaks or water seepage. The fly and floor material are thin, and although I did not use a footprint, I will take Tyvek with me on my AT-thru-hike this year.
The body of the tent is made from rip-stop nylon and mesh. I enjoy sleeping without the fly when the weather is good, and the light mesh allows for good views.
The seams on the tent and fly are covered with waterproof polyurethane tape, which I always prefer since seam-sealing can be messy and a pain in the butt.
Tent
The tent is semi-freestanding and has one door, so you must stake out the back corners, which does not prevent the low bathtub floors from sagging a little. Your gear will push the sides out, so it is not an issue for me. I call the bathtub floors low because the fly comes just to the top, and I did feel a little splash from the ground during severe thunderstorms.
The tent's interior has plenty of storage with a large mezzanine, multiple pockets in front of the mezzanine, and a pocket on the side. This helps me stay organized without digging through a bunch of smaller gear in my pack. I also use small loops in the tent's ceiling for a clothesline to hang my hiking clothes at night.
I found the tent's dual zippers irritating. They continuously snag on the fabric, and I have to be careful when zipping up the tent. They are easy to find, though, with their large rubber attachment loops.
Fly/Poles/Stakes
The tent fly fits over the poles snugly and attaches to clips at the corner of the tent with what Big Agnes calls a "TipLok Tent Buckle™." This allows you to secure the pole-tip, attach the rainfly attachment, and tension the fly, stake-out, and stake-out loop. The fly is very thin, and I'm careful when pulling it over the poles, but so far, I've had no issues. There are plenty of tie-outs pre-tied to the fly for bad weather. I don't use them often since the tent holds up fine in a normal steady rain.
I like the DAC Featherlite tent poles. They are color-coded and easy to set up. The only issue I have with them is the elastic cords inside the poles. Even when the tent was new, they did not retract as easily as I would like, and I sometimes have to play with them to retract them. Time will tell how long these hold up, but the cords need stronger elastic.
The Dirt Dagger UL Tent Stakes that come with the tent work fine. They are patent pending with an aluminum I-Beam, but I can't tell the difference in performance between the Dirt Daggers and the MSR Hog Nose stakes I use from REI. I recently switched to the Hog Nose, which works better in loose, rocky soil.
Big Agnes Tiger Wall UL1 – Performance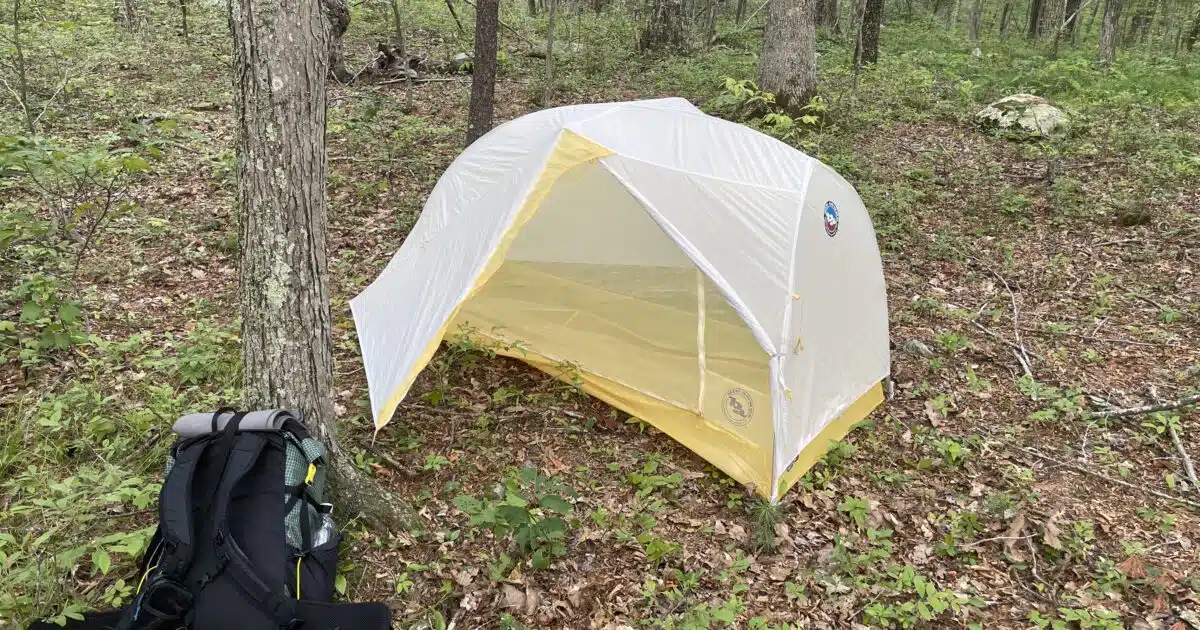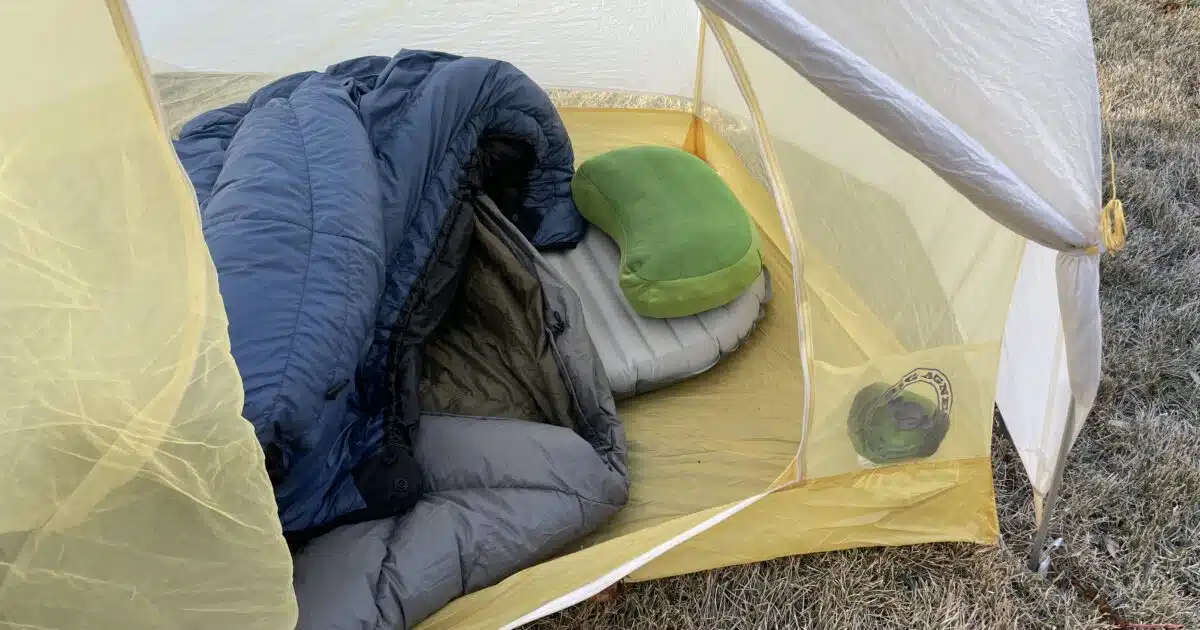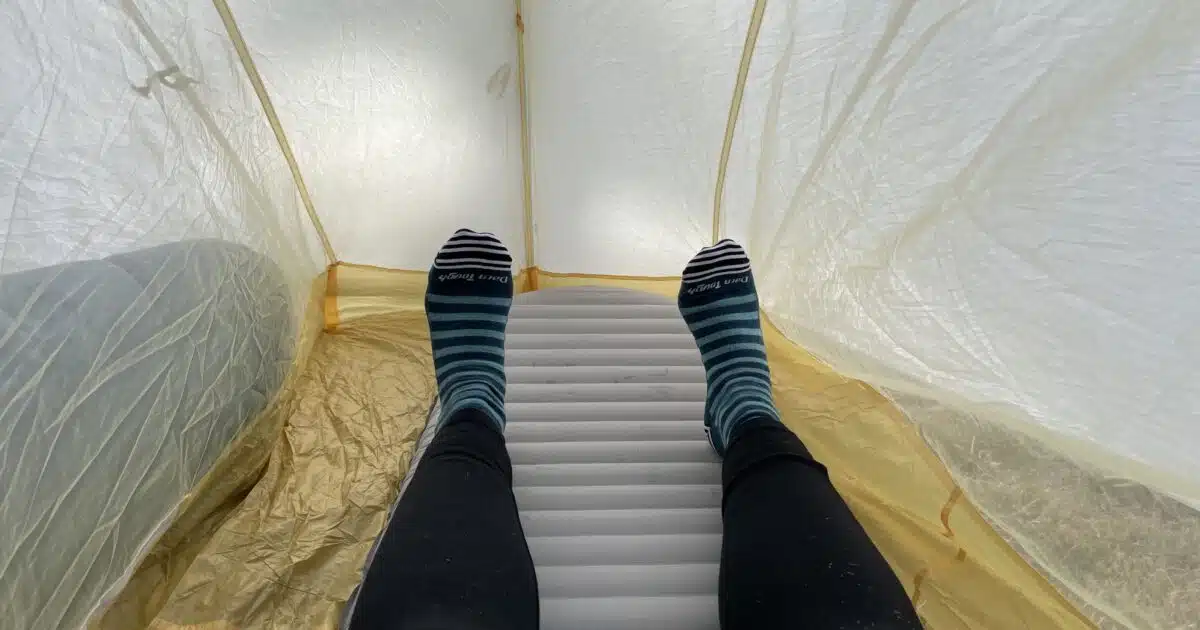 I used the tent primarily on the west and east coast and found it performed well in those climates. This included heavy rain, wind, and snow. The tent is weather-proof, has decent ventilation, and quickly sets up. I also like taking the tent down in the rain without getting wet.
In addition to the above, the tent also has plenty of storage and a good-sized vestibule, although the space in the vestibule is limited since the fly does not come down far enough.
One of the other positive attributes for me is the small footprint. I can set this tent up almost anywhere and tuck it into small spaces in bushes or around trees. This is a big plus for me and allows more camping opportunities.
The sticky zippers and conservative tent fly did not work well for me. The tent fly is not long enough to prevent some minor splash in heavy rain. Even when I set up on leaves or thick duff, I still felt minor spray. The fly also pulls up high at the front of the vestibule, so you lose some protection from rain or snow if you put your gear near the front of the vestibule.
Competitors
Below are comparable double-walled, free-standing, and semi-free-standing tents that I have used and would use based on testing and research.
| Vendor | Weight | Structure | Floor Dimensions - L x W head/foot | Height | Price |
| --- | --- | --- | --- | --- | --- |
| Big Agnes Copper Spur UL1 | 34 oz | Free Standing | 88 x 38/28 in | 38 in | $449.95 |
| MSR Hubba Hubba 1 | 39 oz | Free Standing | 85 x 30 in | 37 in | $409.95 |
| Nemo Hornet 1P | 32 oz | Semi-Free Standing | 87 x 43/31 in | 39 in | $359.95 |
| Sea-to-Summit Alto TR1 | 33oz | Semi-Free Standing | 84.5 x 42 x 24 in | 42.5 in | $449.00 |
Big Agnes Copper Spur UL1 – This is my favorite tent in this group, and although it is slightly heavier than the Tiger Wall, this is the tent I would use if it did not have the awning (personal preference). The Copper Spur is a roomy one-person tent that is weather resistant and very easy to use. It is also free-standing and has a nice, small footprint. You can check out my review of this tent I used on my New England Trail thru-hike.
MSR Hubba Hubba 1 – The MSR Hubba has made a good tent for years, and I had one years ago on my first AT hike. I especially like the rectangular floor, and the tent is great in bad weather conditions. The new tent has added interior pockets, a big positive, but I don't like the solid sides. I have not used the tent, but some reviews indicate ventilation is problematic in warm climates.
NEMO Hornet 1P – I used the NEMO Hornet 1P on the first half of my New England Trail hike, which is very similar to the Tiger Wall. The NEMO has advantages like a higher bathtub floor and is the best-priced tent in this group. There are a few things that I think make the Tiger Wall better. The NEMO sags more on the sides, even with attachments to the fly, the Fly Bar is a little irritating when packing the tent, and the Tiger Wall has more interior pockets for storage. The NEMO only has two. All that said, the NEMO is a good, popular ultralight tent.
Sea-to-Summit Ether Alto TR1 – This is one of the lightest tents in this group at 33 ounces, and it is definitely a tent I want to try. I've seen this tent once on the trail, and with its unique 5-sided shape and 42.5-inch high peak, it is made for tall people like me. It is definitely on the short testing list, but I wish it was free-standing and not semi-free.
Therm-a-Rest Neoair XTherm – Summary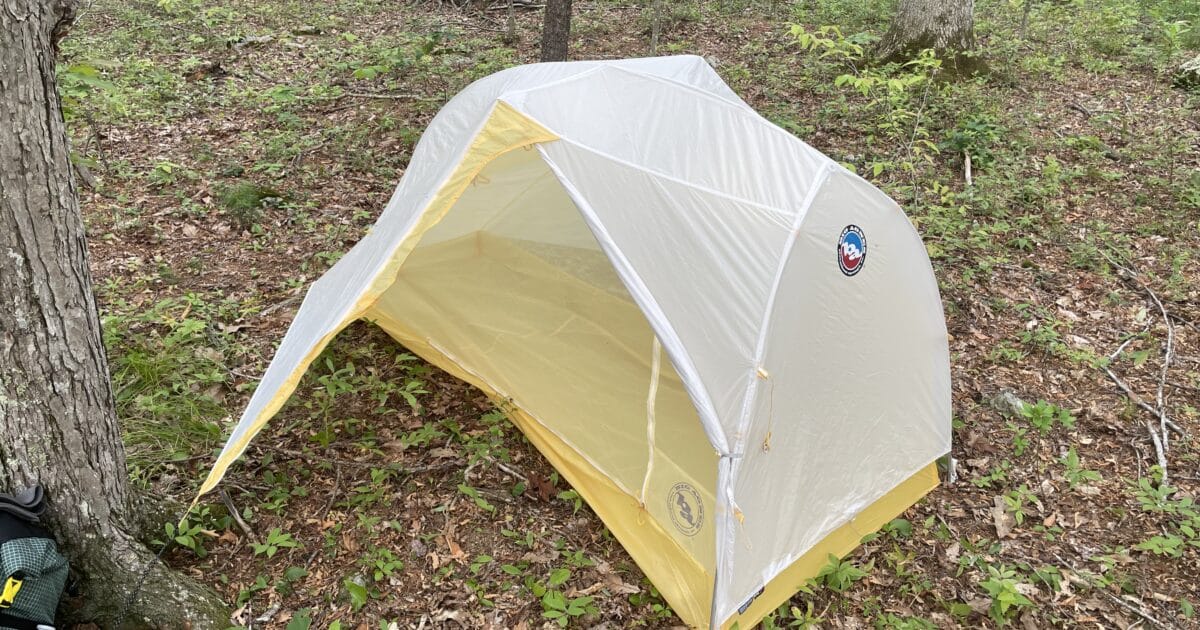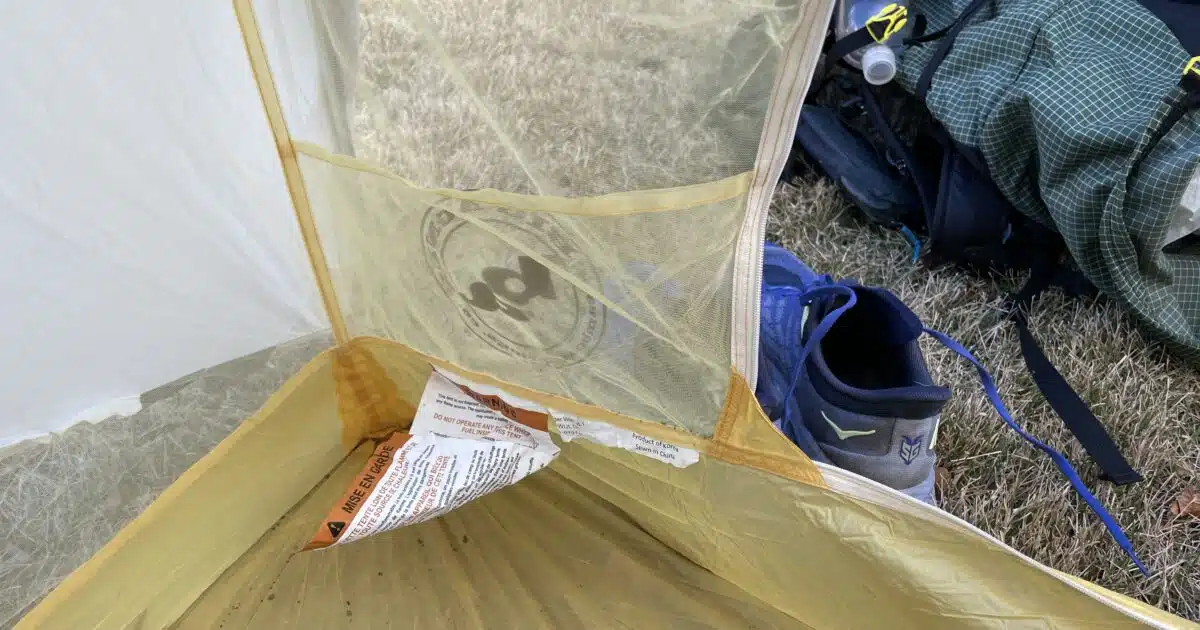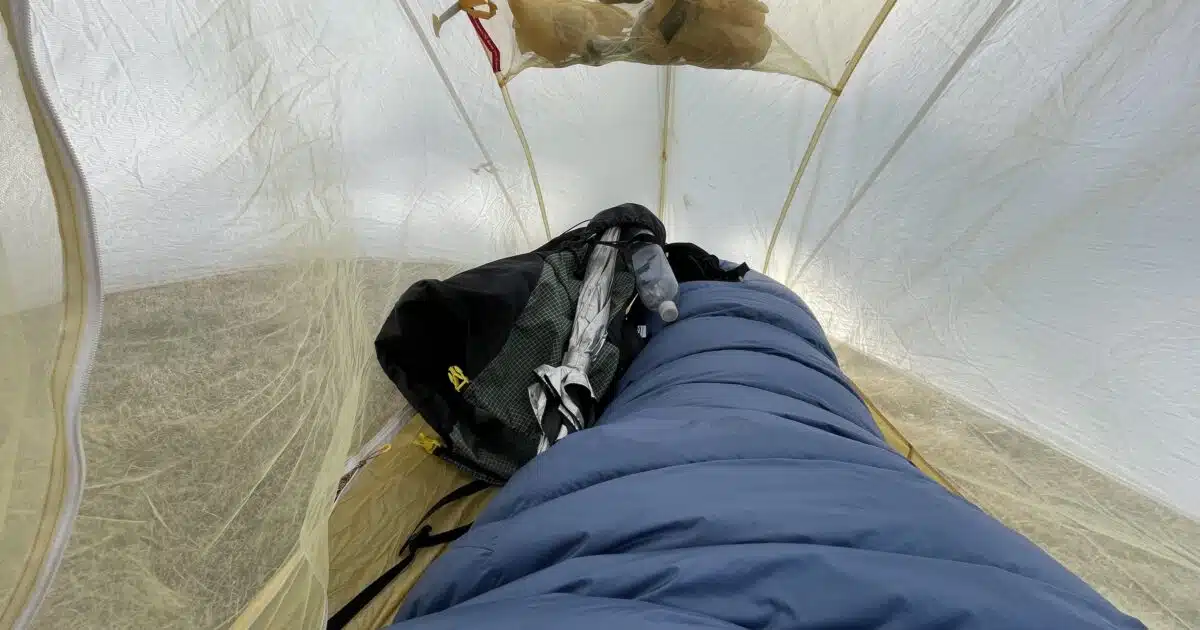 The BA Tiger Wall UL1 tent is a good tent for three-season backpacking. It held up well for me in 2022 in severe storms and snow, and I like that it has a small footprint that is easy to set up and take down.
Like the Copper Spur, I find this tent livable for a tall person. I'm over 5'11 and can sit up and move around without a problem. Condensation is not an issue, and the mezzanine and pockets on the tent's interior provide plenty of space to stay organized.
It would be nice to have a slightly longer fly and less sticky zippers, but compared to other one-person tents, I still find the Tiger Wall one of the best one-person tents available. I intend to take the Tiger Wall on my Appalachian Trail thru-hike in 2023, and it will be interesting to see how it stands up to another two-thousand miles of backpacking.
FAQs – BA Tiger Wall UL1 Tent
Is the Tiger Wall a free-standing tent?
It is not freestanding. The Tiger Wall is semi-freestanding. You need to stake down the back corners.
Do I need a groundsheet?
I did not use a groundsheet over the 500 miles I've used it so far, but I'm about to start using one because I can see the wear on the bottom of the tent. I would recommend a piece of Tyvek or polypro plastic.
How do you pack your tent?
I put my inner tent in its waterproof stuff sack and turn it upside down before placing it in the outer pocket of my pack. This prevents rain from getting in the stuff sack. I stuff the fly into the pocket next to the stuff sack, so if the fly is wet, it won't get the tent wet.
Do you use the vestibule to store your gear?
I do not. You can use the vestibule to store gear, but I've had too many critters take and nibble my shoes, poles, socks, and other gear. It now goes in the tent with me.
This page has affiliate links for products and gear I purchase and use. If you click on one of these links, I receive a small commission at no extra cost to you. There may also be Amazon links and as an Amazon Associate I earn from qualifying purchases. You can read more about my thoughts on affiliate marketing.