Katabatic Bristlecone Bivy Review
The Katabatic Brislecone Bivy is a well-made, ultralight backpacking bivy and another quality product from Katabatic. My last Bivy was from Mountain Laurel Designs (MLD). Although their Solo is also a good quality bivy, I wanted a larger mesh panel to help decrease some condensation from the east coast trail humidity.
I was excited when I saw the Bivy for sale on White-blaze. The Bivy was brand new and had never been used, so I made the purchase, and it has been an excellent addition gear collection.
I have used this ultralight bivy on the east coast in late spring/early summer. In addition, trails like the Appalachian Trail and the New England Trail are in my backyard and great for equipment testing on shorter hikes.
Pros
Weight – Very light for the durability
Durability – even better with the Robic floor
Livability – plenty of room for my quilt and pad
Cons
Length – the new Bristlecone is two inches shorter.
My Bivy Requirements
My Bivy Requirements for long-distance hiking remain the same.
Light Weight – Lightweight is essential on long-distance hikes, but not as much for section hikes. I don't usually take a lot of time off when I hike long distances, so I work to reduce weight to combat fatigue.
Room – I want a bivy long enough to store gear in the foot when it is cold. I also want enough room on the sides to keep small items like batteries, hiking poles, etc. I keep my poles inside whatever shelter I use. I'm tired of small animals eating the cork handles.
Water Proof/Resistant – The bottom of the Bivy needs to be waterproof, and the top shell should be water-resistant. I used to have a fully waterproof bivy but could not use it in warm weather due to heat and condensation.
Net Window – I don't want a net bivy, but I would like a large net over my face.
Katabatic Bristlecone Bivy Review – Quick Specifications
Weight: 7.7 ounces
Fit: 6'6″
Length: 89 inches
Shoulder Girth: 77.5 inches
Foot Girth: 63.5 inches
Price: $125
Packed Dimensions: 3.5 x 7.5 inches
Upper Shell: Pertex Quantum Air
Bottom: Robic Nylon w/Silicone UTS coating
When Do I Use a Bivy
I use my Katabatic Bristlecone Bivy in colder seasons – early spring and late fall. I also use a bivy in dry climates where rain is limited, like desert or high-altitude hiking.
Cowboy camping is not my thing, although I enjoy sleeping under the open skies. Too many creepy crawlies have given me a nip or two, and waking up with a spider or tarantula perched on my face is not much fun.
In recent years, single-person tarp-tent shelters have gotten lighter and lighter, coming in at 13-15 ounces. This is about the same weight as a bivy and tarp, so I use a bivy less. Of course, the Bristlecone Bivy will still have its place on specific hikes.
When Do I NOT Use a Bivy
I typically don't use a bivy on long-distance hikes unless I'm moving fast and sleeping less. However, on longer hikes, where I don't have the luxury of hiking around weather windows, I will take my Zpacks Hexamid, which has now been discontinued. I have also used the Duplex and Altaplex, both Zpacks shelters.
Wet, warm, humid environments are not ideal due to condensation. A bivy adds about 5-10 degrees to your sleep system, so colder weather works best for me.
I don't use a bivy much on the east coast unless I know the weather and on short trips. The east coast is sometimes buggy, and I like to cook on short trips. It is tough to cook and eat from inside a bivy. The last thing I want to do is spill food in the Bivy.
Katabatic Bristlecone Bivy Review – First Glance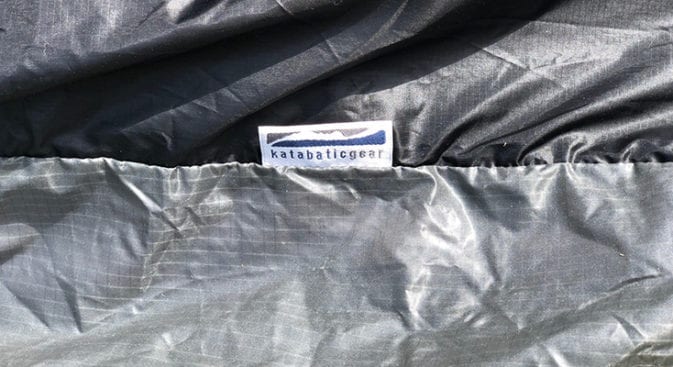 The Katabatic Bristlecone Bivy reminds me of the MLD Solo Bivy. However, the biggest standout for me, and one of the reasons I bought the Bristlecone Bivy, is the large mesh panel across the top of the Bivy.
The Katabatic Bristlecone Bivy is well made, and the quality is apparent when I roll the Bivy out and take a close look at it. All the seams and stitching are neat and tight. The #3 YKK zipper is easy to use, and the dual zippers do not snag. Many small details indicate this is a well-made bivy.
Katabatic Bristlecone Bivy Set Up/Pack Up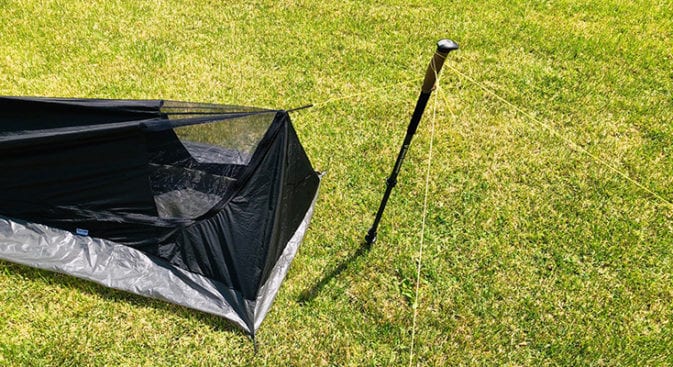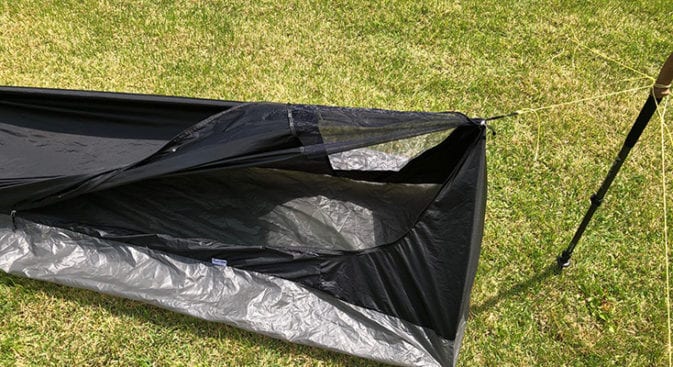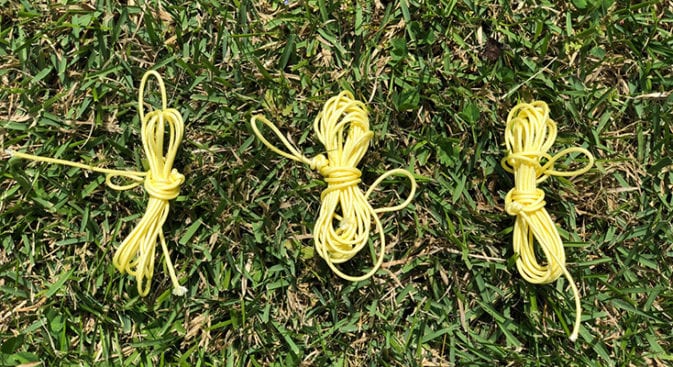 There is not much involved in setting up a bivy. Roll it out, put your sleeping pad and bag inside, and sleep. I often set up my Bivy like a small tent. This allows more room, and no net is left resting on my face. If you are a back sleeper, you can wear a baseball cap to keep the netting off your face.
Using my hiking pole, I tie three lines to anchor the pole and connect one of the lines to the small loop at the top of the Bivy. This keeps the netting off my face and gives me more room to move around, read, write, etc. If a tree is nearby, I tie a line from the same loop to a branch above the Bivy.
The three lines I use for the Bristlecone Bivy are pre-cut, and I roll them up and toss them in the Bivy before packing them up in the morning.
One note on the hiking pole. I put the handle down and tied the lines around the tip. The small basket kept the lines in place at the top. Since the cork gets eaten by animals, I put the end on the ground and placed a zip-lock bag around the handle before tying the lines around it.
Staking Out the Bristlecone Bivy
The Bivy has a silnylon floor, and unless you want to slide around all night, you had better sake out the Bivy. Four stake-out loops are provided, so this is done quickly and easily.
If I tie up the hood, I must also stake out the Bivy.
Update: The new and improved Bristlecone has a Robic floor treated with a silicone UTS coating, which is waterproof.
My ULA backpacks use Robic fabrics and are the most durable of the ultralight backpacks I use, other than Hyperlite, which uses very durable Dyneema fabrics.
With a more durable floor improvement, the new Bristlecone is still 4 ounces LIGHTER than its predecessor.
I have reviews on both the ULA Ohm 2.0 and Hyperlite Junction so that you can get a sense of the durability of these fabrics.
Packing Up the Bristlecone Bivy
The Bivy packs up small. So if the weather is nice, I pack it in the mesh pouch on my backpack. However, if it is raining, it is packed in a silnylon bag, and I turn it upside down before packing it in the same mesh pouch. This keeps water from leaking into the bivy interior.
Katabatic Bristlecone Bivy – Components
The Bivy's main components are simple and easy to use. They provide four stake-out loops, sleeping pad attachments, and a large mesh panel across the bivy hood.
Mesh Window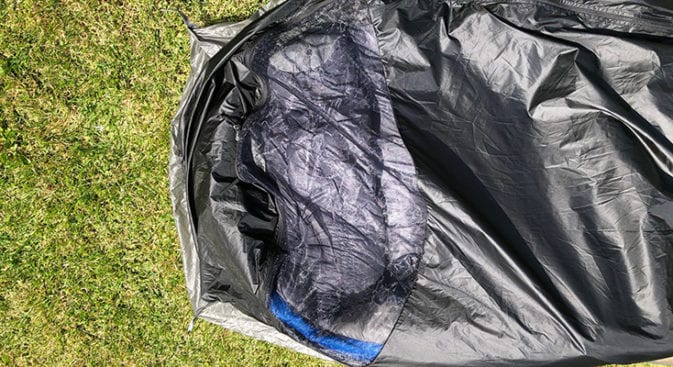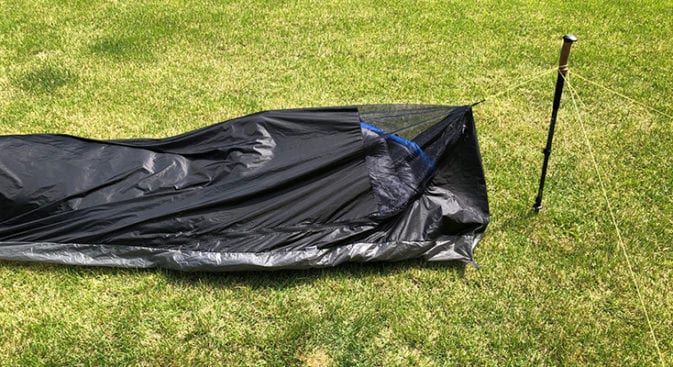 The mesh panel is large, allowing for good airflow. I don't sleep with my Bivy open, so having a large mesh panel to reduce condensation is essential, and the Bristlecone Bivy performs well. Condensation has not been an issue.
Tie Out Loops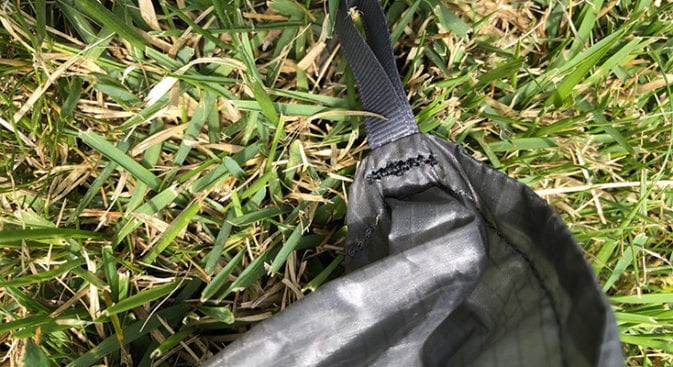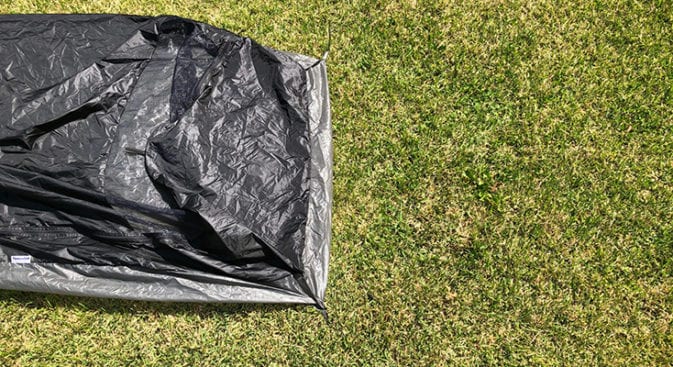 The Katabatic Bristlecone Bivy has four tie-out loops, one at each corner. These have a few uses.
They anchor the Bivy so I can tie up the hood for more space.
They keep the Bivy from sliding all over the place.
They pull the bathtub floor tight in heavy rain when water is running or pooling under the Bivy.
Sleeping Pad Attachments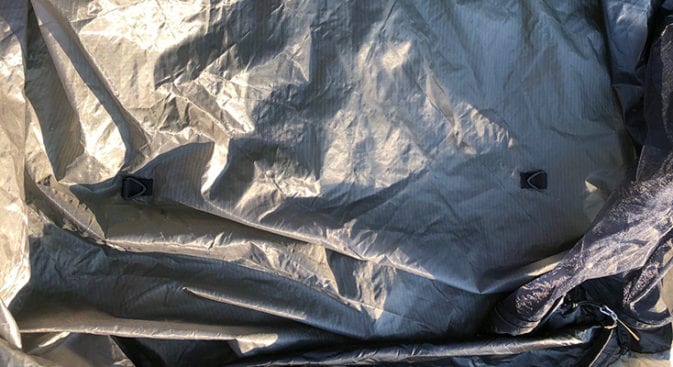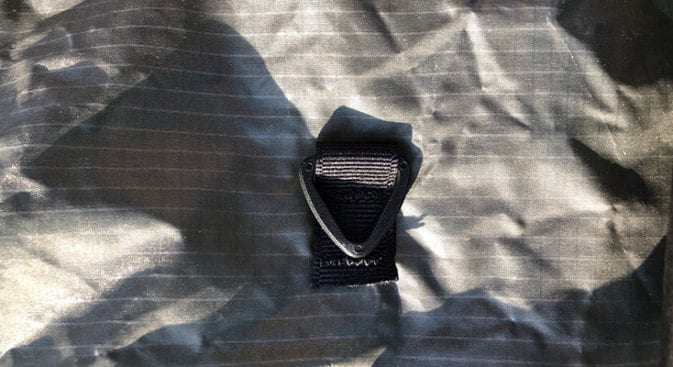 The Bristlecone Bivy has four sleeping pad attachments sewn onto the bottom of the floor. I don't use them much since the Bivy itself holds the sleeping pad in place, especially with the things I put between the Bivy and the pad's edges.
The attachments are excellent if you use the attachments and have a Katabatic quilt. The cord attachment system you use to attach the quilt to the pad also aligns with the attachments on the bottom of the Katabatic Bristlecone bivy.
I secure everything I have with one cord system. When you pack up the Bivy in the morning, leave the cords in place so they are ready to go when you stop for the night.
Katabatic Bristlecone Bivy Review – Materials/Construction
The Katabatic Bristlecone Bivy uses quality materials and is well-made. The quality is the workmanship, such as stitching, seams, etc. The Bivy is roomy and provides plenty of space for my 20 inches wide, 2-inch tall Neoair Sleeping Pad and my 10 Degree Feathered Friends Lark Sleeping Bag.
Shell Material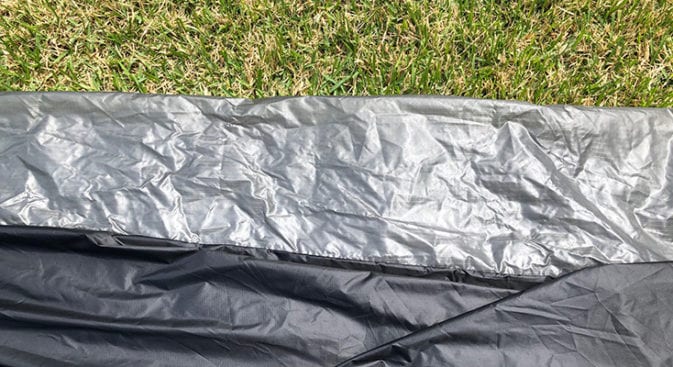 The Bristlecone Bivy uses Pertex Quantum for its shell. The material is breathable and resistant to tears and abrasions.
I've always had a good experience with Pertex Quantum, and the material on this Bivy is no exception. Condensation has not been an issue as long as I breathe out of the mesh window and do not let the Bivy slide up over my face.
The Bristlecone has also had no issues with tears or scratches yet.
Update: The updated Bristlecone still uses Pertex Quantum Air as its upper shell. The breathability of the Bristlecone has always been one of the things I've appreciated most about the Bivy.
Bathtub Floor Material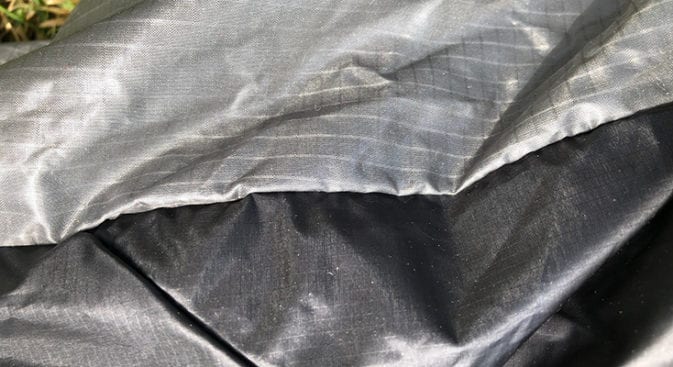 As I've mentioned, the bathtub floor is made of silnylon. The bottom of the Bivy is double-coated with silicone and resists moisture well. I've not used it in any downpours, but I've used other shelters with the same floor material. Leaking water has never been an issue. This Bivy has held up well in spray and light rain.
Update: As mentioned earlier, the updated floor is Robic fabric with a UTS treatment. I'm pretty excited about this since Robic is more durable than silnylon, AND the Bivy is still 4 ounces lighter.
Roominess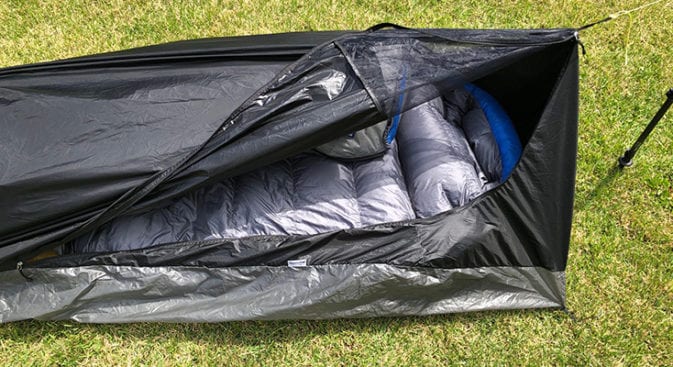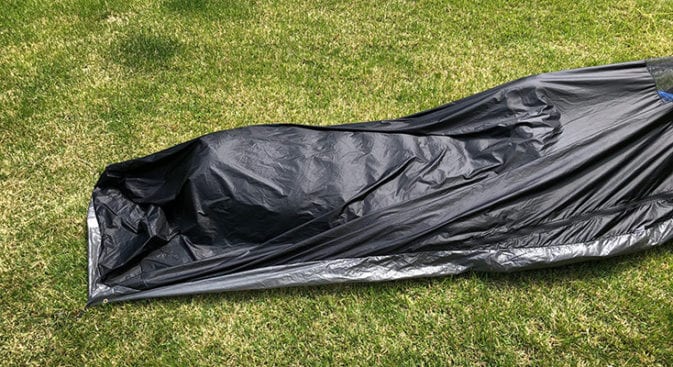 I'm 5'11, and my Bristlecone bivy is 6'6″ with a zipper on the left side. When it is cold, I like to store my electronics and sometimes my shoes when freezing outside. However, I am careful about storing wet clothes due to condensation. If it is wet enough to have wet clothes, I usually set up my tarp and hang the clothes.
As you can see in the pictures above, even with my 10-degree sleeping bag and inflatable sleeping pad, the Bristlecone Bivy has plenty of room in the hood and foot sections. There is also room to tuck in small items beside the sleeping pad, such as my phone, headlamp, battery pack, etc.
Katabatic Bristlecone Bivy Review – Final Thoughts
The Katabatic Bristlecone Bivy is a quality ultralight bivy that is well-made and provides a reliable lightweight alternative for fast and light hikers. The Bivy has plenty of room and a large mesh panel that is exactly the right size for me.
The Bristlecone Bivy is excellent in cold weather and adds 5-10 degrees to my sleep system to carry a lighter-weight quilt or sleeping bag. One of my favorite things about a bivy is that I can toss and turn without drafts. This is a big plus for me when using a quilt.
I would recommend the Katabatic Bristlecone Bivy to anyone that enjoys backpacking with a tarp and wants to keep their weight low. This is a solid bivy for a tarp/bivy system.
Katabatic Bristlecone Bivy Updates
Since first reviewing my Bristlecone Bivy, Katabatic has improved the Bivy with some updates. I have them listed below.
Price – An improved bivy at a lower price. I paid $155. The same Bivy is now $125!
Shoulder girth – It has increased by 2.5 inches.
Length – two inches shorter
Floor – Made from more durable ROBIC material with a UTS treatment
Weight – 4 ounces lighter
Upper Material – Pertex Quantum Air which is very similar to Pertex Quantum Ripstop Nylon
This page has affiliate links for products and gear I purchase and use. If you click on one of these links, I receive a small commission at no extra cost to you. There may also be Amazon links and as an Amazon Associate I earn from qualifying purchases.If this review has been helpful, please consider purchasing through the links above. Proceeds are used to purchase additional gear for review. Thank you. You can read more about my thoughts on affiliate marketing.