Katabatic Flex 22 Quilt Review
The Katabatic Flex 22 Quilt is a quality-made quilt that does not skimp on materials and components. Katabatic has the details dialed in with their Down collar, sleeping pad attachment system, draft-less foot box, and other well-thought-out features to keep you warm and comfortable.
I've used several quilts and have been impressed with the standard features of this quilt. I also appreciate that it is true to its temperature rating and has kept me warm where other name brands have not.
If you are searching for a quality quilt that will perform, this quilt should be on your shortlist if not at the top.
Pros
Draft Collar – Comes with an excellent thick draft collar
Attachment Straps – I can't feel them at all, and they are easy to use
Weight – Plenty of Down that stays warm down to rating
Cons
Width – my next one will probably be wide. I sleep with a lot of clothing and gear when it is freezing.
Draw String – Move it to the side of the collar.
Competitors
The five quilts below are my top five picks for ultralight quilts. I have used several of these quilts over hundreds of miles and have first-hand knowledge of their performance.
My Quilt Requirements
My Quilt requirements for long-distance hiking have not changed much over the years. I loved my last Quilt, but the Katabatic Flex 22 Quilt has additional features that my other Quilt did not have, and the Katabatic has kept me much warmer.
Light Weight – Being lightweight is essential on long-distance hikes. The days are long, so I keep my backpack light to combat fatigue. I want to keep the Quilt's weight @ less than 2 pounds.
Compressibility – I'm willing to give up a little durability on the shell and interior materials if I can compress the bag to a small size. Unfortunately, my pack has gotten smaller, so I need my Quilt to be the same.
Fill – I would like 850 Fill Down at a minimum and for the Down to have a waterproof coating that makes it more resistant to moisture. I backpack a lot on the East Coast, where humidity is high.
Shell – The shell should have a DWR finish to make it at least water-resistant.
Foot Box – Closed and relatively short. If not closed, then at least the ability to close it to prevent drafts.
Draft Collar – I want a draft collar for a quilt.
Quilt Cinch Straps – The ability to pull the Quilt close around me in cold temperatures. This will also reduce drafts even if temperatures are above freezing.
Long Quilt – I like long quilts and sleeping bags. This allows me to store temperature-sensitive electronics in the foot. I can also pull damp clothes into the bag to dry and keep my shoes from freezing by putting them at the foot of the Quilt if needed.
Katabatic Flex 22 Quilt Review – Quick Specifications
Price
Weight/Volume
Quilt Weight: 22.6 ounces
Fill Weight: 15.5 ounces
Dimensions
Length: 6'6″
Shoulder Width: 54″
Hip Width: 45″
Foot Width: 40″
Packed Size: 7″ x 12.5″
Materials
Down: Responsibly sourced and tracked – Allied Feather & Down
Fill: 900 Fill HyperDRY Goose Down
Exterior Shell: Pertex Quantum Ripstop .85oz/yd
Interior Fabric: Pertex Quantum Taffeta 1.0oz/yd
Katabatic Flex 22 Quilt Review – First Glance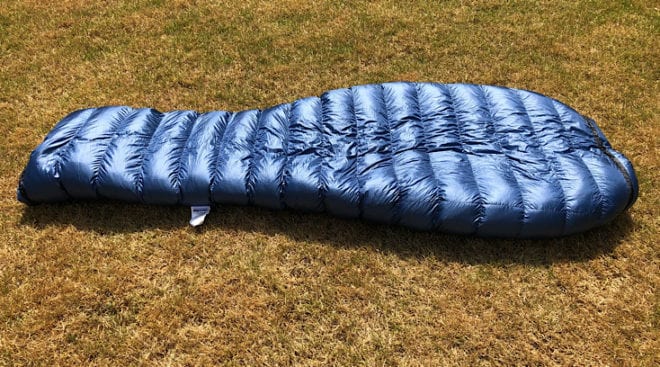 Pulling the Quilt out of its box and unraveling the compressed down, I marveled at the soft materials. This Quilt compresses compress well in any of my backpacks and is one of the things I appreciate most about the Flex.
Katabatic Flex 22 Quilt Review- Components
Draft Collar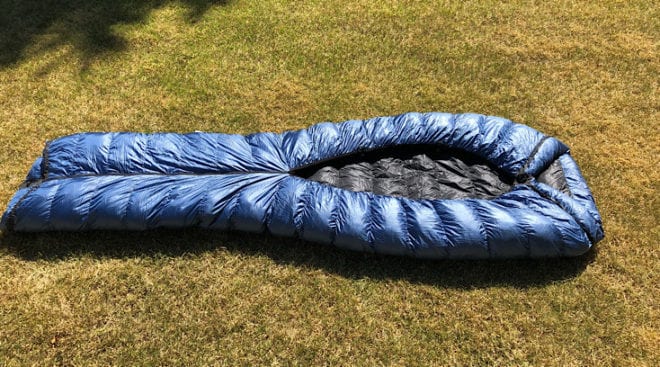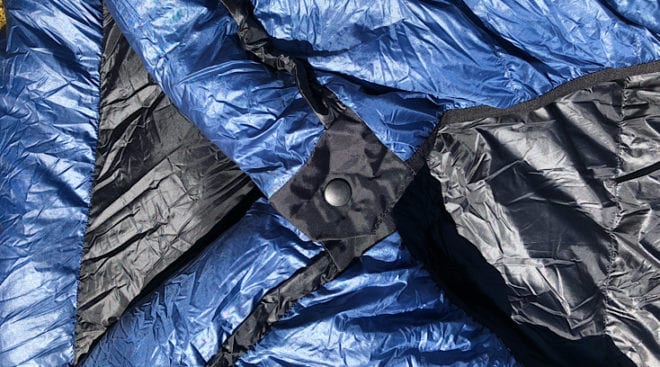 I think a draft collar is essential for a quilt without a hood, like a mummy sleeping bag. Even in the summer, mountains make their weather, and temperatures can drop drastically at night. Keeping out drafts is challenging without the hood of a sleeping bag, so a draft collar is needed.
Not all quilts have a draft collar, and some charge extra for a collar. Katabatic includes a draft collar, so check when comparing prices on your quilts.
Although Katabatic may seem more expensive and slightly heavier, once you add another vendor's optional draft collar, the Flex is less costly and often lighter.
The Katabatic draft collar is generously filled, and as you can see above, it has a durable snap that connects under your neck. I've never noticed the snap when sleeping.
The one slightly irritating thing about the draft collar is the drawstring. It is located in the middle of the top of the collar instead of on the side. This means that it dangles on my face when I'm sleeping. The first few times I used it, I thought it was a bug and woke up slapping at my face!
Elastic Around the Bottom of the Quilt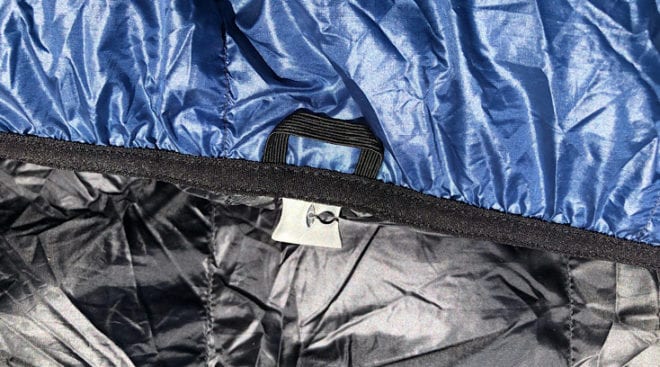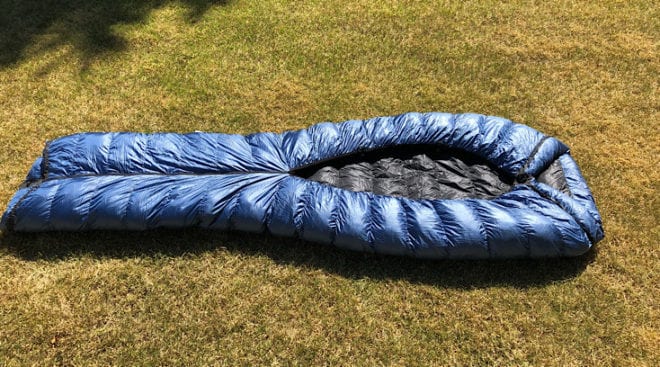 I sleep like a rotisserie chicken – constantly turning. Flipping from either side and onto my back is constant throughout the night. Because of this, drafts in my old Quilt drove me nuts! I became used to it, but holding down the Quilt every time I turned and then "re-tucking" was aggravating.
The elastic around the bottom of the Katabatic Flex 22 Quilt opening is an improvement over my other Quilt. There are still some drafts due to the constant turning, but they are minimal. I also don't have to constantly "re-tuck" with the elastic around the bottom, combined with the cord locking system.
Quilt Zipper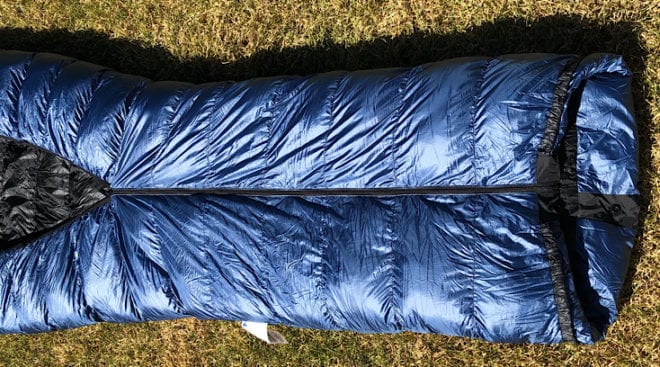 The lower half of the Quilt has a durable zipper that allows me to unzip it, making it an actual quilt fully. Other reviews have described the zipper as fragile, but I find the YKK zipper robust compared to other ultralight gear I have used.
Snagging has not been an issue for me, and a zippered sleeve would add weight, so I don't think it is needed.
When reviewing quilts, I was ready to pull the trigger on an Elite Katabatic Alsek 22, but I could not get past the 28-inch foot box. This was more like a sleeping bag, and the foot box was permanent – no zipper. I may use a sleeping bag if I have a two-foot-long plus-foot box.
Update: I like the Flex so much that I'm going to try a 15 Degree Alsek this winter in colder temperatures.
I contacted Katabatic about shortening the foot box, but they don't do custom work. I wanted a more versatile quilt for warmer temperatures, and the Katabatic Flex 22 Quilt provides this.
Katabatic Baffles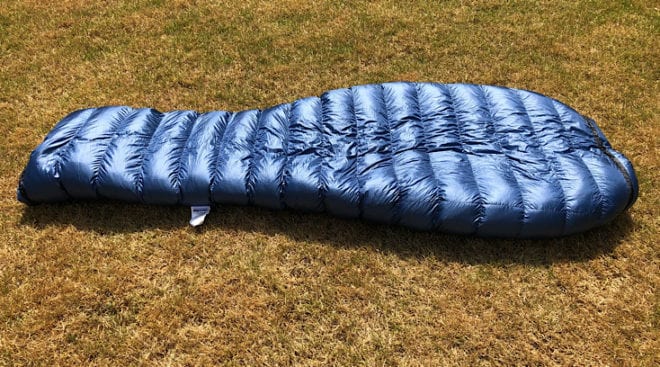 One thing I prefer is baffles that go around sleeping bags and quilts. The Katabatic Quilts have this in their quilt construction. This allows me to shift the Down based on temperatures.
I'll say this about shifting Down, though. Some hikers emphatically state that moving the Down makes a big difference. I find that I can only shift the Down so much, and it is not that big of a deal, but I'll take any flexibility I can get to stay warmer.
Flex 22-Foot Box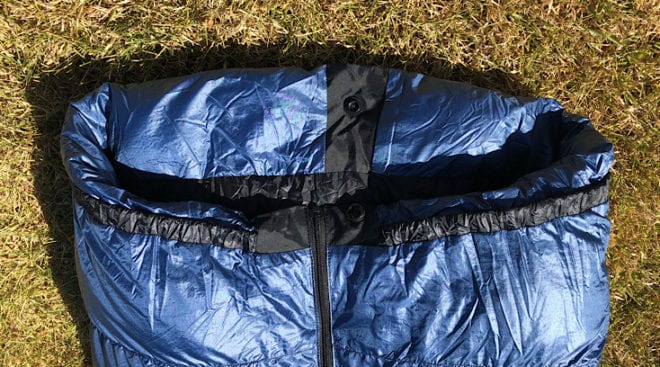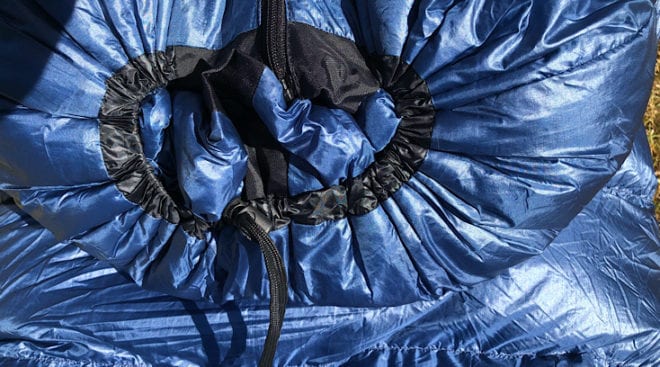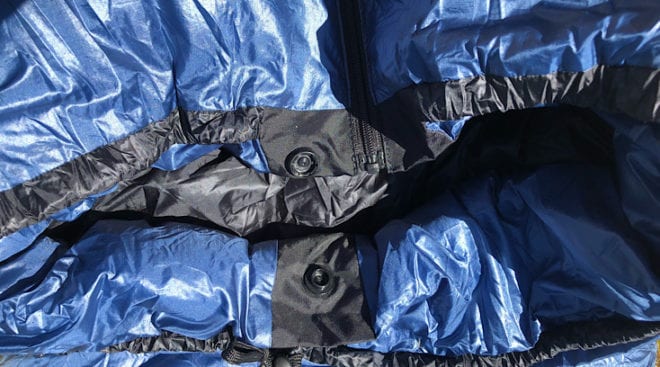 The Katabatic Foot Box is one of my favorite things about this Quilt. It has snaps to shut the foot and a cinch string to pull it closed. Finally, it has a draft tube that tucks in after the foot box is cinched. This helps eliminate drafts. In other words, the foot box has a little draft collar.
The draft collar on the foot box is handy when it is especially cold or windy. You might have to tuck it into the gaps by hand to ensure all the holes are blocked, but this is easy. Even when chilly, the foot box kept my feet reasonably warm!
Katabatic Flex 22 Quilt Review – Pad Attachment System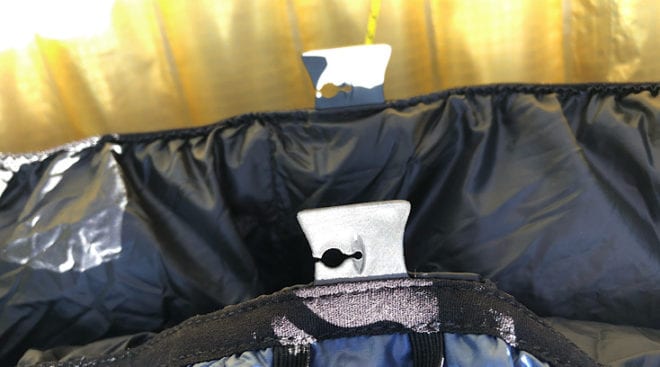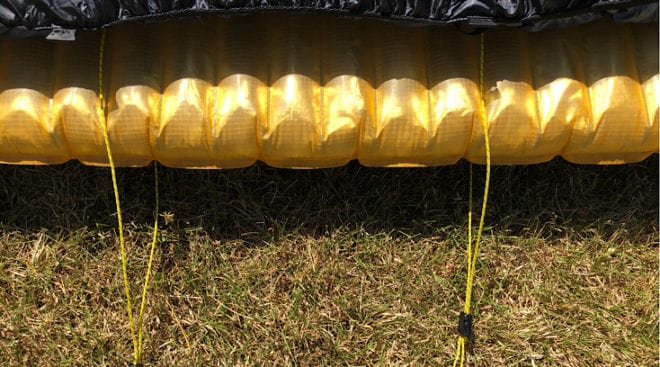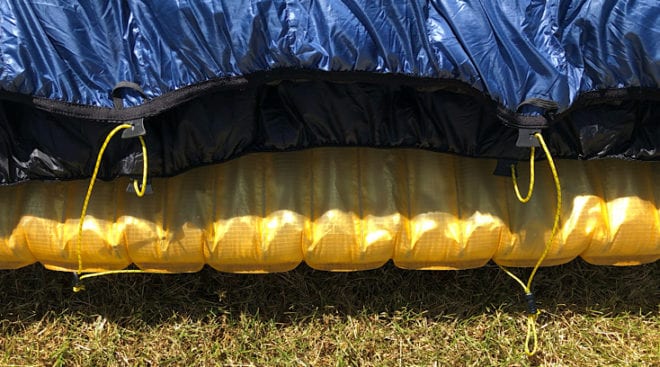 The Pad Attachment System also sets them apart using Katabatic's Cord Clips. This system allows the Quilt to attach to the cords and tuck around me on my Neoair Sleeping Pad. My other Quilt had straps that pulled the Quilt down over the edges of the pad, causing drafts.
In the picture above, you will see the clips have two holes. Leave the 2 mm cords in the first hole if the temperatures are warm or if you are adjusting the Quilt. Move the line to the second smaller hole when cinching it or wanting it to stay at a certain width.
This is a straightforward system that I don't have to "mess with" during the night. The small 2 mm cords slide into the ridges between the baffles on my pad, so I don't feel them or the flat clips. They are also easy to adjust from inside the Quilt.
In the morning, I loosen the cords and leave them on the Neoair Pad when I roll it up and put it away. This keeps me from "misplacing" the lines and minimizes the "little things" I have to pack in a stuff sack. I have been known to leave things behind on occasion, or better yet, to pack away critical items in my tent.
The other nice thing about the Flex 22 quilt is that it lines up perfectly with my Katabatic Bristlecone Bivy. This is, of course, because Katabatic makes the bivy. The bivy holds the Quilt in place without attachments, so I don't use them, but they are there if I need them.
Katabatic Flex 22 Quilt Review – Materials
Exterior Shell Fabric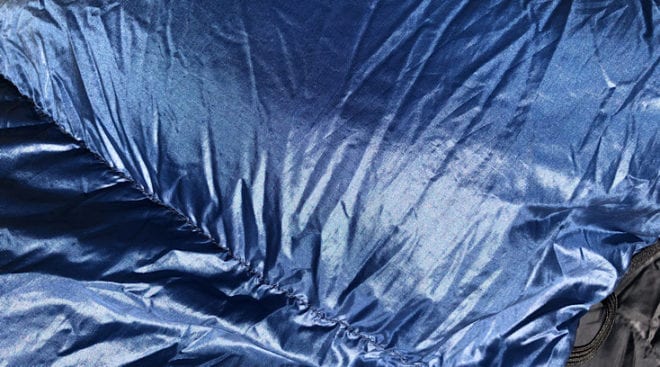 The exterior fabric of the Katabatic Flex 22 Quilt is Pertex Quantum Ripstop .85oz/yd. The material is water-resistant with a DWR treatment, and the high thread count keeps the Quilt from losing feathers. I have not lost a feather yet!
This high thread count also makes the fabric soft and highly compressible. However, the lack of durability is a sacrifice I am willing to make since I keep the bag well-protected.
Interior Fabric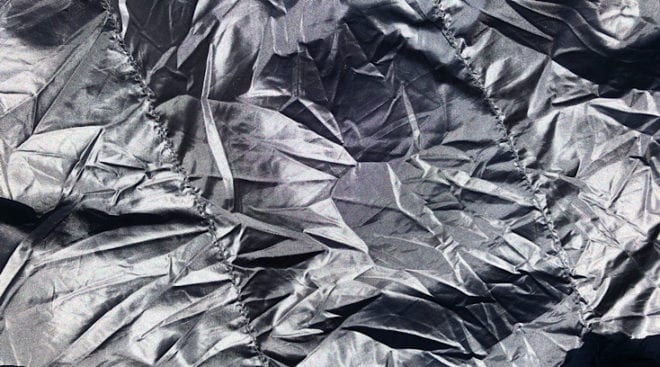 Taffeta fabric is SOFT, and the Pertex Quantum Taffeta 1.0oz/yd fabric that Katabatic uses in the Flex 22 is no exception. Again, it is not the most durable fabric, but I don't put it in situations where it needs to be tough. Because I am so averse to the cold, my sleep system is babied.
Case in point…my Neoair inflatable mattress is over ten years old and still going strong! The pad has provided a soft bed in deserts, ditches, snow, rocks, etc., so I take good care of the Neoair.
Down Fill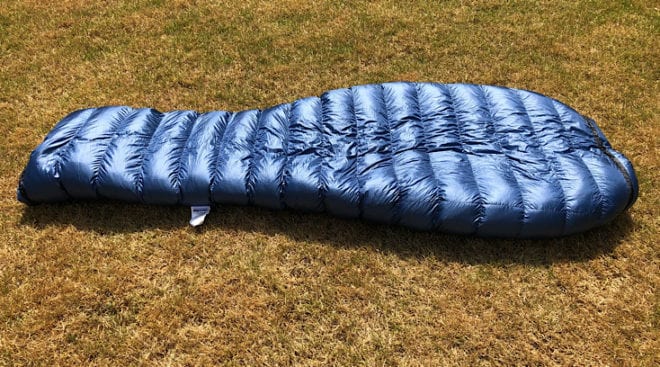 The Flex has 900 Fill Power HyperDRY Down. The Down is also "Responsible" Down from "Allied Feather and Down." Manufacturers that respect the animals are certified.
Besides having 15.5 ounces of Down (noticeable in the thick loft), the Flex also uses HyperDRY Down. HyperDRY Down is not waterproof, but it will dry faster than regular Down, and Katabatic states it is also water-resistant.
I've not owned my Katabatic as long as some other bags, but it has held its loft in wet and humid environments.
Additional Connections
I didn't want to put everyone to sleep, so I grouped the "Connection Materials." The zippers, snaps, cinch cords, attachment loops – all of these are high quality and well made like the rest of the quit. Even the durable material used to stabilize the snaps illustrates Katabatic's attention to detail.
Katabatic Flex 22 Quilt Review – Final Thoughts
The quality and workmanship make the Flex superior to my old Quilt. I'm not knocking my old Quilt since it was 15 years old! In its day, it was state of the art and served me well.
A quilt is a quilt, though, and while the Katabatic Flex is an excellent sleep system, I'll still take my Feathered Friends Lark 10-Degree sleeping bag when temperatures are consistently below freezing.
The Quilt eliminates drafts, but I'm a MOVER, so there are occasional cool breezes, and when it is 20 degrees, it is tough to warm back up.
This page has affiliate links for products and gear I purchase and use. If you click on one of these links, I receive a small commission at no extra cost to you. There may also be Amazon links and as an Amazon Associate I earn from qualifying purchases. You can read more about my thoughts on affiliate marketing.