The Neoair Xtherm by Therm-a-rest is a lightweight inflatable sleeping pad that uses proprietary technology to provide exceptional warmth at a low weight. The pad has an R-value of 6.9, and the regular pad weighs only 17 ounces.
I've used the XTherm on late fall hikes in Minnesota and winter hikes in New England on the Appalachian Trail and the New England Trail. I've camped in temperatures as low as single digits, with wind, snow, ice, and rain.
This review includes the Neoair Xtherm Regular Mummy and the Xtherm Large MAX (rectangular pad). In October, I used the Large MAX on my Fall thru-hike of the Superior Trail in Minnesota.
Towards the end of October on the Superior Trail, the temperatures had begun to drop into the teens at night, and I was not staying warm enough. So once I reached the outskirts of Duluth, I shuttled into town from a trailhead and purchased the only Xtherm size they had available, a size Large.
Once I finish the review, I'll put the Large Xtherm pad in the store at a reduced price. It has only been used a couple of nights and is in excellent condition.
Therm-a-Rest Neoair Xtherm Rating
Pros
Warmth/Weight – With an R-value of 6.9, and only 17 ounces, it is one of the best ratios.
Comfort – A firm, supportive structure that reduces soreness for me.
Durability – For its weight, this is a durable pad that has held up well for me.
Cons
Valve – The hard plastic valve can be hard to connect and disconnect to the pump sack.
Inflation – As the pad inflates, I have to use a few manual breaths at the end if I want a firmer pad.
Competitors
The quilts below are other good considerations for cold-weather backpacking trips.
| Vendor | R-Value | Weight | Thickness | Price |
| --- | --- | --- | --- | --- |
| Big Agnes Insulated Air Core Ultra Sleeping Pad | 4.5 | 20 oz | 3.5" | $99.95 |
| Exped Downmat XP 9 | 7.9 | 35.7 oz | 3.5" | $229.00 |
| Sea-to-Summit Ether Light XT Extreme | 6.2 | 25 oz | 4.0 | $199.00 |
Big Agnes Insulated Air Core Ultra Sleeping Pad – R-value 4.5 – The Air Core has an R-Value of 4.5. However, its Thermolite insulation and heat-reflective film still provide a comfortable night's sleep in cool temperatures. The Big Agnes I-Beam construction also ensures you have a good night's sleep with structure and support that will help prevent you from rolling off the pad.
I have used this pad, but I find horizontal baffles more comfortable. Other hikers will tell you they prefer the vertical, so it really is a personal preference.
Exped Downmat XP 9 – This mat is made for deep winter camping with an R-Value of 7.8. The Exped is durable with ripstop polyester and welded seams surrounding a layer of Down to prevent cold spots. The disadvantages include the price and weight of this sleeping pad, weighing almost 32 ounces.
I've tested this sleeping pad but have not used it on extended trips. If weight were not an issue, this is a pad to consider. As a proclaimed "nester," I can tell you this is a warm sleeping pad with its Down Fill. Again, the vertical construction and weight are why I would not use one.
Sea-to-Summit Ether Light XT Extreme – The 4-inch-thick pad, with an R-Value of 6.2, is excellent for anyone that likes to sleep on their side or needs a little more padding. I consider the pad heavy at 1lb. 9 oz, but I like how quiet it is with its reflective internal material and outer laminate cover. The Exped is also a very quiet sleeping pad.
My Sleeping Pad Requirements
I used the Xtherm Large pad on the Superior Trail in Minnesota. It did not meet all of my criteria below due to weight and size, but it performed just as well as my Xtherm Regular pad.
I used my regular Xtherm sleeping pad on at least two winter trips this past January and February on the Appalachian Trail in Connecticut. Before this, I used my regular Xtherm on other short winter backpacking trips in New England.
Below are my criteria for sleeping pads.
Weight – Lighter is better; I try to balance weight and comfort as I get older.
Comfort – I prefer an inflatable pad. It is more comfortable.
Durability – A pad that will stand up to extended use on long hikes.
Length – I find it uncomfortable to have my feet hang off a pad.
Width – I'm a side sleeper, so I'm okay with 20 inches. However, if you mainly sleep on your back, you may want to consider wide versions of the sleeping pads they like.
R-Value – I sleep cold, so I like an R-Value during three-season hiking of at least 4.0. For winter camping, I want at least 6.0 or higher.
Specifications – Therm-a-Rest Neoair Xtherm
| | Neoair Xtherm Regular | Xtherm Large Max |
| --- | --- | --- |
| Length | 72 in | 77 in |
| Weight | 17 oz | 25 oz |
| R-value | 6.9 | 6.9 |
| Width | 20 in | 25 in |
| Thickness | 2.5 in | 2.5 in |
| Included | Pump sack, stuff sack and repair kit | Pump sack, stuff sack and repair kit |
| Materials | Nylon, polyurethane, 30D Upper, 70D Bottom | Nylon, polyurethane, 30D Upper, 70D Bottom |
| Price | $229.95 | $269.95 |
Neoair XTherm – First Glance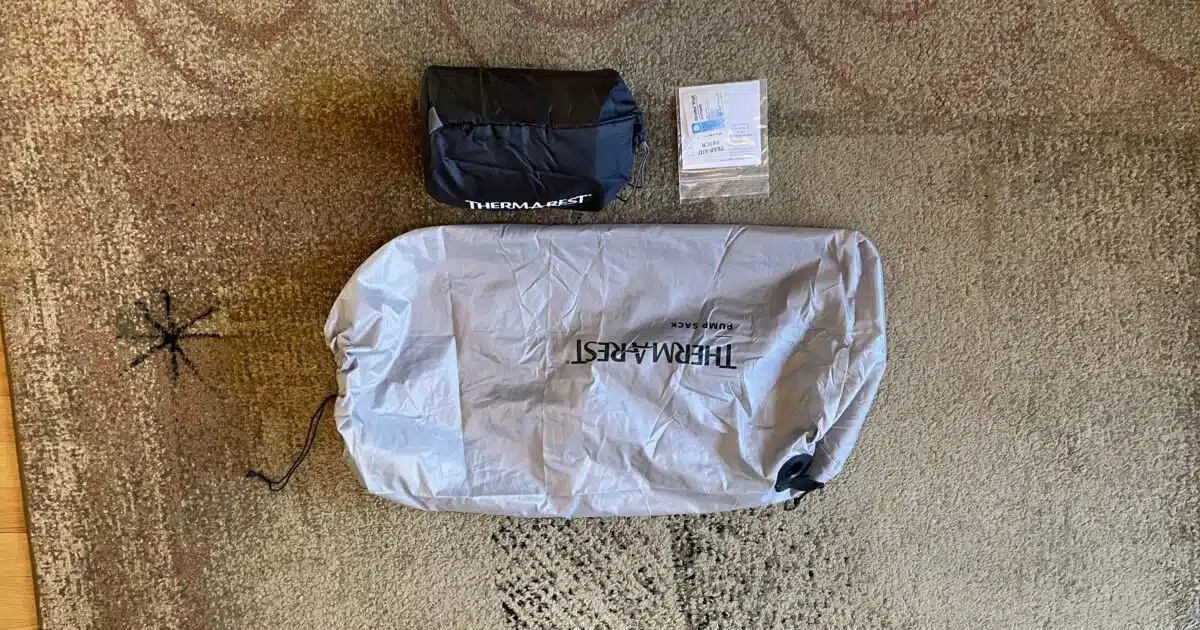 The regular Xtherm is compact and comes with a stuff sack, repair kit, and inflation sack. It is about the same size as my Xlite when rolled up in its stuff sack. The Xtherm Large is larger, as you can see in the picture above, but not as large as I expected, considering the size of the sleeping pad when unrolled.
I found the Large Xtherm bigger than what Therm-a-rest states when it is rolled up. The length of the pad rolled up was correct at approximately 11 inches, but the width was not 4.5 inches. Mine was closer to 6.0 inches wide. Note that Therm-a-rest has packed dimensions for the Regular-Wide and Large the same at 11 x 4.5, although the Large is five inches longer, and the packed dimensions should be wider.
Therm-a-Rest Neoair XTherm – Materials & Construction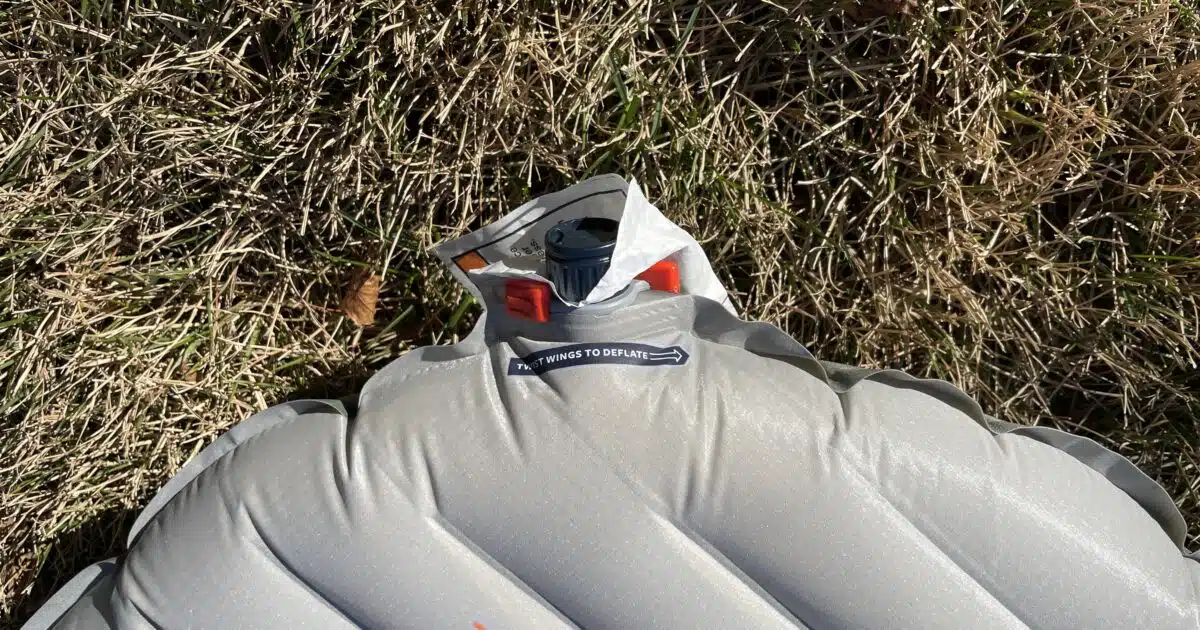 Although I've heard some other hikers complain about the durability of Therm-a-Rest ultralight sleeping pads, this has never been an issue with my Thermarest sleeping pads. My first Therm-a-Rest lasted seven years before I put a patch on it, and it is still my backup pad.
My Xtherm pads don't have as many miles as my Xlite, but I have had no issues with my regular X-therm. I would change the valve, but the 30D rip HT Nylon upper and 70D Nylon bottom have been durable, and I find the nylon and polyurethane materials comfortable. I will note that I am careful where I set up camp and take care of my gear.
Internal Construction
The Xtherm uses a proprietary coating called Thermacapture, and Therm-a-rest states that it reflects your body heat back to you, maximizing the pad's warmth.
Therm-a-rest also uses a proprietary construction called Triangular Core Matrix, a double layer of baffles that reduces heat loss and creates a stable structure.
Both technologies perform as intended. The Xtherm warms up quickly once I lay down on it, trapping and reflecting my body heat, and it is the most comfortable pad I own.
The structure has been a big plus for me on the Xtherm. It offers more support, and I have less soreness after hours on the pad than on my Xlite. It is not the thickness that provides more comfort for me but the firm structure of the pad's construction.
External Construction
The Neoair Xtherm uses a Winglock Valve that allows for one-way airflow, which is supposed to result in less time for blowing up the pad.
In the winter, I use the pump sack to prevent condensation in the sleeping pad. The pad is easy to inflate using the pump sack until I reach the end of the inflation process, and then I find it hard to get enough air for the firmness I need, so I manually use a few breaths at the very end.
These last few breaths have not resulted in any damage to the pad in single-digit temperatures. Still, I've not tested the pad by using manual breathing for the entire inflation process and then using the pad in below-zero temperatures.
The 30D rip Nylon used on the top of the pad has proven durable. I've had no issues with punctures or abrasions, and I keep my gear in my tent against the pad.
The 70D bottom has also proven durable and resistant to punctures or abrasions, and I use a small piece of Gossamer Gear 1/8 Thinlight padding under the pad to prevent sliding on my shelter floor.
Therm-a-Rest Neoair Xtherm – Performance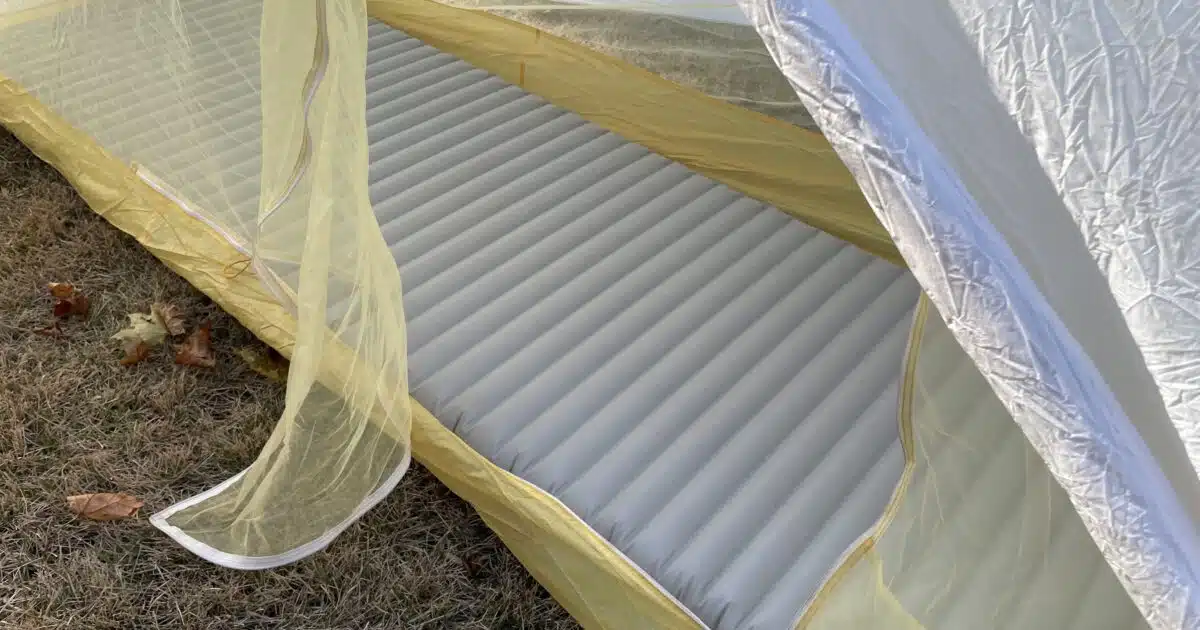 Both my Regular and Large Xtherm MAX pads perform well in cold weather. They are durable enough for long hikes, and I have not had any leaks or air loss issues. In addition, the Xtherm is not as "crinkly" as the Xlite, a common complaint with Therm-a-rest ultralight sleeping pads.
The Large MAX Xtherm is too large for my needs, but it was the only pad available at the outfitter in Duluth, MN. I used my BA Tiger Wall UL1 on that trip, and the pad completely covered the tent's floor. My regular Xtherm was at home, and since I was near the end of my hike, I did not send it out but purchased another pad to sell later.
Warmth is not the only benefit of the Xtherm, it is also slightly firmer, and I'm less sore in the mornings with the additional support of the pad. I noticed this on my most recent trip, where I immediately switched from the Xlite to the Xtherm during the hike.
Weight
The Neoair Xtherm has the lowest warmth-to-weight ratio on the market right now, meaning that with an R-Value of 6.9, no other sleeping pad is lighter. My regular pad only weighs 17 ounces.
Comfort
A triangular core matric construction and 2.5 inches of thickness provide comfort and stability. There are other thicker pads, but the structure and stability stand out. My hips are always sore after a few hours on a sleeping pad, but on the Xtherm, there is a noticeable decrease in soreness. I may keep my Xtherm for three-season hiking and not only winter trips in the future.
Set-Up/Inflation
The Xtherm uses a Winglock Valve for inflation and deflation. The valve allows one-way inflation and fast deflation. In addition, an inflation sack is provided to inflate the pad more quickly, so you don't have to blow into it manually.
The inflation sack attaches easily to the pad and does not pop off as on my Xlite. Gently blowing into the bag fills it up quickly, but as I reach the end of inflation, it becomes harder to inflate, and I finish it manually with a few breaths.
Length and Width
I have used the Xtherm Regular and the Xtherm Large MAX. The MAX is the rectangular version of the Xtherm sleeping pad and is too big for most of the one-person shelters I use. It fits in my BA Tiger Wall UL1 on the Superior trail but took up every bit of my floor space.
There are complaints about the regular 20-inch pads being too narrow, but I am a side sleeper and don't have any issue with the mummy-shaped pad. I prefer the pad tapered at the bottom because this gives me room to store my gear beside the sleeping pad.
I can see where the 20-inch pad is too narrow for back sleepers. When I lay on my back, I have to interlock my fingers to prevent my arms from falling off the pad. This is not an issue for me on the 25-inch Large pad.
Durability
The material used for the Xtherm is not as thick as some of its competitors and thicker than others. However, I've found the pad durable enough for long-distance hiking and have had no issues with the 70D nylon bottom and 30D rip HT upper as long as I pay attention to the ground when setting up camp.
Warmth
The Xtherm is one of the warmest lightweight sleeping pads I have used, with an R-Value of 6.9. I used to carry a foam pad to use under my Xlite, but this is not necessary with the Xtherm. The ThermaCapture and Triangular Core Matrix technologies work as designed, trapping radiant heat and minimizing convection heat loss, so heat is trapped and radiated back up in the pad.
Therm-a-Rest Neoair XTherm – Summary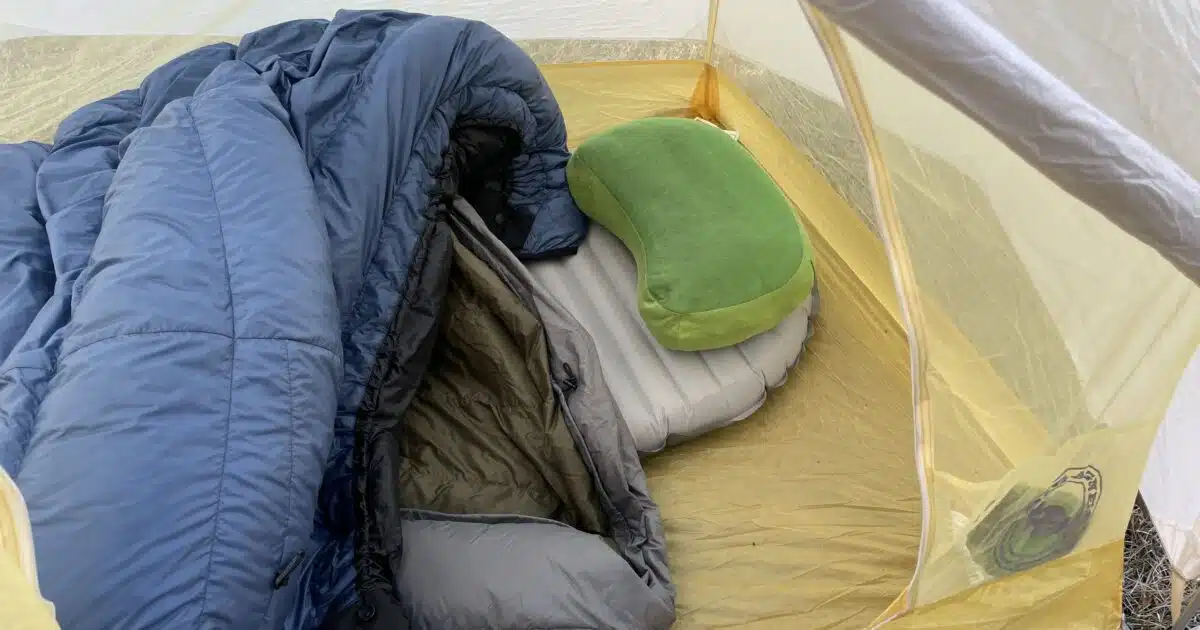 The Therm-a-Rest XTherm is currently my most comfortable sleeping pad. It has kept me warm in winter– most recently on my Superior Trail hike along the North Short of Minnesota.
The pad's warmth and internal structure provide firm support for a good night's sleep without soreness, and getting a good night's sleep is a game changer for me when I am long-distance hiking.
The regular pad is compact when rolled up in its stuff sack and only 6.5 more ounces than the Xlite sleeping pad, with a significantly higher R-Value of 6.9 vs. 4.2 for the Xlite.
FAQs – Therm-a-Rest Neoair XTherm
Why do you need an inflation or pump sack for winter backpacking?
The condensation from your breath can freeze inside a sleeping pad in freezing weather. Use a pump sack, so you don't ruin your pad.
Can You Use an Xtherm in Warm Temperatures?
I have used my Xtherm in warmer temperatures and always make sure I have a summer quilt or sleeping bag. I use a 40-degree bag with this pad in warmer temperatures.
How Should I Store my Xtherm Sleeping Pad?
I always store my inflatable pads unrolled and folded up, so there is less stress on the pad seams.
What size is an Xtherm Sleeping Pad?
There are numerous sizes, from regular to wide and large sizes. I use a regular, 20 x 72, but many like the wider 25-inch wide pad.
This page has affiliate links for products and gear I purchase and use. If you click on one of these links, I receive a small commission at no extra cost to you. There may also be Amazon links and as an Amazon Associate I earn from qualifying purchases. You can read more about my thoughts on affiliate marketing.