Thermarest X-Lite vs. Nemo Tensor – similar but different.
The Thermarest X-Lite and the Tensor Ultralight (Insulated) are arguably two of the most popular inflatable sleeping pads in backpacking. I have always used the Thermarest X-Lite, but recently I tested the Nemo Tensor on my Benton MacKaye Trail hike.
This review will compare the two pads, highlighting the pros and cons of each one. There is a lot to like about both pads.
For this review, I purchased a new Thermarest Neoair X-Lite. The Thermarest X-Lite has undergone some changes, and I wanted to ensure I captured these since the Tensor is new.
Table of Contents
Pros & Cons
Pros
Weight – You can't beat the X-Lite weight, but the 4.5 oz heavier Tensor is rectangular and quite comfortable. Both are very light inflatable pads.
Warmth – The X-Lite kept me warmer.
Comfort – The thickness difference was minimal for me. I appreciated the wide Tensor, though.
Durability – I found the exterior of both pads comparable. Both were resistant to tears and abrasions.
Cons
Defective Valve – Reviews of the Tensor indicate this is a known defect which hopefully they address
Warranty – Nemo will not replace a defective pad if it has been used, but they will repair it. Thermarest has a 90-day comfort guarantee, no questions asked.
Sleeping Pad Spec Comparison
Thermarest Neoair X-Lite
Tensor Ultralight Sleeping Pad (Insulated)
Weight
12.5ounces
16.5 ounces
Length
72 in
72 in
Width
20 in
25 in
R-Value
4.2
4.2
Thickness
2.5 in
3.0
Packed Dimensions
9 in x 4.1 in
8.0 x 6.0 in
Top Fabric Type
30D Rip HT Nylon
20D PU Polyester
Included
Pump Sack, Stuff Sack and Repair Kit
Velcro Strip, Stuff Sack, Vortex Pump Sack, Repair Kit
Materials
Nylon, Polyurethane
Bluesign, recycled polyester; TPU film
Warranty
Lifetime
Better Sleep Guarantee
Lifetime
Competitors
There are a lot of sleeping pads on the market, but if I were to consider three other comparable pads, these are the ones I would consider purchasing.
| Vendor | R-Value | Weight | Thickness | Price |
| --- | --- | --- | --- | --- |
| Seat to Summit Ether Lite | 3.2 oz | 17.3 oz | 4" | $179.95 |
| Big Agnes Q Core SLX | 3.2 oz | 22 oz | 3.5-4.25" | $149.95 |
| Klymit Insulated Static V | 4.4 oz | 24 oz | 2.5 | $84.95 |
My Sleeping Pad Requirements
Light Weight – Keeping the weight down is important as I get older.
Comfort – I'm a side sleeper, so I like a thick pad.
Warmth – I sleep cold, and I'm a light sleeper. Adding a bunch of layers and staying alive through the night doesn't work for me anymore. I want to be warm, not constricted, and get a good night's sleep.
Performance – Along with comfort and warmth, I want to inflate it easily.
Thermarest X-Lite vs. Nemo Tensor – First Glance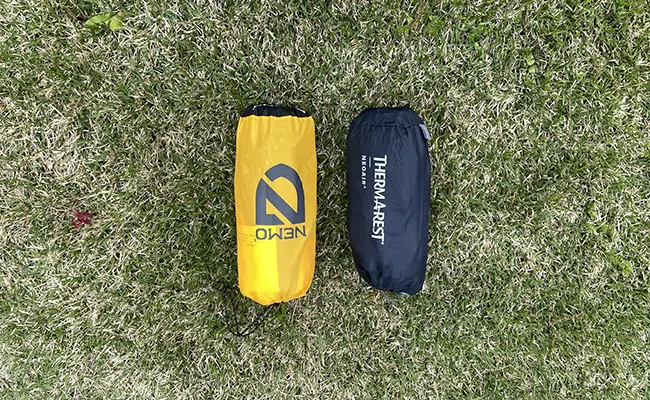 Out of the box, both sleeping pads were impressively small. The X-Lite was slightly smaller, but the difference was minimal. I was impressed there was such a small difference since the Tensor was a Regular, Wide.
I have to give Kudos to Tensor on their stuff sack. They have incorporated a small pouch where the repair kit is stored inside the sack. Little things get me fired up, and I was pretty excited since I always lose my repair kits.
Included with the X-Lite and Tensor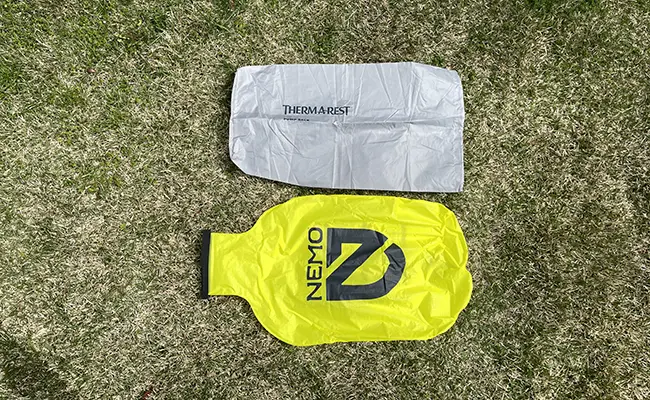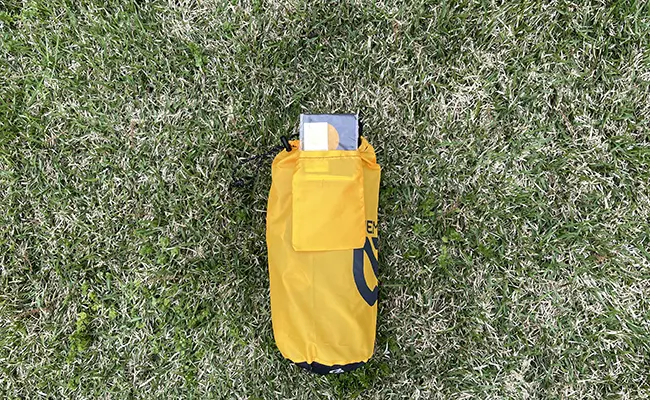 The X-Lite comes with a pump sack, stuff sack, and repair kit, pretty standard additions to any sleeping pad. The Tensor has the same but also includes a Velcro strap for the sleeping pad. I find the strap unnecessary with the stuff sack.
I'll mention one more time that a small pouch in the stuff sack of the Tensor holds the repair kit. That is just a great idea!
Thermarest X-Lite vs. Nemo Tensor – Features
Both sleeping pads have similar features – pump sacks, "cutting edge" valves, etc., but also a few differences. Even the similarities have differences.
Pump Sacks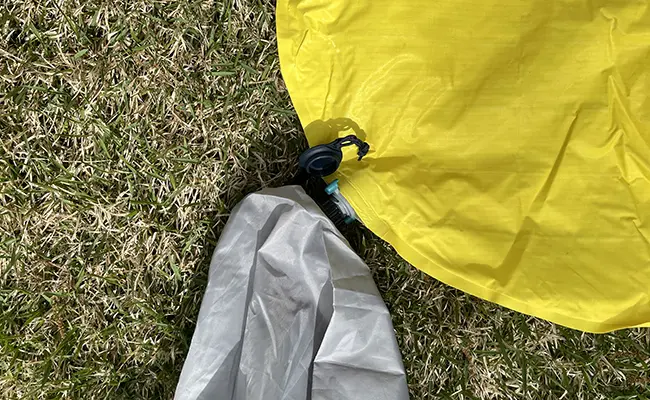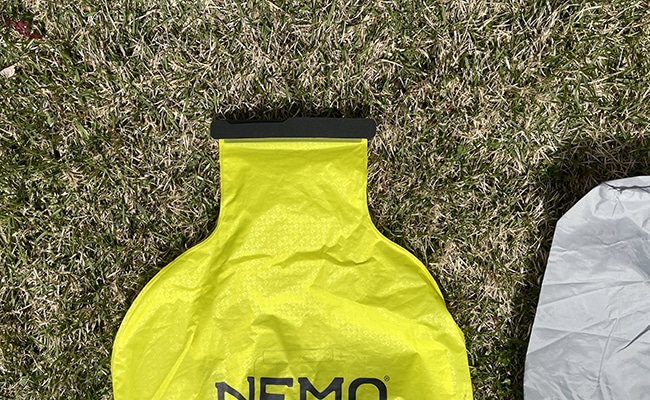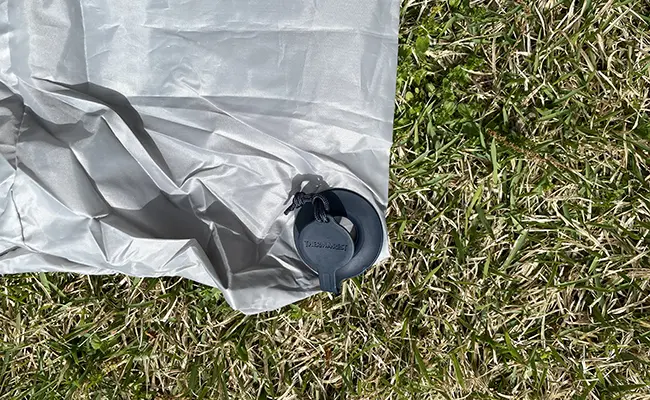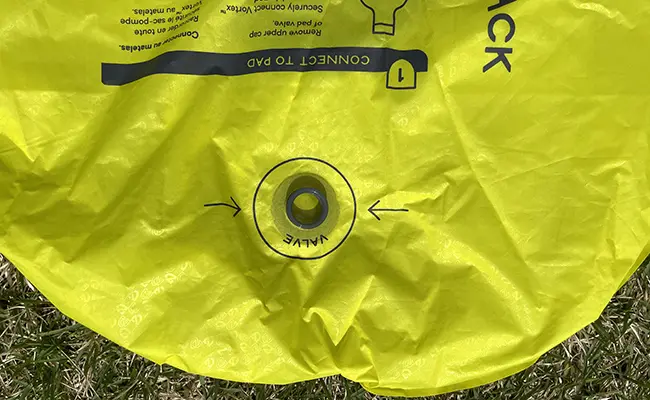 The performance of the pump sacks varies. I wish I could combine the features of each. The best pump sack award went to the Tensor. The tapered neck made it easy to get air into the pump sack, and the more "rubbery" material held air better. The valve was too tight when attached to the pad, though.
It took about six sacks of air to inflate the Tensor pad, making it an easier process.
The Thermarest X-Lite pump sack is a poor design. It felt like the nylon sack did not hold air. The drawstring neck did not help, even when I made a small hole to try and keep in the air. I finally gave up and inflated the sleeping pad more quickly, blowing directly into the valve.
The valve was much easier to attach to the X-Lite pump sack, although almost too easy as it came loose several times.
Valves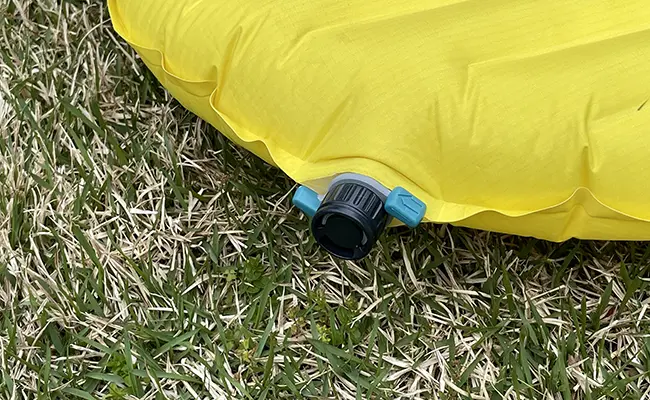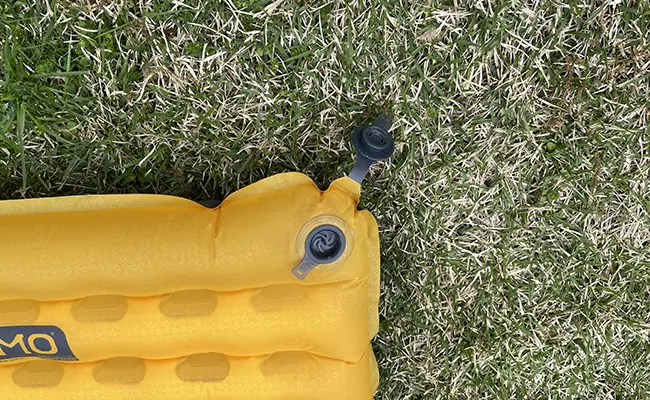 The Nemo Tensor uses a "New Laylow™ zero-profile, multi-functional, micro-adjustable valve." Say that three times fast. The valve is flat against the pad and comes in two parts. You can open the top cap to bleed off the air, inflate the pad, and pull out the bottom tab to deflate the pad rapidly.
I suspect that this is where the leak is occurring. Even with a little silicone, this is a very tight cap to open and close, placing too much pressure on the glue around the seams. There are other valve complaints on Nemo's website, and hopefully, they will address them at some point.
The X-Lite uses its trademarked "WingLock Valve." This valve is one-way when inflated, and you can toggle it open for rapid deflation. The valve is not flat, but it is on the side of the pad in the top corner and not noticeable when I sleep.
I find the WingLock Valve on the X-Lite much easier to use and the pad much easier to inflate by mouth than the Nemo Tensor. There is also less of a stress failure point in the X-Lite valve.
Size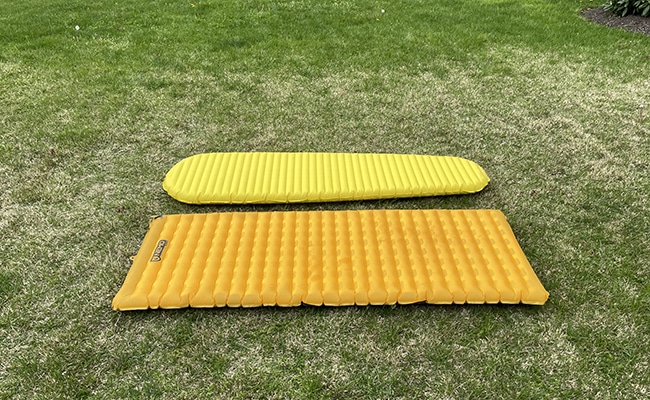 I purchased the Nemo Tensor Regular, Wide. I wanted to experience being able to spread across 25 inches without my limbs dangling. At the end of the day, though, it did not make much difference. Since I'm a side sleeper, I curled up in the middle of the pad, consuming the same amount of space as I did on my 20-inch pad.
If you are a back or stomach sleeper, you will find the Nemo Sleeping pad comfortable. Your arms won't hang off, which is one of my complaints about the X-Lite when I sleep on my back.
Materials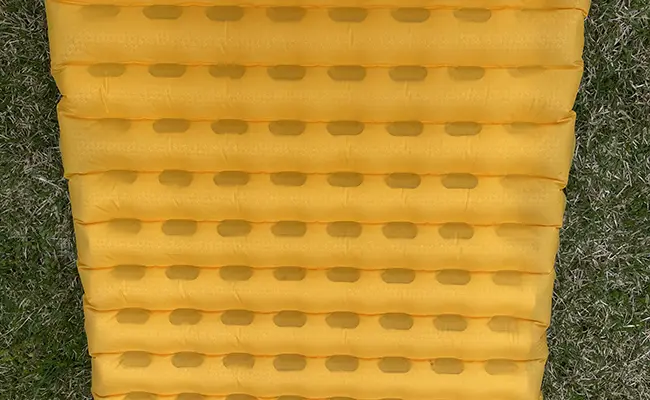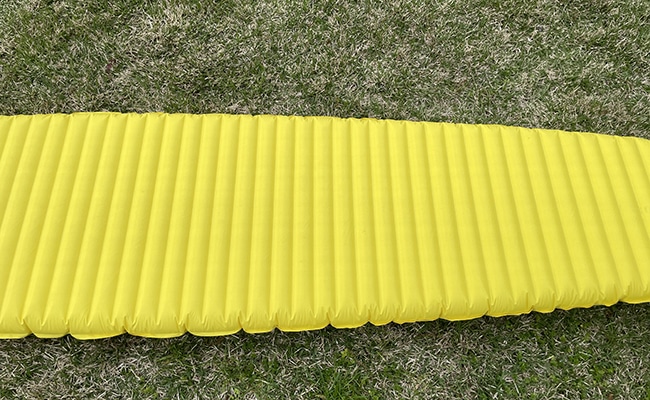 The Nemo Tensor is made from Bluesign-approved, 100% recycled polyester and uses TPU film insulation technology. The Thermarest X-Lite is made from Nylon, Polyurethane and uses "Thermacapture" to radiate heat back to your body, along with their Triangular Core Matrix technology, two layers of triangular baffles to help minimize heat loss and give the pad more structure.
What does all this technology mean? I found the Thermarest a warmer pad, and both pads are fairly quiet. The Neoair X-Lite used to be incredibly loud, crackling and crinkling all night. I got used to the noise, but nobody wanted to sleep near me. It is much quieter now, but still not as quiet as the Tensor.
Update for 2022: The Nemo Tensor pad now uses Bluesign-approved recycled polyester. They have also incorporated TPU film into the Tensor's insulation to replace the aluminum film. This has increased the r-value from 3.5 to 4.2.
Thermarest X-Lite vs. Nemo Tensor – Performance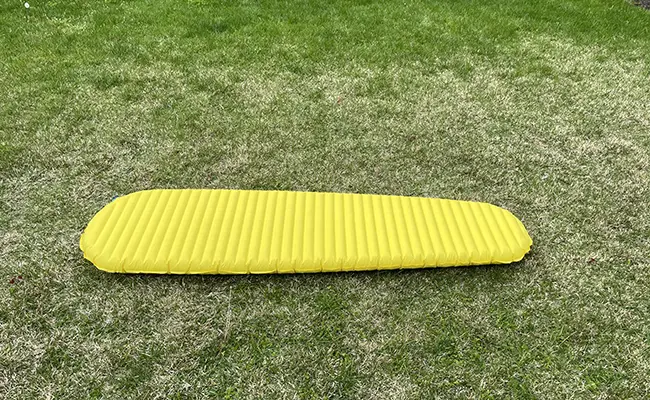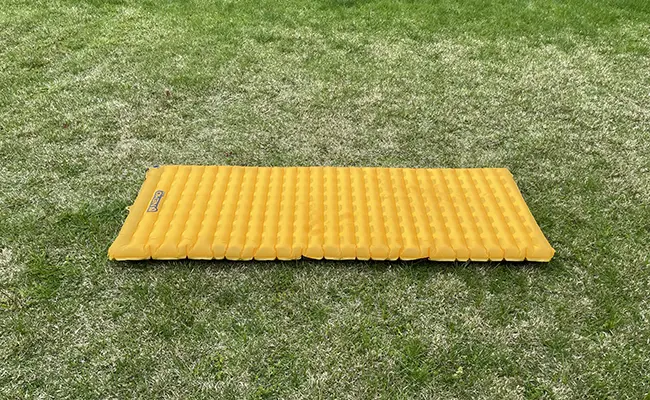 Now for the meat of the review – performance. I always try to test my gear on my hikes and put it through its paces. In this case, I used both of these pads on my Benton MacKaye Trail hike, which was about 2.5 weeks.
Comfort
The X-Lite is comfortable and warm, but waking up with a frozen limb hanging off the sleeping pad is a little annoying. One of the things I looked forward to on my Tensor was not having the bottom of the sleeping pad taper.
I took the Aeon Li with me and failed to check its width. The Aeon Li shelter is 30 inches wide, and the Nemo Tensor is 25 inches. Without putting it on the sleeping pad, there was not enough room for my gear in the shelter. I try hard not to do that because of all the "poking" opportunities.
I preferred the softer material of the Tensor. It was notably softer against my skin and did not feel as if I was sleeping on an inflatable raft.
Both pads were equally comfortable for me as far as thickness, but I found the X-Lite more comfortable even though it is .5 inches less thick. I could better regulate the air pressure with the X-Lite valve – finding the thickness I wanted more easily.
Warmth
In the Spring of 2022, Nemo Tensor changed the insulation material in their pad, and it is now the same as the X-Lite – a 4.2 R-value.
Both pads are now comparable three-season sleeping pads in this category.
Durability
My first night on the Benton MacKaye Trail was cold. I woke up three hours into the night flat on the cold ground. I got out of my sleeping pad, checked the valve, blew up the pad, listened for hissing, and finally went back to sleep.
Three hours later, I woke up flat on the cold ground again! This went on the rest of the night, and I would have to inflate the pad every two hours. This was my routine for the next three nights – ugh. I was exhausted by the time I reached Blue Ridge, GA.
I rode over to Mountain Crossings in Blue Ridge and purchased a Thermarest X-Lite. It was too cold for another sleeping pad failure, and after reading reviews, I realized the Tensor had valve issues. Mountain Crossings also did not have my Tensor in stock, but I would probably not have purchased it anyway.
Warranty
The Warranty is where Nemo and Thermarest differ.
Nemo has a Limited Lifetime Warranty as long as you purchase your sleeping pad from an authorized Nemo Dealer.
I reached out to Nemo and was told that I could not get a refund since I had used the pad, but I could try to work with the retailer where I had purchased the sleeping pad. I could also process a claim, but having them fix a known problem only to have it happen again was not appealing.
A sleeping pad failure can make a hike miserable, especially if I'm several days out from town and it is freezing.
Thermarest also has a Limited Lifetime Warranty, and they also offer a "Better Sleep Guarantee," although this is only for their sleeping bags and quilts.
The Better Sleep Guarantee states:
"If you are not satisfied with your Therm-a-Rest sleeping bag or quilt, return it within three months of purchase with a copy of the receipt, and we will refund you. No questions asked. We believe a Therm-a-Rest sleeping bag will exceed expectations, and we stand by that belief. It doesn't matter if you bought it through our website, from another website, or your local retailer; the Better Sleep Guarantee stands."
Thermarest X-Lite vs. Nemo Tensor – Final Thoughts
Ultimately, I chose to use the warmer X-lite pad because I find it more comfortable for my sleeping style. Recently, Nemo updated the R-Value on the Tensor, so warmth is not a differentiator. This should level the playing field for the comfortable Tensor sleeping pad.
Comfort – both sleeping pads are comfortable, but I found it easier to adjust the air level on the X-Lite, so it was more comfortable. I also like the vertical baffles that provide me with more support.
Construction – I had my original Thermarest X-Lite for eight years with no issues and no holes – literally thousands of miles. My Nemo Tensor failed the first night.
Inflation – the Nemo Tensor has a better pump sack, but the valve is tight. The Thermarest X-Lite has a poor pump sack and a much-loser valve, almost too loose. On the other hand, the X-Lite is much easier to inflate with just the valve.
Materials – I like the softer material of the Nemo Tensor. As far as sleeping pads go, it is almost "plush." I also really like the repair kit tucked away in a small pocket in the stuff sack.
Warmth – As a side sleeper, I found the Thermarest X-Lite warmer with its higher R-Value and heat-retaining technology. Now that Tensor has changed its insulation and increased the R-Value, I will probably be equally warm on both pads.
Packability – The Nemo Tensor packed up impressively small, considering how much wider it was than the X-Lite.
FAQ
How do you clean your sleeping pads?
I use warm water and diluted Dawn with a soft brush. I usually clean them in a bathtub.
Are expensive inflatable pads worth the cost?
For me, they are invaluable. My Neoair X-Lite lasted eight years with no patches and is still going strong. A good night's sleep when backpacking makes for a much better trip.
Can an inflatable pad get wet?
Most inflatable pads are highly water-resistant, if not waterproof. I've occasionally floated in puddles when I made bad tent setup choices.