Zpacks Altaplex Review
The Zpacks Altaplex is a durable Dyneema shelter built for tall hikers. After reviewing all of the Zpacks shelters, this is the one I chose. I hoped the taller shelter would have better ventilation and keep condensation off me and my quilt. I also prefer a smaller footprint than that of the Duplex.
If you are looking for a roomy, weather-resistant shelter, then the Altaplex is a good tarp-tent choice. It holds up surprisingly well in windy conditions and is easy to set up.
This article takes you through the features below and then describes some of the pros and cons of the shelter.
Zpacks Altaplex – Snapshot
Pros
Set-up – I was surprised at how easy it was to set up the Altaplex. It took one try for me to get it nice and tight.
Space – I am 5'11, and there is plenty of room for me and my gear.
Air Flow – If I keep the door open, this, combined with the vent at the top, and airflow underneath, results in much less condensation than my older Hexamid.
Weather – The Altaplex sheds wind better than I expected with its tallness. Wind and rain (some were pretty severe) are not an issue. I always stay dry.
Cons
Pole Jack – Standard Hiking poles are not usually long enough. Unfortunately, Zpacks was out of stock, so I ordered mine from Mountain Laurel Designs, and it worked great.
Price – Like most Zpacks shelters, or any Dyneema shelter, it is expensive.
Zpacks Altaplex – Specifications
Weight: 15.5 oz
Floor Width: 36″
Floor Length: 90″
Shelter Length: 100″
Packed Size: 6″ x 12″
Peak Height: 58″
Width w/vestibule: 69″
Vestibule Space: 20.75″
Zipper Entry Height: 36″
My Shelter Requirements
Below are my shelter requirements.
Light Weight – is essential on long hikes to reduce fatigue and injury.
Ease of Set-Up – I usually hike up until dusk, and I want to set up quickly in the dark. Setting up quickly in bad weather is also important.
Reduced Condensation – Condensation is irritating and can be dangerous in cold weather if it gets your Down gear (Sleeping Bag, Jacket) wet. Therefore, I work to minimize condensation as much as possible.
Weather Resistance – The ability to withstand bad weather, especially rain and wind.
Tent Stakes
Tent stakes are not included with the Altaplex, so consider this when purchasing your stakes.
At Dusk, Titanium disappears.
You may detach your line and turn to find your tent stake in the high grass, and it will have disappeared.
When the wind flips out your line, and the tent stake goes flying, you go to find it in the brush – GONE.
Zpacks has several styles of tent stakes, and I've used them all. I prefer the 6.5 Red Tough Titanium tent stake. It is a little larger than the 6.0 size and works well on dry, rocky ground.
Zpack Altaplex Review – First Glance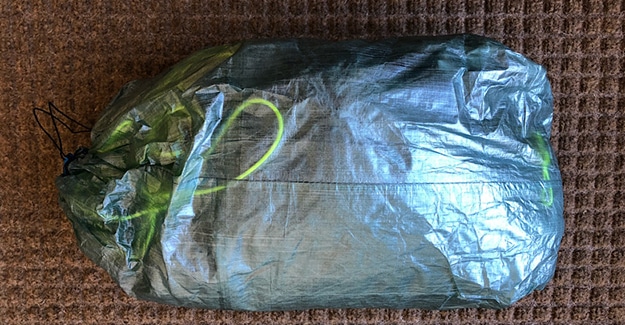 Out of the box, the Altaplex looks almost identical to my Hexamid, other than my new Altaplex being "Green Opaque." However, the Altaplex is heavier than my Hexamid, coming in at 15.5 ounces. The Hexamid is 13.5 ounces or two ounces lighter, but I'm okay with the extra 2 ounces for more room and less condensation.
Altaplex Easy To Set Up/Pack Up
Some people find the Zpack shelters more challenging to set up fast, but I never have. Like any other tent, I have to practice a couple of times, but the set-up is fast after a couple of practice pitches. I am pleased to see the Altaplex sets up quickly – even faster than the slightly smaller Hexamid due to the more efficient cut of the Altaplex.
Tarp tents easily set up in the rain while keeping gear relatively dry. I lay them out, quickly stake out the front two corners and the back center, pop in the hiking pole, and up it goes. They are faster and keep my gear drier than double-walled tents while I set them up.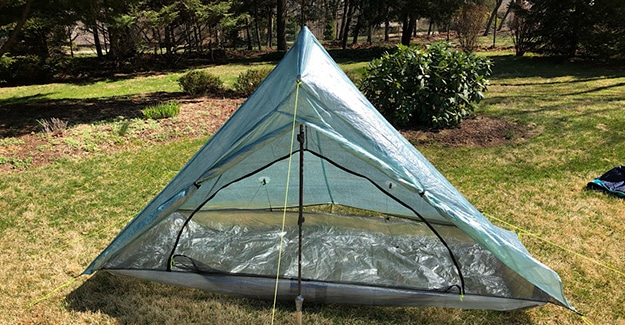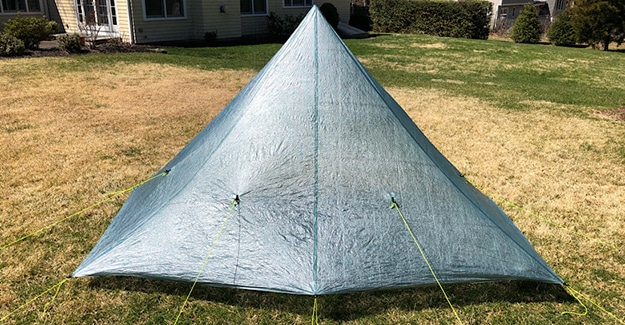 Pre-tied Lines
The lines are pre-cut, and both the lines and locs are already installed, which is nice. Out of the box, the lines Zpacks uses are about three times the thickness of what I use on my Hexamid, so if you want to shave a couple of grams, use thinner tie-out lines. On the other hand, my Hexamid has held up to some brutal winds with much lighter lines.
The Zpacks label for the Altaplex is on the front corner, so I don't have to search for the front of the tarp tent. It is easy to start with the right corner and work from that point.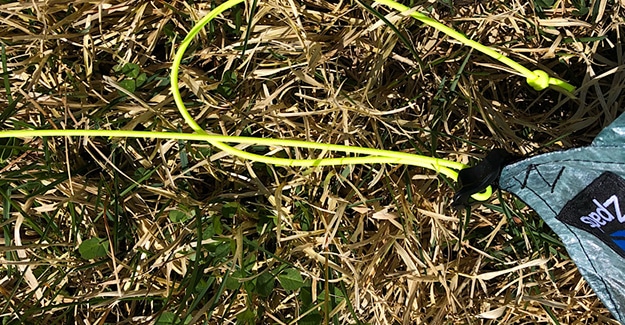 Zipper Ties
The zippers all have small neon ties attached. These ties are easy to find at night when going in and out of the shelter.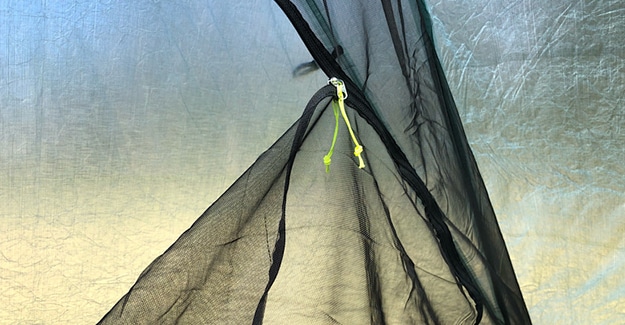 Altaplex Pack Up
Although the Altaplex uses a thinner material than my older Hexamid (.55 oz/sqyd Dyneema® Composite Fabric), I can tell no difference. The Dyneema is still the same tough fabric that requires no footprint. I have used an air mattress thousands of miles with the Hexamid and never once needed a footprint, even in desert environments.
Because of the lighter fabric, one advantage of the Altaplex is that it is easier to pack up. I can easily fold the tent and roll it into a tight bundle. I have to stuff my stiffer Hexamid into my ULA Ohm 2.0 pocket, but I can roll up my Altaplex and easily slide it into the net pocket.
Dyneema fabric does not compare to Sil-nylon. Sil-nylon is easier to pack than Dyneema. The Dyneema on the Altaplex becomes more pliable over time, though, and I have gone from folding it to stuffing it into the net pocket on my backpack.
Zpacks Altaplex Review – Comfort/Convenience
Besides being roomy, the Altaplex has several conveniences. It is roomier than my Hexamid, and the tent's length and height make it easier to lie down and sit up without touching the walls with my Down Jacket.
I still brush my jacket and sleeping bag against the walls if the tarp tent is not set up to its full height.
I also put my rain jacket over the foot of my down sleeping bag/quilt, which I do in every tent or tarp with a single wall. I always protect my Down quilts and sleeping bags regardless of the shelter I'm using.
In addition to the length and height, the width makes this a very comfortable shelter for one person. There is plenty of room to store my gear on either side and at the foot of the tarp tent.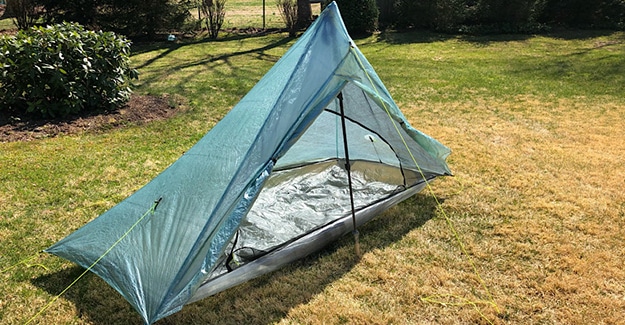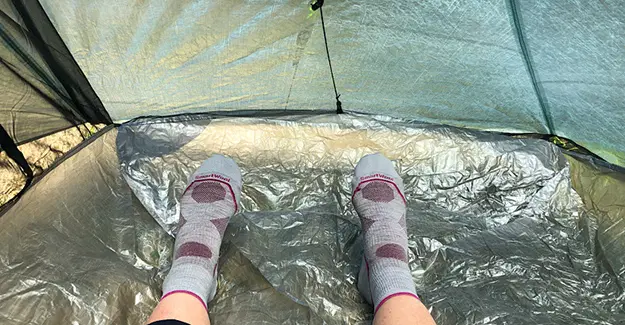 Vestibule
The Altaplex has two storm doors that are easily tied up when not in use. They also have a pre-tied line and attachment to secure one or both doors when being used.
The one thing I would prefer on the vestibule is a zipper, but these are not common anymore. The current vestibule flaps use a toggle and loop attachment, which does not firmly secure the vestibule. I have had a small amount of water leak during exceptionally long hard rains where the flaps come together. This does not affect the interior of the Altaplex but sometimes leaves the ground damp under that part of the vestibule.
The vestibule has plenty of room, but I bring my gear inside the shelter. Animals – porcupines, squirrels, marmots, deer, etc. have taken or eaten my socks, shoes, and hiking pole handles in the past. Hiking 40 miles with no socks, one shoe, and a Croc is not much fun.
The hiking pole on the Altaplex is outside the tent, but I prefer it inside the shelter, as it is in my Hexamid. I often cook under the vestibule when it is raining, and the pole is a little bit of a hindrance, although not a show-stopper.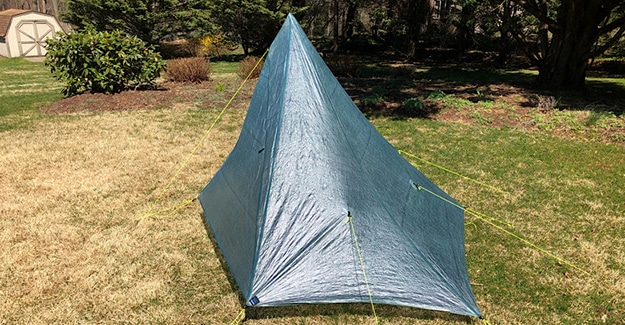 Interior Pouch
The Altaplex has an interior pouch. There is no more fumbling around in the dark for my headlamp, phone, knife, etc. These little conveniences get me excited since I am a light sleeper and often wake up during the night to read or study maps.
Zpacks includes a piece of repair tape with the Altaplex. I leave it in the shelter pouch; otherwise, it will get lost amongst the other miscellaneous items in my stuff sack.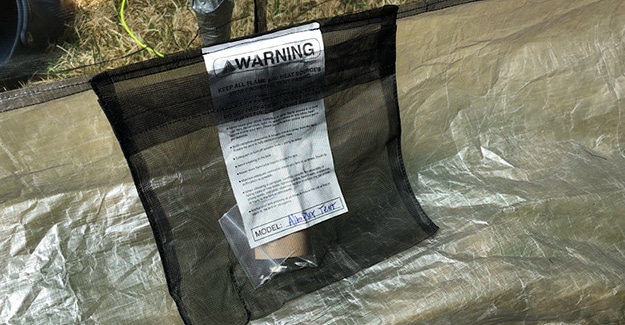 Zpacks Altaplex Review – Materials/Construction
The Altaplex uses a thinner DCF material than my Hexamid, but I notice almost no difference, as stated. It is thick enough to provide floor protection, and the Opaque with a splash of green color offers sufficient privacy.
The Altaplex is water-proof. The shelter holds up well in fierce storms and constant rain, with no leaks. When it is windy, I set it up closer to the ground to block splash.
The 8-inch tall bathtub floor is held up by adjustable lines around the inside of the tarp tent. These are easily adjusted and set at optimal locations, attached to the tarp. The floor itself is thick enough to protect my sleeping pad. Not having to use a footprint has always been one thing I like about Dyneema shelters.
Backsplash is not an issue with the Altaplex, but I'm always careful about setting up the tarp tent. If possible, I try not to set up in low-lying areas, especially on hard-packed ground.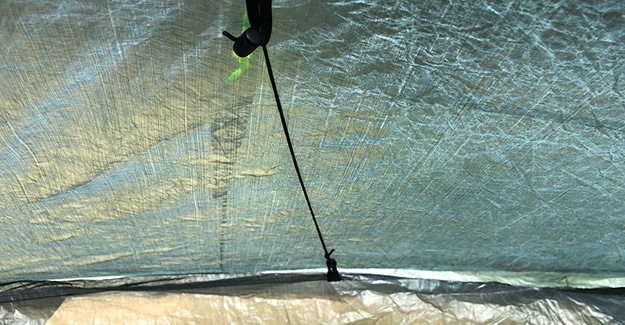 Tarp Overhang
The overhang on the Altaplex is adequate but narrows down near the shelter's foot close to the corners. Because of this, there have been a couple of occasions where the netting has pushed out past the edge of the overhang, and I was woken up to some water in the tarp tent.
This was my fault, though, because I laid gear up against the sides. Pay attention to where you put your equipment; this won't happen.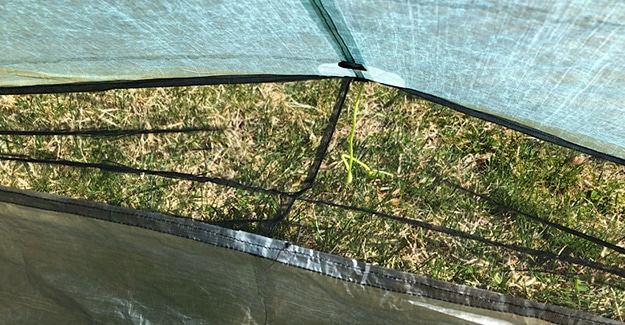 Zpack Altaplex Review – Additional Observations
Durability & Conveniences
The Altaplex has about 600 miles of use, and it still looks like I just took it out of the box. Dyneema fabric is durable, and the Altpalex is no exception. Zpacks continues to produce high-quality tarp-tent shelters.
The Altaplex is a well-thought-out shelter. Conveniences like the improved tarp overhang, storm doors, interior pouch, pre-cut ties outs, and zipper ties are great in a 15.5-ounce shelter.
Wind
I have received some questions on how this shelter handles windy conditions. This shelter is taller than the Hexamid, so I was also curious about the wind but was pleased. If set up correctly, using all the tie-out points, the taller Altaplex handles the wind well and is stable. There is some flapping in the wind, but no more than my Hexamid or Big Agnes Tent Fly.
Trekking Pole Length
My only other consideration when I purchased the tarp tent was my trekking pole length. My Black Diamond Alpine Carbon Cork Poles were not long enough, so I needed a trekking pole jack. Unfortunately, Zpacks was out of stock, so I purchased my trekking pole jack from Mountain Laurel Designs. I bought a six-inch jack that has worked out well.
Zpack Altaplex Review – Post-Hike Review
Pros
Set-up – the cut of the Altaplex, while similar to my Hexamid, has been improved. The Altaplex is faster to set up with a tight pitch and has more room than the Hexamid.
Room – there is plenty of space for me and all my gear inside the shelter.
Airflow – with more airflow, the Altaplex improved condensation issues and has less condensation than my Hexamid as long as I maximize its height.
Wind – The Altaplex holds up well in windy conditions as long as I use all tie-outs.
Cons
Hiking Pole Height – The Altaplex requires a hiking pole that extends to 56″. I use Black Diamond Alpine Carbon Cork poles, which extend to 51″. Extending them past their usable length, I can reach about 53″.
Netting/Overhang – the netting is attached to the tarp's edge, and the tarp does not extend far over the netting on the sides at the foot of the shelter. I put my backpack at the end of my shelter by my feet or on the side in the corner. There were two occasions where the pack pushed out the netting, and I woke up to puddles in the shelter where rainwater ran down the net and into the bathtub floor, so be careful with gear placement.
Warmth – you will not retain as much heat as in a tent.
Vestibule – I prefer a zipper, but that would add weight.
Zpacks Altaplex Review – Summary
The Altaplex is a well-made shelter. I would buy one again.
I recently tested the Duplex. The Duplex is a large 2-person tent at 19 ounces and a palace for one person. The difference for me between the two for me is the footprint.
I would probably take the Duplex out west because there is often more room to set up. On the east coast, I would lean more toward the Altaplex. The footprint is smaller, which sometimes works better in more dense forests, especially in the northeast.
Both are great shelters, and you can't go wrong with either one.
This page has affiliate links for products and gear I purchase and use. If you click on one of these links, I receive a small commission at no extra cost to you. There may also be Amazon links and as an Amazon Associate I earn from qualifying purchases. You can read more about my thoughts on affiliate marketing.