Zpacks Duplex Review
The ultralight Zpacks Duplex is arguably long-distance hikers' most popular tarp tent. The Duplex is a two-person tent that, at 19.8 ounces (I weighed my Duplex), is lighter than most one-person tents.
My favorite thing about this shelter is the sheer amount of space. If you are looking for a weather-resistant, ultralight shelter that is roomy for one person and comfortable for two, then the Duplex is a good choice.
I used my Duplex on my Northville-Place Trail hike, so there was some wet weather.
Table of Contents
There is not much to dislike about the Duplex. For 19.8 ounces, you will be hard-pressed to find a more roomy shelter. The Dyneema fabric is durable and highly water-resistant, and the shelter is easy to set up, take down, and pack away.
Pros
Weight
Livable Space
Durability
Weather Resistance
Cons
Wind Resistance
Price
Condensation
Footprint
Duplex Specifications
| | |
| --- | --- |
| Weight: 19.8 oz | Peak Height: 48″ |
| Floor Width: 45″ | Width w/Vestibule: 86.5″ |
| Floor Length: 90″ | Vestibule Space: 20.75 (each side) |
| Shelter Length: 100″ | Zipper Entry Height: 36″ |
| Packed Size: 7″ x 13″ | Fabric: .55oz Standard Dyneema |
| Pros: Set-up, Space, Air-flow, Weather | Cons: Hiking Pole Needed, Netting, Warmth |
My Shelter Requirements
Below are my shelter requirements.
Ease of Use – I usually hike up until dusk, and I want to be able to set up quickly in the dark. Setting up quickly in bad weather is also essential.
Weight – Being lightweight is important on long-distance hikes to reduce fatigue and injury. This becomes even more important as I get older and want to keep backpacking and hiking longer.
Durability – I prefer not to use a ground sheet and can't always be picky about where I camp, so durability is important. Good shelters can also be expensive, so I want them to last.
Livability – Having room to keep my gear in my shelter with me is important. I have lost clothing to animals and have had "something large" try to haul off my backpack and shoes at night while I slept.
Weather Resistance – Cold and wet can be dangerous, so staying dry is essential, especially in shoulder season hiking when hypothermia is more prevalent. Wet gear is also a pain.
Competitors
Tarptent – Stratospire Li – This is a shelter I will check out when it is back in stock. Tarptent is frequently out of stock, so I often look for used or "blemished" Tarptent shelters. For not much more weight, you get a double-walled shelter with a mesh inner and supposedly great in the wind.
Six Moon Designs – Wild Oyhee – The only two-person shelter lighter than the Duplex is the Six Moon Design Wild Owyhee at a pound. Like the Wild Oasis, it does not have a floor, and for $600, I want a $ floor. I used a Wild Oasis on the CDT in 2009, which held up well.
Gossamer Gear – The DCF Two – This is the least expensive Dyneema shelter on this list. The shelter is roomy, but the floor is 7D sil-nylon. In my experience, Dyneema is more durable than silnylon, but I won't pass judgment until I've had a chance to check it out. The walls angle sharply, so I also suspect there will be condensation on my quilt's foot box.
Big Agnes – Tiger Wall 2 Carbon – This sucker is light for a free-standing tent, and reviews are trickling in slowly that it is DELICATE. The tent must also be made with platinum threading because I can't imagine paying $1,000 bucks, much less for a tent that is not durable – like titanium!
Hyperlite – Ultamid 2 – Hyperlite makes quality products. The pyramid-shaped Ultamid 2 starts at $735. That does not include the $405 full insert for the $735 shell. This well-made shelter is going to run you $1,140 without tax. If you pay over a thousand bucks for a two-person shelter, go with Hyperlite. The shelter will be well-made and durable.
Tent Stakes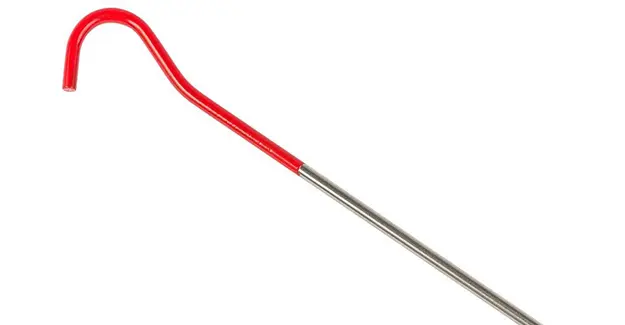 Note that tent stakes are not included.
There is debate around tent stakes, but I have always used regular titanium shepherd hooks as long as I have hiked.
These are easier to push into rocky, dry ground, especially out west.
If it is windy, then I use rocks to anchor the stakes.
If there are platforms, I can usually find rocks or tie off the shelter to the corners of the platform.
Zpacks has several styles of tent stakes. I use the "6.5 Red Tough Titanium Tent Stake."
You can also use some fluorescent paint to paint the heads of your stakes so you can find them in grass/brush or when the wind grabs your shelter, and the tent stake almost puts your eye out!
Zpack Duplex Review – First Glance
Out of the box, the Duplex was tiny and had plenty of room in its stuff sack. It came with very clear instructions and a Zpacks emblem. Although I knew it would be light, I would still be amazed at the weight (or lack of) of the 2P shelter.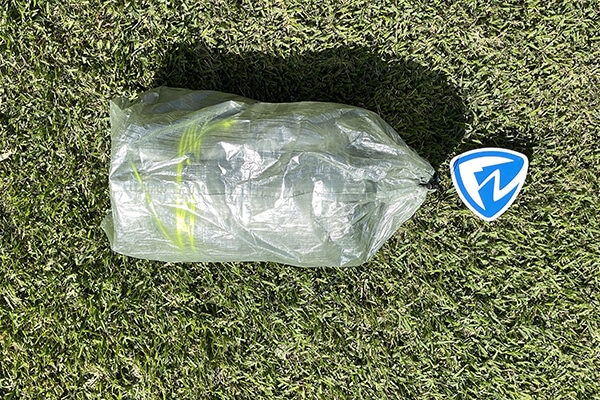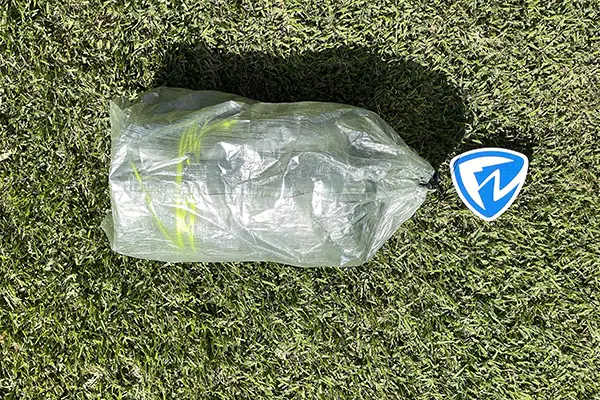 Duplex Set Up
I was not looking forward to setting up and packing back up the Duplex, but this was a pleasant surprise.
Tip: Pay attention when unrolling the Duplex from Zpacks, and ensure you fold it back up the same way.
The Duplex uses eight stakes. All four corners were quickly staked out. I left slack between both sides so I had room to insert and raise my hiking poles. The poles were inserted easily outside the mesh, and I quickly staked out all corners.
I achieved a tight pitch on the first try – nice.
The only disadvantage of the Duplex's "roominess" is the large footprint. This is one of the reasons I use Hexamid and Altaplex. My Hexamid is about eight years old, but you can check out my recent Altaplex review.
I don't use designated campsites unless required. I like hiking until dusk and finding a spot to tuck away. Sometimes these are quite "small."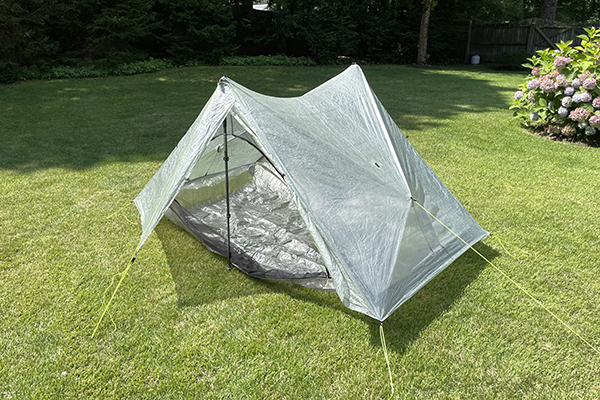 Duplex Pack Up
One advantage my sil-nylon shelters have over Dyneema is that I can easily stuff them in the exterior mesh pocket on my ULA Ohm. It is possible to stuff Dyneema as it ages and loosens up, but generally, I fold them.
The Duplex is exceptionally easy to fold and roll into a small, compact bundle. It easily fits into its stuff sack and then into the mesh pocket on my pack. As mentioned above, pay attention to how Zpacks rolls it when they send it to you and roll it the same way.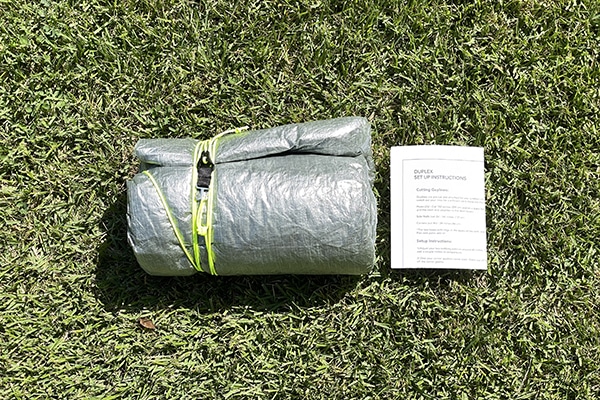 Zpacks Duplex Exterior
Eight stakes are required to secure the Duplex, and the exterior overhangs the bathtub floor by about 5 inches.
Four corners
One for each vestibule
Two side tie outs
There are also points for additional tie-out lines. This includes small clips on the peak and a small nylon loop on each corner.
Vestibules
There are two large vestibules, one on each side of the shelter. They attach a metal hook to the main guy line running from the peaks of the shelter.
Each vestibule is split up in the middle, so, in essence, you have two doors on each side of the Duplex. There is a toggle about halfway up the vestibule to secure the doors from flapping in the wind.
Either door can be rolled up and attached to the shelter using a toggle.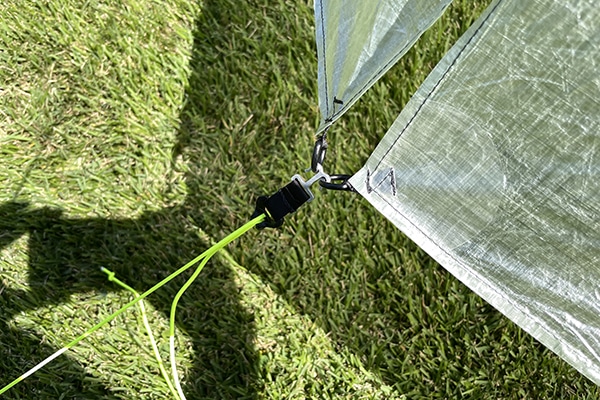 Pre-tied Lines & Ties
All lines are pre-cut, which is always nice with Zpack's shelters. However, they are thicker than I use, so I usually switch them out.
The ties used for all the zippers are the size I use for my lines.
All of the lines have line-loc adjusters and are bright yellow, making them easy to see and use.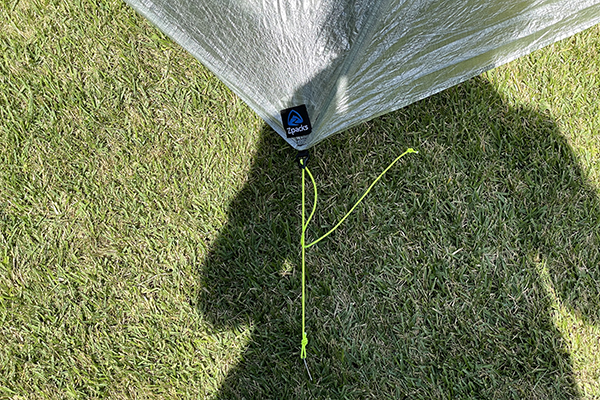 Trekking Poles
Two hiking poles or tent poles are required to set up the Duplex. They go on the outside of the doors, one on each side, and are directly in the middle of the doors. It would be nice if they were offset, but I did not find them inconvenient.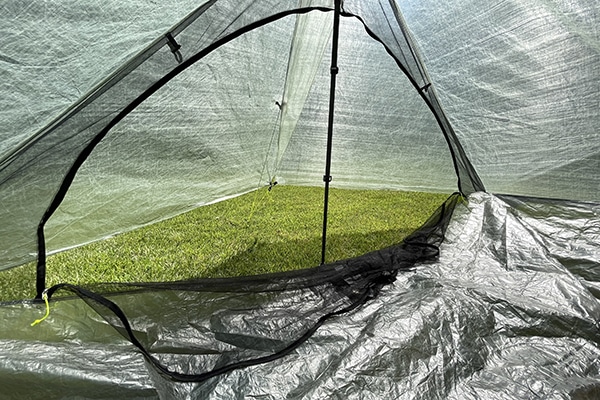 Zpacks Duplex Interior
The interior of the Duplex consists of a Dyneema bathtub floor that extends up 8 inches and is secured to noseeum mesh. Other convenient features include the following:
Two pockets for all items
Two rainbow doors
Fluorescent ties on zippers
Lines to raise the floor and pull back the doors
Duplex Livability
There is plenty of room for one person and their gear, but two people will probably need to put most of their equipment in the large vestibules.
If I were hiking with a partner, I would probably use a Triplex. It is made for three people and is crazy light at 21.9 ounces.
I don't put my gear in vestibules for several reasons.
My cork hiking pole handles have been eaten – twice. Animals like salt.
My shoelaces have been chewed by the same Porcupine that tried to drag off my boot.
My wool socks have been taken twice. Something has a nice winter nest.
Something large tried to drag away my backpack in Montana. It was dark. I'm probably glad it was dark.
Even at 100″ long, there was still light condensation, so I put my rain jacket over the foot of my quilt.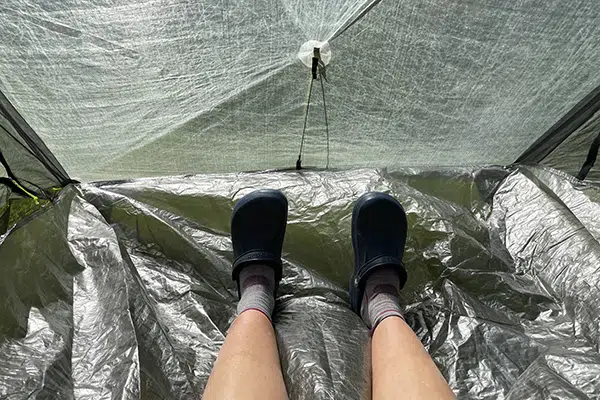 Doors
The Duplex has two rainbows and zippered doors, one on each side. The doors are large, but I like doors that zip across the bottom to clip them up out of the way. The rainbow doors hinge inside or outside the shelter when unzipped.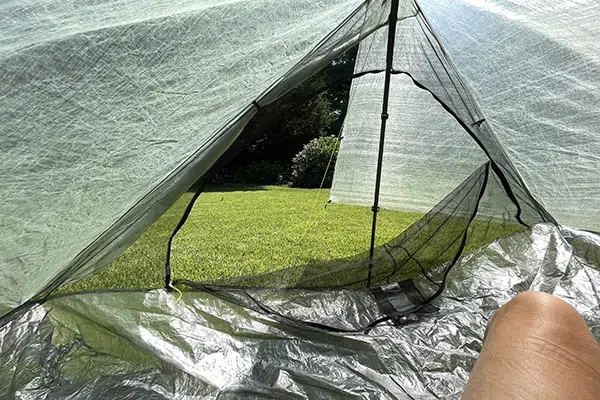 Interior Pockets
There are two interior pockets in the Duplex, one by each door. You can use them for your phone, headlight, etc. One pocket has extra repair tape for the shelter, so don't forget to check for it.
I leave mine in my pocket so I don't lose it.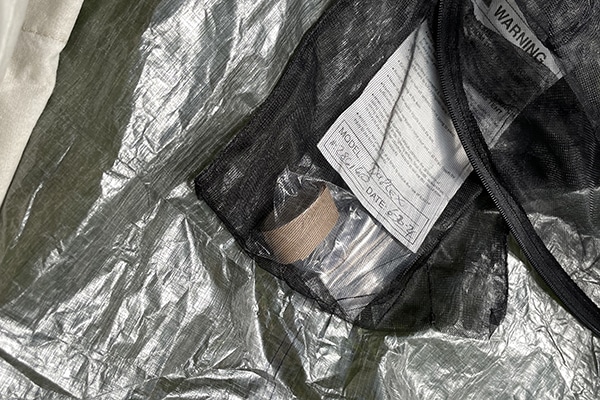 Zpacks Duplex Review – Materials
This is a Dyneema shelter, and I have used many. Dyneema is durable, and I have yet to use a footprint with any of my shelters. The shelter is .55 oz/sqyd Standard Dyneema® Composite Fabric, and the floor is 1.0 oz/sqyd Dyneema® Composite Fabric.
Knock on wood – I've been successful in many environments – East Coast, West Coast, deserts, rock, snow, etc. No holes yet.
All seams are sewn and taped, and this shelter has withstood constant heavy rain with no issues. To date, the Duplex is waterproof, but I'll have more to report after the Northville-Placid Trail.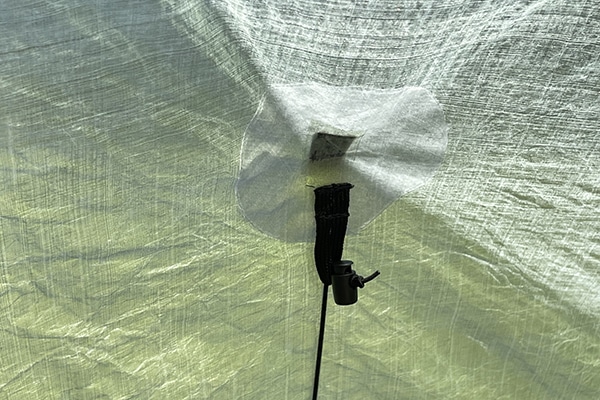 Zpack Duplex Review – Additional Observations
Wind
This shelter was a little challenging to set up in a moderate breeze. Sitting my backpack in the middle of the shelter until I had the four corners staked down solved the issue.
Zpacks Duplex Review – Final Thoughts
The Duplex is a decent-sized shelter for two people and huge for one person, their gear, and the dog. It is a well-made, durable, weather-resistant, and super light shelter. This is a single hiker's dream if you are going to be backpacking for multiple days.
The footprint is large, but the Duplex is quick and easy to set up and pack. I also don't think there are many places where you can't find room to set it up. It is not any longer than the Altaplex, just wider.
After testing it, I usually sell my gear, but this tarp tent may hang around for a few hikes.
Let me know what you think in the comments. Thanks!
This page has affiliate links for products and gear I purchase and use. If you click on one of these links, I receive a small commission at no extra cost to you. There may also be Amazon links and as an Amazon Associate I earn from qualifying purchases. You can read more about my thoughts on affiliate marketing.