Leaving Blairsville, GA – Day 5
55/80 degrees
Miles 15
Sunny/Clear
Southern Fried!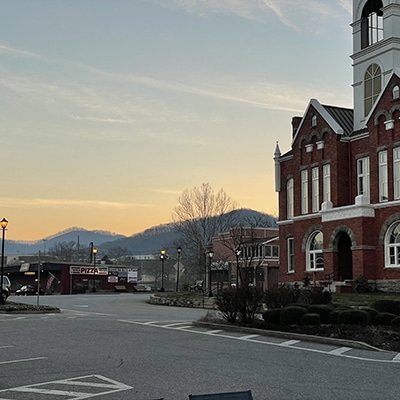 Sam and I were up early. I love "discovering" small-town breakfast joints along the trails, and the Benton Mackaye trail was no exception – especially since it was a southern breakfast joint!
I was herding Sam out the door as soon as she was ready. Breakfast awaited…
Tom had pointed out the "Hole in The Wall" on the previous night's drive into town, and it was within walking distance, which is one of the best things about small towns.
We reached the restaurant as it opened and were led to our booth with vinyl seats and a well-worn table. Contractors followed us in, so I knew I had found the right restaurant for breakfast.
Southern breakfasts never disappoint, I thought as we waddled back to our motel room after eating. I would not have to stop for lunch and could have a snack for dinner. The proteins, carbs, and other assorted fried sides would stick to my stomach wall for hours and provide good hiking carb energy.
Peter's Taxi
When we arrived last night, the Best Western desk clerk gave me a business card for Peter Craig of Budget rides, and I had called him before going to bed. He promised to pick me up promptly at 9 AM and was there on the dot – a man after my own heart.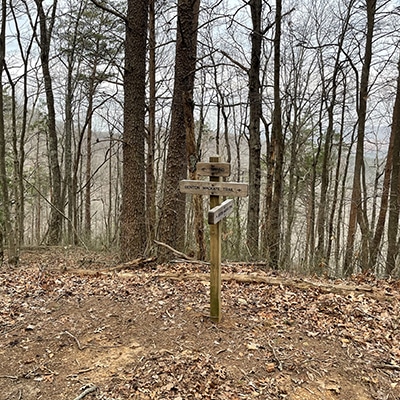 Sam was going to take a cab over to Blue Ridge, GA, to meet Clayton, where they would spend a day or two before driving back to Michigan. I would see her when I went into town to pick up my resupply box.
They would also give me a ride to another outfitter to pick up a new sleeping pad. It was still too cold not to have a good 3-season pad. I had decided to purchase another Neoair X-Lite and send the Nemo Tensor home since it was the X-Lite that the outfitter carried.
Peter (Taxi Owner) was a retired veteran that had started his own business, and time flew by as we chatted on the way to Wolscot Gap. I always have a gazillion questions about the places I'm traveling through, and Peter had great information.
I am naturally inquisitive and love to learn, but I have to admit that being in the woods for long periods may make me a little chatty.
Iron Bridge Cafe
I hoped to pick up my mileage and get into Blue Ridge, GA, the next morning, stay overnight to resupply, pick up my pad, and head out the following day.
It was a chilly morning as I climbed up Tipton Mountain. I stopped to chat for a few minutes with an older couple out turkey scouting.
They had walked over from Ledford Gap and were not even breaking a sweat – just out enjoying this warm Spring day.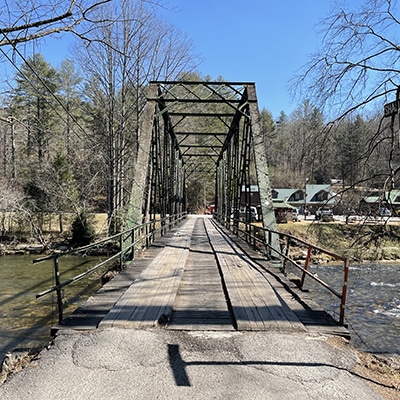 I had a few small climbs up and out of a couple of Gaps – Ledford and Garland, but my target for the day was Toccoa River. An added plus was Iron Bridge Cafe.
Ok, maybe the Grill was my real target.
The walk along the river was pleasant, and I stopped talking with a woman who maintained a hiker box just ahead. She dreamed of hiking the BMT one day. I didn't need anything but thanked her for looking out for hikers.
The hiker box was really a cupboard attached to a tree and packed full of everything a hiker needs – snacks, supplies, etc. I'm always amazed at the number of people that support long-distance hikers (Trail Angels), asking for nothing in return.
The Cafe was nice, and I chased my milkshake with Lemonade before starting a 3.2-mile road walk. Road walks have always hurt my feet, but my Salomon Sense Rides have a thick stack height like my Hoka EVOs, so it was a relatively comfortable walk.
Road Walks Don't Hurt as Much Now
I enjoy rural road walks, often meeting interesting locals. Architecture and landscape also paint interesting pictures about the history of the places I pass through, and walking allows me to really study the communities and land I travel through.
The only real negative is sometimes the local yard dogs. I was carrying a small can of mace on this hike but had not had to use it. However, I still stopped to take it out of my pack as I heard the distant echoes of barking.
Finishing my road walk at Falls Branch Trailhead, I began my 1,300′ climb up to Rocky Mountain before beginning my descent and finding a nice little campsite to set up for the night.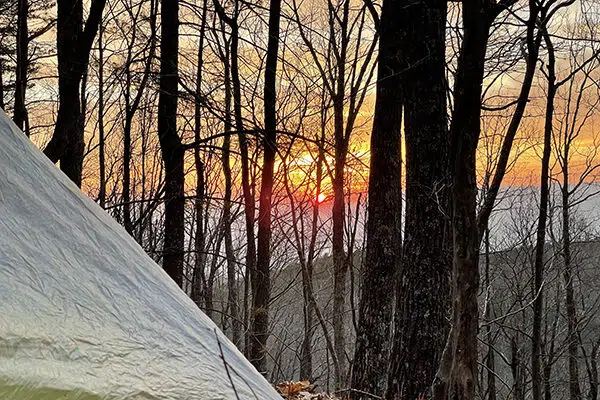 I did not want to go into town, so I planned to stop a little earlier than normal but finding a flat leafy spot was challenging. I finally crossed the remnants of an old logging road on the side of the mountain and headed down it about 200 yards before finding the perfect flat leafy spot.
The sunset was gorgeous as I sat making dinner. The clouds literally glowed with fiery red and orange hues. This was good and maybe not so good, though. The red sun was setting behind a front of clouds, and as I paused to feel the air around me, I realized the moisture in the air was increasing. It appeared there was weather headed this way. I needed to get in and out of town.