Start: 78.4
Miles: 20
Temp: 60/75
Stop: 98.4
The morning was warmer than prior mornings when I stuck my arm out from under the quilt to do a temperature check. Glancing out from under the edge of the tarp tent, I saw a heavy, grey sky that indicated a front was probably moving through and I would have some rain.
I got moving quickly since I did not need to lay talking myself into moving out into a frigid morning. It was always hard to leave my warm bed on cold mornings. I'm definitely a southern cold wimp.
A General store in Reliance, TN would be my town stop tomorrow so I wanted to make good miles and began the day with a brisk moderate climb up and over Hemp Top Mountain. My blood had warmed up and I was ready to move when I reached Double Spring Gap.
Now I don't usually fuss too much about climbs, but Holy Crap! I could literally lean forward and kiss the trail as I climbed up Big Frog Mountain. I climbed about 1,000 feet in one mile and was huffing by the time I reached the top. I'm not sure if there were switchbacks, but it really would not have mattered.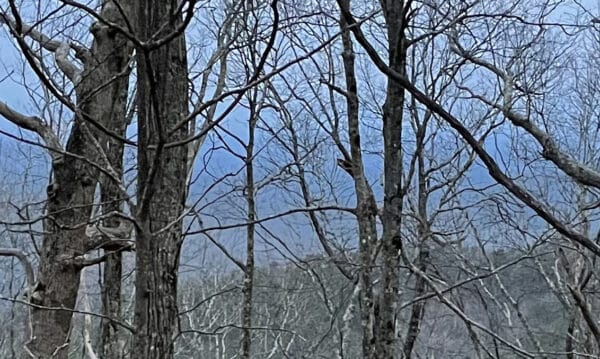 The next 10 miles were a relatively moderate hike 3,000 feet down to Thunder Rock Campground. It was an apology hike for the Big Frog climb.
The trail crossed over the Ocoee River and US64/74 where a lot of hikers hitch into the Ducktown Copper Inn. I ended up having an unplanned stay there, but more on that later.
The 1,700-foot climb up to a ridge top in Little Frog Wilderness was not too rough, and I took my time since I was making decent time. I had planned to camp up along the ridge but could find no good camping so started back down the other side of the mountain.
As dusk approached I started looking for a place to set up camp. Camping along this trail has been a little more difficult than I expected and today was no exception, but I finally found an ancient forest service road that curved back around the side of the mountain. This trail crosses a lot of these and they often provide the only flat spots around.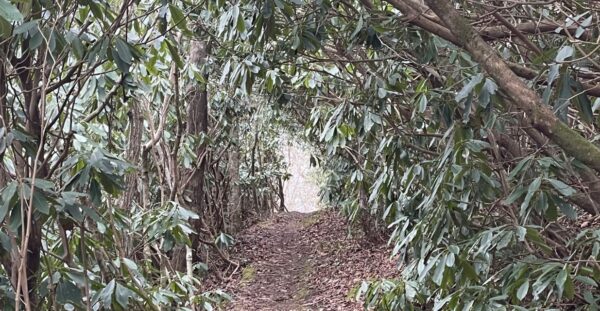 Finding a flat spot with no trees was tough since the road was so old, but I finally managed to wedge my shelter between some young pine trees. I like sites like these since I feel secure. I'm protected from above and below. Nothing is going to sneak up on me easily.
I cleared out a small spot to cook dinner and watched the sun set out across the mountain ridges as I ate dinner. As I finished eating it began raining, so I quickly packed up and jumped into my Aeon Li for the night. The tent was pitched at an awkward angle, but I was not worried about leaks or backsplash since I was on a thick bed of pine needles. I would sleep well.