Coon up a tree! – Day 7
This morning started with a brisk 700-foot climb up Fowler Mountain. Unfortunately, I don't sleep well in town when backpacking; after a week or two on the trail, I fell into a deep sleep last night and did not start hiking until about 7 AM.
The temperatures had dropped overnight, so I was hiking quickly in the cool morning air. Descending from Flat Top mountain, I was about halfway down when I heard rustling in the trees to my right. I stopped and stared out into the forest, waiting on movement.
The trees had not leafed out yet, and as I scanned the bleak grey trunks and branches from the trail, I almost missed the small masked face peering back at me. Instead, a young raccoon was climbing a tree, and he paused when I stopped walking.
We stood staring at each other for several moments before the coon turned very slowly, and, stretching his legs up the tree, almost in slow motion, he resumed pulling himself up the trunk. He was trying very hard to make no noise. Watching the young raccoon "stealthily" make his way up the old oak tree was comical.
Coming out of the descent after Flat Top Mountain, I was surprised to pass a small wooden trail sign marking the northern terminus for the Pinhoti Trail. This was another southern trail on my to-do list, and as I glanced down the seemingly lightly used Pinhoti Trail, I wondered how anti-climatic this finish would be for a NOBO.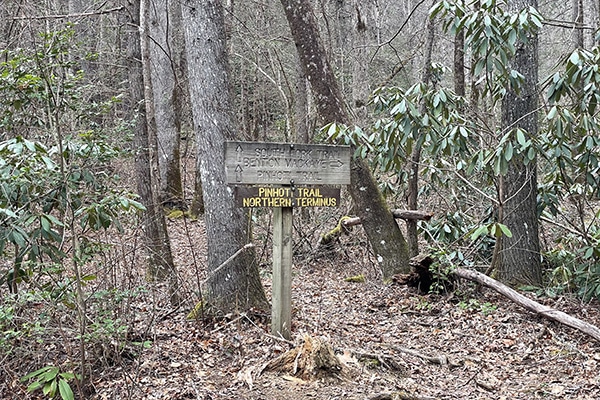 The following five miles were pretty moderate, heading up and over a few small, steep rocky hills before dropping down to the intersection with Jack's Trail and Bear Branch. I stopped to get some water at Bear Branch and began my climb up and out of the small gap. I knew I would stop in about an hour and carry an extra liter of water for dinner.
Some good tent sites were just past the gap, but I don't often stay close to the water – designated campsites attract people and animals, and cold air gathers in low-lying areas. One of the nice things about hiking on Eastern Trails is the ability to find water. It is generally easier to find water than out west, so I can grab it and go for dinner.
There was a forest service road at Spanish Oak Gap, so I hiked down and looked around before walking back up the mountain to a nice little camp spot under a massive old oak. Not only was it nice and flat, but there were endless views out over the fading ridges – Blue Mountain vistas at their best.
Dinner for the night was Shrimp Jambalaya and Grits from Stowaway Gourmet. They are a small backpacking food company that I think currently has the best-tasting meals. Like many small companies, they don't have an affiliate program, so you won't often see them on any "Best of Lists" for backpacking meals. A little Siracha sauce made the meal even better!
The meal was in a freezer bag, so I immediately boiled water and poured it into the bag to sit for about 15 minutes while I set up the tent and unpacked my gear. After I was finished, I grabbed my pot and settled on the ground to watch the sunset while I ate dinner.
I had not seen another person all day, and as the world wound down and birds settled into the trees around me with their soft chirps and dwindling tweets, I tilted my head to listen for some mechanized sound – nothing. This remote, peaceful trail provided hiking I enjoyed.
This page has affiliate links for products and gear I purchase and use. If you click on one of these links, I receive a small commission at no extra cost to you. There may also be Amazon links and as an Amazon Associate I earn from qualifying purchases. You can read more about my thoughts on affiliate marketing.