Stats: Start 98.4, Stop 112.5, Temps 80/62, Miles 15.1 (1 extra for stop)
Town Day!
Town day, for me, should just be called Town Food. I never need to stop except to eat good food and charge my phone. If there were good food and chargers on the trail regularly, I would probably never stop hiking except to shower occasionally.
Downhill was the day's theme as I wound my way down towards the Hiawassee River – that and Town Food.
I was moving early and making good time as I reached Lost Creek Campground around 11 AM. As I passed, people were out walking the dirt roads around the campground, and I looked up briefly to smile and nod or slowed down briefly to chat for a moment.
I was a woman on a mission and wanted to grab my box and a burger before heading back out. Today was a beautiful day for hiking, and I wanted to keep moving. There was no reason to stop overnight in Reliance, but that would change.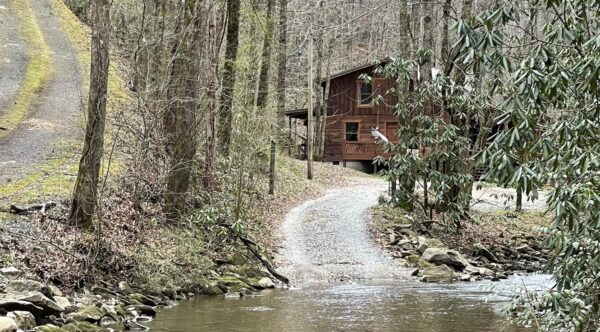 Climbing to Ellis Creek, I looked down the hillside to see a lovely home below me. Further past the house, I could see a wide, shallow creek. There must be a bridge, I thought.
Surprisingly there was no bridge. The people living in the house would need to ford or drive through the water to get to the house. The water was only midway up my calves, but what happened during storms. There was no way they could cross. What an odd place to build a house, but an excellent survivalist compound!
Passing the house and walking under a train trestle, I passed through Hiawassee Outfitters. They appeared to be closed for the season with no people and huge river buses parked throughout the camp. I bet this place was hopping during the summer!
Reaching a paved road, I looked across the curve to see a vast, weathered old church standing on precarious pilings made of river rock. I headed over to take a closer look, noting its spooky vibe, even on this bright sunny day.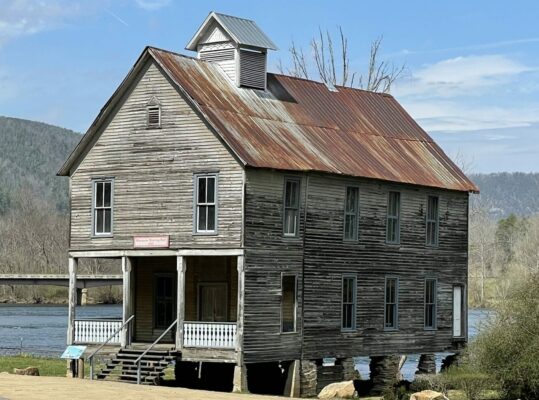 Instead of heading back up to the road, I cut across the field behind Webber Bros. convenience store but didn't stop at the store. No cars or people were around, and it did not look open. I think I was still a little skittish because of the scary church just behind the store.
I crossed over the massive Hiawassee River and took a right onto Childers Creek Road that would take me past more abandoned buildings, although in the middle of all this, there was a small modern community and a good cell signal (3 bars) for about 100 yards.
The BMT followed Childers Creek Road until it reached the trailhead and a parking area on the right before continuing another mile to Reliance. I was in no hurry since a woman in a truck had stopped me at the last intersection to tell me she was the owner and would be back in THREE HOURS. She was going to pick up her kids.
I hung out on the deck behind the store, drying out my shoes and socks while I waited and watching all the people pull up to the gas pumps and then go to stare in the door before turning to stare at me, at which point I would announce, "she will be back at 4 PM." A few gave me a frustrated look, and I shrugged apologetically. It is tough being the messenger sometimes.
As I waited, I watched the skies darken. I had not checked the weather, and one man informed me that tornadoes were headed our way as he scowled at me before walking back to his truck. I think he knew I was a hiker and was just irritated the store was closed.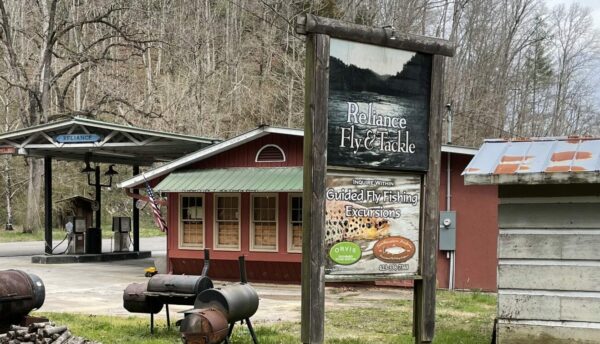 The owner finally showed back up and was super friendly. My phone did not signal, and she confirmed nasty weather for the next few days. I needed to finish a little work and knew this would be a good opportunity. She referred me to some cabins about three miles down the road, and the owner came to pick me up. This would be my home for the next three days.
A note on the store: The Reliance store holds boxes for hikers, and the owners are super friendly. There is not much of a resupply, though, and the food they have for you to purchase and eat there are microwavable burgers, chicken sandwiches with chips, etc. I would suggest going into Ducktown to the Coppertown Inn Motel. They are lovely and will pick you up on the main road.
Oh, breakfast at the Diner behind the Inn is quite good and inexpensive! It's all about the food!
Related Posts