The Electronics Debate
Backpacking with Electronics and Gadgets in the Back Country and Wilderness is sometimes a topic of debate among hikers. Don't we backpack to get away from the noise of society? Isn't it difficult to charge and keep electronics dry? Aren't they a hassle? These are all common questions I'm asked.
All of these are valid questions.
I'll review what I carry and the reasons for having them. In some cases, I would probably not take them, but they provide those at home peace of mind, and with applications like Garmin Maps, they can even engage with and watch the hike unfold on-line.
In some instances, electronics make the "logistics" of hiking easier – motel reservations, pizza orders from roads, shuttles to town (although I mostly hitchhike), weather forecasts, etc.
Backpacking Electronics Summary
Below is a list of electronics I carry. I don't always carry them all at the same time, and it varies depending on the hike.
A good example is a solar charger. I carried it on the Pacific Crest Trail, and when I climbed Kilimanjaro because there was plenty of sunshine. I ended up sending it home on the Continental Divide Trail and would not use it on the Appalachian Trail or other east coast trails due to all of the foliage and the limited time above treeline – that whole "Long Green Tunnel" thing.
Anker 20,000 mAh – Battery
Iphone – Phone
Garmin InReach – Satellite Communicator
Power Traveller – Solar Charger
The Electronics I Use
Anker 20,000 mAh
This battery is heavy @ 16 ounces, and I hesitated on the purchase. A pound is a lot of weight to add to my pack, but I've not looked back since making the purchase!
Not constantly worrying about trying to conserve power, and "searching" for outlets is a relief. I was beginning to feel like I was hiking the trail half the time, and looking for power the other half. I like things easy.
The battery takes about 6 hours to fully charge, and I usually do that when I'm in town overnight, which is typically every 5-10 days on longer hikes.
Many of my devices are now rechargeable, so having a good power source is important – InReach Mini, Headlamp, Phone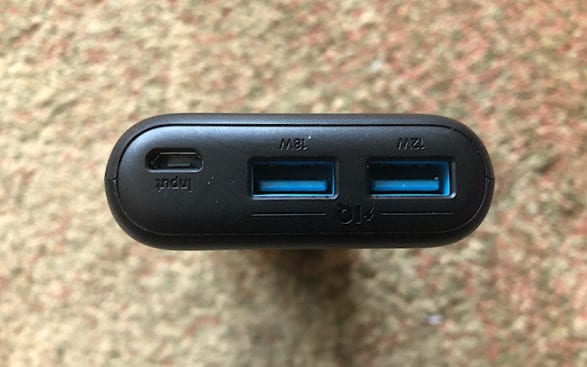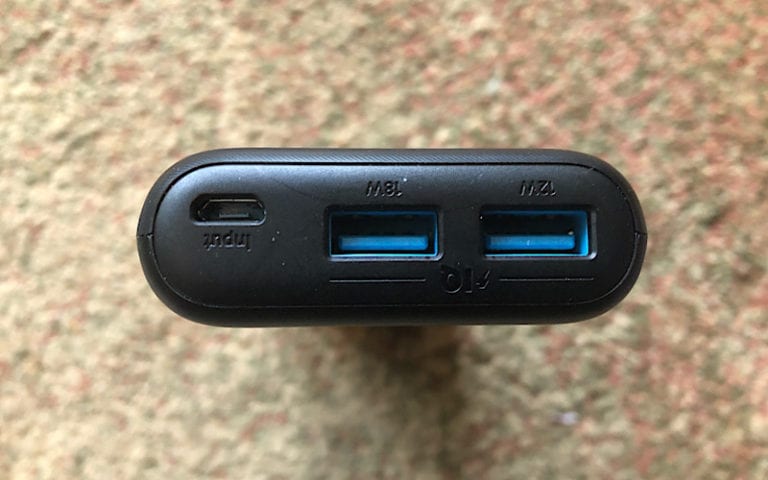 Iphone
There are very few places I don't have a signal at some point each day, so I send my blog and photos to my family. I also use the phone to google town information and make reservations. Having the phone makes it easy to stay in touch and plan logistically.
The iPhone does not have the best battery life, so when hiking I put it on "Airplane Mode" in settings, so I can continue taking pictures. On the occasions I don't have it on Airplane Mode, I set the battery on "Low Power Mode," also in settings. This helps conserve the charge. If I do these things, I can usually go a couple of days without needing to charge the phone.
I blog via WordPress, which is the platform for my website averagehiker.com.
Garmin InReach Mini
The mini is very small, as you can see in my picture above. On my scale it weighs 3.7 ounces, although it's marketed at 3.5 ounces. The mini is easy to carry if you don't count the fact that I ALWAYS forget to turn it off at night. If you turn it if off consistently, and track less frequently (I track once an hour), it will stay charged will last between most town stops.
At some point I'll post a review of the Garmin InReach Mini, but until I do check out this good review. This review does a nice job of summarizing the key features without going on and on for 15 pages, which would be easy to do with this device.
The Garmin InReach provides peace of mind for my family and allows them to track my progress. I set it to track every hour, and the application has some great maps, so viewers can follow along. It also allows me to text via my phone, which is a nice feature.
I recently switched from the ULA shoulder pouch to the Hyperlite shoulder Pouch. The Hyperlite Shoulder Pocket is more waterproof and has mesh on the outside of the main pocket to hold my InReach Mini. The shoulder that attaches to the strap of my pack and holds my iPhone and the InReach. The devices are within easy reach. I reviewed the Hyperlite Pocket with my Hyperlite Junction Review.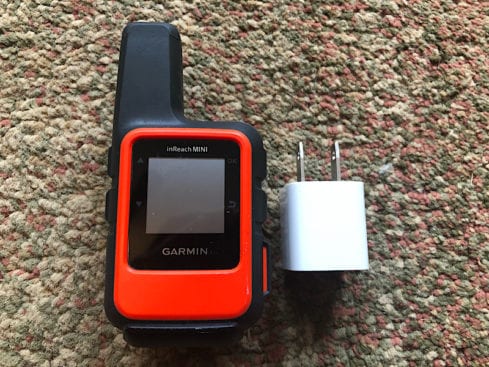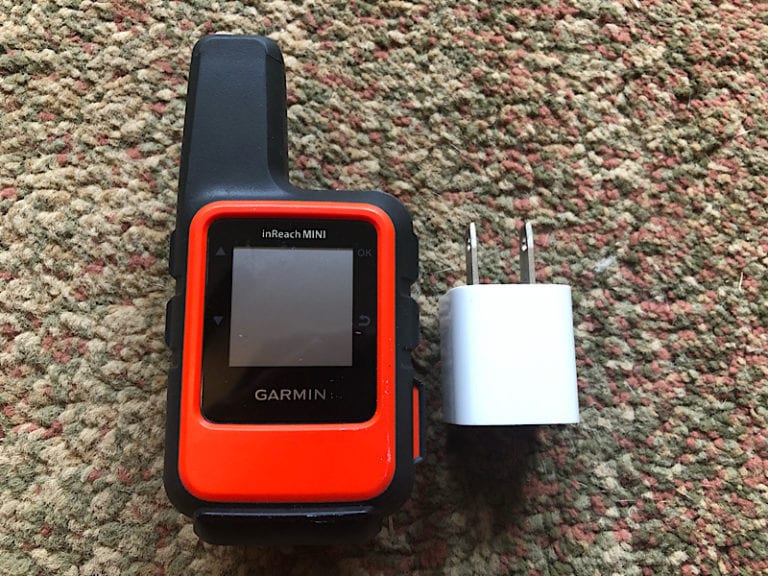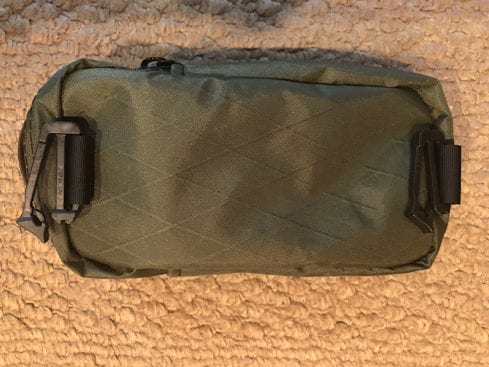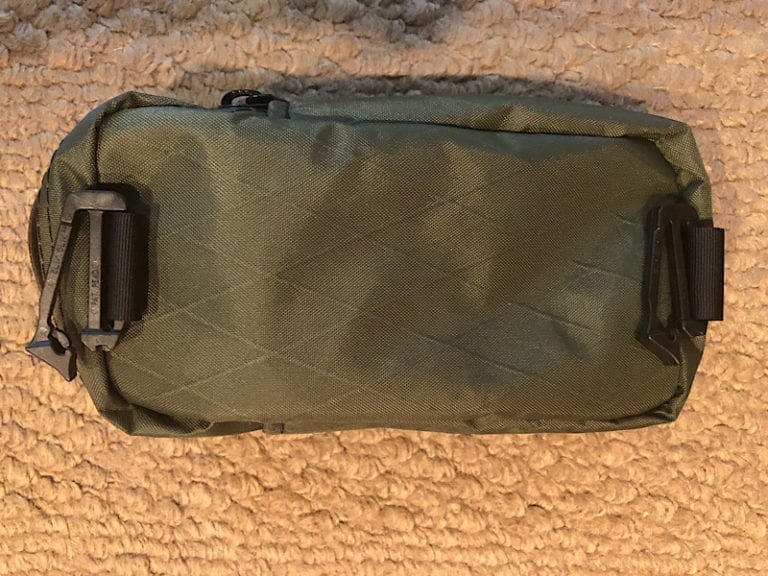 Power Traveller
I've tried many different solar chargers over the years, and the Power Traveller was the last one I used. When I wrapped up my Kilimanjaro Climb, I gave it to my guide.
This was the best of all the chargers I've used. It weighed 18 ounces and was easy to attach to my pack while I hiked. I also liked that it charged when it was cloudy, and it fully charged my phone at the end of each day.
If I were to use a solar charger again, this is the one I would use. Since I have a larger battery pack, though, I probably won't use another solar charger anytime soon unless I plan to be backcountry for a long time.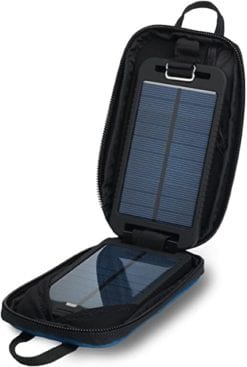 How I Store My Backpacking Electronics & Gadgets
The method I use to carry and store my backpacking electronics and gadgets is very sophisticated, as you can see above. Much like duct tape and dental floss, the Ziploc bag is a critical piece of my gear. I've used it to store my electronics when backpacking for about 30 years, and I have yet to have any moisture issues or find a better storage sack.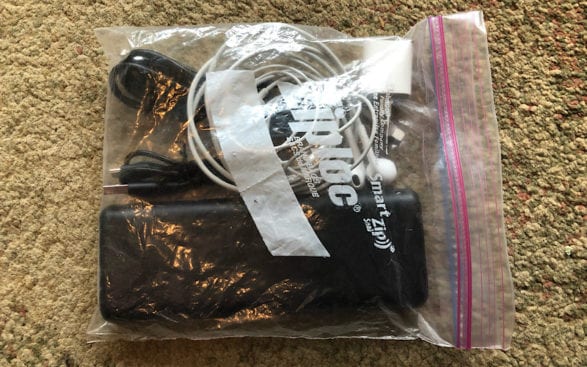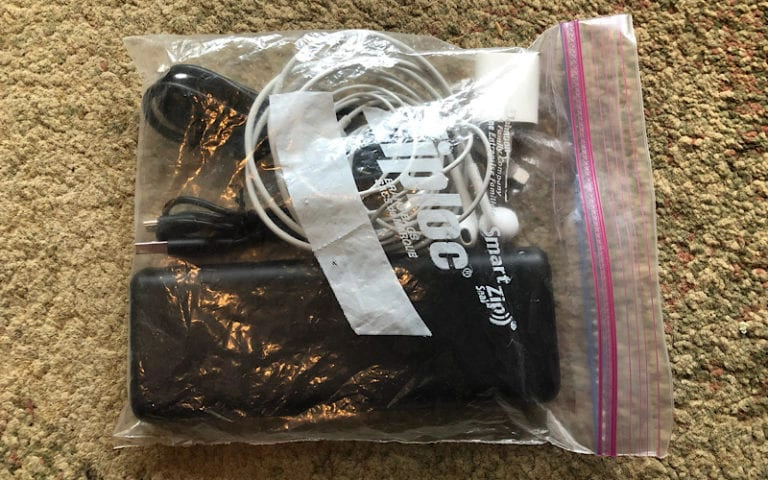 Final Thoughts on Backpacking Electronics and Gadgets
I carry less electronics than some and more than others. My battery is a little on the heavier side, but I like the freedom it provides. Many of my other rechargeable electronics are dependent on my battery so it is important it be dependable and robust.
Engaging my family is also important to me. It provides them with peace of mind and provides insight into my hikes, which makes hiking more interesting for them.
Additional information on my gear, and the electronics above, can be found at the link below in the Average Hiker Store.
Q&A
Will cold weather effect my battery?
Cold weather will affect the life of the charge in any of your rechargeable electronics. I often put my electronics bag in my sleeping bag or under my quilt if temperatures drop below 40 degrees.
Can I text on my InReach Mini?
You can text on your InReach Mini via your cell phone. They connect through Bluetooth. The numbers you text do not have to be already set up.
How long will the Anker Battery 20,000 battery last?
If I use all of my electronics only when needed and am conscious of not leaving them turned on unnecessarily, the battery lasts for approximately seven days.
Related Posts
Average Hiker purchased these electronics and does not write sponsored posts or receive compensation for reviews. When you purchase through links on this website, I receive a small commission at no additional cost to you. If you have found this review helpful, please consider purchasing through the link above. You can find further affiliate details on the Affiliates Page. Thank you
Hi! Some of the links in this post are affiliate links. This means that when you click on one of these links, I earn a small commission at no extra cost to you. Also, as an Amazon Affiliate, I earn from qualifying purchases. Thank you.