The Electronics Debate
Backpacking with Electronics and Gadgets in the Back Country and Wilderness is sometimes a topic of debate among hikers. Don't we backpack to get away from the noise of society? Isn't it difficult to charge and keep electronics dry? Aren't they a hassle? These are all common questions I'm asked.
All of these are valid questions.
I'll review what I carry and the reasons for having them. In some cases, I would probably not take them, but they provide peace of mind at home, and with applications like Garmin Maps, those at home can even engage and watch the hike unfold in real time.
In some instances, electronics make the "logistics" of hiking easier – motel reservations, shuttles to town (although I mostly hitchhike), weather forecasts, etc.
Backpacking Electronics Summary
I often get asked what electronics I carry while backpacking and how I keep my electronics charged while backpacking. Below is a list of electronics I carry. I don't carry all of these, but I have used them at some point.
An example of what I don't always carry is a solar charger. I carried it on the Pacific Crest Trail and on Kilimanjaro because there was plenty of sunshine. I ended up sending it home on the Continental Divide Trail and would not use it on the Appalachian Trail or other east coast trails due to all of the foliage, although I did take it on the Benton Mackaye Trail.
Battery – Anker 20,000 mAh
Phone – iPhone
Satellite Communicator – Garmin InReach
Solar Charger – Power Traveller & QuadraPro
Headlamp – Nitecore (NU25) – Headlamp
Fast Charging Plug – Anker 711 Charger (Nano II 30W)
Charging Cord – USB-C to Lightning Anker 3ft. nylon cord
The Electronics I Use
1. Anker 20,000 mAh Battery Charger
I used to use an Anker 10,000 battery charger, but as my rechargeables increased (headlamp, InReach, iPhone), I got tired of going into town every three days. I also used my phone more for video, communication, and pictures.
To stay on the trail more and have peace of mind that my family will not freak out when they can't see my InReach or SPOT signal (it has happened), I upgraded to the Anker 20,000.
If I leave my phone in airplane mode, this battery pack will last me seven days or more.
Nitecore has a good battery pack that more hikers use now, and I tried the Nitecore NB20000. I found the charge time and amount of charge it held was the same as the Anker, but it was not as durable. I also did not like the sharp edges, and one of my ports broke.
The advantage of the Nitecore is the weight. The Nitecore power bank with two ports weighs 4.5 ounces less than the comparable Anker. I decided I would regret not carrying 4.5 more ounces if my battery bank broke in the middle of the wilderness and I could not use my electronics.
---
2. iPhone 12 Pro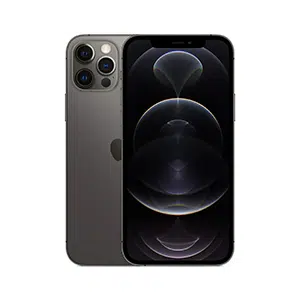 When I used my backpack years ago, I left my phone at home. Now I can't imagine not having it with me. I use the phone for many reasons.
Maps – I use several Apps on the phone. These primarily include Farout, GaiaGPS, Avenza, and Google Maps.
Pictures and Video – I love to take pictures, and cell phones produce very good images now. A phone is also much lighter than a camera on long hikes.
Communication – I have an App that allows me to text on my InReach in places where I have no signal. This has allowed me to schedule shuttles in very remote locations where I cannot hitch, i.e., Creede on the Colorado Trail. Of course, I also have the phone, email, and text where I have signals. This makes scheduling reservations and planning much easier.
The iPhone does not have the best battery life, so when hiking, I put it on "Airplane Mode" in settings, so I can continue taking pictures. On the occasions I don't have it on Airplane Mode, I set the battery on "Low Power Mode," also in settings. This helps conserve the charge. If I do these things, I can usually go for a couple of days without needing to charge the phone.
I blog via WordPress, which is the platform for my website averagehiker.com.
---
3. Garmin InReach Mini 2
Having a GPS communicator is important to my family and me, and I have carried either the InReach or SPOT since 2009.
Garmin now has a Garmin InReach Mini 2. I use the original Garmin InReach Mini and don't plan on upgrading since I don't find any of the additional features in the Mini 2 all that useful. This is definitely the case since the Mini 2 costs $400.
If you don't already have a Garmin InReach Mini, then purchase the Garmin InReach Mini 2.
In a nutshell, the difference between the two is that the Garmin Mini 2 has…
Trackback – I don't need to be led back to where I started. I usually have a map or digital map/GPS.
Battery – lasts longer in tracking mode. I use 4-hour tracks for the family, which is plenty, and as long as I turn the InReach off at night, this will last about three days before I need to use my battery pack.
Satellites – Garmin now uses four satellite networks, so you can connect faster. This is a win since the current Mini can be a little slow.
User Interface – It is supposed to be like the Garmin watches, but I have not seen it and don't have a Garmin watch.
Compass – It has an electronic display.
The Garmin InReach Mini is small and compact. On my scale, it weighs 3.7 ounces, although it's marketed at 3.5 ounces. The Mini is easy to carry and very durable. I carry mine in a shoulder pouch that has been dropped more than once. The Mini has also been exposed to numerous rain storms and is highly weather resistant.
If you turn the Mini off consistently and track less frequently (I track once every four hours), it will stay charged for a few days.
I use the Hyperlite Shoulder Pocket, which is waterproof and has a mesh pocket outside the main pocket to hold my InReach Mini. The main pocket of the pouch itself holds my iPhone. The devices are within easy reach. I reviewed the Hyperlite Pocket with my Hyperlite Junction Review.
If you want more information and other satellite communication device options, check out the comparison on Andrew Skurka's website. You can't get much more credible than Andrew.
---
4. Solar Charger
I've used many solar chargers over the years, and the Power Traveller was one of the brands I remember. I used it when I climbed Kilimanjaro and gave it to my guide.
This was a good charger and only weighed about 18 ounces, which was super ultralight in 2013.
I recently used the QuadraPro Solar Bank on my Benton Mackaye trip last year. I was going to be out for 7-8 days and wanted to try the solar backup.
I was pleasantly surprised at how well the charger worked in the dense forests of the southern Appalachians. I could not get a full charge but could get just enough power to keep my phone going for seven days.
The bank held about two total charges for my iPhone, and even on a trip where there was rain every day, I could get enough sun to keep the phone functioning.
My favorite thing, though – is that it has wireless charging. I can lay my iPhone on it and get a charge. I liked having less wires.
---
5. Fast Charging Plug
I carry a larger power bank, so I'm not racing to town to charge devices. I also carry a fast-charging plug with a more durable power cord.
The fast plug also means I don't have to hang around town all day trying to charge my power bank, phone, headlamp, InReach, etc. If not staying overnight, I usually want to resupply, charge while I eat, and then start hiking.
The picture above is the charger I have used for the past couple of years. The new Anker 711 Charger (Nano II 30W) I recently purchased is supposed to be about 3x faster. I'll post an update when I've used it a few times.
---
6. iPhone Charging Cord
I like these nylon cords because they are very durable. Long-distance hiking can be tough on cords and electronics, and I've severed and damaged many cords. This has never happened with these nylon cords.
The Anker USB-C to Lightning cord is more expensive than other USB-C to Lightning cords. I publish Anker because it is a quality brand, and their products have always lasted me longer than comparable products from brands I've never heard of in most cases. They always provide a better payback.
---
7. Nitecore NU25 Headlamp
Nitecore also has the NU20, which weighs 1.7 ounces, but I like the NU25 because it offers three different lights, including the orange/red light. I also like the 160 hours of light.
This is already a lightweight headlamp, but I still changed the head strap for a line and loc that you can see in the picture above. This saved me about 1.5 ounces.
This is one of the lightest headlamps on the market and is durable. I also rarely charge it since I use it for only about two hours daily.
The beam on this light's lower settings is bright enough for me to night hike and see the trail in front of me.
How I Store My Backpacking Electronics & Gadgets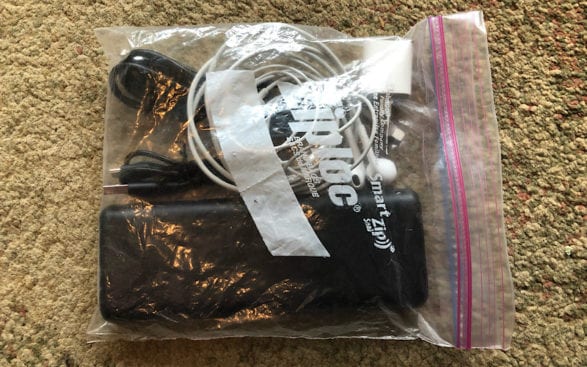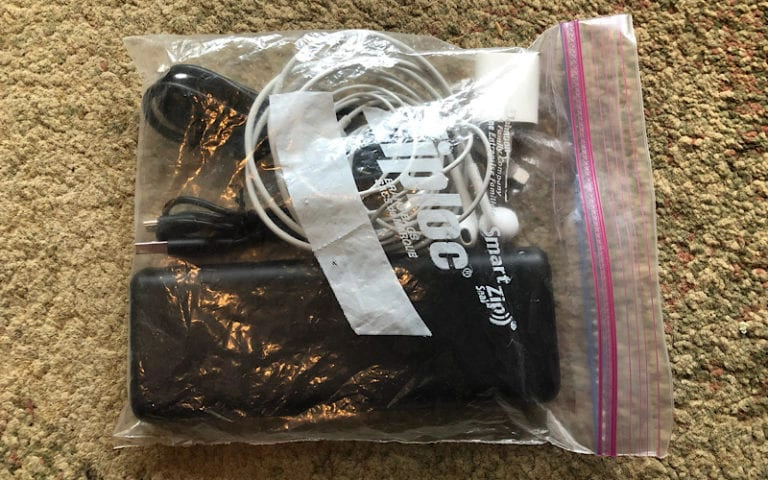 The method I use to carry and store my backpacking electronics and gadgets is very sophisticated, as you can see. Like duct tape and dental floss, the Ziploc bag is a critical piece of my gear. I've used it to store my electronics when backpacking for about 30 years, and I have yet to have any moisture issues or find a better or less expensive storage sack.
I also place a small moisture absorber in the bag since it can get moist due to humidity. I usually keep the electronics bag in a stuff sack. I carry two Outdoor Research stuff sacks, one for food and the other for everything else. Outdoor Research makes the most waterproof stuff sacks I've used.
Final Thoughts on Backpacking Electronics and Gadgets
I carry fewer electronics than some and more than others. My battery is a little heavier, but I like its freedom. Many of my other rechargeable electronics depend on my battery, so it is important the battery be dependable and durable.
Knowing my family has peace of mind is also important, and since I hike solo, it is also nice to know I can communicate if something happens on the trails.
Q&A
Will cold weather affect my battery?
Cold weather will affect the charge life of any of your rechargeable electronics. I often put my electronics bag in my sleeping bag or under my quilt if temperatures drop below 40 degrees.
Can I text on my InReach Mini?
You can text on your InReach Mini via your cell phone. They connect through Bluetooth. The numbers in your text do not have to be already set up.
How long will the Anker Battery 20,000 last?
If I use my electronics only when needed and am conscious of not leaving them turned on unnecessarily, the battery lasts approximately seven days.
This page has affiliate links for products and gear I purchase and use. If you click on one of these links, I receive a small commission at no extra cost to you. There may also be Amazon links and as an Amazon Associate I earn from qualifying purchases.If this review has been helpful, please consider purchasing through the links above. Proceeds are used to purchase additional gear for review. Thank you. You can read more about my thoughts on affiliate marketing.