Rechargeable Headlamp
This Fenix HM50R Headlamp Review describes a well-made rechargeable, exceptionally durable headlamp. With a steel casing, and at only three ounces, this lightweight and highly water-resistant headlamp will not break or go out at night when I'm frantically searching for a camping spot in the rain.
Table of Contents
Hiking Style
My hiking style has evolved over years of long-distance hiking and backpacking. The days are usually long, and I often spend time walking in the dark. Early mornings before sunrise and late afternoons after dusk usually mean I spend at least 2-4 hours in the dark each day.
The amount of time I used my headlamp, combined with the rugged terrain and conditions in which it is used, means I need a durable headlamp with good burn time that is weather resistant.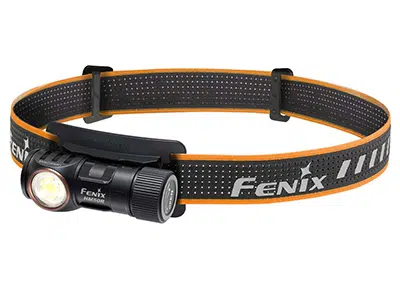 The HM50R is durable and bright. This is the headlight I grab when I need a dependable light that will hold up to heavy use.
Fenix HM50R Headlamp Review Criteria
I've never used a rechargeable headlamp and was a little skeptical of weight and burn time, so I researched before making my choice. This included reading too many headlamp reviews and squinting at A LOT of manufacturer specifications written in tiny print. My primary criteria are those listed below.
Lumens/Light Beam
Burn Time
Weight
Water Proof
Other criteria, like how it looks, comfort, durability, beam focus, and beam direction, are also important but not as critical.
Lumens/Light Beam
A lumen is a technical measurement used to determine the amount of light emitted by a light source. The lumen rating indicates how bright a headlamp shines with a fully charged battery. The more lumens, the brighter the headlamp.
Lumens aren't the only thing to consider. There is also the beam's focus and distance. Do you want a wide beam around camp or a more focused beam to climb or work on small tasks? If running or moving fast, you may also want a beam with more distance. All of these things need to be considered.
The final consideration for the beam is the ability to adjust the light. Some lights are fixed, while others allow you to tilt and move the shaft up and down. The ability to change the beam is especially essential when hiking in the dark on varied terrain.
Headlamp Burn Time
Burn time can be a tricky measurement on many headlamps. Today's lamps are becoming more and more sophisticated. Some lights will now adjust your light based on your environment. They will also reduce the amount of light based on time and heat levels, with the ultimate goal of conserving your battery life.
It is also tough to compare lights. Some lights that indicate 500 Lumens max for 2 hours may only provide the 500 Lumens for the first few minutes before dimming the light and ramping down. The lamp may offer the maximum number of Lumens, but not consistently.
The Petzl NAO is a good example of a self-adjusting headlamp that senses ambient light and adjusts based on lighting needs. This is done to preserve the life of the battery.
Headlamp Weight
Weight is not a show-stopper for me, but the ounces add up. Over long distances, these can make a difference in fatigue and essential wear and tear. I've used lights as small as key chain tabs that weigh less than an ounce, but these are a PIA if hiking or working around camp. Weights vary greatly, but there are now many terrific headlamps that are 3 ounces or less.
Water Proof Headlamp
Waterproofing is not a big deal for many people, but I've gotten caught in many rain storms at the end of the day. I've also had to make mad dashes for the bushes in the middle of the night, and I won't mention how many times I've dropped my light in puddles. If I cannot have waterproof, I at least want water-resistant.
The IP rating determines how resistant a headlamp is to solids and liquids. My goal is a headlamp that is at least resistant in both categories.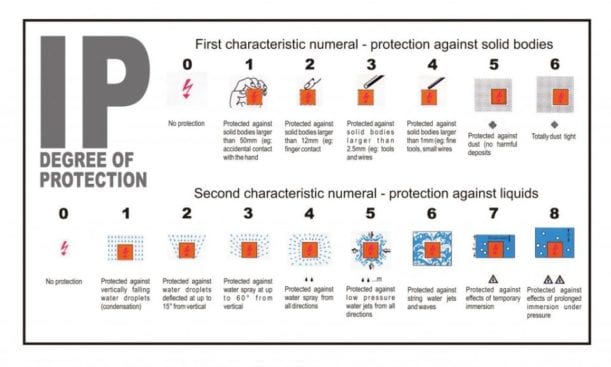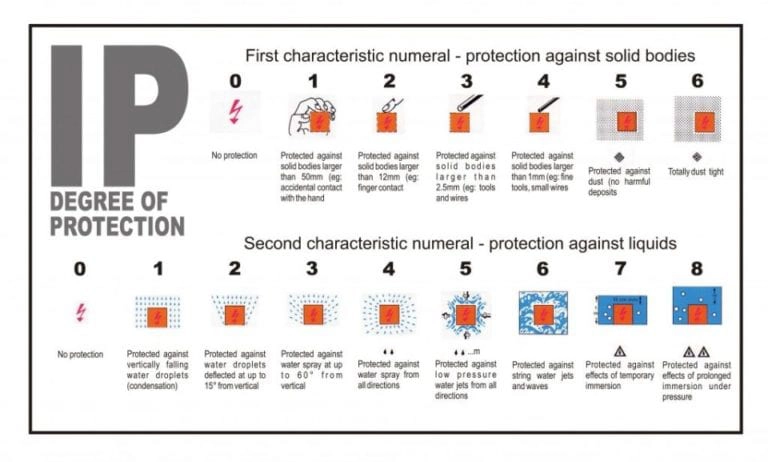 Not Headlamp Priorities For Me
Priorities differ by the hiker, and just because something is not necessary for me does not mean it is not essential to another hiker, climber, or runner. The sport or activity determines the type of headlamp someone needs. A few critical features to many hikers, bikers, climbers, etc., are listed below.
Red Light
Camping or hiking with a group of people makes a red light setting a priority for many people. The red light on your headlamp will help prevent you from blinding your neighbor. It also helps you retain your own night vision, including your peripheral vision.
Beam Focus
The number of meters light is thrown, or its distance is very important for runners and people moving fast. This is also the case for climbers judging that next pitch at night or early in the morning. In these instances, having a good beam distance is critical.
Fenix HM50R Rechargeable Headlamp Choice
I give you the newest addition to my Backpacking Electronics & Gadgets kit – The Fenix HM50R Rechargeable Headlamp. I've tested this headlamp and am pleased with its performance. It is a high-quality headlamp that is well made. There is not much I don't like about this headlamp, and I'm looking forward to putting it through its paces on a longer hike.
Fenix HM50R Headlamp Decision
I researched a lot of headlamps before making a decision. Gear is essential when you are miles away from the closest town, and the town probably has no outfitter anyway, so I need a dependable headlamp.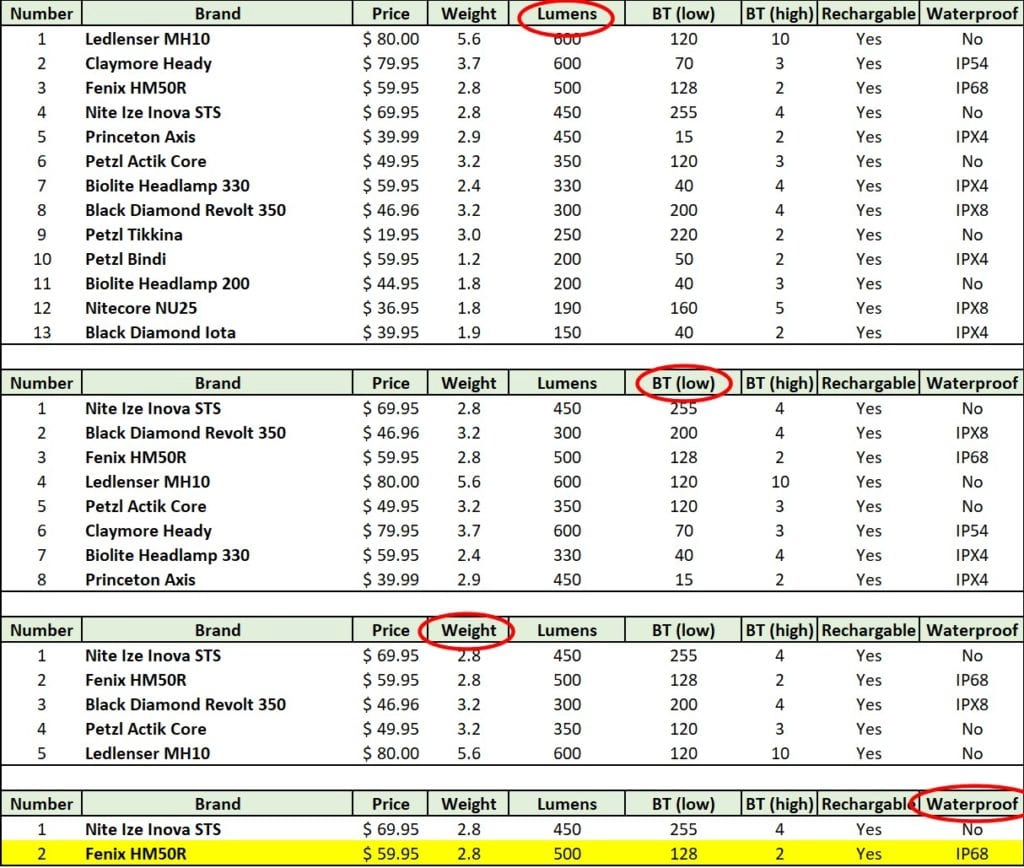 After researching all the headlamps with good feedback, I listed the critical specifications and began sorting them. The final result was surprising, and the headlamp was impressive.
Sorting Out the Winner
Lumens – 300 Lumens is the minimum amount of Lumens I want in my headlamp. I want to see the rocky ground when I am hiking fast in the dark or sprinting (hopefully not too often while backpacking). I sorted all 13 candidates by Lumens first.
Burn Time (BT) – After sorting by Lumens, I sorted by burn time next to narrow the field to 8 headlamps. I used "low" when sorting because it gave me a better idea of my real burn time. When I say "real," I mean the settings I will use most often.
Weight – Sorting by weight left me with five candidates. I liked each one of these headlamps but wanted to keep my weight under three ounces.
Waterproof – The final sort provided by the winner. In this case, it was the Fenix HM50R Rechargeable Headlamp! Not only did it meet my other criteria, but it also had a top-notch IP68 rating for solids and liquids! A 3-ounce rechargeable WATERPROOF headlamp. Yes!
Fenix HM50R Headlamp Review Specifications


The Fenix HM50R Rechargeable Headlamp meets the specifications that I need and has a few more that I appreciate. The headlamp has a durable metal shell and is very easy to use. The HM50R is built with quality in mind.
HM50R Headlamp Package Contents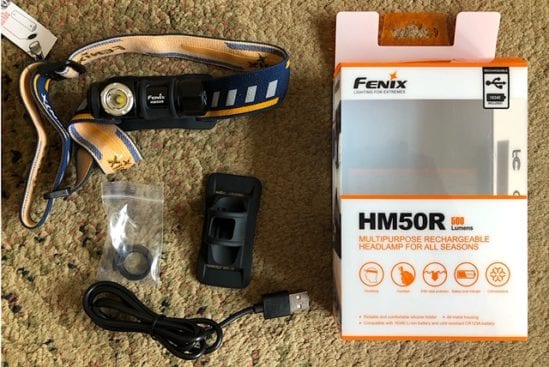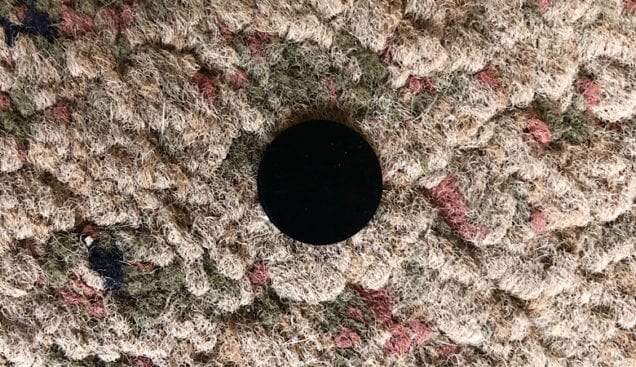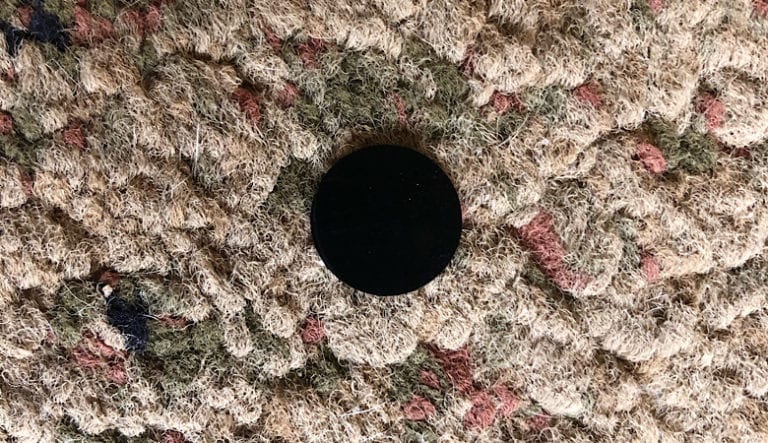 Package contents include the headlamp, inserted in the lamp holder and mounted on the head strap. The battery is also installed, with a small plastic cover to keep it from discharging.
Don't forget to remove the little piece of plastic film, or the headlamp won't work. Unscrew the cap to the battery holder, and you will find the small round (black) piece of plastic lying on top of the battery. I missed this at first and thought I had purchased a defective headlamp.
Accessories include the Micro USB rechargeable cord, spare lamp holder, extra port cover, and instructions and warranty. The instructions are easy to read, and they have 5-year free repair on everyday use items as part of the warranty.
HM50R Headlamp Materials/Components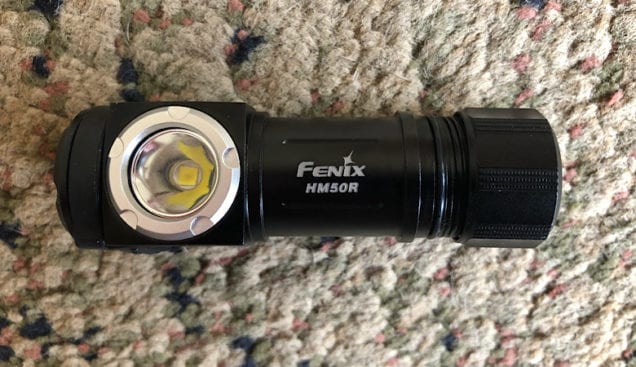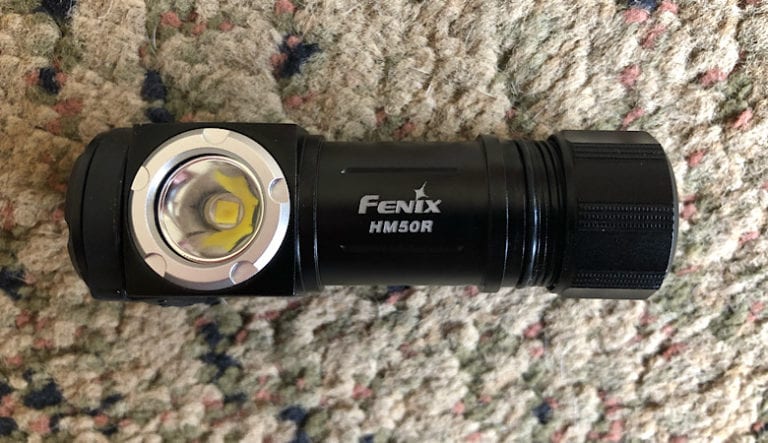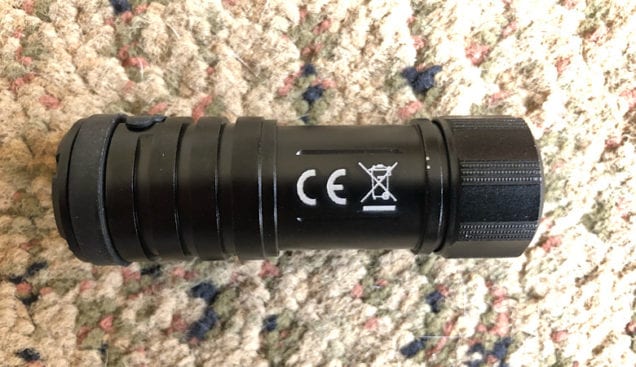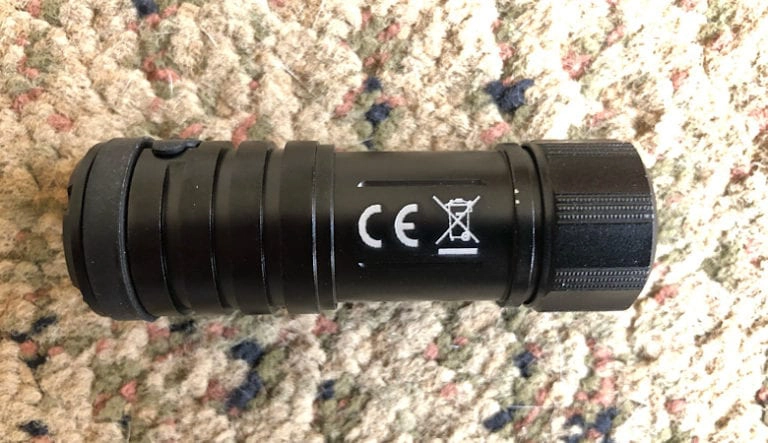 The lamp itself is made of a solid aluminum casing, and one of the things I like the most is the ease with which I can access the battery. In the first picture above, you can see the cap on the right side of the lamp that easily screws on and off. The ridges on the left side make it very easy to grasp and turn the lamp in its holder.
The XL-L2 white LED bulb has a reported lifespan of 50,000 hours. The aluminum casing and toughened glass cover are shock resistant.
The headlamp comes with an ARB-L 16-700 Li-ion rechargeable battery. It is also compatible with a CR123A and 16340 battery. The 16340 provides additional battery life when on the Turbo setting.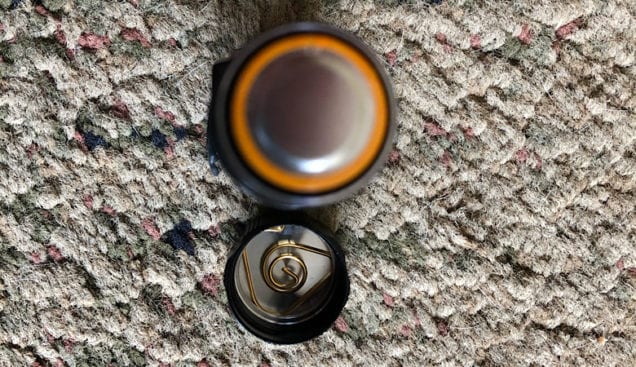 The USB port cover is a thick rubber and waterproof if secured properly. If loose, though, the micro USB port is also waterproof.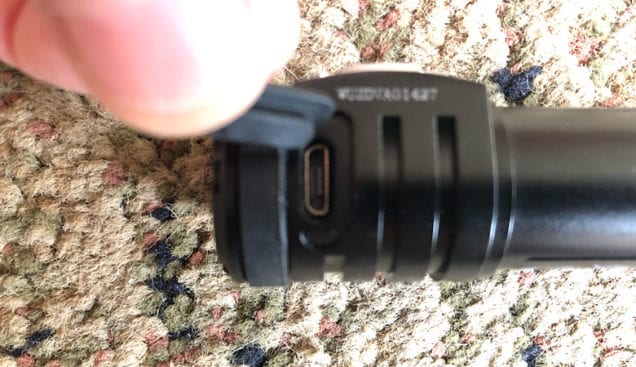 Finally, the sweat-resistant headband is comfortable. This is not always the case with headlamp headbands. The manufacturer claims the headband is sweat resistant, but I did not sweat enough to determine if this was accurate or not.
Fenix HM50R Headlamp Review -Performance
This headlamp performed as well or better than my other headlamps. This performance was a pleasant surprise since I was unsure what to expect from a rechargeable headlamp. The low beam worked fine in my tent, and the medium was fine for hiking. I only need the high or highest beam if there are noises in the brush.
Basic Functions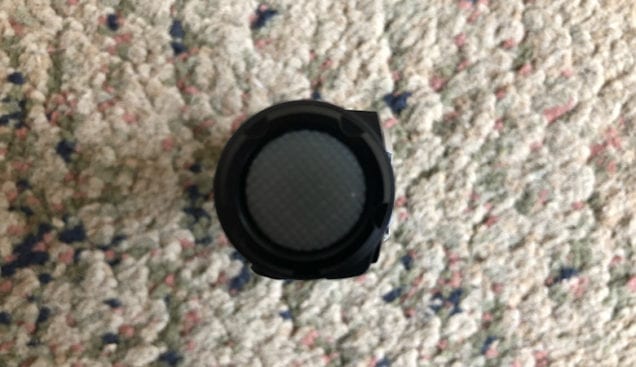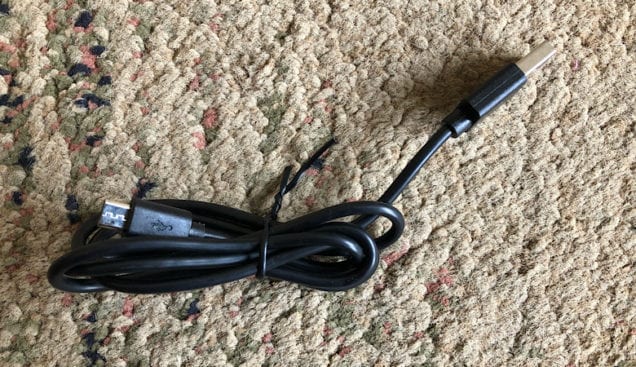 The ON/OFF switch is simple to use. Depress the button above for about a half-second to turn on the headlamp. It comes on at its low setting. The switch also has an excellent solid click and is easy to use. After you turn it on, click one more time for each stage. Holding it for another half-second will turn it off.
Determining the battery status is easy and uses the same "ON/OFF button. Give it a quick click, and you will see colored light.
Green Constant = >80%
Green Flashing = 50% – 80%
Blue Constant = 20% – 50%
Blue Flashing = <20%
Headlamp beam adjustment is as simple as twisting the headlamp in its rubber holder. Removing the headlamp from the holder and using it as a small flashlight is also nice. The rubber holder is very secure, but it is also easy to adjust and remove the headlamp if necessary.
Charging the headlamp is easy with the USB charger cord. It took about 75-90 minutes to get a full charge, which was less time than I had anticipated.
Comfort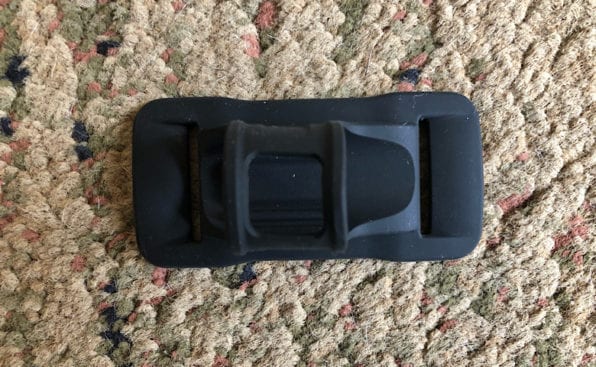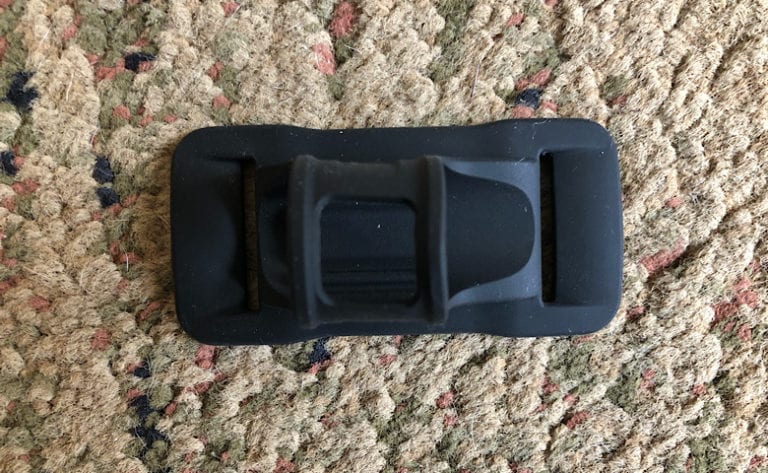 One thing I like is the comfort after extended wear. Many of my other headlamps irritate my forehead, but this one does not. The soft rubber lamp holder is very comfortable, and after the sky lightened, I forgot I even had the headlamp on my head.
The headlamp does warm up while in use, but I never feel the heat until I grab the lamp to take it off, even on Turbo or High. Heat is not an issue.
Light Beam Settings
The headlamp has four settings (Turbo, High, Medium, Low). Below is my opinion on each stage.
Low – 4 Lumens are adequate for sitting in my tent and puttering.
Med – 30 Lumens are adequate for camp routines and casual hiking.
High – 130 Lumens are more than enough for brisk hiking.
Turbo – 500 Lumens were blinding and allowed me to spotlight the bushes around camp to determine what was growling.
The Turbo setting is interesting. I left the light on Turbo while I hiked, and it downshifted to high on its own after 17 minutes. I could leave it on high for about 10 minutes before resetting it to Turbo again. This time it ran on Turbo for about 7 minutes before dimming again.
Having the headlamp downshift on its own was initially a little disconcerting but expected since the instructions state the lamp will downshift after it reaches a specific temperature. I eventually quit noticing the shift in light levels.
Light Beam Distance/Focus
The light beam itself is a nice white light. Nothing is glaring or abrasive about it, and it does not have that yellow color I've sometimes experienced with other headlamps.
Most importantly, the light beam is accurate in its distance. The light was also well focused, providing an intense, centered beam and a good light radius. Twenty meters @ 30 Lumens is plenty for night hiking unless sprinting, which would probably mean I am running FROM something. In this case, 130 Lumens or even 500 Lumens would work fine, and the 500 Lumens might blind my pursuer.
Fenix HM50R Headlamp Review – Final Thoughts
This is a very well-made rechargeable headlamp, and at 2.8 ounces, I am impressed with the quality. From the metal casing to the sharp click of the responsive ON/OFF switch in this waterproof light, Fenix does not cut any corners. I look forward to taking this headlamp on my next long hike.
Post Hike Thoughts
I have now used this headlamp on several trips and had nothing but positive experiences. It has been dropped on rocks several times, and the steel casing has protected the headlamp.
The lamp is VERY bright at its highest setting, but I rarely need it. I mostly use the medium setting around camp and when night hiking. There is plenty of light and battery life in this setting.
One of my favorite things about the lamp is how fast it charges to full strength. On one hike, I got caught out after dark and had not charged the light. I could charge it in about 30 mins. with the battery life I needed to finish the hike easily.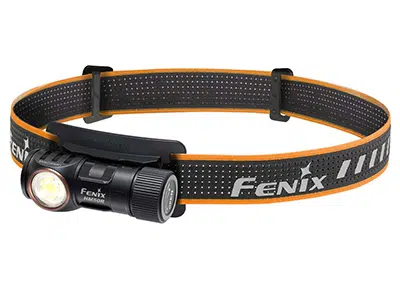 The HM50R is durable and bright. This is the headlight I grab when I need a dependable light that will hold up to heavy use.
Related Posts