After a few trips, it is time to do a Zpacks Arc Haul Review. The Arc Haul is an ultra-light backpack from the same company that makes some of the best Dyneema shelters on the market.
Earlier this year, I did a post on Choosing A Backpack. The post took readers through my thought process of choosing a new backpack and my shortlist. The Arc Haul was the overall winner and has performed well on trips where I keep the weight lower.
The Zpack Arc Haul is a comfortable backpack that keeps me cooler and works well in humid climates where I sweat more.
Pros:
The Zpack Arc Haul backpack is comfortable enough when on shorter hikes with less weight and hiking on established trails.
The pack offers flexibility in my ability to adjust my load size. I can cinch it tighter or expand it for heavier carries.
The pack is made of quality materials, and it is a well-made pack. The materials are durable and it is highly water-resistant.
Cons:
The Shoulder straps are too far apart for my shoulders. Although the straps are S-shaped, the tops do not curve enough, and my shoulders become sore if I carry a lot of weight.
With this backpack, I have to keep the weight at 20 pounds or less. Anything more, and the pack is uncomfortable for me. Zpacks states it will carry up to 40 pounds, and I believe it will, just not comfortably on me.
The side pockets are a little shallow and tight. It would be nice to have them looser, especially since the pack's bottom pushes out to the sides more than others I have used.
ZPack Arc Haul Summary
| | |
| --- | --- |
| Size: Small Backpack & Belt | Weight: 22.6 ounces |
| Volume: 62L | Weight w/Add-ons: 24.6 ounces |
| Frame Height: Small 19″ | Add-Ons: Roll-top, Shoulder Pouch |
| Material: 4.85 oz/sqyd Gridstop, 3.5 oz/sqyd Mesh, 5.3 oz/sqyd 3D Spacer Mesh | |
| Pros: Quality, Comfort, Versatility | Cons: Fit, Shoulder Straps, Side Pockets, Weight Capacity |
My Backpack Requirements
My backpack requirements for long-distance hiking have not changed much over the last few years.
Light Weight – Being lightweight is essential on long-distance hikes. The days are long, so I keep my backpack light to combat fatigue. I want to keep the pack's weight itself @ less than 2 pounds.
Durability – There is no trail where my backpack has not fallen down a mountain. Luckily, the pack has rarely been on me at the time. I even had my Osprey run over on the CDT by a truck. The ability to hold up to rough conditions is crucial to me.
Size – I want my pack to be between 55L – 65L, preferably closer to the high end. I usually go into town about every 3-5 days, but I carry a warmer sleeping bag or quilt and cook on my hikes. I need a little more volume.
Water Resistant – I don't use a pack cover anymore. The contents of my pack are in waterproof stuff sacks and a compactor bag. It is nice to have a pack that at least repels rain and dries quickly.
Mesh Pouch – A large mesh pocket on the exterior of my pack is essential. I carry my tarp tent in this pocket and use it to hold wet gear.
Frame – Because there may be times when I carry 25 lbs or more due to large amounts of water, I want a pack with a frame. Having 25+ lbs on my shoulders for 10 hours or more is uncomfortable.
Water Bottle Pockets – I need a bottle pocket on each side of the pack since I no longer use a hydration bladder and sleeve.
Zpacks Arc Haul Review – First Glance
The Arc Haul Backpack was set up well straight out of the box. All straps were in place, the mesh panel was centered, etc. Finally, the backpack was ready to load up and go!
I appreciated the quality as I turned the pack over and admired it. The stitching was tight and even, and all straps were nice and long if I needed a little extra. The tape inside the pack, over the seams, was even and well-placed. They had done an excellent job constructing the backpack.
Zpack Arc Haul Review- Components
Frame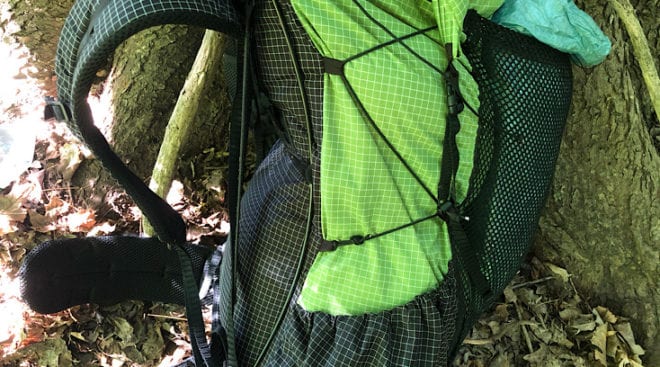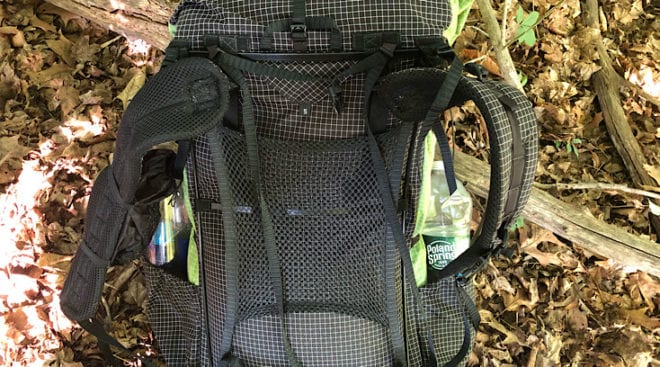 The Zpack Arc Haul frame is one of the components that sets this backpack apart from its competitors. The structure comprises three metal bars that run horizontally across the backpack and connect to two carbon stays (poles) that run down the side of the pack. A large mesh panel is connected to the corners of the bars and rods with straps.
When the mesh panel straps tighten, they pull the two carbon poles on the sides into an arc, which you can see in the picture above. This arc results in a gap between the mesh panel and the backpack. The mesh panel rests against your back and allows air to flow between the Hiker and the pack.
I found the arched back relatively comfortable when hiking. The gap kept my back cooler, but the mesh panel rested between my shoulder blades. It did not rub my back, but I noticed the panel shifting between my shoulders.
Before adjusting the pack, watch the Zpacks adjustment and fit video. I did not find the backpack challenging to adjust after watching the video and quickly checked the load and adjusted the arch.
Backpack Torso Adjustment System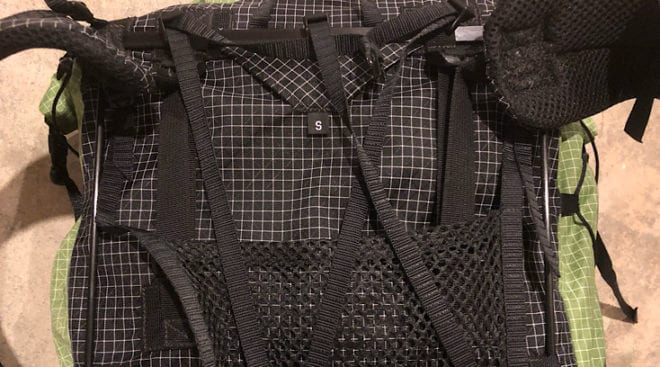 The Zpack Arc Haul's torso height adjustment system makes it unique in its category. This patented system makes it easy to adjust for your specific torso length, which offers flexibility, and a particular fit not often found in other backpacks.
Shoulder Straps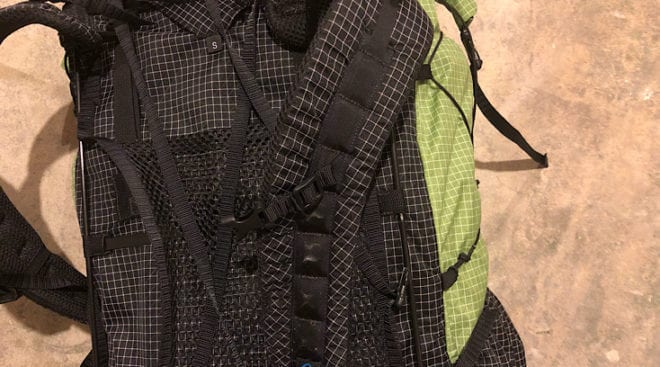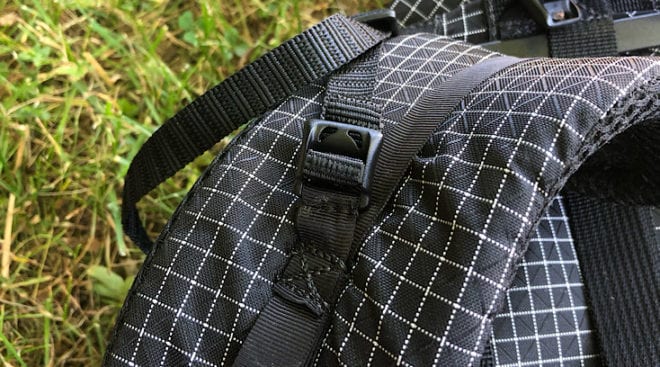 The shoulder straps are "S" shaped and have adequate padding, similar to some of my other packs like the ULA Ohm. They are also attached to the backpack frame and can be adjusted for your requirements.
The straps are where I struggled. As a female, my shoulders are slightly narrower than some men's. My Ohm's straps are also "S" shaped, but they have more of a curve. I found the Arc Haul's straps too wide and tried to use the sternum strap to pull them in tighter. However, this made the straps uncomfortable for me, and after a few hours, my shoulders became sore if I was carrying a lot of weight.
Hip Belt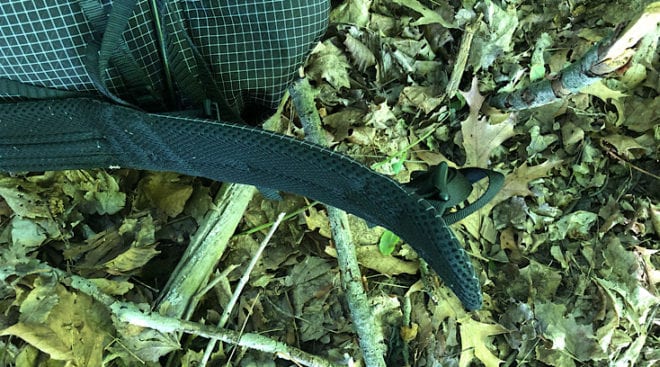 The Zpack Arc Haul hip belt has V-Style webbing that allows you to adjust the belt's top and bottom. The hip belt can also be removed if you lose or gain weight.
I found the hip belt comfortable on a shorter hike, but I spent a lot of time adjusting this backpack when carrying more water on the Colorado Trail. By the end of the first week, I had some pretty bad sores on my back just above my hips. My pack with food and water was about 23 pounds.
Over the next five weeks, I lessened the backpack's weight and adjusted more of the weight to my shoulders. The sores healed, but the hip belt was never comfortable over 20 pounds.
Side Pockets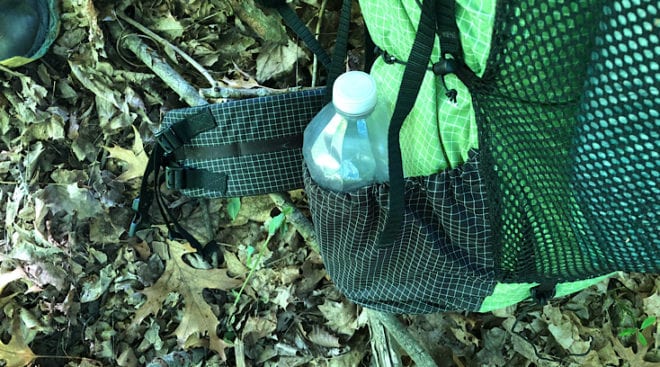 The side pockets are made of the same material as the backpack and have elastic around the top to hold water bottles. Unfortunately, the pockets were a little too small and shallow for me. They were tall but too tight, and my bottles would pop out when I was climbing or scrambling. A couple of snags also yanked out the bottles.
When wearing the pack, getting the bottles into and out of the pockets is tough. If there is anything else in the pockets, you better have tiny water bottles. Losing water bottles is not acceptable in a dry environment, especially if you don't hear them fall!
Zpack Arc Haul Review – Materials
Backpack Fabric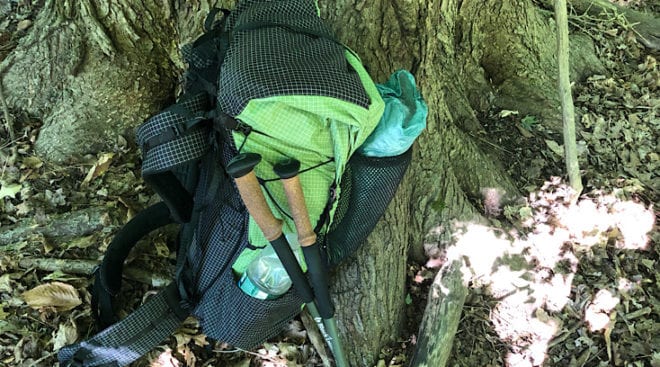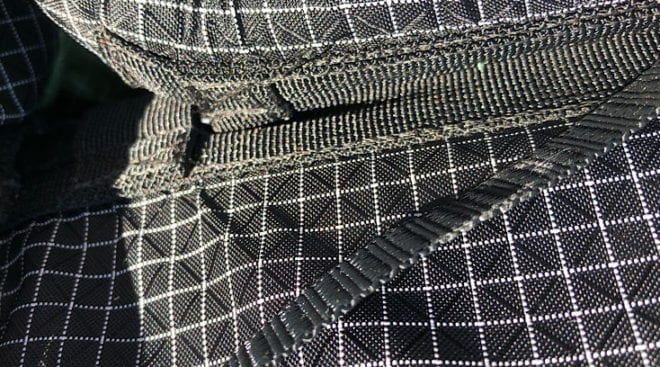 The backpack fabric is made of 4.85 oz/sqyd Gridstop Fabric. This HDPE fabric is durable and holds up well in off-trail hiking. I've used the backpack during bushwacking and have had no tears or abrasions.
The inside of the pack has a polyurethane coating, and the seams are well-taped. This tape makes the pack highly water-resistant, but I still use a compactor bag for my quilt and clothing. In heavy downpours, I was pleased with the protection of the fabric. While not waterproof, as stated, it was water-resistant in all but heavy rain.
The pockets are made from the same exterior fabric instead of mesh. I prefer this for off-trail backpacking. It's no fun to realize that your water bottle is gone an hour later.
Mesh Fabrics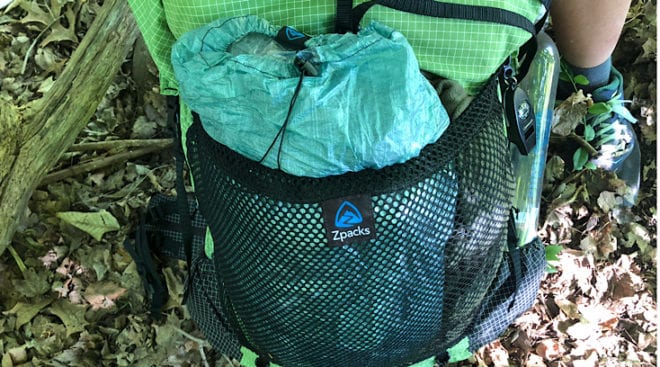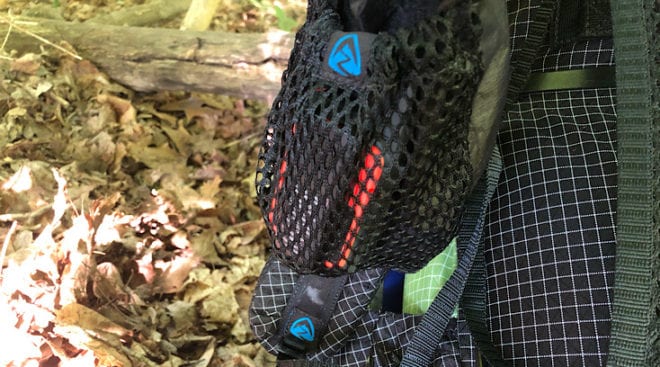 The large mesh pocket on the back of the panel is made of .3.5 oz/sqyd mesh. At first glance, I thought it seemed a little flimsy, but this mesh has held up well in some harsh off-trail conditions. It has yet to get any tears or snags.
This same mesh is used on the front of the shoulder pouch where I keep my Garmin InReach Mini. This particular sleeve is perfect for the little GPS device. Remember that there is an extra charge for their pockets and pouches.
Zpack Arc Haul Review – Additional Components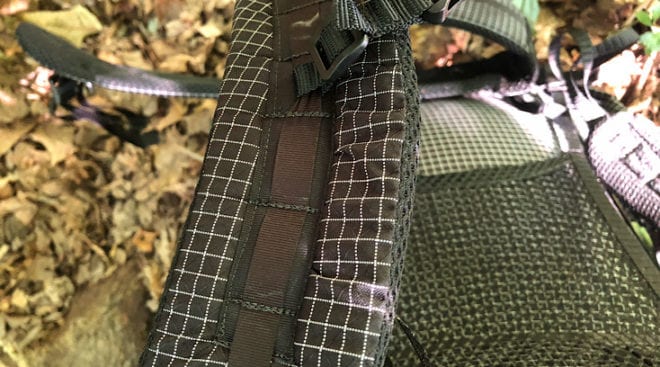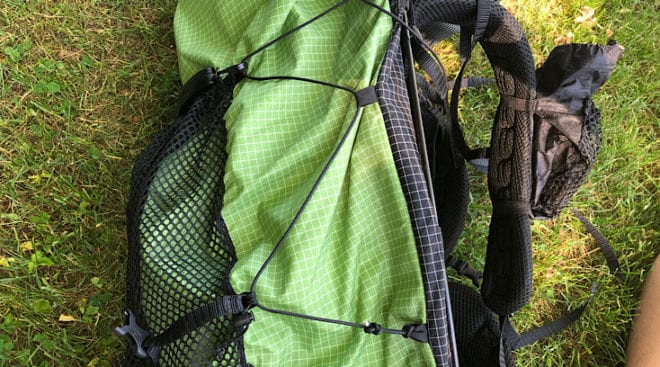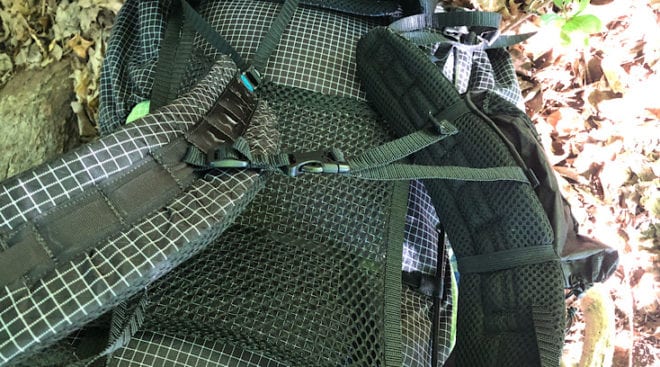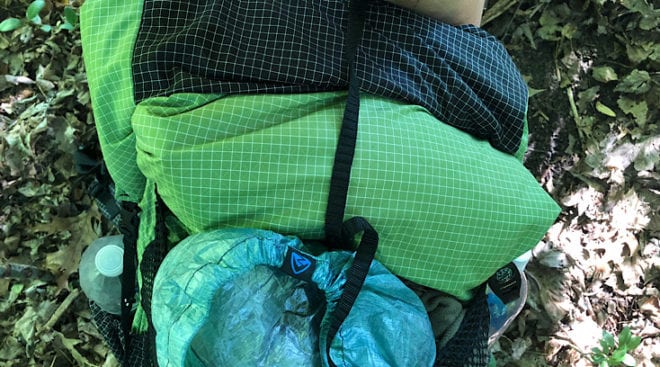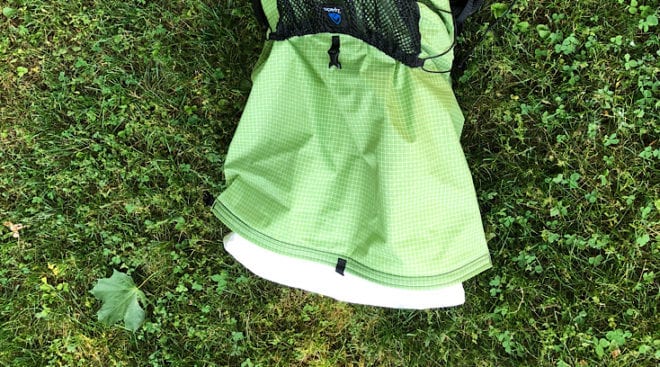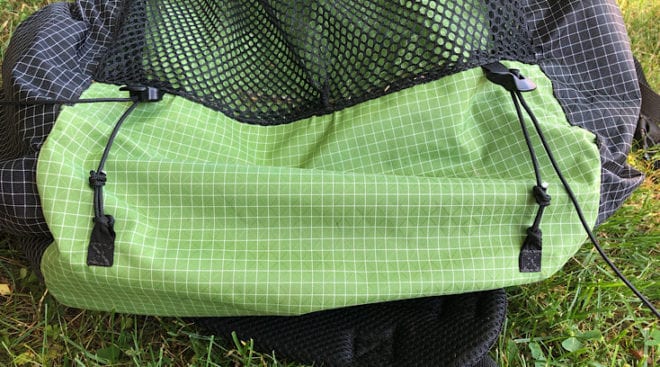 The Arc Haul provides additional standard components that further support the flexibility theme of the pack. Daisy chains on the shoulder straps and hip belt allow you to adjust straps (sternum) or add pouches and pockets.
Side compression straps and a long top strap make it easy to adjust the Arc Haul for larger or smaller capacity hauls. In addition, the strap and the long top sleeve will allow you to carry a bear canister if needed. The long full sleeve and straps on the bottom of the pack also will enable you to increase the size of your carrying capacity by strapping on items if needed.
Zpack Arc Haul Review – Add-Ons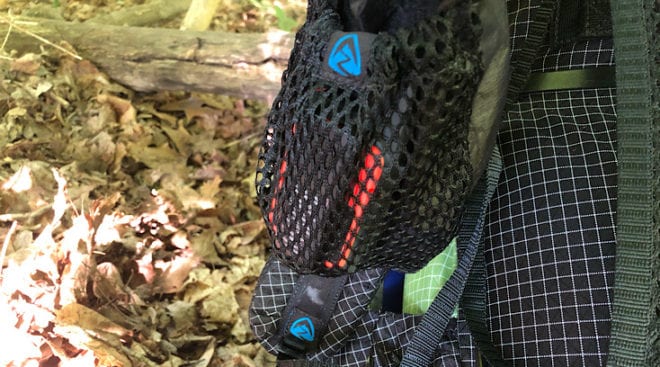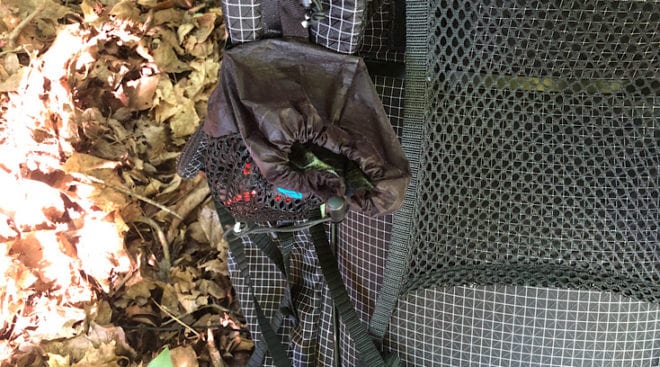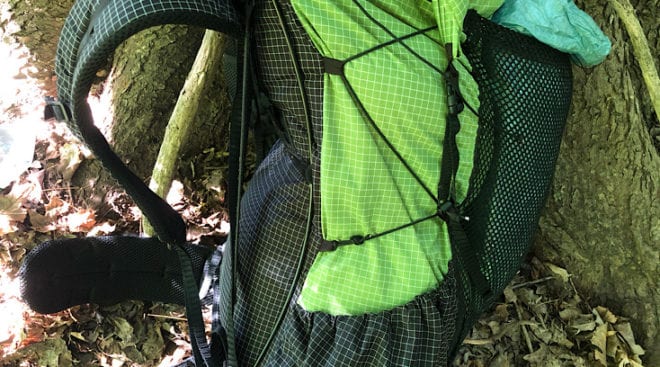 I have two add-on components for my Zpack Arc Haul. One of these is the shoulder pouch above. What I like about the shoulder pouch is the small mesh sleeve on its front. It is PERFECT for my Garmin InReach Mini. The mesh sleeve is tight and holds the GPS unit snug when I'm scrambling or bushwacking.
I'm not too fond of the shoulder pouch because it is a cinch sack and not waterproof. This means I cannot keep my phone in it when it is raining. It is also not deep enough for my iPhone, and I have one of the smaller phones.
There is another picture above of the ULA shoulder pouch. This pouch is waterproof and the perfect size for my iPhone. The only issue is that there is no place for the InReach Mini. If I could merge both pouches, I would have the perfect shoulder pouch!
The other component is the roll-top closure straps, which you can see on the side of the pack in the picture above. These are a must-have for me on all my roll-top packs, and I was surprised they were not standard on a pack with such a long top sleeve, especially at the price point.
Zpack Arc Haul Review – Final Thoughts
The Zpack Arc Haul Backpack has many positive attributes, but it is not suited for my body type. I found the pack comfortable enough with lighter weights on short-section hikes but not for longer hikes requiring more weight between resupplies or more water.
This page has affiliate links for products and gear I purchase and use. If you click on one of these links, I receive a small commission at no extra cost to you. There may also be Amazon links and as an Amazon Associate I earn from qualifying purchases. You can read more about my thoughts on affiliate marketing.