April 23, 2022
Last night I checked my maps and realized I was only about seven miles from the cutoff to Mormon Lake. I was going to send the box home that I had mailed there and hike on since I was now doing more miles, but the call of town food was stronger with more miles hiked. I did not know if I would get much food since the little restaurant was hit-and-miss, but I would at least get my box and have a general store with snacks.
I enjoyed visiting small western towns. Each one had its unique personality and culture, and after multiple days with few people, sometimes it was nice to chat and catch up with local townspeople.
I was up and moving early. It was a cold morning, so I packed up fast, and standing next to my tent, I grimaced in pain.
My new HOKA Mofates was not loosening up as I had anticipated, and I had a blister, my first blister in a long time. Even worse, the shoes were pressing and rubbing, earning callouses on the sides of my feet, making them sore. I had worked hard for these deformed feet, and these shoes were ruining them!
I hobbled down the dirt road and into the Ponderosa forest, moving fast to build up heat on the relatively flat tread. It only took about ten minutes for my legs and feet to loosen up and for my feet to become numb to the shoe pain before I was cruising. Well, 50-year-old cruising.
I passed Highway 3, where there were some unopened gallon jugs of water, but like the ones at the trailhead this morning, they were frozen. It was amazing how cold it was up on the plateau. Since there was still a little water left from last night, and it was cold, I kept going. I could run dry for the last few miles to Mormon Lake.
I finally reached the well-marked Navajo Spring Trail turnoff and hooked a left for my one-mile walk into Mormon Lake. The trail was well-maintained, and it was not long before I reached the spring with small troughs holding plenty of water. If you did not want to go into Mormon Lake, this would be a nice stop to load up on water and take a break.
I passed a fenced-in area with baby Aspens being introduced to the area. The plateau weather should be perfect for them. I loved Aspens with their musical, fluttering leaves, and their bright gold autumn colors were striking. I once read that the large living organism on the planet was an Aspen Grove – cool.
The hike down to Mormon Lake was moderately steep in a few sections and relatively rocky. I also think it was a little more than a mile, but the food was calling, and I made a good time.
I walked in from the edge of what looked like a remote western settlers' town – but more modern with its blocks of RVs and camps surrounding the edge of town. There were also paddocks with livestock milling about, and based on the number of trucks and camouflage, this was probably a popular gathering spot for hunters.
The town was small, with a few wooden buildings on the right side of the road and one long wooden building across the street holding the restaurant, post office, and general store. There may have been other businesses, but that was all I needed or remembered.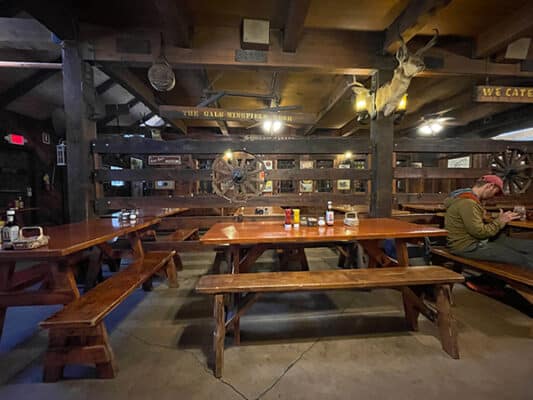 There was also a campground and a bathhouse where you could shower and, I think, wash clothes. As I came in from the woods, I also noticed cabins for rent. The town had almost everything a thru-hiker needed.
Two women passed me and smiled as I walked under the overhang in the front main building getting the lay of the land. They looked like locals, so I turned and casually followed them, trying not to appear stalkery. I watched as they entered the general store and then went inside.
The store appeared more targeted to tourists with many gifts and chachkie (I have no idea how to spell that and neither does Grammarly) items. The women were standing behind the counter and were told the post office was next door behind the building, and the restaurant was open for breakfast.
I wanted to sprint to the restaurant, but since small-town post office hours can be sketchy, I first walked around to get my package. A narrow hall brought me to a tiny window where I rang a bell and waited…and waited. A local walked in, and we stood and chatted until one of the women from the store came to the window and asked what I needed. It was as if we had not spoken five minutes earlier. I love small towns.
The restaurant was next, and as I sat down, I saw Stargate sitting a couple of tables down from me. We said hi, and the waiter came over to take my order. I was lucky. A new company had purchased the restaurant; this was the first week it was open for breakfast. Since it was a steakhouse, that is what I ordered, and breakfast was fantastic – steak, potatoes, eggs, and a giant biscuit.
Stargate and I chatted while I ate breakfast, and he left a few minutes after I arrived since he had been there a while. That was the last time I saw Stargate, but he appeared to finish in the few registers left along the trail the day before me.
Breakfast was a long leisurely affair as I chatted with the waiter and unpacked my resupply box. They were nice enough to let me hang out through shift change, probably because I tipped well and settled in to do a little work.
After digesting, I moved outside to sit in the sun until tourists started to arrive, eyeing me and my stuff spread out everywhere. Then, as more cars pulled up, I gathered my belongings, packed up, and walked me and my homeless-looking self out of town and back up the trail.
I was only about an hour out of Mormon Lake and moving slowly on too much calorie stuffing when I found a nice grassy spot and spread out my quilt and tarp tent to dry some more while I napped. An hour later, I woke up feeling refreshed and spent the rest of the late afternoon strolling slowly along the plateau.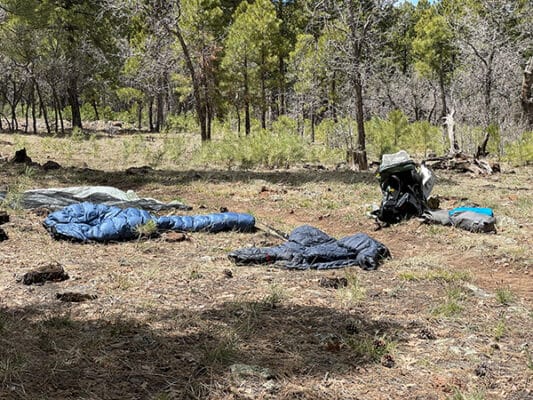 Coming around a corner, I saw the hoard's mustang parked up alongside an old forest road, and a few minutes later, I spotted Sassy making camp and setting up a grill as he waited for the hoard to arrive. Sassy and I chatted for a few minutes, and I loaned him my lighter to light his grill before moving on down the trail to find camp about a mile further.
Locating a good spot to camp is not always easy on the plateau. Even though it looks grassy and flat, it is often quite rocky, with what looks like scattered volcanic rock everywhere. I often find the best spots on the pine needles beneath the Ponderosas, and this was where I camped about 100 yards off the trail. There was no stealth camping out here, but there was plenty of vast open space to find a spot.
As I ate dinner, I felt them watching me and looked up to see a small herd of elk standing amidst the trees. There were a lot of elk out here, and I had even seen a couple of antelope, but they were wary of people, which was no surprise if the volume of hunters at Mormon Lake was an indicator of the amount of hunting done in this region.
I wished them well and raised my hand as they silently melted back into the trees.