Updated Gear List for the Benton Mackaye Trail
My Benton Mackaye Gear list has a few new additions. All of the gear performed well, but there were a few quirks and failures.
My final weight without food and water, depending on the gear I used, was approximately 14.5 pounds. I carried more weight for the volatile shoulder season in the South.
I've updated this article to include a "Big Three" summary and added post-hike notes from the final section.
Table of Contents
Big Three Summary
My Big Three (Tent, Backpack, Sleeping Bag + Pad) changed during the hike.
Tents
The Aeon Li by "Tarptents" held up well to weather and wind, and I go through more details in Aeon Li Review.
The Hexamid by Zpacks is a tent I have owned since 2013. Mine weighs 13.1 ounces, but the current Hexamid is 14.3 ounces with its zippered vestibule and floor added. That's still pretty light! Recently, Zpacks discontinued the Hexamid, but you can still purchase the Hexamid Pocket Tarp with doors.
Backpacks
The ULA Ohm was the backpack I used on the first two-thirds of the BMT. ULA finds the right balance between weight and durability, as noted in the ULA Ohm Review.
The Osprey Lumina 60 was a pleasant suprise! This ultralight backpack by Osprey was light and comfortable at a great price point. I'll have this review up soon.
Sleep System
The Feathered Friends 10 UL Lark is the 10 UL Degree Sleeping Bag that has never let me down.
I used the Enlightened Equipment UL 20 Degree Quilt on the last 100 miles, and it performed well. The review is coming soon!.
The Thermarest Neoair X-Lite and the Nemo Tensor were both used on the BMT, and there was a clear winner for me.
I use the Gossamer Gear 1/8″ Thinlight Pad under my sleeping pads to keep them from sliding on Silnylon and Dyneema tent floors. I cut off a 2.5-foot section that weighs about an ounce. The pad also makes a great sitting pad.
What Exactly is "Light"?
Light, ultra-light, traditional – these backpacking categories are often debated in hiking circles.
I have "current" definitions below.
Base Weight – Pack weight minus consumables and the clothes you wear.
Consumables – Usually food, water, fuel, or whatever you consume as you travel.
Traditional Weight – Greater than a 30-pound base weight, or 25, according to who you ask.
Light Weight – 10 – 20 pounds
Ultralight – Less than 10 pounds, although some hikers say 12 pounds.
Super Ultralight – Less than 5 pounds and the weight of my purse.
I fall into the lightweight group, but if conditions are right (season, climate, etc.), I'll drop into the top of the ultralight range.
Safety is always a priority, so hike a safe hike and carry what works for you.
Benton Mackaye Gear List – Shelters
I used two shelters on this hike, and both held up well in varied weather.
Aeon Li by Tarptent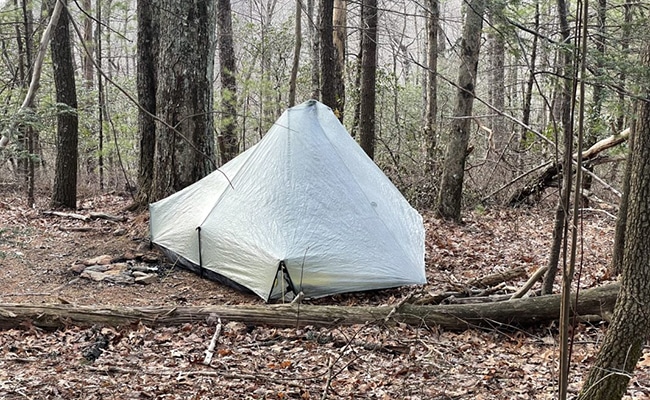 Shelter: Aeon Li by Tarptent – 17.3 oz
Extra Line: 1 oz
Tent Stakes: Zpack 6.5 Red Tough – 2.3 oz
Stuff Sack: Aeon Li Stuff Sack – .35 oz
The Aeon Li is a tarp tent I have wanted to try since Tarptent introduced it. I like the small poles in the corners that lift the tent's sides and hoped this would help prevent condensation.
The Aeon Li did not set up as easily as I had hoped. I messed with the straps and poles on the corners, trying to get a tight pitch. Unless the ground was very flat, I often found that the poles lifted a little, and I never got the back wall tight.
Because of this, the tarp tent flapped considerably in high winds, and the hope for less condensation was not realized. I ended up throwing my rain jacket over the sleeping bag's foot and keeping my sleeping bag hood tight so it would not rub against the wall of the tarp tent.
On a positive note, it kept heavy rain, and I did not have to worry about the netting pushing past the tarp tent itself and causing puddles, as I have on rare occasions when not paying attention to my Altaplex.
Right now, my shelters of choice are my Altaplex or Hexamid for tarp tent shelters and my Big Agnes Copper Spur 1P for shorter hikes where weight is no issue, and I'm doing more camping.
Hexamid by Zpacks
Shelter: ZPacks Hexamid – 13 oz (Current version – 14.3 oz)
Extra Line: 1 oz
Tent Stakes: Zpack 6.5 Red Tough – 2.3 oz
Stuff Sack: Included in total weight of shelter
My Hexamid has no zipper on the vestibule, but the newer version of the Hexamid does have a zipper, which I would prefer if I purchased another Hexamid.
You can't beat the weight of this fully enclosed shelter with a bathroom floor. The Hexamid has kept me dry in some torrential rains and wind.
The only drawback with the older version is condensation, typically a chronic symptom of Dyneema shelters.
I'm going to test the Duplex on my upcoming Northville-Placid Fall hike but will probably purchase the new Hexamid for next April's Arizona Trail hike.
BMT Gear List – Backpacks
OHM 2.0 by Ultralight Adventure Equipment (ULA)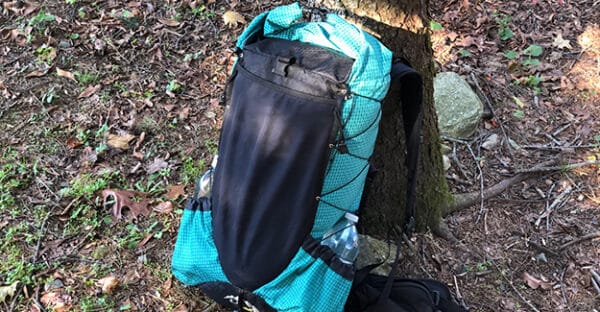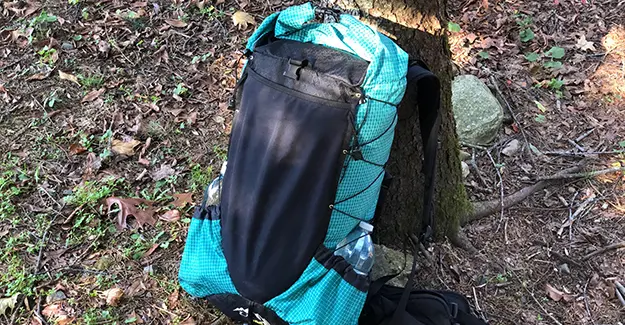 Backpack: ULA Ohm – 36 oz
I had planned to take my Hyperlite Junction Backpack, but after loading it down with 25 pounds, I did not find it as comfortable as my ULA Ohm. The Junction is a lighter backpack, but it pulls across my chest. This is a personal preference and fit. I don't have this problem with the ULA Ohm.
Don't get me wrong, the Hyperlite Junction is an awesome pack and by far the most durable for its weight, but as far as comfort, my ULA backpacks are still the most comfortable.
Lumina 60 by Osprey
Backpack: Osprey Lumina 60 – 32 oz
At less than two pounds, I had to weigh the Osprey Lumina 60. Sure enough, this backpack was right at two pounds. This is not common with a mainstream backpack!
I'm looking forward to writing the review on this pack. Not only was the Lumina 60 lighter than my OHM, but it was also just as comfortable. The mesh back contributed to this, and I found the Osprey mesh panel back more comfortable than the one used by ZPacks on their Arc Haul.
There are, of course, some trade-offs in durability and the size of the GIANT side pockets, but overall I was pretty impressed with Osprey's attempt to make a leap into the ultralight market.
Benton Mackaye Gear List – Sleep System
My sleep system went through several changes on the BMT.
I alternated between quilts and sleeping bags and switched from new to old sleeping pads. Some combinations were better than others.
Feathered Friends Lark UL 10-Degree Sleeping Bag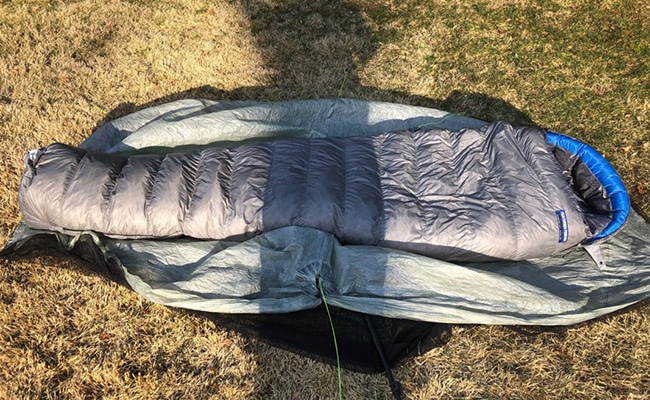 Feathered Friends Lark 10 Degree Sleeping Bag – 33.1 oz
The southern Appalachians can get COLD, so I took my FF Lark 10 Degree Sleeping Bag. This is my favorite 3-Season sleeping bag, and I think it is arguably the best one on the market. The Western Mountaineering Versalite is right there with it.
I used my Hyperlite Stuff Sack Pillow on this hike. It is still working fine, but I will order a large one. I need more room and like a softer pillow. My Feathered Friends EOS Jacket makes the pillow tight due to all the Down in the jacket.
Enlightened Equipment Revelation Quilt
I have always used a Katabatic Quilt, and you can check out my Katabatic Review, but I wanted to test out the EE Revelation Quilt on this hike.
EE makes a great quilt, and I'll post a comparison between Katabatic and Enlightened Equipment Quilts soon.
I still prefer a good sleeping bag if temperatures fall below freezing, but the EE Quilt did a great job on a hike with a lot of rain, and I would use it again.
If you are a side sleeper or thrasher, you should consider a quilt.
Thermarest Neoair X-Lite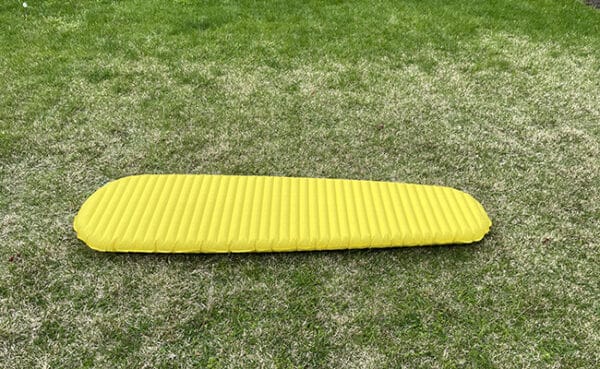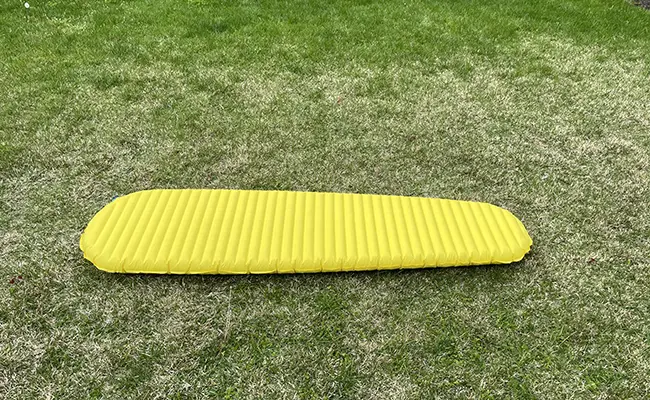 I have used the Thermarest Neoair X-Lite as my 3-Season Sleeping Pad since 2013. I did not change pads until this year, 2021.
In other words, the X-Lite lasted me about eight years. You can beat that for durability in a sleeping pad.
I started the BMT with the Nemo Tensor, but when it failed, I returned to the Thermarest Neoair X-Lite.
Sometimes I wish it was a tad wider, but I usually remedy that by becoming a tad thinner as the hike progresses.
BMT Gear List – Clothing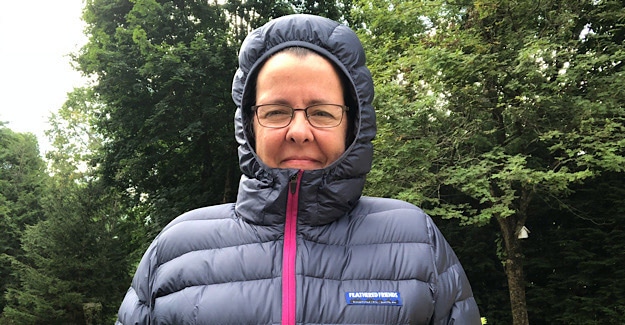 Feathered Friends EOS Jacket – 10 oz
Precip Rain Jacket – 10.1 oz
Versalite Montbell Rain Pants – 3.2 oz
Smartwool Socks (2) – 3 oz
Northface 100 wt Fleece 1/4 Zip – 8 oz
Sleep running shorts – 3oz
OR Beanie – 3 oz
Salomon Sense Ride 3 – 10.2 oz
Buff – 2 oz
Sportsbra – 4 oz
Bandanna – 2 oz
Icebreaker lightweight, long-sleeve shirt – 5 oz
REI Hiking Shorts – 6 oz
I went back and forth on a mid-weight layer but finally settled on the list above, and it worked well. The handful of times I needed something on my legs (they are the only extremity that does not get cold), I wore my rain pants, and they were fine.
I'll probably take a lighter-weight rain jacket on my next hike, but the Marmot Precip is always dependable.
My Feathered Friends EOS Jacket is still the best lightweight Down puffy I have found for its weight-to-warmth ratio. You can check out my review on this jacket.
The Salomon Sense Ride 3 trail runners stand out on this list. I've used HOKAs on the last few trails but switched to Salomon's for the steep, no-switchback BMT. They were great! They were as comfortable as the HOKAs and provided more stability with a firmer midsole. Right now, they are my shoe for this year's hikes.
Benton Mackaye Gear List – Cooking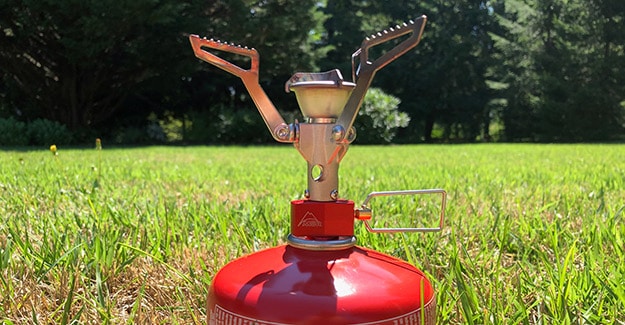 Snow Peak Titanium Pot – 4.8 oz
Pocket Rocket Stove 2 – 2.6 oz
Stuff Sack – .5 oz
BIC Lighter (2) – 2 oz
OPSACK – 1 oz
Food Bag – 1.5 oz
Gas Canister – 7.4 oz
I did not cook on the New England Trail (NET), but there is only so much healthy, cold food to snack on, and I ended up eating too much crap. My body rejected that approach, and inflammation in my hips was brutal right after the NET. Once I switched back to my more healthy diet, the inflammation went away.
On this hike, I cooked dinner (which I prefer) and tried to eat healthier snacks – nuts, nut-based snacks, my own trail mix, hummus chips, whole grain crackers, almond butter, etc.
I have a more in-depth review of my cooking kit and eating habits. I also still stop around 4:30 PM-5:00 to cook and eat since I don't like to cook where I sleep.
One mention here is the OPSACK. I am not a fan. I've used it several times, and it does not perform well. The smell of food still lingers, and the Ziploc closure is flimsy.
The closure on the OPSACK does not close easily, and I had to replace the last one that ripped. On this hike, I ended up rolling down the top. I'm looking for a better solution and welcome any suggestions.
The winner on this hike was my new OR food bag! It is waterproof. This was the only sack or POD that remained dry after my Loss Creek crossing, and it was exposed to the creek more than some other sacks and pods.
BMT Gear List – Toiletries
Kula Cloth – .5 oz
Purel – 4 oz
Dental Floss – .5 oz
Clippers – .5 oz
Toothpaste – .5 oz
Chapstick – .25 oz
Toothbrush – .25 oz
Earplugs – .1 oz
Hairbrush – 1 oz
Needle – .1 oz
Toilet Paper – 2 oz
If you spend a lot of time outdoors camping, running, hunting, hiking, etc., and appreciate good hygiene, check out my Kula Cloth Review. This little cloth is a must-have.
There is not much more to say about toiletries. They are self-explanatory, but I'm always happy to answer any questions.
Benton Mackaye Gear List – First Aid
Tinactin – .5 oz
Neosporin – .5 oz
Ibuprofen – 1 oz
Imodium – 1 oz
Band-Aids – .2 oz
Nexcare Tape – .25 oz
Superglue – .1 oz
The picture above is not pretty. One hour into the hike I looked back over my shoulder for Sam and walked off the trail that had taken a sharp left. Not my sharpest moment.
The first aid supplies above have not changed much over the years. Occasionally, I've used my bandanna for other purposes – bandage, sling, etc., but usually, it is my potholder.
As I do in every gear list post, the one thing I will mention is Tinactin. I won't even go on a day hike without it! Heat rashes on your bum can quickly make a hike miserable. An application of Tinactin begins working almost immediately.
Electronics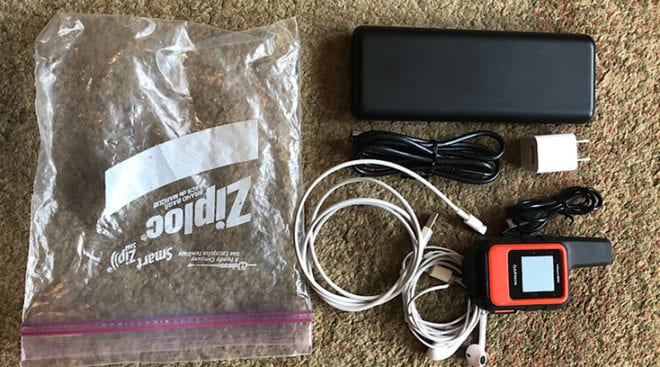 Anker Battery Pack (20,000) and Cord – 12.8 oz
Inreach Mini & Cord – 3.7 oz
iPhone & Charging Cord – 10 oz
Double Wall Charger – 2 oz
Earbuds, Case, Cord – 3 oz
My electronics are getting heavy! I usually carry the larger Anker Battery to go further between towns but this time, since I was going to be out for seven days, I carried my Survival Frog QuadraPro solar charger.
I purchased it from Survival Frog because of the three-year warranty and no questions asked return policy.
My Garmin InReach had technical issues – again. It did not track consistently, which resulted in a couple of frantic notes from home, and in one instance, the battery ran down an hour after I had fully charged it.
There is always the factor of age and memory, but I'm SURE I charged it – mostly sure.
The InReach is also not always the best device with many overhead tree covers. It can take more than an hour to send and receive a signal.
Benton Mackaye Gear List – Miscellaneous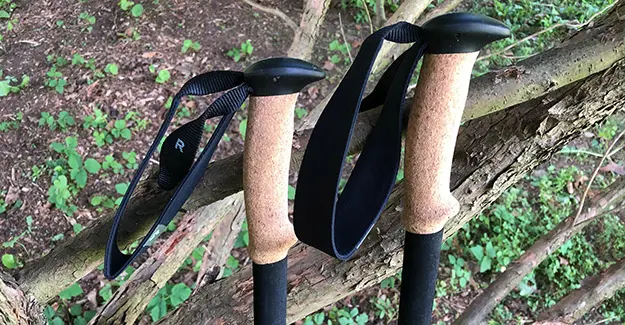 Smart Water Bottles (2) – 5 oz
Carbon Alpine Hiking Poles – 17 oz
Dirty Girl Gaiters – 2 oz
Knife – 2 oz
Compass – 1 oz
Fenix HM50R Rechargeable Headlamp – 2.2 oz
Sawyer Filter – 3 oz
Umbrella – 10 oz
The Black Diamond Alpine Cork Hiking Poles are one of my favorite pieces of gear. They are tough as nails and light. Adjusting them can be tricky, and I go over this in my review on the poles.
My Fenix HM50R Rechargeable Headlamp is still going strong. It is durable and has a bright light; I only have to charge it about every five days on medium. At 3 ounces, without the headband, and having a steel case, it is perhaps one of the toughest headlamps I have used, and my review takes you through details.
Post Gear Thoughts
My Benton Mackaye Gear List is similar to gear lists from other trails, but like other lists, it contains new gear I'm testing.
This list is also updated as I continue to use the gear I've used in the past. This allows you to see how my gear use evolves.