Backpacking Meal Evolution
My backpacking meals have evolved or devolved (it depends on perspective) over the years, and along with these changes, my cooking camping gear has gone through iterations. The one thing that has remained constant is my titanium pot.
Below, I've listed my cooking gear and described each piece. I do still cold soak and snack on occasion, but at the end of the day, a hot meal is one of the joys of the day.
Stove Choice
On my first Appalachian Trail trip in 1998, I used a Whisperlite Liquid Fuel Stove, as did many other hikers. I distinctly remember a young man blowing up his stove and catching the shelter wall on fire in Tennessee.
I tried a wood-burning stove on the Pacific Crest Trail, but Santa Anna winds in Southern California quickly sent the little wood-burning stove home and replaced it with my first Pocket Rocket.
A Brasslite alcohol stove started the Continental Divide Trail with me, but it was messy, so I switched to my trusted Pocket Rocket and then gave up cooking altogether and cold-soaked for the second half of the CDT.
There are SO MANY STOVE choices when it comes to making backpacking meals, and I have discussed them in this article, but ultimately I have made my way back to my Pocket Rocket 2 and cooking my evening meals.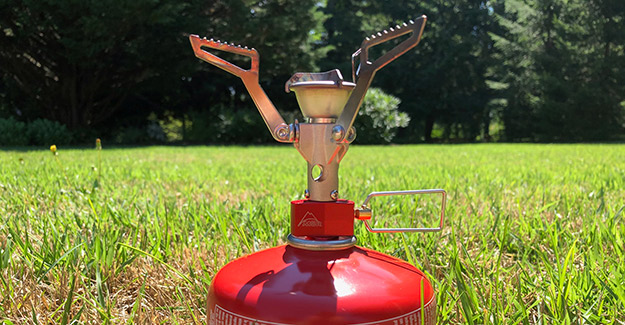 Cooking Pot Decision
My cooking pot is a standard titanium pot. It is the same Trek – 900 I have used for every hike, and it is a perfect size. It has been run over, sat upon, stepped on, thrown, and significantly overheated many times, and it still looks brand new. This little guy is tough as nails, and I've no doubt that it and the cockroaches will still be here when all is said and done.
New Anti–gravity Gear Cozy
Recently, I've tried a cooking cozy. I decided to give the pot cozy from Anti-gravity gear a shot, for a couple of reasons. It seems fuel canisters has become really small or really large.
Since I don't want to carry a larger than necessary canister, I purchased the cozy. The cozy should allow me to heat my water, and then keep the water hot while the food continues to cook. If I eat at camp, which I actually don't do often, it can cook while I set-up. If I don't eat at camp, then I can relax a little while the food cooks in the cozy.
Either way, I always wanted to try a cozy and thought they sounded like a good idea.
Follow-up. The cozy was lite, but it was a little bulky. I used it this summer over about 700 miles but did not find a difference between using it and not using it. My food rehydrated just as fast if I put my freezer bag in my pot and closed it. It also stayed warm.
I no longer use the cozy, and instead of using the titanium pot, I now set the Ziploc bag in a small plastic bowl that is even lighter than the titanium pot.
Final Backpacking Cooking Kit Review Thoughts
Cooking my backpacking meals is probably here to stay for long hikes, and on shorter hikes now also. As I get older, inflammation has become a nuisance. Processed foods and sugars increase inflammation which in turn slows down recovery and makes my joints sore.
Since I am trying to decrease inflammatory foods, I'm now cooking healthier foods and mixing more smoothies to take with me. This year, I will make my meals using some of Backcountry Foodie's recipes. I recently wrote a review of their website, and they also just rolled out a new website, so check them out for some great food ideas.