Scary Breakfast
There was a Johnny Rockets about a quarter of a mile up the road from the hotel where I stayed, so I was up and out the door around 7 AM. Thank goodness I had my puffy, and it was in the upper 40's because the Diner's doors did not open until 9 AM! Hours on the website were posted incorrectly. Covid was wreaking havoc on everything. I'm sure posted hours were the last thing Johnny Rocket's management was worried about.
I was disgusted about having to wait for 2 hours, but the small ornamental bench in the display out front made the wait more comfortable. People looked at me curiously, driving into the shopping center, probably trying to decide if I was part of the display.
My Southwestern Skillet breakfast was AWESOME and would probably stick with me for several days. This is perhaps not a meal anyone should order unless planning to burn at least 5,000 calories that day. It was a scary-looking meal, but meals like that are one of the joys of long-distance hiking.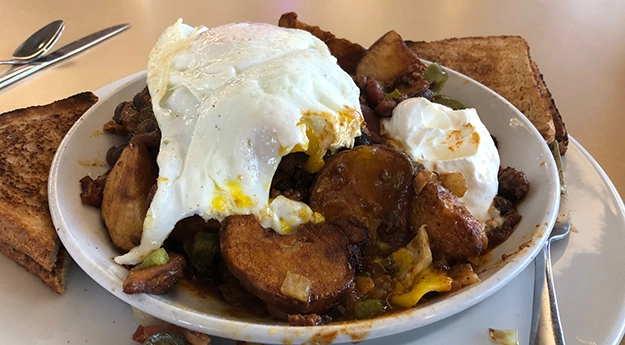 Silver Shadow Mini Umbrella
The Father/Daughter taxi company picked me up at 10:00 AM, and this time I rode with Dad. He was not very talkative until he found out I was hiking the NET, and then the questions began. He even offered to pick me up wherever I ended since it was raining. I replied that it was part of the journey and thanked him for the offer.
It was a warm morning for October in Massachusetts, and the rain was steady as I stepped from the taxi and opened my umbrella. My little Silver Shadow Mini fits over me perfectly propped up on the top of my pack with its handle tucked into my sternum strap so I can hike hands-free.
I pack my backpack loosely when it is raining, so the pack is taller. This allows me to perch the umbrella on top, keeping me and the backpack relatively dry.
I still wore my rain gear since it was chilly in the early morning, and the trail was brushy. What is nice about an umbrella in cool weather is that it keeps cold, heat sucking rain from hitting my body's core area. Even with rain gear, freezing rain will drive down your body temperature as it hits your rain gear layer, and an umbrella helps prevent heat loss.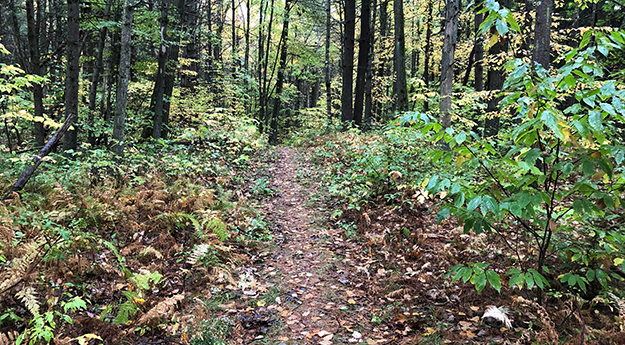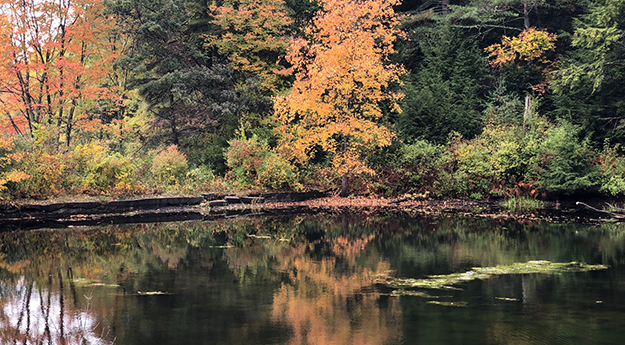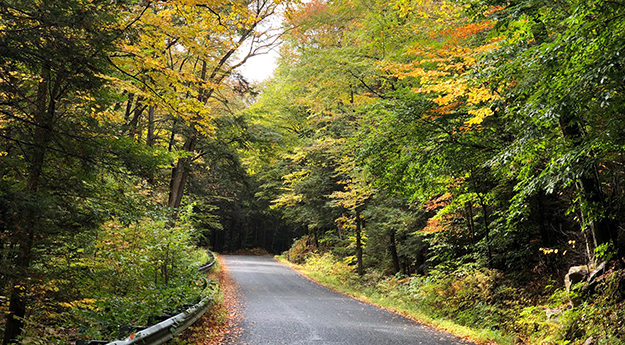 The New England Trail on a Tiny Rope
Today included a lot of road walking, and skirting residential neighborhoods before reentering the forest on Bay Road. The road walking today was beautiful though, as I ambled through the back roads of New England. Colors were changing and it was interesting to study old architecture as I passed.
I believe this was also the point where I used a small nylon rope to climb up an embankment on the other side of a busy road. I waited for the unraveling little rope to snap the whole way up the hill.
It would have been embarrassing to have hiked so many trails and finally gotten killed by a nylon rope on the NET as I broke my neck or got run over on the busy road below me.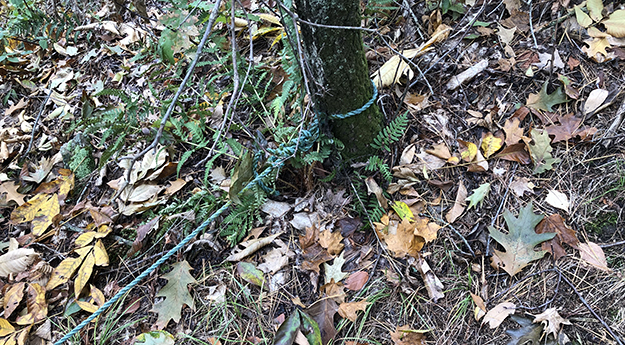 The Runner
After reentering the hardwood forests, the hiking was relatively easy with just a few small rocky climbs thrown into the mix until I crossed Harris Street and dug in to begin my climb up to Long Mountain Summit.
Long Mountain had excellent views, and I paused to admire the colors before following the ridge over to Norwottuck Mountain, where I hoped to find camping for the night. There was plenty of camping with fantastic views, along with plenty of day hikers. Looking at my map, I realized I was not far from the Notch Visitor's Center on MA-116. Everyone was climbing up for the Sunset.
I poked around the summit of Norwottuck for about a half-hour, but every time I discovered a small, flat, tucked-away spot, I also realized I was not the first to find that location, so I finally gave up and started down the mountain.
As I lowered myself over a rocky section, I heard a noise and looked up to see an interesting combination running towards me. A muscular, bald man with a white terry cloth headband was running up the mountain towards me. He wore a tiny pair of running shorts and running shoes, and that was it, but the best part of the whole ensemble was his dog.
The dog appeared to be a white Pomeranian on a thin, shiny leash dancing up the trail ahead of him. I paused in shock for a moment before stepping aside to let them pass. Neither man nor dog looked my way. I glanced around to see if a camera was hidden somewhere while fighting the impulse to laugh out loud. I love people.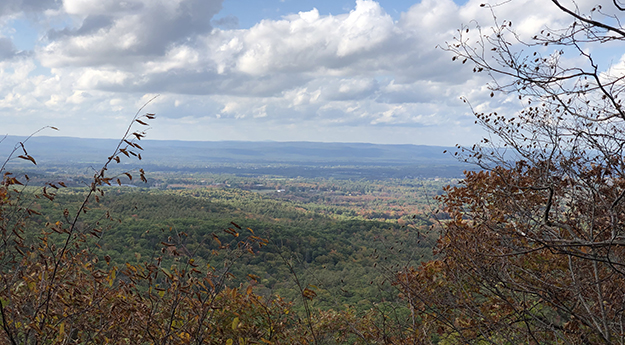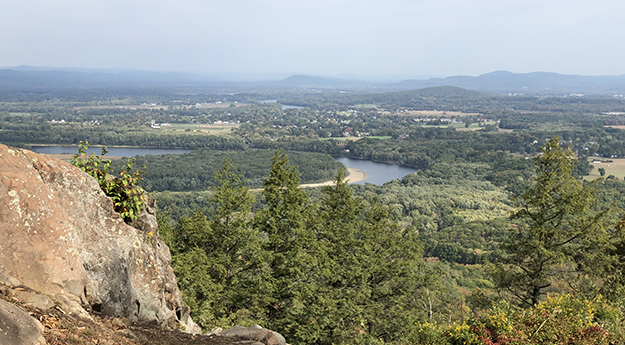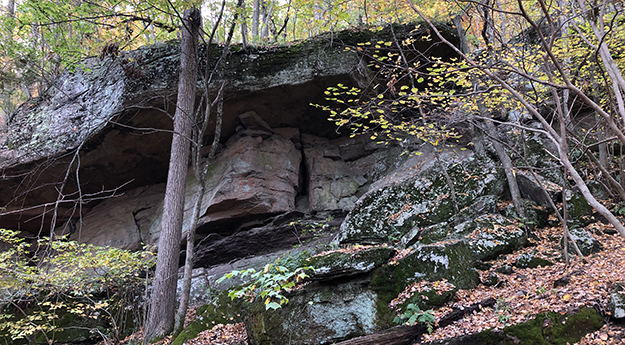 Camping for the Night
Just below Norwottuck Mountain's summit, the trail hooked a right across a small saddle before continuing downhill. Instead of going right, I continued straight across the trail and into the trees to the top of a ridge. Reaching the top of the hill, I looked down to see a relatively flat area. Looking back to make sure no hiker had seen me, I dropped down into the trees.
One nice thing about the Copper Spur 1P is the small size of its footprint. It is effortless to find a camp spot, and tonight was no exception. I found a slight rise on some thick leave and started setting up the tent. It was dark when I began setting it up, but because it was so quick and easy to set up the little tent, I did not need my headlamp.
I had settled in under my quilt for the night when I heard the snuffing and snorting. The deer sounded frustrated as they tried to figure out what had taken their bed for the night. I always know I have found a good spot when I am competing with regular residents.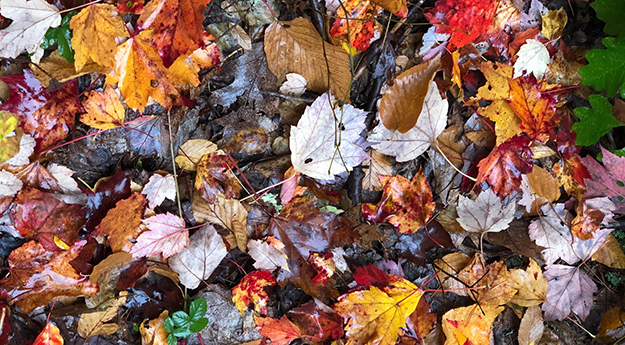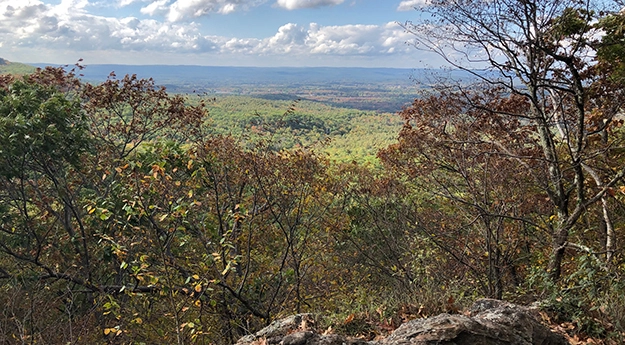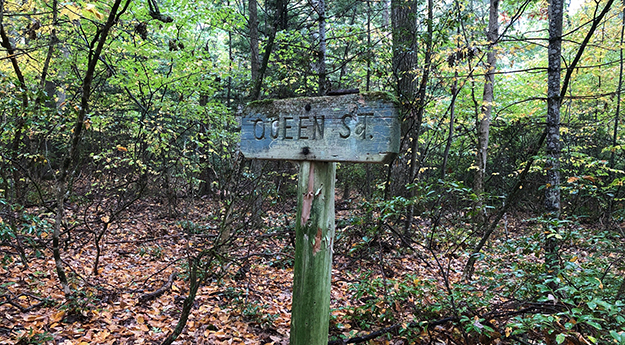 Related Links
This page has affiliate links for products and gear I purchase and use. If you click on one of these links, I receive a small commission at no extra cost to you. There may also be Amazon links and as an Amazon Associate I earn from qualifying purchases.If this review has been helpful, please consider purchasing through the links above. Proceeds are used to purchase additional gear for review. Thank you. You can read more about my thoughts on affiliate marketing.