My headlamp cut through the early morning darkness scattering alley cats and domestic rabbits in all directions. I listened to the night sounds – delivery trucks and street scrubbers broke the silence. This was a busy town at 5AM in the morning. About a mile later I reached my goal, the Red Hen Bakery. Who knew when I would be back this way. I needed one last baked good fix.
Related Posts: Colorado Trail – 2020; Colorado Trail Day 24
This was my last morning in town, and my ride to Monarch Pass would be here at 8:00AM. I needed my bagel, and had a lot to do before the shuttle arrived. I began to jog.
Stan picked me up in his old pick-up at 8AM on the dot. He was a good guy, and we chatted easily all the way up the mountain. Dropping me off, I handed him $20 bucks and pulled my backpack out of the back of the truck. It only took about five minutes to unstrap my poles and then I was headed up the service road/trail.
The climb out of Monarch Pass was about 3,300 feet over 8.5 miles, not too steep but really more of a steady climb. This is why it was probably so popular with the 200 mountain bikers that passed me. Ha! Only 3,300 feet. I would not have said that was not too steep three weeks ago!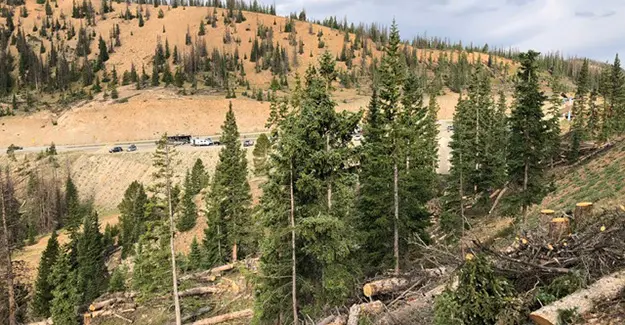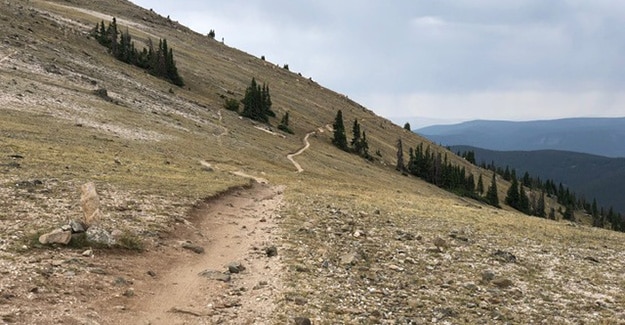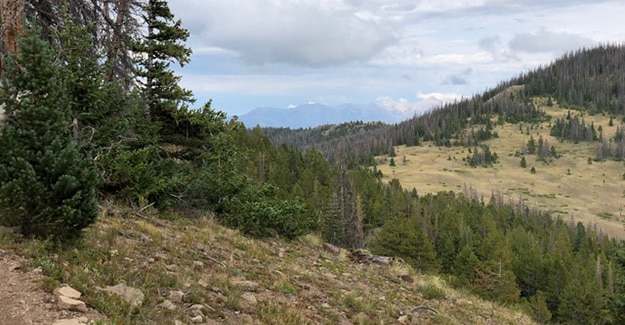 I spent the first hour jumping on and off the trail to let them pass me. All of the riders were polite, but maybe not so much to each other, as one older fella yelled "All the nice guys have passed and there are three assholes behind me!" He was not smiling. Okey dokey then…
Thunderstorms began about an hour into the hike, and the rain was cold and steady. The thunder was far away, so I put up my umbrella. At least two hikers headed in the opposite direction wistfully told me they wished they had an umbrella. My Silver Shadow Mini was the only umbrella I spotted.
This little umbrella has held up well. I've always used heavier umbrellas and was worried the folding spokes might break after reading some reviews. I'm happy to say that this umbrella has held up like a champ. It will definitely travel with me in the future!
There were three young guys I flip flopped back and forth with over the first hour or so until I passed them taking a break at a lean-to off the trail. I did not see them anymore after that. As a matter of fact, after those guys I only saw dirt bike riders for the rest of the afternoon. They are not quite as friendly as the mountain bike riders, but nobody hit me so I was ok with their abruptness.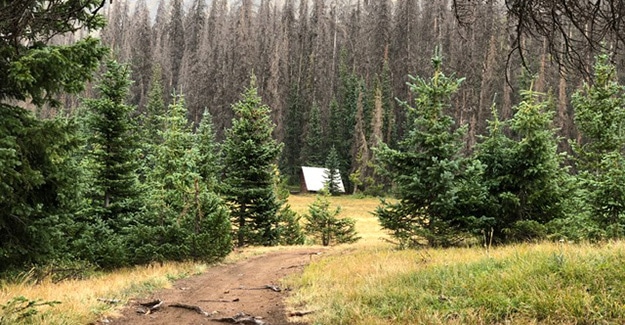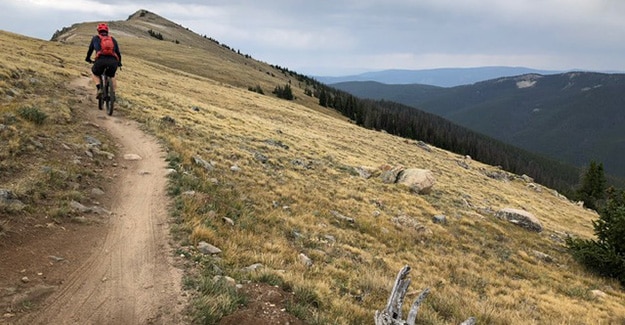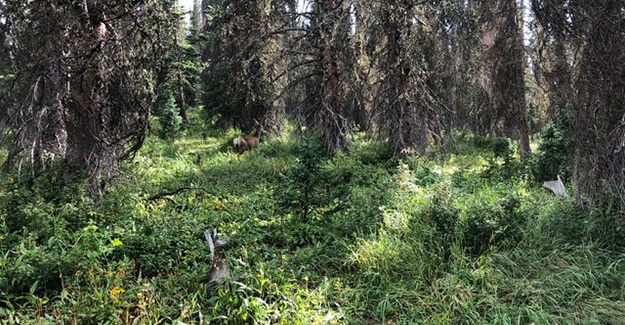 Rain was falling harder, and temperatures were dropping, so I was excited to see Marshal Pass Road through the trees ahead. Marshal Pass provided me with a favorite break spot – the ever more elusive pit toilet. Taking advantage of the shelter, I stopped to warm up, get out of the rain, and finish my Spiral pastry from the Red Hen before heading back out. Don't judge…
The hiking out of Monarch Pass today was beautiful. Even the stinging cold rain didn't bother me too much with my umbrella. There were a few places where I had to speed up to stay warm, but the first half of the day's miles along winding, open ridge trail was pretty spectacular. There was also no wind, the perfect conditions for the umbrella.
I began looking for a place to camp once I passed 20 miles. It did not take long to find a nice level area back off the trail. Skies were beginning to clear as I set up camp, so I was not too worried about more rain. I did pitch the tarp-tent on a high spot just to be safe.
I walked over to the edge of the ridge to make camp and enjoy the valley views while I had dinner. Hearing a noise, as I sat on a log facing the valley, I looked back to see the young men I had passed that morning. They had their heads down and were moving fast, so they did not see me as the passed on the trail only ten feet away. I always wonder what is watching as I pass by.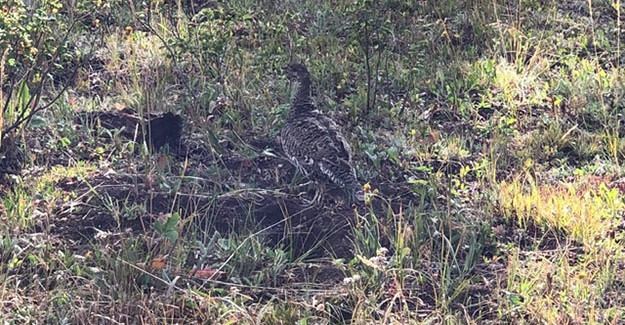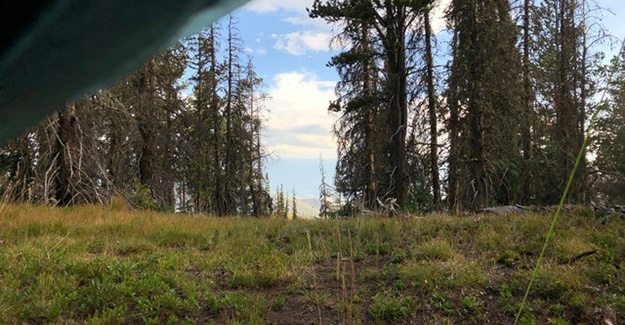 Nesting in my tarp-tent took a little longer than usual. I had set it up on a very small tree and did not want to puncture the floor of the tent. I was also too lazy to move the shelter. It is so much easier to move a free standing tent.
Finally settled in for the night, I laid back to read and write for a little while, but that did not last long. I fell asleep listening to some trail chickens scratch around outside my vestibule. At least I think it was birds.
This page has affiliate links for products and gear I purchase and use. If you click on one of these links, I receive a small commission at no extra cost to you. There may also be Amazon links and as an Amazon Associate I earn from qualifying purchases. You can read more about my thoughts on affiliate marketing.