The sunrise this morning was breathtaking. I began hiking about a half-hour before colors appeared on the horizon and watched the light show begin as I walked into a frosty cold morning. My little piece of the planet rolled awake with a bang!
I passed the junction for the Continental Divide Trail and continued along the "new" Colorado Trail. I hiked the CDT in 2009, so I had walked much of the Colorado Trail then, but this last section of the Colorado Trail to Durango would be entirely new, and I'm always excited to hike trails I've not explored.
Switchback Fall
My Guthook App listed a group of "pretty impressive" switchbacks that began the descent down to Molas Lake Campground, where I would meet Shy and Sam. As I started down the switchbacks, I slowed my pace. My shoes were not gripping the trail anymore, and I did not want to risk a fall on this precarious piece of the tread.
Walking down a narrow piece of trail, I glanced down to see where the path switched back below me but could not see anything but a steep grassy slope. Looking away from the trail in front of me was a mistake, and suddenly my shoes slid out from under me on a piece of the narrow trail that was covered in a thin layer of gravel. There was no time to recover!
As I shot straight down the hill, I managed to quickly turn my body towards the mountain and slammed into the ground, coming down hard on my right arm. A white-hot knife of pain shot from my shoulder down my arm, but I did not give it a lot of thought as I spread my arms and legs to try and slow my momentum. If I picked up more speed and fell any further, I would probably not stop for a few hundred feet.
I had stopped on my stomach, pressing my face into the thin grass and dirt, breathing hard as adrenaline surged through me. Looking up the hill, I dug my hands into the soil and very slowly began to inch my way back up to the narrow trail above me. It was not very far away. Pulling with both arms, I let out a grunt of surprise at the pain that shot down my right arm. I could feel the muscles spasm in my arm and knew the arm would be no help.
It took a few minutes using just my left arm, but I finally managed to drag myself back up onto the switchback laying on my side and breathing hard. I felt like a giant landed fish with a broken flipper! I unclipped my backpack and let it fall away while I slowly sat up, grimacing at the pain in my right arm and shoulder.
I looked down the narrow trail, glared at my shoes, and knew I could not continue down the long set of switchbacks without better shoes. The trail that led down the ravine by the creek was also supposed to be a little sketchy, so I pulled out my phone and poured over my map, looking for a less steep way down.
Stony Pass Exit
Once I reached the top of the ridge again, I headed right to see where the trail would lead and stopped at the bottom of the last rise, gazing up the rock face directly in front of me. I could not get down the drop-off to either side of me, and the trail ahead appeared to climb straight up the rocky cliffs. What must the descent on the other side of those jagged peaks be like to go down if the ascent was straight up?! In frustration, I sighed heavily and turned to head the 6-7 miles back to Stony Pass Road.
I planned to walk or hitch down the road from Stony Pass into Silverton, get some new shoes, and hike back out of Molas Lake Campground with Shy and Sam. The only small worry was the winter storm headed our way. Weather forecasts were now calling for over a foot of snow above 11,000 feet and temperatures in the single digits.
I passed many puzzled hikers I had met over the last few days and made slow time as I stopped to explain why I was walking backward. Finally reaching the rugged jeep road at Stony Pass, I began my descent on the steep rocky dirt road, pausing to step aside as ATV's and off-road vehicles passed me in clouds of dust on this busy weekend day.
Rounding a curve in the road, I saw an SUV pulled over with a man standing outside the dusty black Jeep looking irritated. He watched me walk up and quickly explained he did not have a cell phone and could not change his flat tire – some unique lugs, he said. I offered to send someone a text for him on my InReach Mini, but he said he had nobody he could text. That was a little odd, but I did not say anything and wished him luck before continuing down the road.
The novelty of being on a road wore off relatively quickly as I slowly picked my way around the sharp, pointy loose rocks down a very steep decline. ATV's were flying past me, and I marveled at the speed at which they took sharp turns with near-vertical drop-offs! Even more impressive was that some of them appeared to be driven by small children screaming in glee! They could not have been over ten years old!
Watching the children pass me, making zero attempt to minimize their vehicle dust, I realized that growing up in the rural west came with more risks, similar to my upbringing in the rural south. Letting loose on horses dirt bikes, and off-road vehicles while racing through these rugged mountains was normal for them. Kids lived closer to the edge and learned and thrived through sometimes deadly trial and error. I smiled as I listened to the joy in their chatter.
It grew hot as I continued walking into the morning. There was very little shade and way too much dust. Rounding a sharp switchback, I saw a pull-off with some shade and stopped for a snack and water. A few minutes later, Flat Tire Guy pulled up, and I jumped into his Jeep to finish up the last few miles into Silverton.
Flat Tire Guy had been out dropping off friends for a backpacking trip, and we chatted about the mountains as we drove into town. He was from Durango and had grown up in the area. These were always my favorite hitches, as I learned a lot about the places through which I was hiking.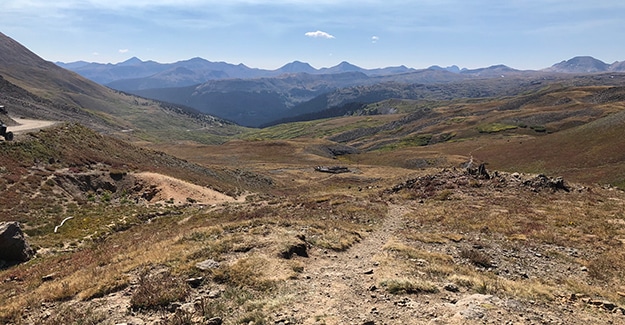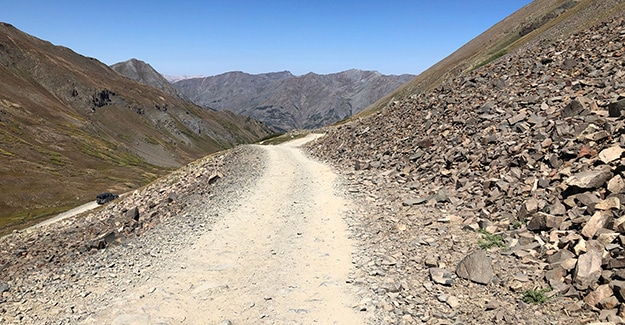 Final Day on the Trail
After having a hamburger with Flat Tire Guy, I called Sam, and she and Alfredo drove over to pick me up. We decided to head back to Durango and hole up for a couple of days to wait out the blizzard based on the storm forecast. Checking our maps, there were no good places to bail out, and neither of us had winter gear.
That was my last day on the Colorado Trail. Instead of waiting out the storm, we ended up driving over to Canyonlands in Utah and doing some hiking. Sam is a climber and raved about the area, so I suggested we head over and do some hiking for a couple of days. I'm glad I made that decision. The scenery was amazing!
As for my arm, it continued to ache and bother me until I finally went in to have it checked recently. The MRI showed a significant Labrum tear and a torn bicep tendon. I'll have to have surgery, which hopefully I can get done sooner rather than later. The recovery period is long, and I'm right-handed, so I'm sure this will be challenging. Fortunately, I do not hike on my hands, so I hope I can start venturing back out once I'm out of the sling. No steep hills for a little while, though!
Related Links
This page has affiliate links for products and gear I purchase and use. If you click on one of these links, I receive a small commission at no extra cost to you. There may also be Amazon links and as an Amazon Associate I earn from qualifying purchases. You can read more about my thoughts on affiliate marketing.