Cold air tugged at my hair as soon as I poked the top of my head out from under my quilt.
I knew the morning on Snow Mesa would be frigged, but I couldn't resist the views when I set up camp last night. Looking out towards the horizon, I saw the jagged peaks waiting for me on the other side of Spring Creek Pass.
Today was beautiful, and I could not wait to get back up into the high mountains. I was approaching the end of my Colorado Trail hike and savoring each of these final days.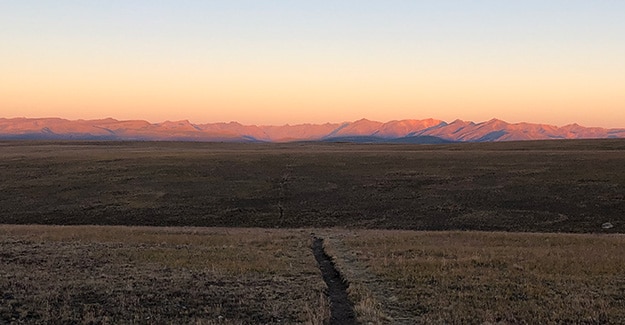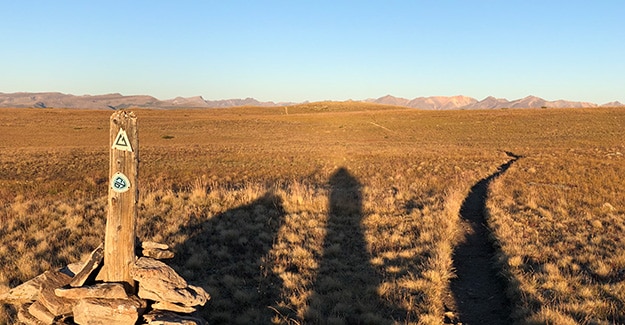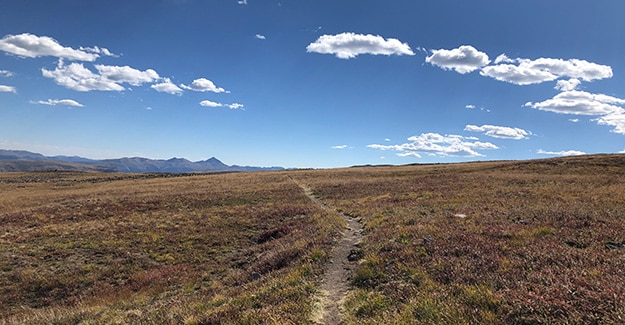 I pounded out the 3.5 miles down to Spring Creek Pass fast! There were privies at the pass, so I packed quickly and jogged down off the mesa. Those last miles ripped by in about 45 minutes!
Looking across the highway, I saw a privy that was closed. "No freakin way!" I yelled in frustration. I looked across the parking lot and saw a new privy, and next to it, I saw several cars with people around them. They were unimportant, and I barely glanced at them as I raced up the hill with a big grin!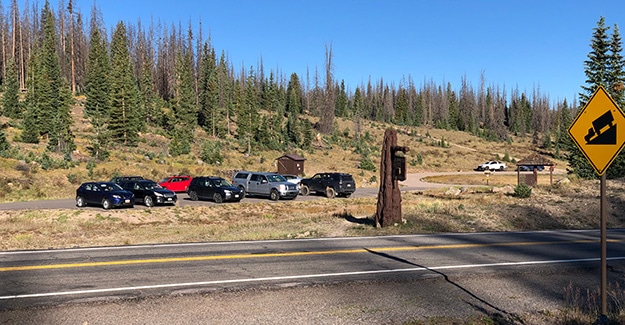 The Cruisers
Exiting the privy, I glanced up at the man waiting. It was one of the Cruisers! I think I had seen them last headed in the opposite direction towards Cottonwood Pass. I had finally caught up with them.
We both grinned and spent about 10 minutes catching up, talking trail. The other cruisers were milling around the cars with their wives. They had all gone into Lake City, CO, and were getting back on the trail again.
Mostly we talked about the massive snowstorm we had heard was headed our way. We were all trying to get into Silverton, CO, before the storm hit. It was very early in the season for a snowstorm, and I worried that this might be the end of my hike as winter seemed to be coming early.
Climbing Back Into the Mountains
Leaving Spring Creek Pass, I followed a series of ATV roads and single track as I climbed up towards the Colorado Trail's highest point.
I climbed up towards Jarosa Mesa, getting water at a small spring alongside the road. There were two brothers getting water, and we chatted briefly while we all sat around with our Sawyer Squeeze filters, easily the most common filter I see while hiking.
The brothers marched in lockstep as they set a mile-eating pace. They were long-distance hikers. The set, rapid speed they developed as they lowered their heads to focus on the tread ahead gave them away.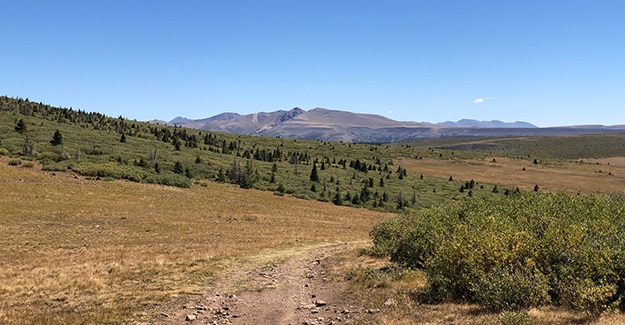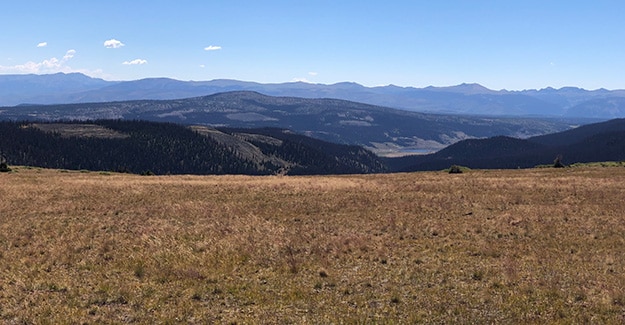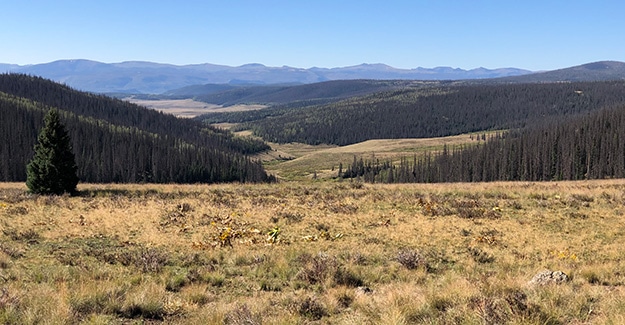 High Point of the Colorado Trail!
Dropping down from a saddle, I crossed through a marshy valley filled with thick willows. I strolled along quietly, peering into every shadow for the even darker shadows of a lumbering moose. This wet marshy environment was the type of terrain moose frequented.
Switch backing up to the divide; I saw the famous sign – the sign I had seen in so many Colorado Trail pictures! I paused to admire the "Highest Point" sign and then turned to gaze out over the mountains at the spectacular views. Drawing in deep breaths, I turned slowly, admiring the raw, ragged mountains around me.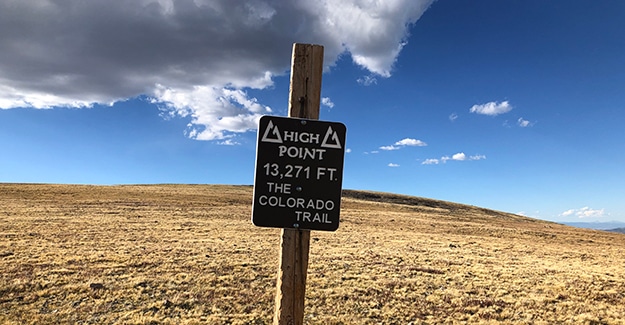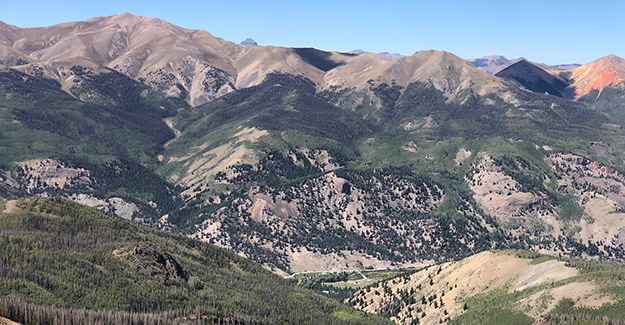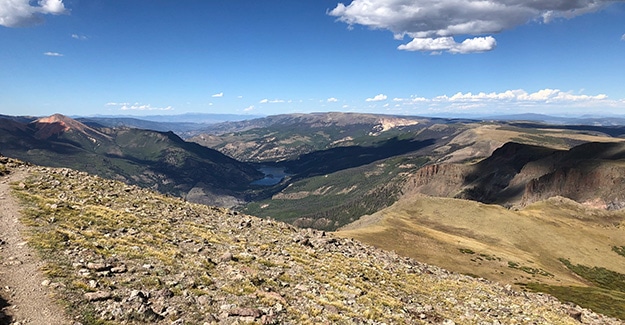 Mining Valley
The Highest Point on the Colorado Trail was below Coney Peak, and I began my descent down a steep, rocky jeep road towards the Carson Saddle historic mining area.
There were a couple of steep sections on the crumbly jeep road, and I let a couple of curses out as my feet slid out from under me, bringing me down hard on my butt. My HOKA Challengers had no tread left on them, and I was trying to stretch them to the end of this hike. This was probably not a good idea.
The old mining cabins along the dirt road overshadowed the constant sliding and falling. Most of the cabins were just remnants surrounded by piles of mine tailings.
These relics from the old west always stirred my imagination. These pioneers had lived tough lives in these rugged mountains. How had they lived? Were they old mining hermits, or did they have families? How long do they stay in these mountains? What had happened to them?
The old cabins had been stripped bare, but it was still fun to wander in and out of crumbling log walls imagining what the lives of those people had been like.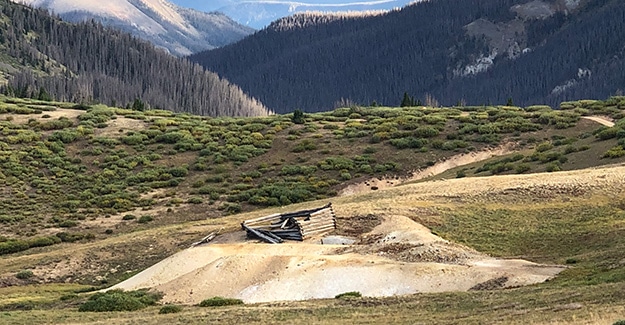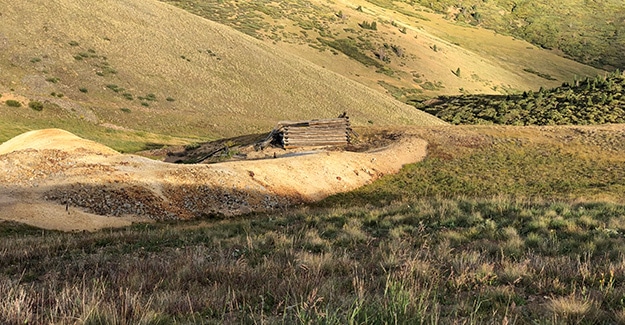 Camp for the Night
It was getting late, and I finally tore myself away from the old mining community and turned off the ATV road to head down towards Pole Creek Drainage.
I had run out of water about an hour earlier but knew I would probably find small creeks running into the drainage area. The first creek I came to was dry, but the second one was a gusher. I saw tailing piles from mining activities in the area, so I filtered my water.
As darkness approached, I continued down towards Pole Creek Drainage, eager to find a camp spot while there was still some daylight to set up my tarp tent. As I came around a corner, the slope leveled out, and walking back behind some large boulders; I found a flat piece of ground perfect for my Altaplex.
Today had been a long day, and about 3-4 sliding falls on steep jeep roads had left me a little sore. I treated myself to Stowaway Gourmet's Wild Boar & Bean Stew. Seated upon a large boulder, eating dinner while watching shadows darken down in the vast drainage below me, was the perfect end to a long 23-mile day.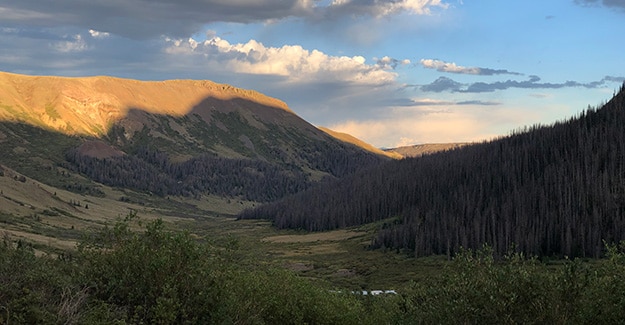 This page has affiliate links for products and gear I purchase and use. If you click on one of these links, I receive a small commission at no extra cost to you. There may also be Amazon links and as an Amazon Associate I earn from qualifying purchases. You can read more about my thoughts on affiliate marketing.