These 10 Great Backpacking Gifts are all items I use on my hikes and awesome gifts I would love to find under my tree!
With over 10,000 miles of hiking and backpacking experience, I know what works and what does not.
I also realize that hiking and backpacking gear is expensive, so I use gear that will last over many adventures.
Average Hiker (Ellie)
---
Alpine Carbon Cork – Black Diamond Trekking Poles
These are TOUGH poles for even the most rugged terrain. I have put mine through their paces, and they barely have a scratch. I expect them to last me a long time, like all Black Diamond gear. See the review.
---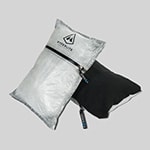 Hyperlite Stuff Sack Pillow
I have a small pillow that is also a stuff sack and holds my electronics, toiletries, and first aid supplies. At night it becomes a soft, comfortable pillow. I stuff the pillow with my down jacket and flip it over to rest my head on its warm micro-fleece. See the review.
---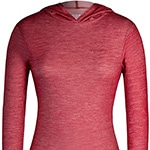 Women's River Run Hoodie
The River Run Hoodie is my "go-to" hoodie for town visits, staying cool while hiking, sleep, and generally most any activity. Whether in the backcountry or town, this is an excellent versatile layer! See the review.
---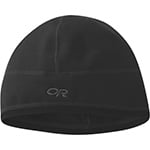 Outdoor Research Vigor Beanie
OR claims this beanie's "ActiveTemp" fabric self-regulates with your body temperature. All I know is that it keeps my head WARM, even in freezing temperatures. Whether I'm asleep in my quilt or huffing up switchbacks, this is the beanie I wear!
---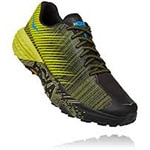 HOKA One One EVO Speedgoat
The EVO's have a rigid upper and sticky grip that is perfect for challenging trail hiking and running. I recently made the switch to the EVO Speedgoat and have NO regrets! See the review.
---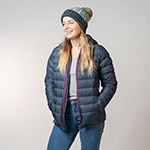 Feathered Friends Women's EOS Jacket
This jacket goes with me everywhere – backcountry and town. No other Down Jacket I've worn is made with the same quality or has the EOS's warmth to weight ratio. My medium weight Helios is eight years old and still going strong! See the review.
---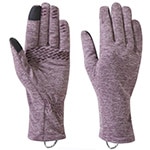 Outdoor Research Melody Sensor Gloves
I discovered these warm, lightweight gloves in Creede, Colorado, when I needed something for freezing temperatures. I wear them inside my Gore liners to keep my hands warm and dry in raw, cold weather.
---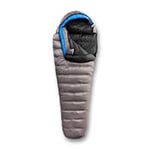 Feathered Friends 10 Degree Lark Sleeping Bag
The FF Lark is the warmest sleeping bag I own, and I love that it is true to its temperature rating. This incredibly comfortable, warm sleeping bag is ALWAYS what I grab for any trip in cold weather.
---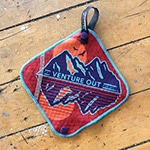 Kula Cloth
This little cloth has improved my backcountry experience. Good hygiene is essential, and the Kula Cloth makes all the difference in the world! I wish I had discovered these sooner! See the review.
---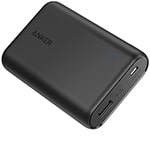 Anker PowerCore 10,000 Portable Charger
Whether I'm going on a multi-day backpacking trip, battling long commutes, or glamping in the backcountry, this charger is always with me. This lightweight, powerful charger ensures you don't have to scramble to find an outlet! I use both the 20,000 and 10,000. See my post on electronics.
---
When you purchase through links on this site I receive a small commission at no additional cost to you. I appreciate the support – thank you.
Hi! Some of the links in this post are affiliate links. This means that when you click on one of these links, I earn a small commission at no extra cost to you. Also, as an Amazon Affiliate, I earn from qualifying purchases. Thank you.