The Kula Cloth is a small "pee cloth" that improves hygiene for women in the backcountry or away from "civilization." I've used a bandanna for years, and found the Kula cloth easier and cleaner for a few reasons.
Kula Cloth is a small start-up by a hiker, and below is her description.
"A Kula Cloth™ is the first of its kind – an intentionally (and obsessively) designed reusable antimicrobial pee cloth!"
I'll discuss the reasons I like the Kula Cloth in this post and review the Kula Cloth a little more closely.
Table of Contents
Pros
It has less odor than a bandanna
Dries quickly
Easy to grab the clean part
Snaps to pack quickly
Looks neater than a bandanna
Cons
More expensive than a bandanna
Quick Specs
$20.00
Size – 6 x 6
Weight – .5 oz
Fabric – advanced silver-infused, antimicrobial fabric
Materials – eco-friendly, non-toxic materials (Bamboo Viscose, Cotton, Organic Cotton, Polyester)
Other Features – "Clean side" with waterproof lining, so moisture does not soak through.
Competitors
There are a few Kula Cloth options, but I like to support small start-up businesses. I also appreciate Kula Cloth's website's information, styles, and colors.
The Kula Cloth Option
The bandanna has always been my option for a pee cloth. I've backpacked thousands of miles over numerous long-distance trails and have never liked tying a small piece of cotton to my backpack.
So when the Kula cloth popped up on one of my many internet feeds, it caught my eye.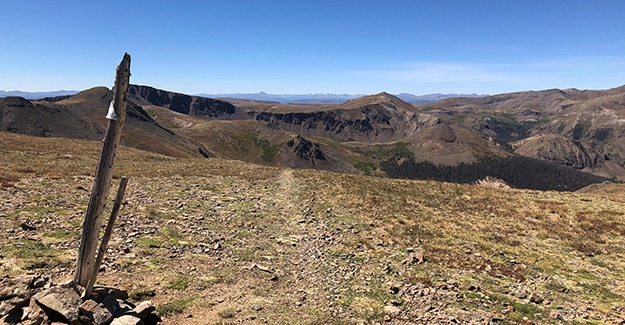 Kula Cloth Materials
The materials are what make the Kula cloth unique. It uses "advanced, silver-infused/antimicrobial super-absorbent textiles." The Kula Cloth looks like a little oven mitt but thinner. It has a super absorbent dimpled cloth on one side and a waterproof layer separating this side from the smooth nylon handling side.
This layer keeps your hands clean, which is not always the case with the cotton bandanna.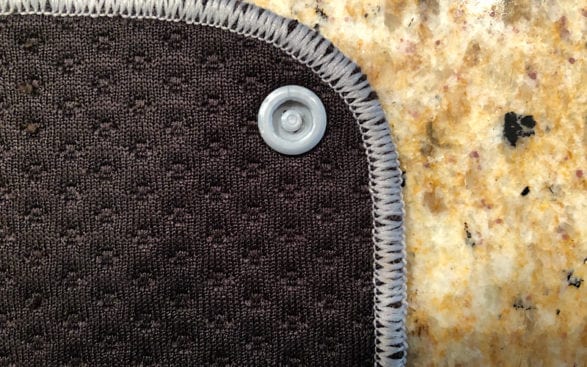 There is a sturdy snap to fold over and close the Kula Cloth and a small strap for hanging it off my backpack. This keeps the part of the Kula Cloth being used away from you or your backpack.
There are many cool colors, designs, and even an "Artist Series." Recently Kula also started ordering custom prints, so you can make your own unique Kula Cloth
I chose the black cloth since my pack is green, black, and "matched." I liked that it is more discreet than my bandanna and "blended in" with my other gear.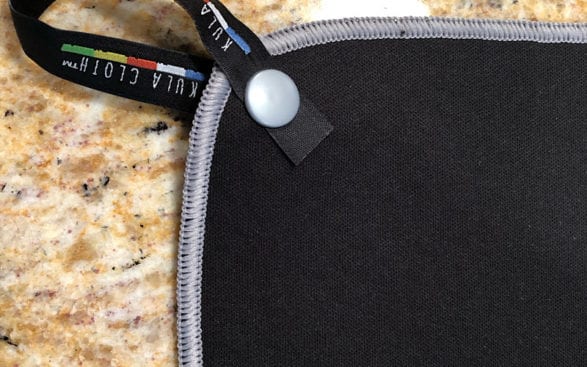 Kula Cloth Care
The Kula Cloth is a cleaner concept than the bandana for me.
The Kula Cloth dries fast and has almost no odor. It is absorbent and feels cleaner than my bandanna, always allowing me to grab the clean side in a hurry. After five days on the trail with no access to a shower, I will take anything that keeps me feeling even slightly cleaner.
I rinse the Kula Cloth downstream whenever I have an opportunity. It dries very quickly, hanging on my backpack. At night I take it off the pack and put it in a small Ziploc bag. The next morning it gets clipped back on my backpack – simple and easy!
Kula Cloth Summary
I've taken a Kula Cloth on my last few hikes over the last couple of years – literally hundreds of miles. It is an essential piece of gear that I don't hike without.
I like that it has less odor than a bandanna and dries quickly, and I also like that I can fold it and snap it together, so the dirty side is not exposed. This is a plus if I am putting the pack down somewhere or jumping in a car for a ride into town and I forget about the little cloth on my backpack.
This page has affiliate links for products and gear I purchase and use. If you click on one of these links, I receive a small commission at no extra cost to you. There may also be Amazon links and as an Amazon Associate I earn from qualifying purchases. You can read more about my thoughts on affiliate marketing.