Tiny Little Moose on the Trail
The night was cold high above the valley below, but I slept warm in my Katabatic Quilt. I was now hiking between about 12,500 and 12,800 feet, and the scenery was spectacular in these high mountains.
I passed a couple looking down into what I think was Cataract Lake. They were watching something, so I stopped to look down at what appeared to be a small boulder.
As I squinted my eyes, one of the hikers looked over and said, "It's a bull moose." I don't know how he could tell it was anything other than a rock, but I just nodded and smiled.
We chatted for a minute or two before I resumed hiking. The morning was still frosty, and I needed to keep moving to stay warm. Contouring up around the next mountain slope, I passed a couple taking pictures and smiled as I moved around them. The morning was busy in this beautiful remote place.
I continued hiking for about an hour before stopping at a small creek for breakfast. I was out of the water, and there was an excellent grassy bank in the sun beside the water. The brook would make a perfect stop to spread out and eat, surrounded by towering mountains and babbling little brook.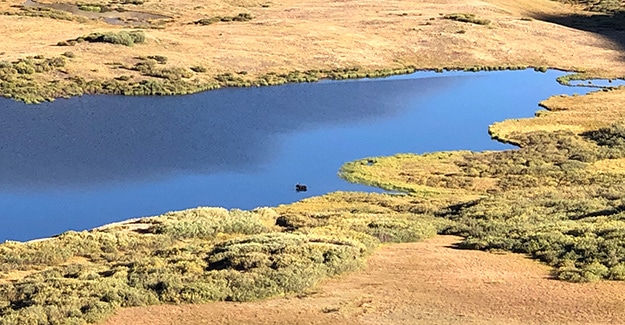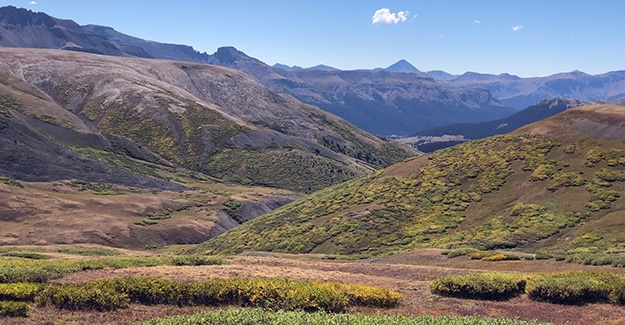 Uncommon Climbers
A few minutes later, the couple I had seen earlier paused on the trail above me. They were silent as the young woman stared at her phone – the older man quietly waiting. She muttered something, and I watched as they took a sharp right, heading off through the low brush.
Over the next thirty minutes, I watched the couple while I ate breakfast. They had crossed the low lying brush and were headed up a steep mountain on crumbling scree. This was made more remarkable because they appeared to be wearing tennis shoes with no real tread.
I watched as they zig-zagged back and forth up the loose rock, occasionally stopping so the girl could study her phone. Where were they going? That mountain was steep, and there was no trail for them to use. I watched as their path up got steeper and steeper. Every few minutes, they would stop, she would study her phone, and they would continue with the older man leading.
I wanted to watch them continue up the steep ascent but needed to keep hiking, so I glanced up at the small figures one more time before starting back down the narrow trail. I was fascinated by the climbers and almost settled back down on the grass to watch, but winter was coming fast.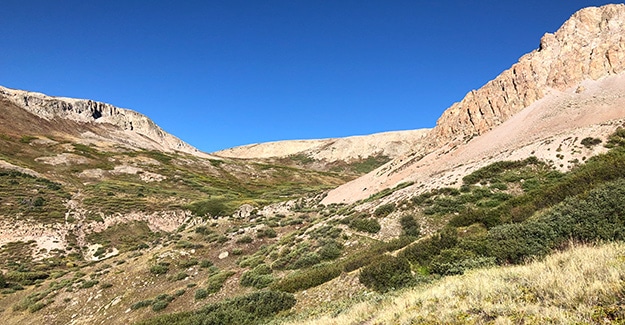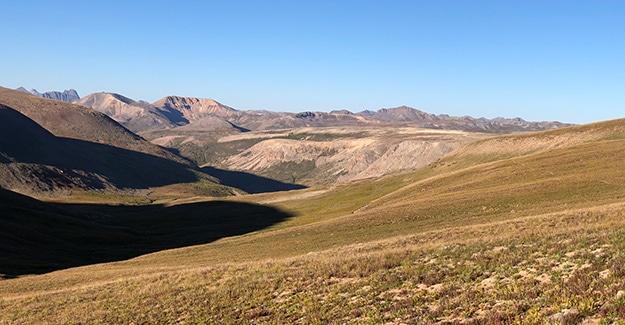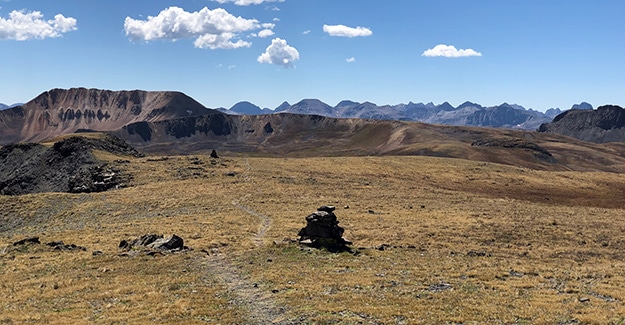 Amazing Scenery Above Treeline
The rest of the day was filled with gorgeous, open hiking. I was above the tree line, and the day was clear, so I could watch the thin trail as it curved across the mountains ahead of me. It seemed to stretch for miles through the jagged hills, occasionally broken by a tall rocky cairn.
Dropping down off a high saddle, I stopped for a late lunch with another couple named Danny and Deidre. I had met Danny back near Cottonwood Pass before Deidre joined him for the rest of the trail. They were a fun couple, and we chatted for about an hour, joined by another day's hiking group and their food begging Beagle.
It was getting late, and shadows were starting to move out from the peaks above as I gathered my things and headed down the trail. Danny and Deidre were going to stop at a small lake around 5 PM, but I wanted to camp at the top of the switchbacks that dropped me down to Molas Creek.
I was going to meet Sam and Shy at Molas Creek Campground, and they were going to finish up the last few days with me in Durango. I needed to get there fast and get out before the storm hit. We hoped to get in at least a day and a half before the storm and hopefully make it out the last two days into Durango.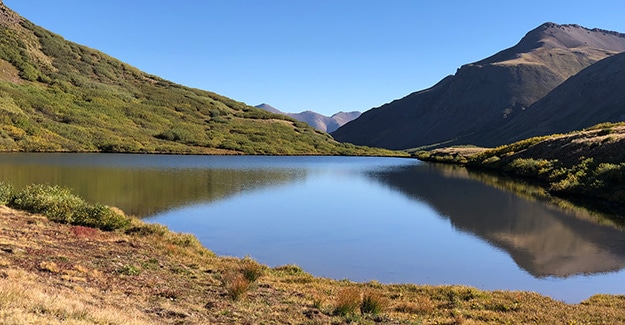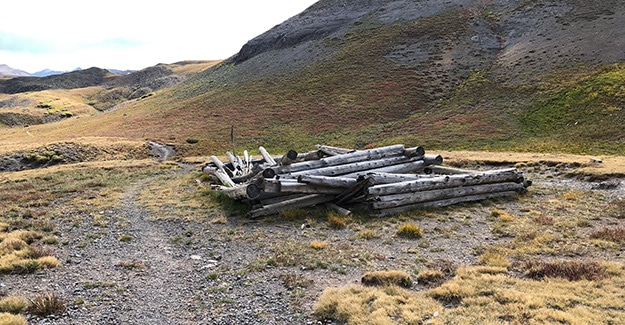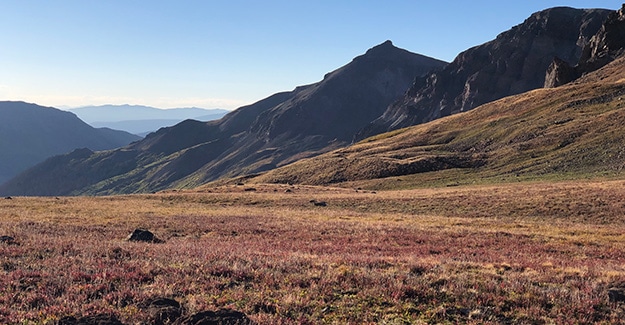 Day's End
The last few miles had me at twenty miles for the day, which was good enough for me. It was starting to get dark, but I could not find a flat spot for camping, so I finally dropped off the trail through some tall grass and set up my Altaplex on some slanted, spongy ground.
The earth beneath the shelter was bumpy but soft, and thanks to my Neoair, I barely felt the lumps. I turned the shelter at a slight angle, so it was relatively flat, and then set up my stove in the vestibule to cook dinner.
There was a relatively brisk, cold breeze, but I had set the back of the tarp up into the wind, so it did not bother me. The grass was also high enough to stop the wind from blowing in under the tarp-tent. It was good to stop for the day. These last few days had been tiring, with a lot of climbing and falling.
I was pretty frustrated with my Challengers. They were still relatively new, and the rocky trail had worn the tread away. It was embarrassing to slide down sharp, short descents landing on my butt as other hikers tried to keep straight faces. I looked at new shoes in Creede but had decided the Challengers could make it a couple more weeks. That had been a mistake.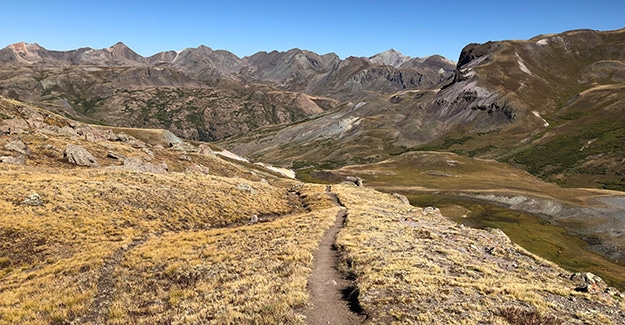 Related Posts
Related Posts
This page has affiliate links for products and gear I purchase and use. If you click on one of these links, I receive a small commission at no extra cost to you. There may also be Amazon links and as an Amazon Associate I earn from qualifying purchases. You can read more about my thoughts on affiliate marketing.