Silver Shadow Mini Umbrella Review
I purchased the Silver Shadow Mini Umbrella by Six Moon Designs for my AZT hike. Below is my review of the umbrella I bought to replace my well-used Go-Lite umbrella.
Yes, I am an umbrella proponent. I used my original Go-Lite umbrella on the Continental Divide Trail, Pacific Crest Trail, and Appalachian Trail. Over the years, my appreciation for umbrellas has grown. I used to get many comments when I carried one, but now they are much more commonplace on the trail.
Silver Shadow Mini Specifications
| | |
| --- | --- |
| Weight: 6.8oz | Length: 10″ |
| Width @ Center: 38″ | Coverage: 7.5 Feet |
| Shaft Length: 20.5″ | Frame: Aluminum |
| UPF: 50+ Rating | Handle: Plastic |
| Pros: Weight, Durability | Cons: Width, Handle Length |
Silver Shadow Mini Umbrella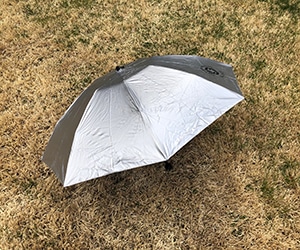 My Umbrella Requirements
Below are my requirements for an umbrella.
Light weight – I still don't consider umbrellas necessary, so I want to keep the weight as low as possible. This is one of the reasons I went with this particular umbrella.
Pack Size – I keep my umbrella in my water bottle pocket on the outside (side) of my pack. Therefore, having an umbrella that packs small is essential.
Temperature Regulation – I often use umbrellas in desert environments, so having an umbrella that reflects the Sun and keeps me cooler is a priority.
Weatherproof – Fortunately, weather resistance is part of an umbrella's basic functions.
How I Use an Umbrella
Over the years, I've discovered numerous uses for my umbrellas. In the past, I've used them in hot, dry environments (deserts, Great Divide Basin, etc.), but in 2013 I took my umbrella on the AT from Katahdin to High Point State Park in New Jersey. Unfortunately, this was in the fall, and I had some cold rain. Nevertheless, I was glad I took my umbrella.
Sun – I started the PCT in late May 2008, heading northbound. School delayed my start, and I skipped the graduation ceremony to begin hiking as quickly as possible since it was late in the season. My umbrella was INVALUABLE in the hot desert. I remember crouching on baked earth under a brutal desert sun as temperatures soared to over 120 degrees.
Rain – The umbrella is so much easier to throw up than stopping to put on sweaty, sticky rain gear – especially in warm temperatures. The same applies to cold rain. The freezing rain would suck away my body heat in the Rockies, even with rain gear on. An umbrella kept the cold rain off me, and I stayed significantly warmer.
Packing – It is great to have an umbrella when packing up in the rain or even putting up my tarp. I set the umbrella over my pack and gear while I do these things. This also applies to taking breaks to eat in the rain.
Sand Shield – I used my umbrella as a sandblast shield while I slept on the AZT this year.
Tarp Door – I have used my umbrella as a door on the end of my tarp in the wind and wind-driven rain.
Weapon – I have fended off several stubborn canines and a snake!
Umbrella Review – Comparison/Decision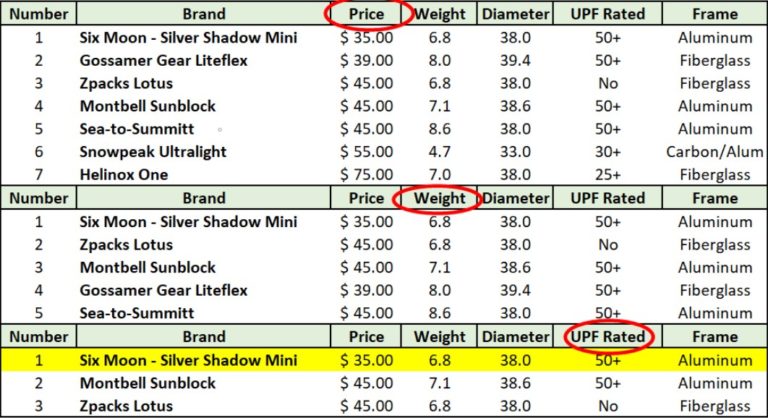 When choosing my next umbrella, I considered a few factors: price, Weight, and UPF Rating. The diameter was pretty close on the ultralight umbrellas I reviewed, so I did not factor it into my decision.
Price is not always a deciding factor for me or at the top of my priority list, although it is still essential. I'm too dependent on the few pieces of gear I take. In the case of the umbrella, though, it was a priority since I consider it a "nice to have" in most cases. If my umbrella fails, I will not die or have a very uncomfortable hike.
My umbrella is also the first gear I send home when I get weight crazy – which sometimes happens as I progress on a long hike. However, as I get in better shape and start moving faster and going further, I also begin shedding weight.
Silver Shadow Mini Umbrella Review – First Glance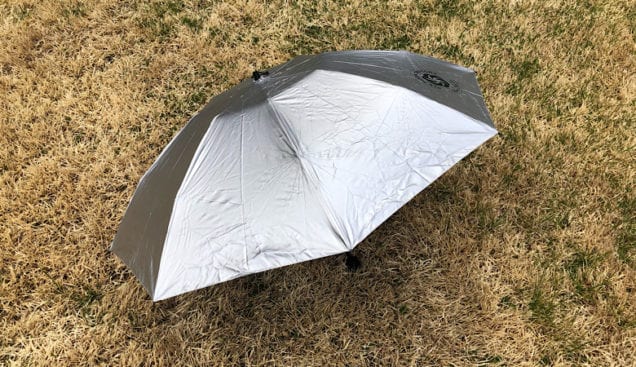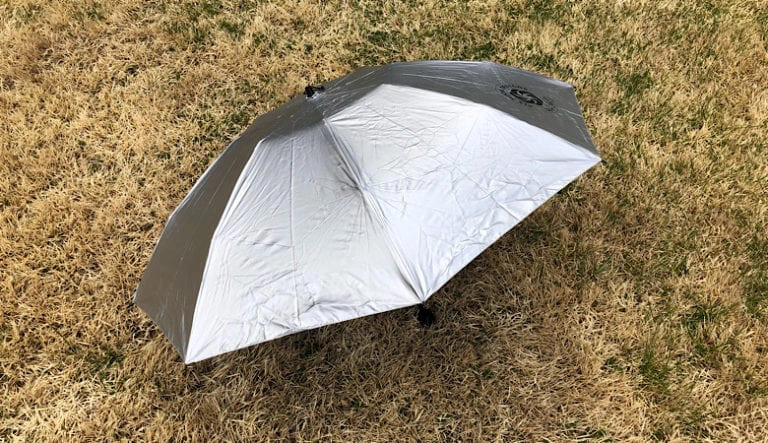 The Six Moon Designs Silver Shadow Mini Umbrella arrived about four weeks after I ordered it. Unfortunately, the umbrella came from Amazon and was not deemed a priority item due to Covid-19 (understandable), so shipping was delayed.
The ultralight umbrella was small and compact, as I had hoped. As a result, it would be easy to pack in my water bottle pocket on the side of my backpack.
The Silver Shadow Umbrella is collapsible, and I did wonder out loud at its durability. Would the small hinges hold up to hard use? Were heavy winds going to collapse the little umbrella when I needed it most? Fortunately, I was able to test it out in some decent storms.
Additional – Features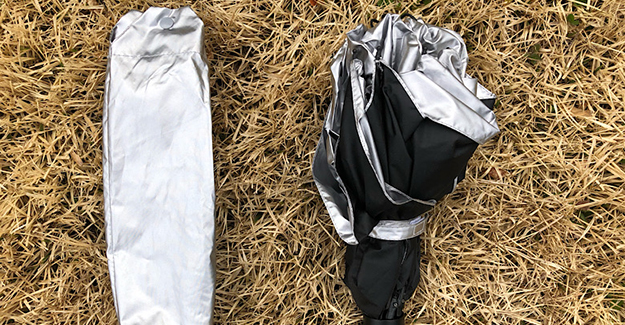 Umbrella Cover
The Silver Shadow was easy to remove from its cover but not so easy to slide back into the body after it had been opened. That's no big deal since I will only be using it for backpacking and hiking, but it might be a little irritating for regular traveling.
I did find that after using the umbrella a few times, the cover loosened up a bit. It was also easier to slide the cover back on if I started with the umbrella's nose when sliding on the cover (not that I would ever try the other end).
Handle & Shaft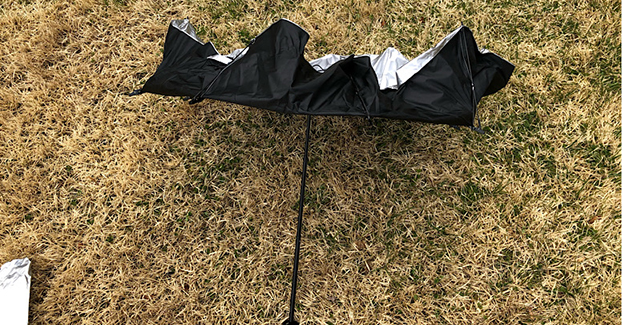 The small handle on the umbrella is made of hard plastic and seems durable. The short length makes it awkward to mount on the sternum shift of my pack, but I'm working on a couple of ideas to make the rigging more stable. Note that Six Moon Designs also offers a Hands-Free Rigging Kit.
The aluminum shaft of the umbrella is durable, and the umbrella is initially easy to put up. However, letting it down is a little more complicated. It comes down reasonably quickly until the last section, and then I have to "play" with the buttons to get it past the edge of the previous section. This may loosen up over time.
Spoke Hinges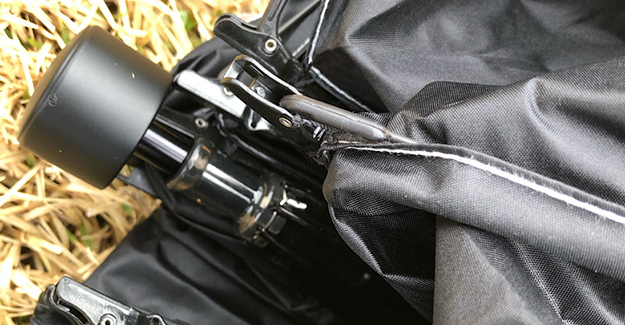 The Silver Shadow Mini Umbrella is collapsible, which is one of the things that makes it attractive in a "compact" environment. In addition, the last section of the spokes has a small hinge that allows you to fold up the spokes on the umbrella. As a result, it almost entirely fits into the back of the side pocket of my backpack.
The hinges seem fragile, but they pop into place easily. However, it is still hard not to feel as if the umbrella is flimsy, so initially, I was gentle when lifting the lower spokes to open the small umbrella completely.
Temperature Control
The Silver Shadow Mini's exterior is silver. This, along with the black underside, should reduce temperatures. The umbrella I took on other hikes did not have these advantages and still significantly reduced heat for me. I don't think I would have easily been able to hike in temperatures over 100 degrees without an umbrella.
Closing Strap
In addition to getting the impression that the Silver Shadow was a little fragile, I also questioned the quality briefly. The strap wrapped around the umbrella uses a small piece of Velcro. The Velcro patch was sewn off-center and hung slightly over the strap's edge. This was a minor flaw that did not impact the function of the umbrella.
Silver Shadow Mini Umbrella Review – Materials/Construction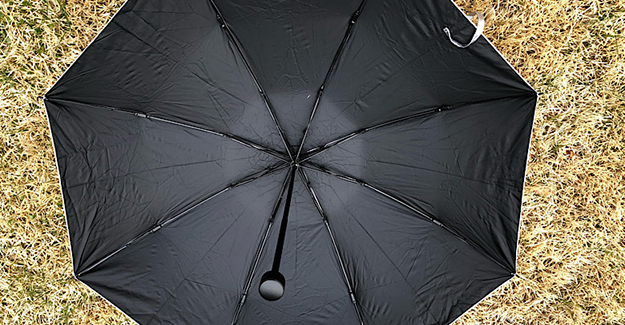 As mentioned earlier, the umbrella exterior is a silver fabric that aids in reflecting sunlight and heat. It also has a coating to repel rain. The interior material is black. This also helps to keep the interior of the umbrella cooler. The fabric on the umbrella also has a UPF 50+ rating.
The construction of the Silver Shadow Mini is solid. It was easy to open, and all of the small, seemingly fragile hinges clicked quickly into place. The material used for the umbrella itself is also durable. Little canine toenails failed to puncture the fabric.
Silver Shadow Mini Umbrella – Post-Hike Performance
Since this initial review, I have used the Silver Shadow Umbrella on the Arizona Trail, Colorado Trail, and New England Trail. This means the umbrella has been with me for approximately 1,000 miles. It held up well until I lost it on my second to last day on The New England Trail.
On the Arizona Trail, I used it most often in the Sun. Surprisingly, there was not much wind, so the umbrella got a lot of use in the desert.
The umbrella was even more invaluable in Colorado in the cold mountain rains. I carried lighter layers, so I appreciated the ability to retain more heat when using the umbrella.
I slid the Silver Shadow Mini's handle under my sternum strap to hold it in place. The umbrella was light, and the handle was the perfect length. I remember passing a woman in the rain at Monarch Pass and hearing her saying, "I am doing this all wrong," as she studied the umbrella. I gave her a friendly smile in return.
Final Thoughts
The Silver Shadow Mini Umbrella held up well in harsh conditions for its price, weight, and size. I would purchase this umbrella again if I only wanted one, but since I am always trying out new gear, I'll try another soon.
This page has affiliate links for products and gear I purchase and use. If you click on one of these links, I receive a small commission at no extra cost to you. There may also be Amazon links and as an Amazon Associate I earn from qualifying purchases. You can read more about my thoughts on affiliate marketing.