Choosing a backpacking stove is a commonly asked question, along with selecting a backpack, day pack, or tent. There are so many options, each with advantages and disadvantages.
I have used a few different stove types over the years and still like to try new stoves new to the market. If I had to choose a perfect stove, it would meet the following criteria.
lightweight
burns natural fuel sources (wood)
does not cause wildfires
I can use it in my vestibule
burns wet fuel sources – in below-freezing temperatures also
does not turn me and all my gear black
In other words – a magic stove.
Until the above stove is manufactured, I'll take you through your many choices. I'll define the stove category, list the pros and cons, and provide a few options. Finally, I'll describe the stoves I use.
Table of Contents
How To Choose a Backpacking Stove – My Requirements
My perfect stove is described above, but since this stove is not an option, I'll go over some of the requirements I have settled for in the stoves I use now. The list below is not necessarily in priority order.
Weight – This is high on my list since I do a lot of long-distance hiking. My goal is always to reduce weight as I get older and reduce wear and tear on my body. Hopefully, this means I will hike longer.
Ease of Use – I would like a stove that is easy to set up and start.
Convenient – It should be relatively easy to find fuel.
Three Seasons – Most of my hiking is three-season hiking, although, in some areas, this is still pretty cold. The stove needs to work in relatively cold temperatures.
Durable – I don't want to mess with a stove a lot, so durability in a rugged environment is essential.
How To Choose a Backpacking Stove – Categories
There are different types of backpacking stoves. The more common ones I'll review are…
Canister Stoves
Wood Stoves
Liquid Fuel Stoves
Alcohol Stoves
Solid Fuel Stoves
Canister Stoves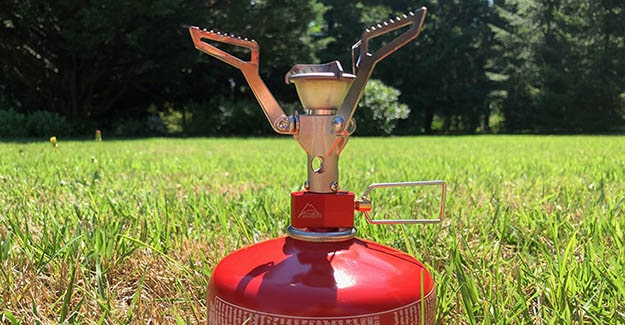 There are three types of canister backpacking stoves.
A direct canister stove includes a stove that mounts or screws directly on a canister. The canister is the base of the furnace.
A remote canister stove has a hose that connects the canister to the stove.
There is also an integrated canister stove with a specially designed pot to create one efficient unit.
You will probably see the majority of backpackers carrying a direct canister stove due to its weight and convenience. I often use a Pocket Rocket, and a picture from my Pocket Rocket Review is in the image above.
Pros
Fuel is convenient and relatively easy to find compared to other fuels
The stove is very easy to use
The lightweight and small compact size of the stove
Relatively inexpensive compared to some other stoves
Cons
The base is usually small, so not stable
Will explode if exposed to too much heat
Challenging to determine the remaining fuel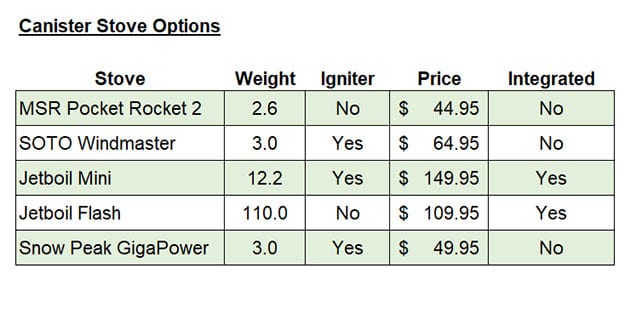 Wood Burning Stoves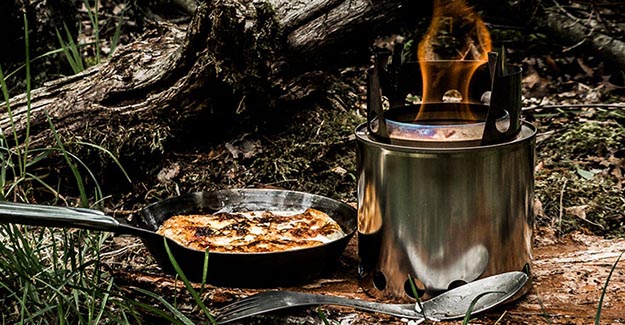 A wood-burning backpacking stove is great as long as there are no fire bans. When I was younger, I took my Bushbuddy on the PCT in Southern California. As the stove began flaming, the infamous Southern California winds kicked in, and I was convinced I would be the source of the next devastating wildfire! The poor Bushbuddy had a very short PCT hike!
There are two types of wood-burning backpacking stoves – can-based and folding stoves. The Bushbuddy is a double-sided, can-based stove, which makes it very efficient at burning wood. It reduces the wood to ash.
If my perfect stove is manufactured, I hope it will be a folding stove. Folding stoves are often lighter and pack up smaller. They also have a natural windscreen and usually have a slot to feed fuel on their sides.
My Bushbuddy was a good stove, but I also like Solo Stoves. They are lightweight and burn hot.
Pros
Fuel is available – sticks, pine cones, leaves, etc. It's all around you!
Lightweight stoves that pack small
No use of "fossil fuels."
Cons
Fuel is hard to find when wet, but you can always use Esbit tablets.
I get soot all over me, but some of my friends call me the Linus of backpacking, so it may not be the stove's fault.
Cannot use where there are fire bans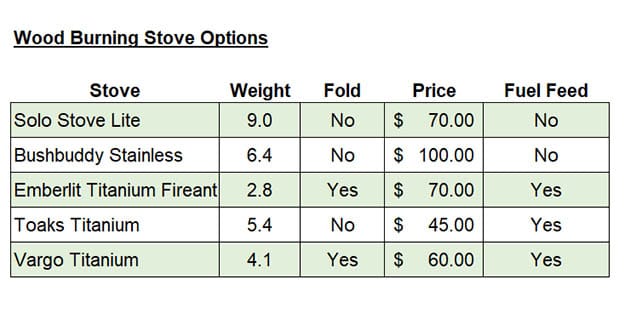 Liquid Fuel Stoves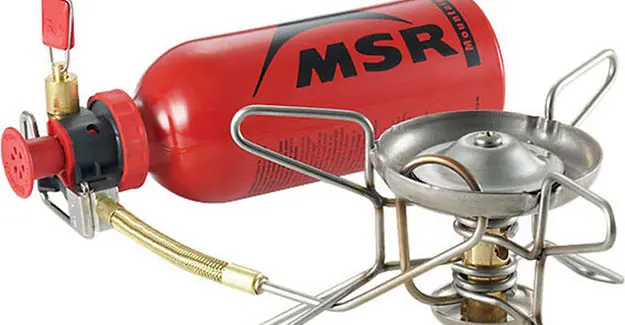 When I hiked the AT in 1998, everyone used liquid-fuel backpacking stoves. I remember watching a guy attempt to light his stove in a shelter in the Smokey Mountains. The stove blew up, and he just about burned down one wall of the structure. He did not yet have a trail name, but he did after that night!
Most thru-hikers I hiked around in 1998 used an MSR liquid-fuel stove, and I was no exception. The stove was reliable, especially in cold temperatures, and extremely durable in harsh environments. I probably dropped my fifty-pound backpack on it a hundred times, and it kept lighting.
A liquid fuel stove is great for cold weather camping (burns down to 40 below). The stove consists of a small tank with fuel, which you pump to build pressure and push fuel through a hose to the stove. Once at the burner, the fuel mixes with air to create the flame.
Liquid fuel stoves primarily burn white gas, but some can burn dirtier fuel types like gasoline, diesel, kerosene, etc. This is good if you are traveling in other countries, but it can result in you having to break down and clean your stove more often. If using different fuel types, you might have to use a primer to burn the gas.
Pros
Uses multiple types of fuel if traveling in another country
Burns well in freezing sub-zero temperatures
More eco-friendly since bottles are reusable
Lower fuel costs
Easy to determine the remaining fuel
Cons
Stove and fuel are heavy and bulky
Fuel can be messy and smelly
Stoves can be finicky to light
Need to pump for pressure before lighting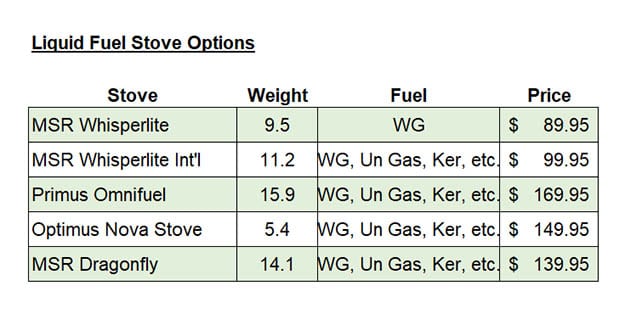 Alcohol Stoves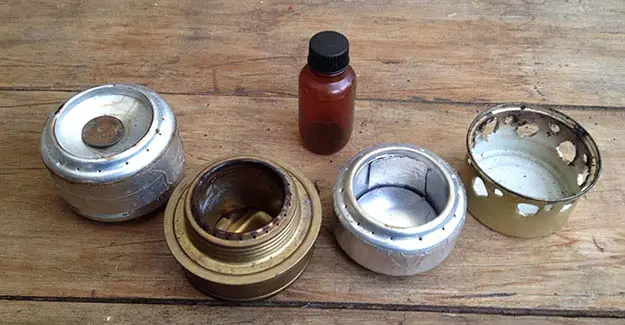 Alcohol backpacking stoves come in many shapes and sizes. This category has the most "Do it Yourself" (DIY) stoves since making a stove from a soda or beer can is simple. This is your category if you want an inexpensive, light stove.
There are several different types of alcohol stoves to choose from…
Open – Fill an open can with fuel, and you are good to go.
Side – Holes are on the side of the can, so the flames come out of the sides. This allows you to set your pot on top and use it as a stand.
Vertical – Uses two nested cans that make the flame that comes out the top of the stove more efficient.
Pressure – These are the most complex. These stoves use vapor pressure to create a powerful flame for boiling water and can be temperamental. The stoves also have to be primed.
Alcohol stoves are very popular in the long-distance hiking community due to their size, weight, and ease of finding fuel. The stoves can burn HEET, Rubbing alcohol, Denatured Alcohol, Everclear, etc. You will find fuel in drug stores, hardware stores, maintenance shops, etc.
Pros
Lightweight DIY stoves can be an aluminum can – less than an ounce
Easy to find fuel in small towns along trails
DIY stoves are very inexpensive or free!
Cons
Stoves are messy; depending on the fuel, they can be sooty and easy to spill
The base is narrow and unbalanced – it needs a stand, and it is hard to set the pot on the stove
They can be unsafe – easy to spill fuel and fire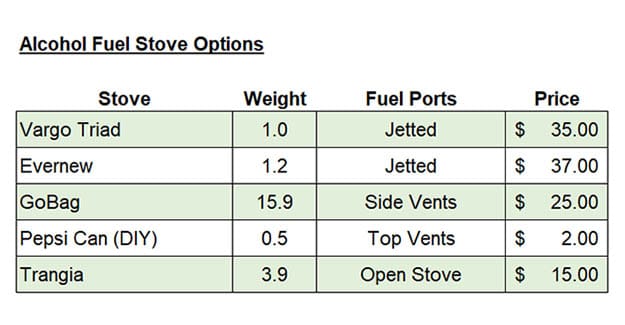 Solid Fuel Stoves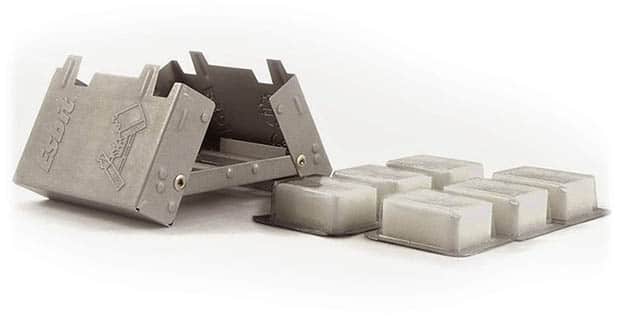 Hikers refer to solid fuel backpacking stoves as Esbit Stoves. Esbit tablets are the fuel cubes you burn to boil water or cook food. It takes about 8 minutes to boil two cups of water with a cube.
You will need a stand or potholder for the Esbit cube. I have seen minimalist hikers dig a hole in the ground, place the cube in the hole, and put the pot on top.
Solid fuel is a great backup fuel source for wood stoves if you are in a wet environment. It also makes a good fire starter for campfires. I often take a cube or two with me for emergencies when hiking.
Pros
Good backup fuel source
Lightweight for backpacking
Cons
No ability to regulate the heat source
Not always easy to find on long hikes
Smell bad when burning – like bad fish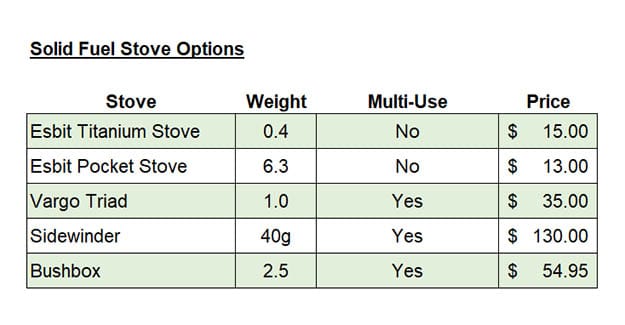 How To Choose a Backpacking Stove – Summary
You can use many different stoves; most are created to fill a niche or address a need. I've tried one in every category, and I'm sure I will continue to experiment. I also cold soak when moving fast and don't want to mess with a stove.
My Backpacking Stove of Choice
Canister Stove
I commonly use a canister stove, the Pocket Rocket 2 Stove you see in the picture above. The little stove is easy to use, works reasonably well in cold temperatures (although I sometimes have to cuddle the can to warm it up), and is only 2.6 ounces. I can usually find it in towns along the trails.
I don't use a windscreen since I often stop and eat before camping. Cooking early offers flexibility when locating a spot to set up and cook. Rocks have served to block wind occasionally, but I'm careful since they can blow at temperatures over 122 degrees. You don't want it to get too hot. I've never had an issue.
Other Backpacking Stove Considerations
Liquid Fuel
When I go on winter hikes or hike in freezing temperatures, I have always used a Whisperlite Liquid Fuel Stove. Since I don't use them often, I've never had a reason to change. This has always been a dependable stove for me.
Wood Stove
My Bushbuddy was the wood stove I was most excited to use. It's a well-made little stove, but it gives me a heart attack if there is any significant wind. I use it more on the east coast than I do out west, and generally, when I'm doing shorter hikes where there is more camping involved.
I have also used the Solo Stove Lite, and the thing I like the most about this stove is how fast it heats my water. The Solo is more expensive than my Bushbuddy, but it does not need a separate windscreen, and I can add wood. These are both advantages of this stove – those and a nice campfire.
Alcohol Stove
Many long-distance backpackers swear by alcohol stoves, mainly due to the weight and ease of finding fuel. I've never really enjoyed using alcohol stoves. I find them messy and have had the fuel leak in my pack. The leaking is, of course, part of my "Linus Factor." When I do use alcohol, I use a Brasslite stove. The stove is lite (1 oz.), heats up well, and is more stable than other alcohol stoves I have used.
Solid Fuel
I mentioned earlier that I have often carried a couple of emergency fuel cubes, but I have also used them occasionally as my primary cooking method. If you use them, you will need a stand and a windscreen.
I have put the fuel tabs between rocks in the past, but I don't dig a hole or use stones anymore. LNT Principles are essential to me, and although they leave a small scorch mark, I still prefer not to bake chemicals into the ground and leave black rings if I can avoid it.
How To Choose a Backpacking Stove – Final Thoughts
Choosing a backpacking stove can be a little overwhelming, but today's choices are generally all good stoves. Also, consider whether you want to hike, camp, and enjoy or endure. If I'm camping and enjoying, I like wood stoves as long as there are no fire bans.
I appreciate my ever-dependable Pocket Rocket, though, and often find it is my go-to stove regardless of the type of hiking or backpacking. The stove is durable, lightweight, and very easy to use.