This Little Stove is a Sure Bet
The MSR Pocket Rocket 2 is a slightly lighter version of a long distance hiking classic. The MSR Pocket Rocket Backpacking Stove is a stove I always find myself going back to when I decide to cook on my hikes. This stove is dependable, easy to use, and quickly boils my water at the end of a long day.
I have used many other stoves, and enjoy trying all of the new technology. When I have to choose a stove for a long distance hike though, I often choose the MSR Pocket Rocket, and now the MSR Pocket Rocket 2 Stove. This little stove is a sure bet on any type of hike.
MSR Pocket Rocket 2 Review – Quick Specifications
Weight – 2.6 oz
Width – 1.7 in
Height – 3.1 in
Boil Time ( 1 Liter ) – 3.5 Minutes
Burn Time ( 8 oz container ) – Appx. 60 minutes
MSR Pocket Rocket 2 Review – Components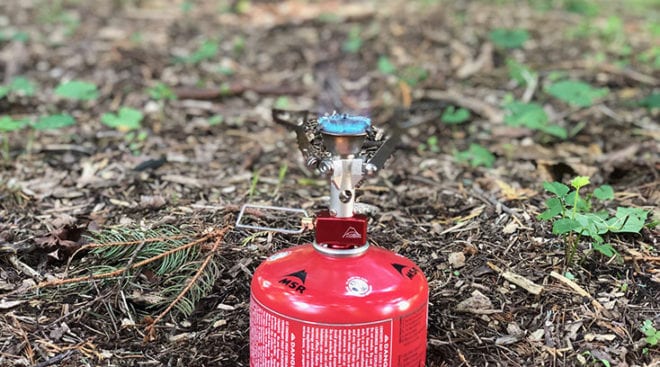 The MSR Pocket Rocket is a simple, straight forward stove. Like all ultralight gear though, it is important that you take care of your equipment. The Pocket Rocket is no exception.
Many people take the stove out of it's plastic case and keep it in their cook pot. I don't do this since it offers less protection for the stove, and the rattling drives me nuts while I'm hiking. I always keep the stove in it's case.
Stove Body
The body of the stove is made from stainless steel, aluminum and brass. The base of the stove screws onto a fuel canister, and while some users claim the non-brass threads are soft and wear quickly, I have not had this issue. My first stove traveled with me on the Pacific Crest Trail and Continental Divide Trail with no problems.
Burner Control Wire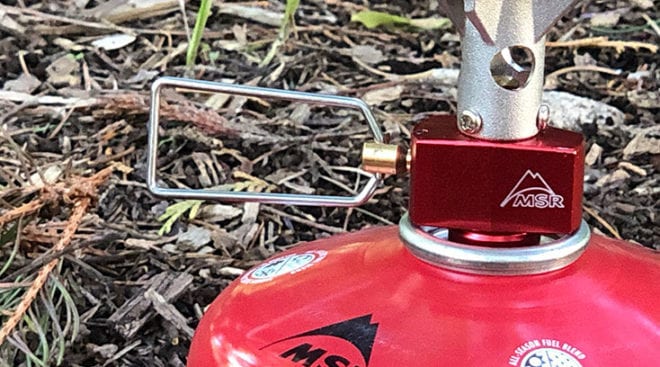 The small burner control wire easily folds up against the body of the stove and the ability to adjust your flame with this control wire is one of the attractive features of this stove. You can easily simmer or boil!
Pot Support Legs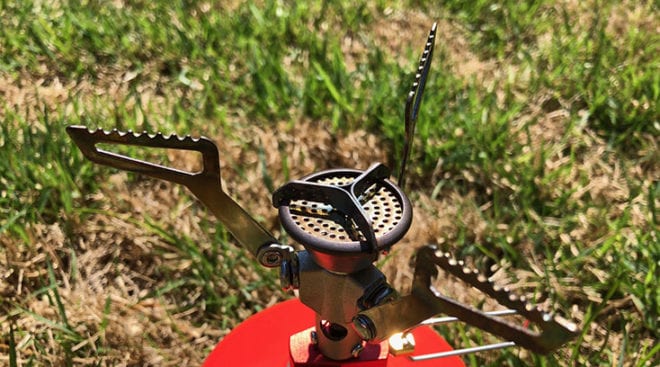 The MSR Pocket Rocket 2, has 3 support legs that fold up against the stove. I will admit to having to unfold and refold mine several times before getting it to fit back into it's case. After a few uses though, my brain recognized the "folding pattern" and I no longer give it any thought.
The legs are fine for my one person titanium pot, but offer a rather narrow base for larger pots. I would probably look at other options if sharing a pot with a partner or if I was doing some serious cooking that needed a larger pot.
Burner
The burner on the stove has a small Wind Clip screen to help prevent the burner from blowing out in a breeze. I would not really call this a windshield though, and when I am in breezy conditions I use rocks or my Thinlight Pad to block wind. Take caution that you do not block in the pot closely or it may over heat.
MSR Pocket Rocket 2 Review – Post Summary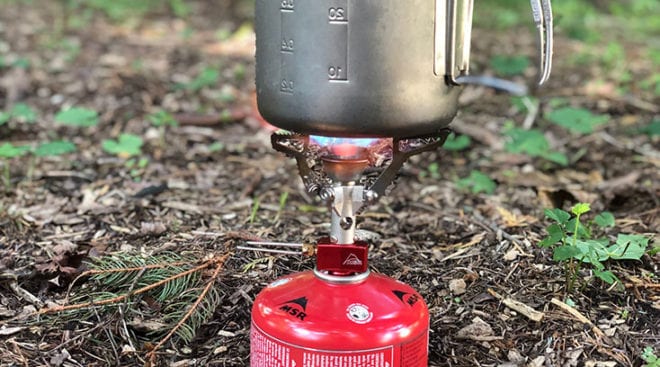 The MSR Pocket Rocket 2 Stove is as dependable as it's namesake the original MSR Pocket Rocket. There are currently competitors that have auto-ignites and faster boil times – even some that are slightly lighter. For the cost and weight I still think the Pocket Rocket is a great value.
Pros
The low weight of the Pocket Rocket make it attractive for long distance hiking.
Safety is a definite plus in dry areas with campfire bans. In some instances you can only use canister stoves. Check the locations where you are hiking.
Ease of Use is a big plus for me. When I stop to eat (usually an hour or two before camping) I want to quickly be able to boil water.
This is a very reasonably priced stove.
Cons
There have been complaints about the threads wearing too quickly when screwing the stove onto the canister. I have not had this problem.
The stove has a narrow base for larger pots.
Fuel efficiency is average compared to some competitors.
Years later, and thousands of miles, and the MSR Pocket Rocket is still my "go-to" stove on most long distance hiking trips. There is still one disadvantage of a canister stove though.
Fuel availability can be a nuisance. There are many small towns that don't always have fuel canisters, and it is a pain in the fanny to ship canisters. I can ship it Ground if I mark the box appropriately, but on two separate occasions my resupply box has "disappeared." I'm not saying it is because there was a fuel canister inside, but only boxes with canisters have been "lost."
Case in point is my upcoming hike. I can't take the canister fuel with me since I'm flying. There appears to be a run on canister fuel in Colorado and it is hard to find canisters right now. Because of this, I'm shipping Esbit fuel tabs and a small Esbit stove. I hope to mail it home at my first resupply stop. We will see if canisters loosen up since I'm not hiking until August.
Related Posts
Average Hiker purchased this stove and does not write sponsored posts or receive compensation for reviews. When you purchase through links on this website, I receive a small commission at no additional cost to you. If you have found this review helpful, please consider purchasing through the link above. You can find further affiliate details on the Affiliates Page. Thank you
Hi. Average Hiker purchased this product and does not write sponsored posts or receive compensation for reviews. Some of the links in this post are affiliate links which means that when you click on one of these links, I earn a small commission at no extra cost to you. Also, as an Amazon Affiliate, I earn from qualifying purchases. If this review has been helpful, I appreciate you considering your purchase through one of the product links. Thank you.