Updated Gear List for the Colorado Trail
My gear list is updated for a Colorado Trail Thru-hike in August. The Big Three include Zpack and Katabatic changes – all quality cottage gear manufacturers.
Reviews for all of my current gear continue to be written, and where you see a link, you will find a review for that item. I've also included a DOWNLOAD button at the end of this article so you can download the gear spreadsheet if interested in individual weights.
My final weight without food and water is approximately 13.3 pounds. As usual, I'm not the lightest or the heaviest, but about average.
All comments and questions are welcome in the comment section at the end of the post.
Table of Contents
What Exactly is "Light" Anyway?
Light, ultra-light, traditional – these backpacking categories are a topic of much debate. With the gear changes over the last few years, I imagine the categories will continue to be debated and adjusted. A few definitions include the following…
Base Weight – Your pack weight minus consumables and the clothes you wear. I also don't include my hiking poles.
Consumables – These are usually food, water, fuel, or whatever you consume as you travel.
Traditional Weight – Greater than 30-pound base weight, or 25 according to who you ask.
Light Weight – 10 – 20 pounds
Ultralight – Less than 10 pounds, although some say 12 pounds.
Super Ultralight – Less than 5 pounds. This is heavier than my day pack. I think this is the weight of my purse.
I fall in the Light Weight group, but if conditions are right I'll drop into the top of the Ultralight range. This means summer temperatures and plenty of water.
Safety is always the priority, so hike your own safe hike and carry what works for you.
Colorado Trail Gear List – Shelter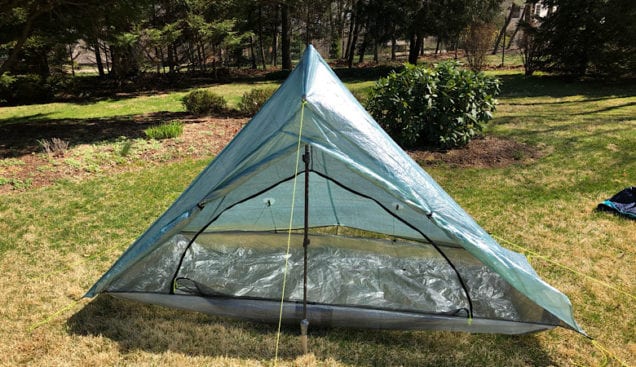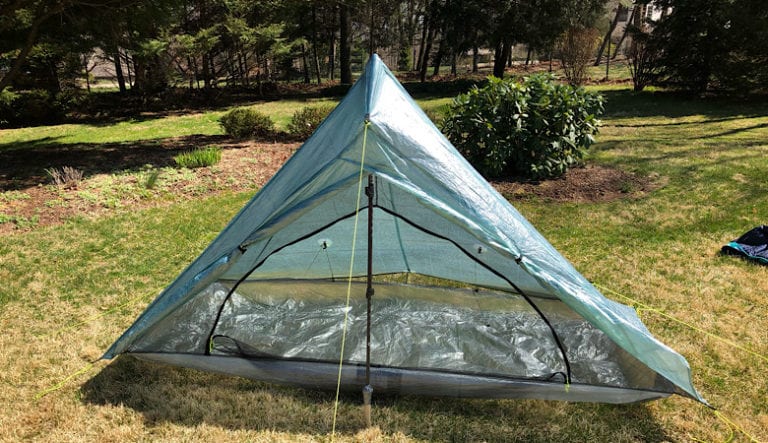 Altaplex, Altaplex Stuff Sack, Extra Lines, Tent Stakes, Trekking Pole Jack
Total Weight: 19 ounces
The Altaplex has been a reliable shelter and performed well. I ended up getting the Trekking Pole Jack from Mountain Laurel Designs since Zpack remains out of stock. I use the hiking pole jack for the Altaplex since my hiking poles are not long enough.
The Altaplex will be an excellent addition to my Colorado Trail Gear List. There is a lot of open space on this trail, and the Altaplex has a relatively large footprint. Wind can be an issue at the higher elevations, but the Altaplex pitches tight, and the wind has not been a problem. I also try to drop down to lower elevations and get off ridges when I make camp.
Colorado Trail Gear List – Backpack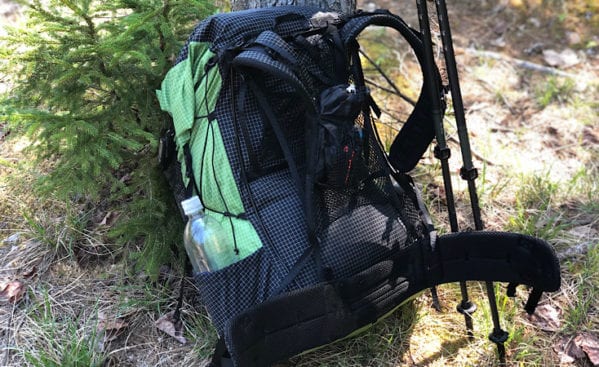 Zpack Arc Haul, Compactor Bag, Zpack Shoulder Pouch
Total Weight: 25.1 ounces
The Arc Haul has held up well on some challenging shorter hikes, and I'm looking forward to carrying it on the CT hike. I like my ULA Adventure Shoulder Pouch better than the Zpack Shoulder Pouch, so I will attach it to the other shoulder strap and carry them both.
The net pocket on the outside of the Zpack Shoulder Pouch is perfect for my InReach.
Colorado Trail Gear List – Sleep System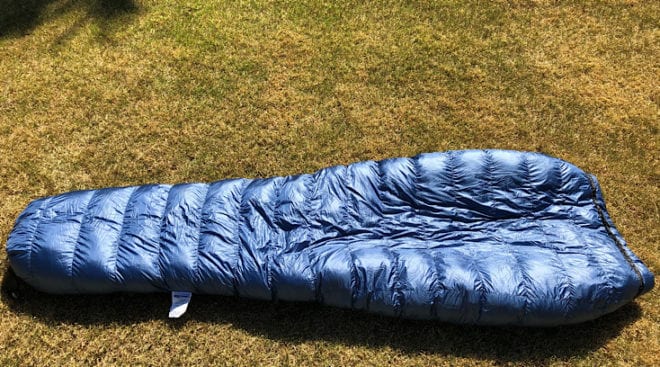 Katabatic Flex 22 Quilt, Neoair XLite Pad, Gossamer Gear Thinlight 1/8, Extra Katabatic Lines, Hyperlite Stuff Sack Pillow
Total Weight: 41 ounces
The Katabatic quilt has kept me warm in colder temperatures, but the Rockies are a whole different kind of COOL at high elevations. It is a 22-degree quilt, so there will be nights where I'm sure I will probably wear every stitch of clothing!
I want to give the quilt a shot in the colder temperatures, so I'm upgrading my layers and taking my Feathered Friends EOS Jacket. The quilt packs down so well in my backpack – much smaller than my 10-degree sleeping bag. I'm hoping there will only be a few shivery nights. Something tells me I may miss my Feathered Friends Lark, but I guess I'll find out.
Colorado Trail Gear List – Clothing
Feathered Friends Jacket EOS, Precip Men's Rain Jacket, Montbell Versalite Rain Pants, Smartwool UL Crew Socks, Women's Voormi River Run Hoodie, Generic Running Shorts, Kora Esker 230 Beanie, HOKA One One Challenger ATR 5 Trail Runners, No Name sun Hat, No Name Buff, No Name Bandanna, Mask
Total Weight: 39.3 ounces
As mentioned, since I'm living on the edge of cold with my Katabatic Quilt, I'm taking my heavier Feathered Friends EOS Jacket. The EOS is still considered ultralight, but it is heavier than my Montbell Down jacket. I imagine I'll probably be sleeping in the EOS and the KORA Beanie on occasion, but hopefully not too often.
My Marmot Precip Rain Jacket also doubles as my wind shell and is why I always carry a rain jacket that is a little more durable. It is also a Men's jacket, which gives me a bit more room to layer.
My Voormi Hoodie is my new favorite to go everywhere shirt, so it is now my permanent sleep shirt. This hoodie is comfy and never smelly after a few days on the trail.
The HOKA Challenger's – well, I just purchased two more pairs. I can't say enough good things about how comfortable these trail runners are over long distances.
Colorado Trail Gear List – Cooking/Food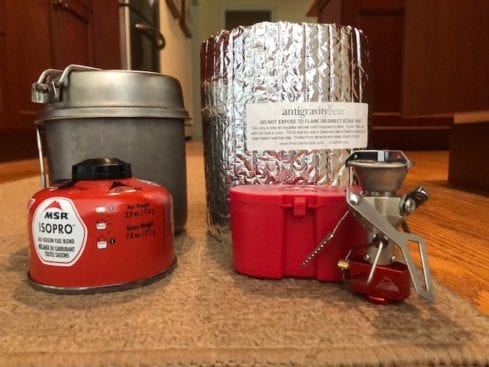 Gas Canister, Food Bag, Pocket Rocket 2, OPSACK, Lighters, Stuff Sack, Anti-Gravity Gear Cozy, Snow Peak Titanium Pot
Total Weight: 22.1 ounces
It looks like fuel might be an issue. There has been a lot of chatter about a lack of fuel canisters in Colorado. I'm thinking about taking an Esbit Stove, but even the tabs are a little tough to find.
Right now, I'm still crossing my fingers on there being fuel canisters when I arrive. The worst case is that I'll end up cold-soaking my meals.
Colorado Trail Gear List – Toiletries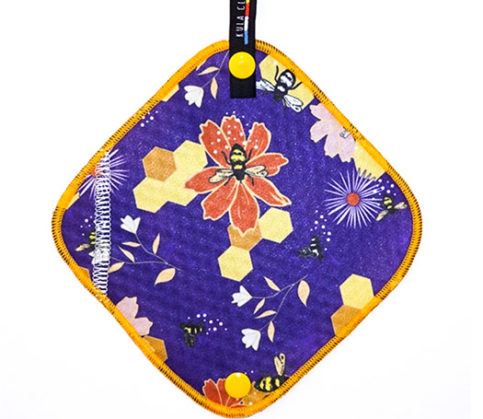 Toothbrush, Toothpaste, Clippers, Purel, Kula Cloth, Dental Floss, Chapstick, Earplugs, Hairbrush, Needle, Earplugs, Toilet Paper
Total Weight: 20.2 ounces
The only change is the piece of gear I never knew I needed – the Kula Cloth. I just ordered two more. They are being gifted to friends that also don't know they need them. They are far cleaner than the Bandanna method for me.
Colorado Trail Gear List – First Aid
Tinactin, Neosporin, Ibuprofen, Imodium, Nexcare Tape, Band-aids, Superglue
Total Weight: 3.6 ounces
My first-aid kit is lightweight. The Colorado Trail is established, and I won't be bushwacking or spending time in sketchy areas. My feet are pretty tough, so I no longer tape moleskin or some of the other blister remedies. My extra bandanna can serve as a sling or wrap if needed.
Of everything in the kit, Tinactin is what I use the most. For rashes or monkey butt, NOTHING is better, and I get them on every hike at one point or another.
Imodium is the other must-have for me. My stomach is sensitive. I take it the first 2-3 days hiking while my stomach is adjusting to trail food. It helps keep things regular.
Electronics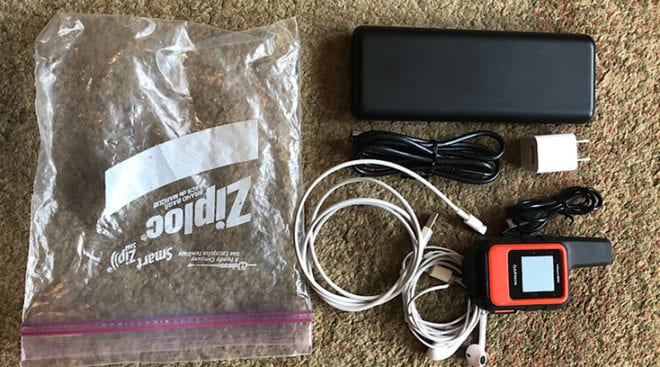 Anker Battery & Cord, InReach & Cord, Iphone & Cord, Double Wall Charger
Total Weight: 25.5 ounces
My battery pack is now almost a pound, but it has far more juice than I need between town stops. It charges the phone, GPS, and headlamp. The only issue is that it takes almost 8 hours to charge, so I use a small booster plug with two ports in case I want to get in and out of town fast.
I have a post with more detail on my Electronics & Gadgets.
Miscellaneous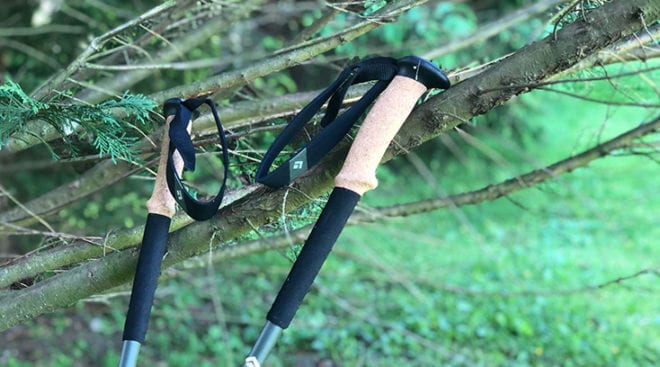 Black Diamond Alpine Cork Hiking Poles, Water Bottles/Bladder, Dirty Girl Gaiters, Knife, Compass, Fenix HM50R Rechargeable Headlamp, Sawyer Squeeze Filter, DEET
Total Weight: 17 ounces
There are two new items in my miscellaneous category on this hike. I have reviews for both the Black Diamond Alpine Cork Hiking Poles and the Fenix HM50R Rechargeable Headlamp at the links above.
The hiking poles feel great while I'm hiking, and the headlamp is brighter than any other headlamp I have used. It's nice having a rechargeable headlamp with my GIANT battery pack and not having to worry about batteries.
Post Gear Thoughts
Taking new gear on my hikes is essential if I want to test it thoroughly. On some of the longer walks, I may switch out gear partway through the hike so all equipment can be adequately tested.
Once the gear is tested, I'll put it up for sale in the store. I take good care of my equipment, so are good deals.
I have an article I wrote following my hike of the Colorado Trail. You can check it at THIS LINK to see more detail on how all of the gear performed.
You can download the gear list at the button below.
When you purchase through links on this website, Average Hiker may receive a small commission at no additional cost to you. I appreciate the purchase – thank you.