Gear Performance on the Colorado Trail consisted of winners and losers. I also had a few surprises and reminders. Insanity is doing the same thing over and over and expecting different results. Once again, I proved this old saying.
Katabatic Flex 22 Quilt – Performance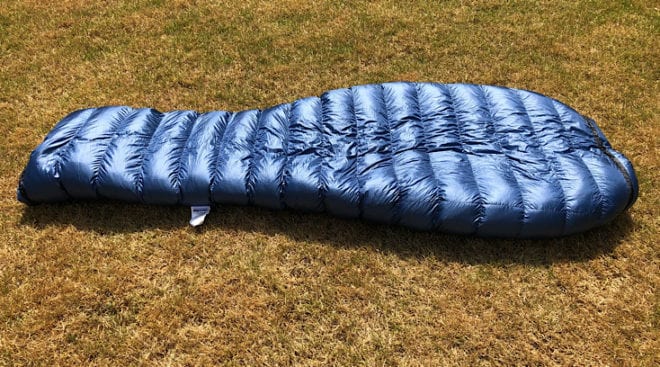 Overview:
Regarding gear performance on the CT, the Katabatic Flex 22 performed well. It is generously filled with Down and a well-made quilt. I was still reminded why I use a sleeping bag in below-freezing temperatures. So many quilt users had sworn by the Katabatic quilts in sub-freezing temperatures that I decided to give a quilt another shot on a cold trail.
Positives:
Foot box completely seals, keeping my feet warm
Generously filled with Down and the first bag or quilt I've used that is close to being true to its temperature rating
Great, snug collar that does not cost extra
Packs down tiny
Negatives:
The collar snap popped off in the second week. I sent an email to Katabatic last Friday and heard back first thing Monday morning.
The cord system works, but as the snaps loosen, the lines pull loose if you are a restless sleeper.
The clips are hard to attach on the second notch, and it never got any easier.
There are cold spots under the elastic, even when on the second notch. I always found myself messing with the quilt while turning in my sleep. If I purchased this quilt again, I would probably get a wide to tuck it under me.
Would I Use it Again?
I would use this quilt again. It is a good 3 season quilt for me as long as the temperatures don't go below 40 degrees. Below 40 degrees, I would still use a sleeping bag to prevent cold spots that wake me up. This is my own personal preference since I sleep cold.
Zpacks – Altaplex Shelter – Performance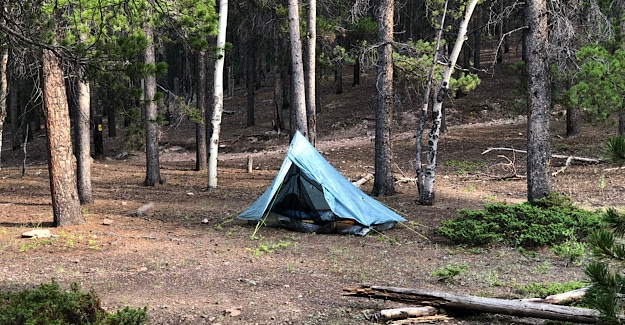 Overview:
I purchased the Altaplex to replace my old Zpacks Hexamid shelter. I wanted more room and hoped that higher walls with more airflow would help prevent condensation issues.
Related Posts: Zpacks – Altaplex Shelter Review
Positives:
Headroom was an improvement for my 5'11 1/2 frame
Ease of set-up
The bathtub floor had a generous cut with high sides
Minor/moderate condensation – much less than Hexamid
Shelter surprisingly stable in windy conditions
Plenty of room under the vestibule to cook with a canister stove
Negatives:
Pooling water when netting pushed out under the edge of the tarp
Vestibule leaked during hard rain – I prefer zipper or solid vestibule
Unless set up perfectly on a flat spot, the quilt still touched the wall
The footprint was larger than I expected with all of the tie outlines used
I still brushed back of tarp if not paying attention
Would I Use it Again?
The Altaplex is a reliable shelter. The weight alone is a good reason for me to use an Altaplex. It is hard to find this much room for less than a pound. The Duplex by Zpacks is a good option, but that is more shelter than I need. I also like a smaller footprint.
Zpack – Arc Haul Backpack – Performance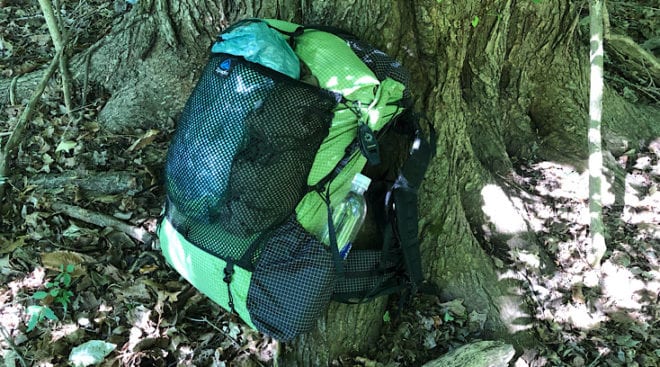 Overview:
Unfortunately for me, the Arc Haul was one of the weaker performers on the Colorado Trail. It performed well under 20 pounds, or after I had eaten all my food, carried no water, and was headed into town. It is a good backpack but does not fit me well. I spent a lot of time "adjusting" it during my first two weeks of backpacking.
I had to pull up my shorts to stop the hip belt from rubbing my back just behind my hips. By the end of the first week, I had two raw spots and tired shoulders as I shifted the weight to stop the rubbing.
The mesh panel on the back was also annoying for me. Unfortunately, it settled right between the bottom of my narrow shoulder blades and kept hitting them as I hiked.
The Arc gets a lot of great reviews from long-distance hikers. It is just not a comfortable pack for me.
Related Posts: Zpack – Arc Haul Review
Positives:
Highly water-resistant
Good quality. Components, though small, were durable.
Large mesh pocket on the back of the pack
Side pockets secured my Smart Water Bottles and hiking poles.
Plenty of room for gear and five days of food and water
Outer mesh pocket on shoulder pouch for InReach
Negatives:
Uncomfortable over 20 pounds
Hip belt rubbed raw spots on my back behind my hips no matter how I adjusted it. Fully loaded weight 23-24 pounds
Mesh panel fell between my lower, narrow shoulder blades – uncomfortable.
Shoulder strap pouch does not seal – drawstring
Would I Use it Again?
This pack is well made but not the right fit for me. If I were going out on a 2 – 3 day section hike, I would take this pack. Anything more than 20 pounds makes this backpack uncomfortable on me.
Six Moon Designs – Silver Shadow Mini Umbrella – Performance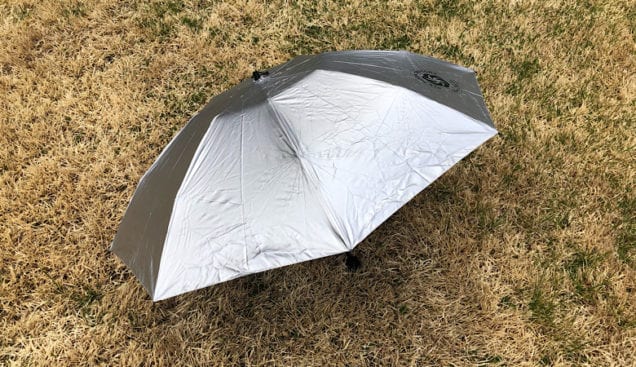 Overview:
This little umbrella was a pleasant surprise and the winner for gear performance on the Colorado Trail. It is the smallest one I have used, and it held up well. Even in breezy conditions, it held it's own. I can't count the number of hikers I passed in downpours that stared at me in envy, and several even stated they wished they had an umbrella. I was surprised to see no other umbrellas.
Related Posts: Silver Shadow Mini Umbrella Review
Positives:
Kept cold rain off my upper body, keeping me much warmer than just wearing my rain gear
Covered the top of my backpack, keeping it relatively dry
Quickly tucked handle under my chest strap to stabilize
Great to sit under in rain or sun during snack breaks
Covered pack while I set up the shelter in the shower, keeping gear dry
Negatives:
Folding tines are a little irritating when closing
The handle could be just a little longer
Collapsing handle sometimes hard to push together
Would I Use it Again?
I will most definitely use this umbrella again. Protection from cold, heat sucking rain is even more important than sunblock for me. I'll be doing some desert hiking on the Arizona Trail in March, and this piece of gear is absolutely traveling with me.
HOKA Challengers – Performance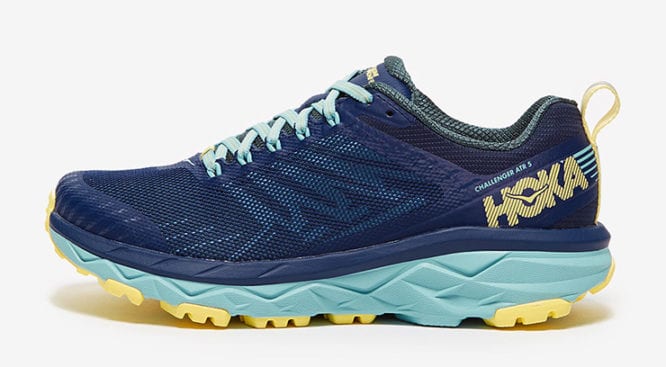 Overview:
My HOKA Challengers have been my go-to shoes for over a year now, but they did not do well in the Gear Performance category on the Colorado Trail. By the last two weeks on the Colorado Trail, I slid everywhere and regularly sat down HARD on my butt! The CT is a challenging, rocky trail, and my treads wore down much faster than I expected. My lugs were entirely gone by the time I got to Silverton, CO. I ended up switching to Men's 9.5 Speed Goats. They fit me perfectly!
Related Posts: HOKA Challenger ATR 5 Review
Positives:
Roomy toe box
Very comfortable with Protalus inserts
Durable mesh uppers
Initially, good grip and traction.
Negatives:
Soft rubber treads wore down very quickly
"Gravelly" track caused shoes to slide far too easily
Expensive to switch out often
Would I Use it Again?
These shoes are so comfortable, and they will be my casual hiking shoes. I like the Challengers on hard-packed, mild trails, but not on more technical terrain.
Fenix HM50R Headlamp – Performance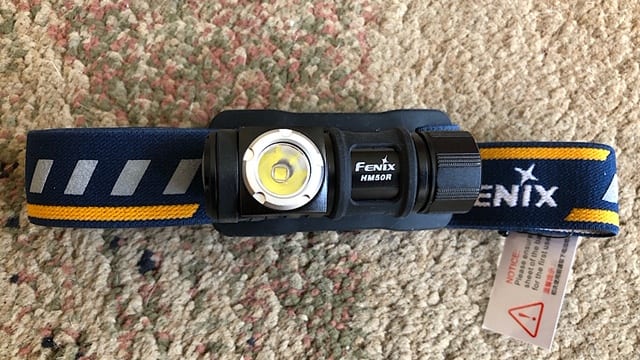 The Fenix HM50R was a new headlamp brand for me, and I was pleased with its performance. This headlamp is durable with its steel casing and still weighs in at only 2.8 ounces. With four settings, the medium setting provided plenty of light around camp, and the high was sufficient for the few times I hiked in the dark. I typically charged it about every 5-7 days.
Related Posts: Fenix HM50R Headlamp Review
Positives:
Lightweight
Charge life for lower settings
Self-adjusts settings to conserve charge
Durability
Ease of use
Comfortable
Negatives:
Short charge of highest setting (4th), which did not affect me
No red light for camp, which I've never used anyway
Would I Use it Again?
A headlamp is a critical piece of gear for me, and I liked the durability of the Fenix HM50R. I've used a lot of headlamps, but this was my first rechargeable headlamp. I was impressed with how easy it was to use and how long it held its charge. The Fenix HM50R is a headlamp I would use again.
Pocket Rocket II – Performance
Overview:
I've used the Pocket Rocket Canister Stove for years now, and it has never let me down. There are lighter stoves with self-starters, but I have been slow to change because of this stove's dependability. The slightly lighter Pocket Rocket II is no exception. I can cook fast and in a very contained area with low fire risk.
Related Posts: MSR Pocket Rocket II Stove Review
Positives:
Ease of Use
Dependability
Durability
Lightweight
Fast Boil Time
Negatives:
Lose leg – could not tighten in the field
Not the lightest on the market now
No self-igniter – I don't need another moving part
Would I Use it Again?
I'm going to try some other stoves, of course, but this little guy will stay on my shelf. Nostalgia alone will probably keep me going back to the Pocket Rocket. That and I know I can always depend on it.
Feathered Friends Women's EOS Jacket – Performance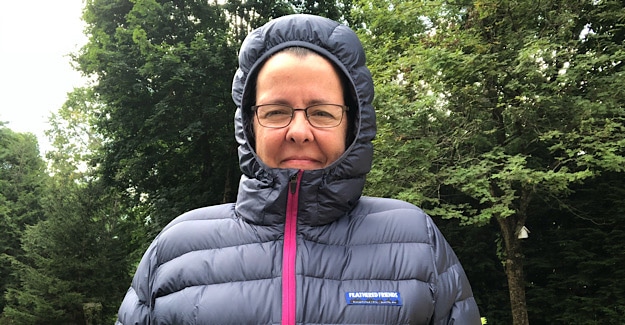 Overview:
A call out to the EOS – second runner up in best Gear Performance on the Colorado Trail. This was the maiden voyage for the new EOS jacket, and it performed just like all my other Feathered Friends gear – above and beyond. It was warm, durable, and packed small. Even being used as a pillow each night, it never lost any of its lofts. I'm a BIG Feathered Friends fan. Their sleeping bags and apparel are not inexpensive, but I generally use them hard, and they last me for years!
Positives:
Large baffles to limit dead space found with stitching
Durable
Very warm for a lightweight jacket. Warmest I've worn
Quality construction
Details such as zipper pulls, etc.
Weight to warmth ratio – very light
Negatives:
I would prefer a hood draw string, but the hood fits well over my beanie
Would I Use it Again?
I've yet to use any Feathered Friends gear or apparel that I would not use again. This jacket is no exception. I'll review other lightweight and ultralight jackets, but this jacket sets the bar for me right now. The same goes for their sleeping bags. The only piece of gear I have not tried is their quilt, but it is in my future.
Other Gear – Performance
Overview:
I've listed some of my other essential gear below. The equipment above was new to this particular hike and fell into the primary gear category. There is less detail on the equipment below, but feel free to reach out with any questions. Several of these fall into the "Best Gear Performance Category on the Colorado Trail."
Clothing:
Wind Pro Hat by Outdoor Research – My Kora Yak Wool Beanie is excellent, but I did not find it warm enough for the Colorado Trail. In Creede, I switched to the "Wind Pro Hat" by OR. It is one of the warmest hats I have worn, and I like the micro-fleece lining—another Honorable Mention in Gear Performance on the Colorado Trail.
Melody Sensor Gloves by Outdoor Research – As it got colder, my Goretex glove liners were not warm enough. These lightweight liners by OR went under the Goretex and kept my hands warm in below-freezing temperatures.
Smart Wool Ultralight Mini Socks – I continue to wear these Smart Wool socks. Even in cold conditions, they work well for me.
Icebreaker Base Layer Shirt – Icebreaker is not cheap, but you can always find it on sale. It is also a good quality shirt. I purchased the one I wore on this trip in 2009. It still looks new and has seen a lot of wear. The link I have here has them for 45% off, but look around, and you might find them for even less. They resist odor well and keep me warm or cold.
North Face Fleece – My fleece is a 100 weight half zip fleece, about the lightest I have ever owned. North Face does not make this particular fleece any more, but 100 weight is what I always use.
Men's Precip Eco-Rain Jacket – This rain jacket is an old standby for me. I carry a more massive shell on long-distance hikes because I use it as another layer in cold and windy conditions. For the price, I still find the Precip the best quality jacket. I wear the men's jacket because I can add more layers under it. Backcountry.com has a good sale on these right now.
Miscellaneous:
Anker 20,000 Battery Pack – Smaller batteries, solar chargers – I've tried them all. This 16-ounce battery pack is worth the weight for me. It charges my headlamp, phone, and GPS Tracker. The charge lasts about seven days if I leave my phone on "Airplane Mode" and set the phone to "Low Battery" in the settings. I like not having to always search for outlets. The downside – it takes 8 -12 hours to charge it fully.
Garmin InReach – This was the second trial for the InReach. It worked great on its first hike, but I had issues on this hike. Texting did not work consistently, and it sometimes took hours to send a message. I never had any problems with my SPOT but could not send messages.
Anti-Gravity Gear Cozy – One ounce makes this Cozy worth the carry. Food stays warm longer and re-hydrates a little faster. It is a little bulky, though.
Earplugs – Samantha and Shy had the LOUDEST sleeping pad from Big Agnes, even 50 yards away. I wore my earplugs every night that they camped near me. I always take earplugs for snoring, hostels, motels, sleeping pads, etc.
Sunglasses – I took my prescription sunglasses but did not use them very much. If there is even a chance for snow, I always take them.
Conclusion
As with any article I write, I welcome all comments and feedback. It is always good to get other perspectives and opinions. Please don't hesitate to leave comments at the bottom of the article.
If you are interested in purchasing any of the items that I currently take on my trips, please consider taking a look in my store at the items I use in "My Gear List." Click on the item for the best pricing from multiple vendors.
When you purchase through links on this website, Average Hiker may receive a small commission at no additional cost to you. I appreciate the purchase – thank you.