Hi! Some of the links in this post are affiliate links. This means that when you click on one of these links, I earn a small commission at no extra cost to you. Also, as an Amazon Affiliate, I earn from qualifying purchases. Thank you.
HOKA ONE ONE Challenger ATR 5's – Pleasant Suprise!
This HOKA Challenger ATR 5 Review is going to be easy! These shoes were the most pleasant surprise on my recent hike on the Colorado Trail. My feet have always been an issue, and these shoes made them not so much a PIA. This was a first on any trail I've hiked. I began the hike with a mild case of plantar fasciitis, and fully expected my usual onslaught of blisters. With the exception of one blister on the side of my heal, my feet remained unblemished!
Related Posts: Challenger ATR 5 vs Speedgoat 3
Shoe Decision
I discussed my shoe decisions in this post. The choice of the HOKA Challenger ATR 5 was largely based on the criteria mentioned in those initial impressions. The shoe met the criteria below, and in some areas exceeded my expectations.
Good arch support
Large Toe Box
Breathable – not waterproof
Tough upper material
Good Grip
The one requirement I did not mention, but is probably the most important, was comfort.
In this area, the HOKA's rocked!
Tough Terrain
Over the 10 days I wore the ATR 5's, I hiked over tough terrain – rock, dirt, mud, and road walking (my personal favorite). Climbing was strenuous, and I spent at least one day in mostly rainy conditions, with the shoes staying wet the majority of the day.
Constantly wet shoes is a good test of the upper fabric. When I get tears in my trail runners, it is often when they have been wet for long periods of time.
Wet terrain is also a good test of the treads. This was the one area that these particular shoes were challenged a bit.
HOKA Challenger ATR 5 Performance
My ATR 5's were size 10.5. This is about half a size larger than the 10 I normally wear. I wore a size 9-9.5 when I hiked the PCT, so my feet have definitely "grown." Then again, maybe I've just "grown" overall.
In the case of these ATR 5's, I bought a half size larger to provide more room in the toe box. The Protalus inserts I used were a size 10. I was a little nervous about too much movement in the shoe, by varying the size of the inserts and shoe, but wanted to try and extend my arch support a little more.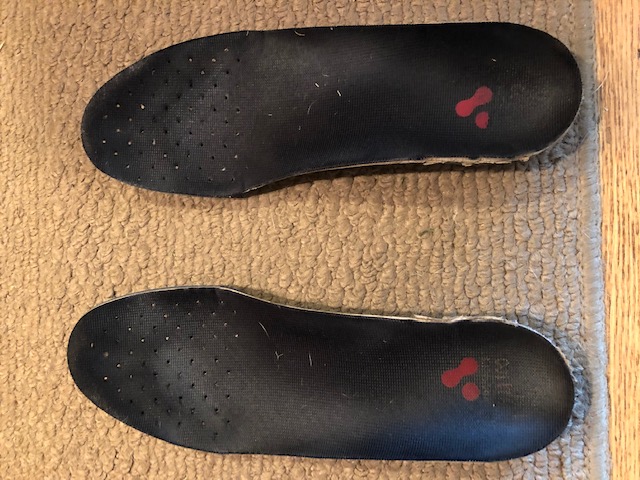 Good Arch support
Using a 10.5 size shoe, and size 10 insert, worked out perfectly. I averaged around 18 – 20 miles a day on non-town days. I expected foot fatigue and soreness around mile 15, but was thrilled to not experience it. In past hikes, it has always taken my feet a couple of weeks to adjust to the pounding. That was not the case on this hike.
I started the trail with a mild case of Plantar Fasciitis, and thought this and the blisters would be issues. I'm happy to say my feet were not sore, and I only had one blister, which was not a problem. Hell, I would have been thrilled with only five blisters!
Large Toe Box
This was probably one of my favorite things about these shoes. I did not get one single blister on my toes. I've never NOT gotten blisters on my toes. The shoes were well ventilated, had plenty of room, and dried out quickly when they did get wet. I attributed all of these things to my lack of blisters.
Breathable – not waterproof
I've not worn waterproof shoes in years. Once wet waterproof shoes get wet, they stay wet, and it takes forever for them to dry. They also get hot in desert environments, or any hot environment. This has always been a breeding ground for blisters on my feet.
My Salomons are still my favorite shoes in wet conditions. They dry out very quickly, and the tread sticks quite well on rocky or slick conditions. The HOKA's were right up there though. They dried out fast, and did not get hot. The difference between the two brands were definitely comfort and tread. While the HOKA's were more comfortable, the Salomon's had better tread. Due to the Plantar, I decided to go with comfort.
Tough Upper Material
I was a little concerned about the durability of the uppers, but I had no issues for the 10 days I was hiking. Even when continuously wet, they did not rip on rocky trail. Honestly though, I would have needed a longer hike to really test this aspect of the shoes. Initial impressions were good. As seen in the picture above, after two weeks of solid hiking they did not look much the worse for wear.
Good Grip
The tread was the one area where the shoes could have possibly been a little "stickier, " but for 99% of this hike they were fine.
I fell twice, and both times were on the day it rained. Both falls occurred when I was hiking downhill, and my shoes slid out from under me. Honestly, both down hills were muddy, gravely conditions, and appeared "easy," which means I may not have been as focused as I should have been.
The shoes also stuck quite well on wet rock, wet wood bridges slanted sideways, and on dry rocky positions. This also speaks to my focus on the muddy conditions.
HOKA Challenger ATR 5 Comfort
This was the one item I left out in my initial assessment. I mentioned that they were very comfortable, but did not appreciate just how comfortable until actually hiking. I've always experienced foot fatigue and aching at the beginning of a hike.
I had very little foot fatigue at the end of the day.
I had minimal aching, even in my arches.
My feet were fully recovered the next morning, and had no stiffness.
I had no blisters associated with the shoes. I think the one blister on the side of my heel was slight slippage between the insert and the shoe.
All of these things were significant for me.
Final Thoughts
I was impressed with the performance of my HOKA Challenger ATR 5's. The extra cushion made a big difference in my hike, especially in the early days. I still love my Salomons, but the comfort of the HOKA's exceeded even that of my Salomons and Asics. They are hands down the most comfortable trail runners I've worn, and will be the shoes I use on my next hike.
Related Posts
Average Hiker purchased these trail runners and does not write sponsored posts or receive compensation for reviews. When you purchase through links on this website, I receive a small commission at no additional cost to you. If you have found this review helpful, please consider purchasing through the link above. You can find further affiliate details on the Affiliates Page. Thank you