Colorado Trail – August 13th,  2019
Beautiful Hiking



Hiking today included some of the most beautiful wildflowers yet, biker friends, and live ammo at Camp Hale.  Low hiking point was 9,814 feet, and the high was 12,282.  It was another beautiful day, confirming August is a fantastic month to hike this trail.
My eyes popped open around 6:15AM this morning.  Yikes!  I had over slept, and the day was already busy and bright.
It was cold, so I sat on my mat, under my 10 degree bag, and shoved everything into little sacks, while I munched on some cereal.  The pad was the second to last thing to get packed, and the sleeping bag the last thing, inside the tent, to get stuffed away.  I stayed warm until just ready to hike.
Searle Pass
The hike from Copper Mountain Resort to Searle Pass was breathtaking.  I kept having flashes to the Sound of Music.  Meadows, wildflowers, towering mountains to line the trail.  The entire hike had me stopping constantly to turn in circles.  The views were a sensory overload!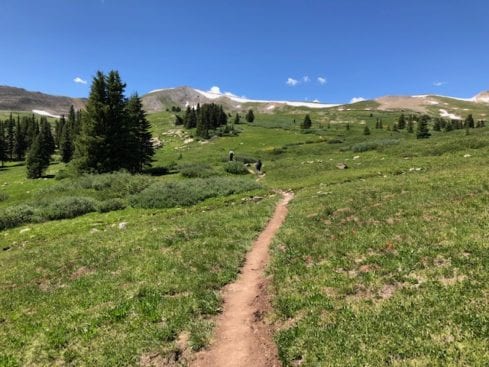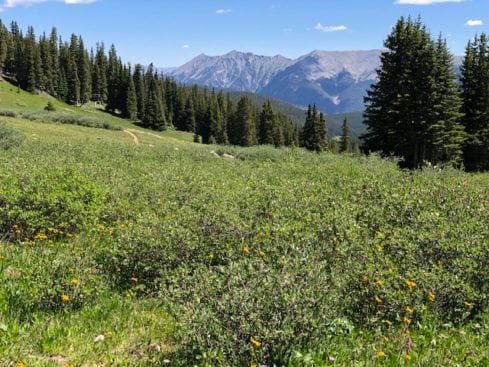 There was even a small hut at the top of the valley, just before starting the switch backs up to Searle Pass.  I met a father and daughter that had hiked in the night before, and gushed about the small cabin.  "It is fully stocked, has bed linens, and even a sauna," they said grinning.  They were pretty excited.  I would love to visit on another trip.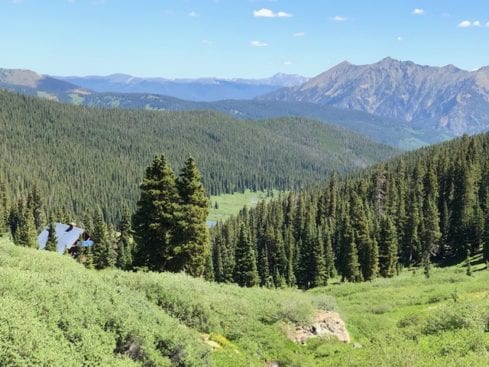 Kokomo Pass
Lot's of friends on my way over to Kokomo – another beautiful section.  I've seen the same 3 mountain bikers since before Breckenridge.  We now stop and chat each day when they pass me.  Brussels does not have this same thin air, so they are still adjusting, they tell me.  Nice guys…
My marmot buddies watched as I passed their rock piles.  I had missed them!  I had not seen them since the Sierras.  One tried to race off with one of my nut bars – devil!  I see their sneakiness is the same no matter what the trail.
The hike across the ridge, and down to Kokomo Pass was alive with bursts of color!  I could not believe the amount of flowers in bloom.  I headed across more meadows, and then down along the creek.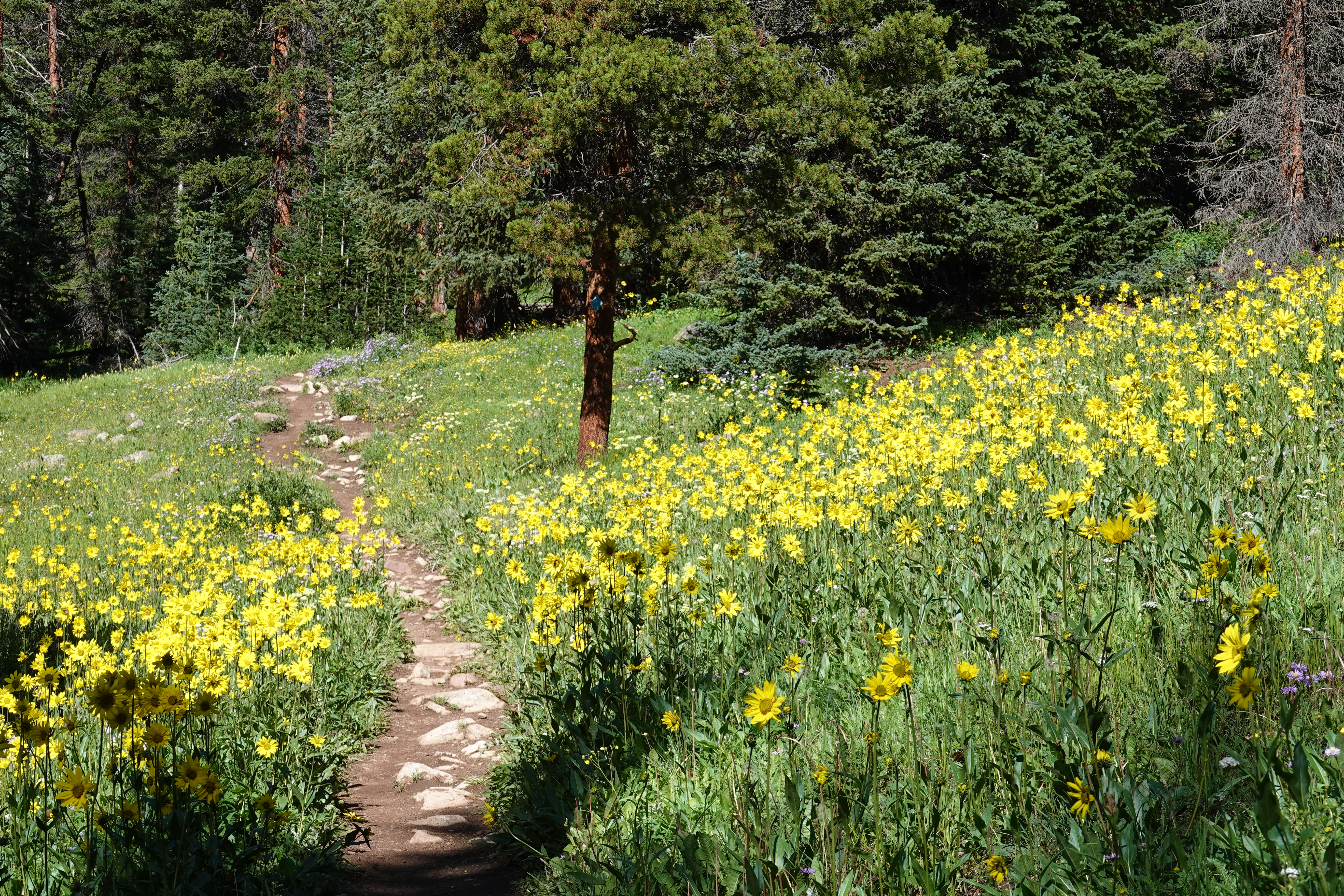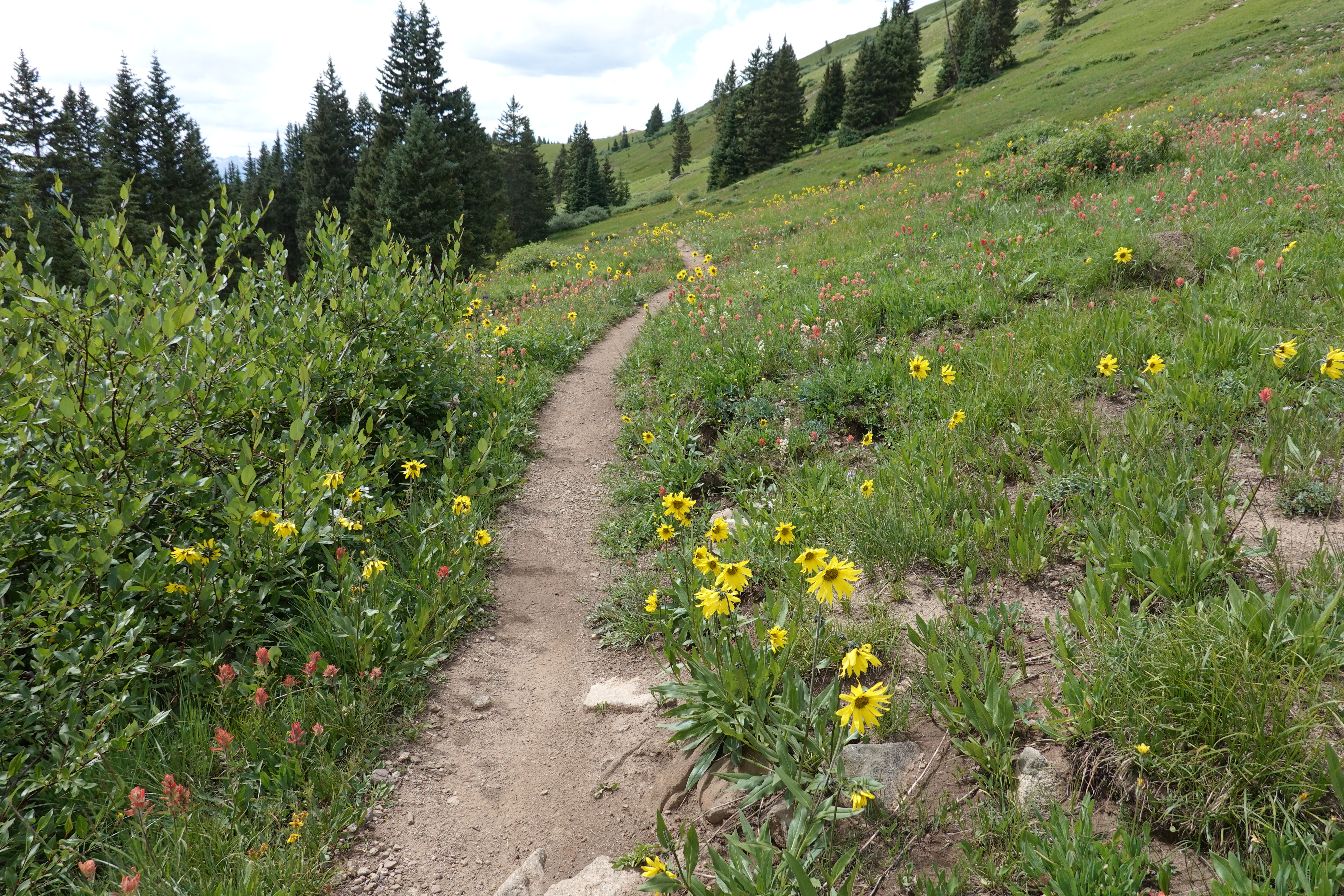 Camping for the Night
There were campsites scattered all along the creek, and at about 3:30 I came across Michele setting up camp.  It was a perfect spot – nestled among tall spruce.  It was wide and roomy, but situated so it was very private, and there was only one flat spot.  She would have it all too herself, other than the mosquitoes.  So, maybe it was a little less than perfect.
I stopped to chat for a few minutes, and moved on.  It was early, and there was still a ton of light for walking.  My feet were tired but I wanted to at least get to the bottom of the drainage before calling it a day along the creek.  I would probably stop at the bottom since I could not camp for the next three miles, until after Camp hale.
Creek Campsites
A trail organizer stopped to chat with me while I was taking a break on the hike down from Kokomo Pass.  He was a small, wiry fella, bouncing down the trail like a small goat.  I don't think I ever saw him look down as he wound his way in and out of the rocks and roots on the trail.
"There is no camping after the falls, but plenty of camping along the creek to the falls."  I nodded and thanked him for the information.
Standing above the campsites, down by the creek, I saw plenty of room.  There were already other hikers though, and the sites looked well used – inviting critters.  The sites were also very low, and close to the creek.  I knew I would wake up with wet gear, so I moved on into the no camping zone.
Camp Hale
After leaving the creek, I entered the three miles of no camping along the valley floor.  This included Camp Hale, which still had unexploded ordinance clean-up going on, according to the old, faded signs, and Wikipedia.  The guide said there was camping about 2/10's of a mile up in the forest, and I planned to stop there for the night.
The camping was actually on the edge of the meadow, just past the bunkers.  Numerous "stump seats," beer cans, and a giant fire ring, led me to believe the site was probably used by locals for partying.  Not an ideal camping spot for a single female.
Starting the climb into the forest, I scanned back and forth for a decent camp site.  Two miles up the mountain, and I was still scanning.
I saw a tent off to the right, as I came over a small rise, and an older gentleman walked out to meet me.  He looked exhausted.  He said his back was killing him, and he was getting off the trail in Leadville.   His tent was a heavier model, and I could see a lot of gear spread around his campsite.  I felt badly for him.  He would probably have enjoyed the hike more with less weight.
The forest had opened up into stands of pine, and I found a good bench with a flat site about a quarter of a mile later.  I could hear the traffic on the road headed into Leadville.  The road was only about two miles away.  This was a good distance from the road.  I never liked to camp much closer.
Hi. Average Hiker purchased this product and does not write sponsored posts or receive compensation for reviews. Some of the links in this post are affiliate links which means that when you click on one of these links, I earn a small commission at no extra cost to you. Also, as an Amazon Affiliate, I earn from qualifying purchases. If this review has been helpful, I appreciate you considering your purchase through one of the product links. Thank you.